BMW, eller Bayerishe Motoren Werke AG, har fået nyt logo. Ikke bare et let facelift, som er det normale i bilbranchen, men en ordentlig re-vamp.
Logoet skulle være præsenteret på Geneve Motor Show i år, men forestillingen blev af coronale grundet aflyst.
Hvorfor er det nu interessant?
Fordi ændringerne efter min mening siger noget mere alment om bilen og dens placering i vores kultur lige nu – en kultur, der også hvad biler angår, er i svær forandring i disse år.
Flad og transparent
Men lad os først lige se på, hvad der er sket.
I forhold til det seneste logo, der stammer fra 1997, er der to ændringer, der springer i øjnene. Dels er logoet nu 'fladt' dvs. at det ikke længere skal illudere et tredimensionelt emblem.
Dels er den sorte ring uden om de blå-hvide tern i midten erstattet af – ingenting. Den del af logoet er nu gennemsigtig og tager den forhåndenværende baggrund ind.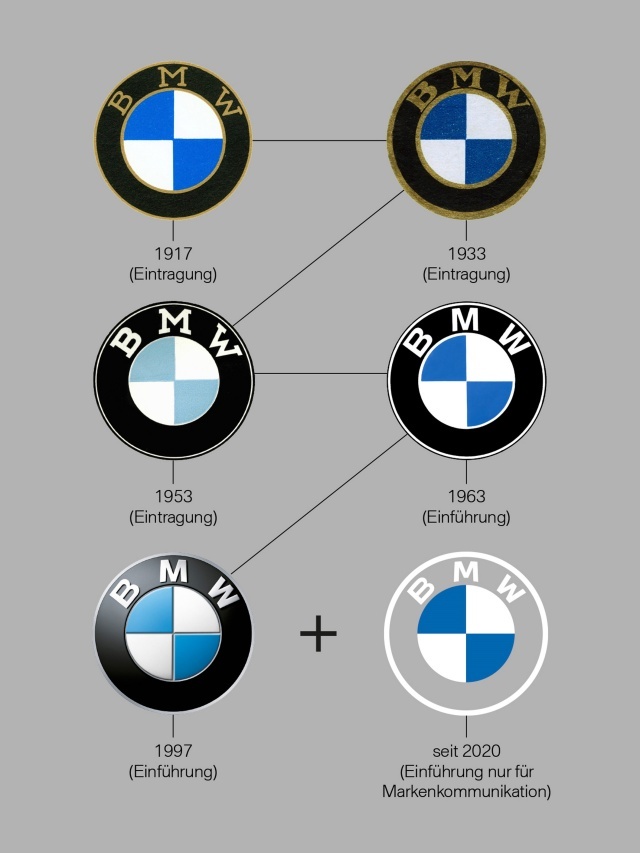 Der er sket andre småændringer, som fx med skriftsnittet, men de er ikke af betydning.
Hvorfor er det fladt – hvorfor kun 2-d?
Egentlig et dumt spørgsmål, for langt de fleste af de medier, vi præsenterer vores bilbrands i, er flade og todimensionelle. Selv i en VR-tid.
Men hvorfor har vi så i lange tider set på 3-d billogoer? Det er fordi bilen er indbegrebet af industrialderen – dens ypperste produkt i stål og krom.
Den har givet os bevægelsesfrihed og den signalerer identitet og social placering. Det lille emaljeemblem på køleren er maggi-terningen af det hele.
Efterhånden som masseproduktionen af biler tog til, skærpedes markedsføringen i medierne. Og så kravler emblemet fra produktet over i de gængse medier: tv og print.
Og efterhånden som trykke- og gengivelsesteknikken forbedredes, får en stadig mere naturtro og derfor 3-d gengivelse af emblemet, også gengivet dets løfter om skinnende lak og læder.
Men nu fortæller trendspottere (meget) yngre end mig, at det der 3-d virker so last century. Forstår det ikke helt, for selv kan jeg godt li' at have bilen i hånden, mærke den, føle godset, indsnuse duften.
Nu hedder det haptiske egenskaber. Før hed det en lækker bil. Men jeg er jo selv fra forrige århundrede, så det er nok ikke så mærkeligt.
Også rationelle forklaringer
Ud over zeitgeisten og trenden er der også rationelle forklaringer på fænomenet.
I dag er de vigtigste medier ikke længere avisen og tv, men smartphonen. Og dens natur er en af årsagerne til at fladt er smart.
Den er lille, så der er ikke meget plads til at vise et detaljeret logo på et 512×512 app-ikon. Og det enkle og minimale har størst chance for at blive set i virvaret af information.
Og mens der før var nogle få medier, hvor vi endda kunne kontrollere kvaliteten til det hysteriske, er antallet af medietyper eksploderet og vi har ofte ingen indflydelse på, hvordan vores logo bliver anvendt.
Derfor er det enkle den bedste sikring mod forvrængning.
Hvorfor er alle så ikke gået den vej, spørger du?
Well, de er måske på vej. For BMW er langt fra det eneste bilbrand, der er gået 2-d. Allerede i 2015 ændrede Mini deres logo til en flad, ensfarvet version af det vingede emblem fra 80'erne.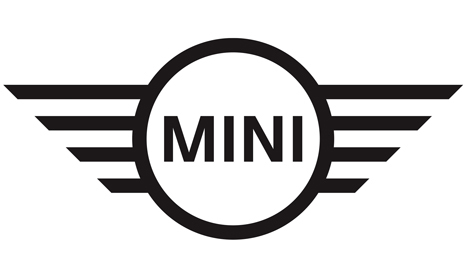 Det engelske sportsvognsmærke Lotus skiftede sidste år ligeledes logo til et enkelt 2-d-design.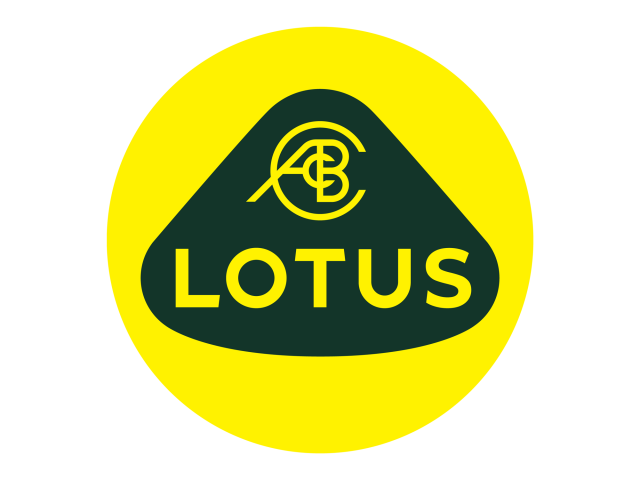 Og samme år skrottede Volkswagen det forkromede, runde emblem og erstattede det med en simpel streg – stadig et V og et W i en cirkel, men helt uden falbelader.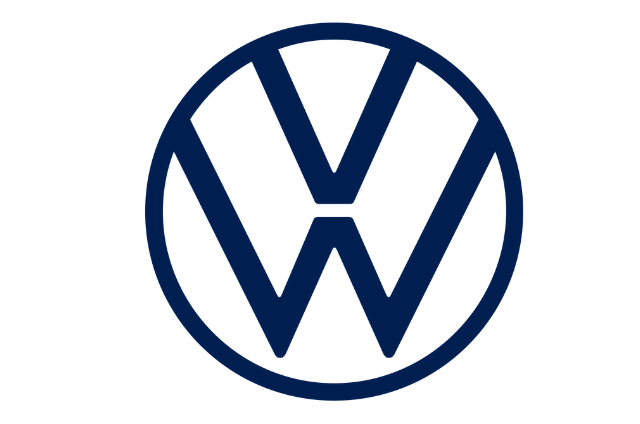 Ifølge virksomheden "repræsenterer det nye logo Volkswagens vej ind i den digitale æra."
Og her ligger måske en anden årsag til de kraftige logoskift gemt.
For samfundets og især de yngres forhold til bilen ændrer sig hurtigt og kraftigt i disse år. Og måske ser nogle af virksomhederne en mulighed for at signalere, at de også er i færd med at ændre sig væsentligt.
Om 10 år er bilen ikke længere en bil
De kulturelle ændringer omkring bilen er store og dybtgående. Og der er store forskelle på generationerne.
Bilen som status- og identitetsmarkør har generelt fået mindre vægt.
Et sigende tegn er, at de internationale biludstillinger lukker på stribe for tiden, og at de nye biler nu præsenteres på CES, Consumer Electronics Show (i Vegas), og andre tilsvarende steder.
Side om side med andre elektroniske og connectivity gadgets. Nu er bilen en connected gadget.
Som en følge heraf ændres den fysiske håndtering af bilen, når den nu snart bliver selvkørende – du laver andre ting, mens bilen kører selv.
Dermed mister mange ting betydning; køreglæde, vejgreb, acceleration (fortsæt selv).
En anden udviklingslinje, der også er i færd med at flytte brandet fra identitetsmarkør til commodity, er nye ejerformer.
Vi kommer i stadig mindre grad til at eje (dvs. købe) vores biler – det nye er lån, leasing, deling, samkørsel og flere endnu uopfundne ejer- og brugsformer.
Det siger sig selv, at hvis man ikke ejer sin egen bil, så vil convenience (hvor nemt kan jeg få et ride) konkurrere med mærkerelationer.
Du ser jo heller ikke på brandet på linje 5, inden du stiger ind. Du aner formodentlig ikke engang om det er en Mercedes eller en MAN. Og du er også ligeglad.
Det er i denne fremtid, at producenter som BMW skal forsøge at genopfinde sig selv – ikke som en teknologi fra industrialderen, men som mobilitet og relationer.
Men kan jeg li' det nye BMW-logo?
Tjaah, bum-bum. Det flade 2-d look vænner jeg mig sikkert til.
Men den gennemsigtige ring virker som skrivebordsarbejde. De, der skal arbejde med det i praksis, løber ind i en masse unødigt besvær. Logoet med sort ring kunne bare placeres stort set hvor som helst.
Nu vil der være en del forstyrrende baggrunde, hvor logoet vil blive mindre synligt. Prøv fx at anbringe det på en samling blafrende bayerske (jo, det findes) eller græske flag.
Eller på en drift svaner på en blå himmel. Og det er ikke meningen med et brands logo at det skal være svært at se. Tværtimod.
Men ellers er det da meget pænt. Man kan tage en selfie med logoet ovenpå og alligevel blive genkendt. Jeg giver det 4 år i denne form.
Søren Nøhr er selvstændig reklamemand og har været 40 år i reklamebranchen som iværksætter, kreativ og planner i Danmark og Sverige på bl.a. Bates Y&R, Brands/CPH og BBDO. Han har lavet markedsføring for Mercedes-Benz i 30 år, men også for mærker som Nissan, Alfa Romeo, Volvo, Dodge og BMW.
Klummer på Bureaubiz er et udtryk for skribentens egen holdning