Den erfarne lydhåndværker Palle Bo har skrevet en fagbog om produktion af radioreklame, som han skulle have skrevet for 20 år siden.
Lige siden kommerciel radio blev lovliggjort i 1988, har det ofte lydt, at der er langt mellem snapsene, når det gælder radiospots, som for alvor udnytter mediets kreative råderum. Begrænset budget og tankevirksomhed har domineret reklamefladerne i 25 år.
Palle Bos nye håndbog, "Guide til bedre radioreklamer", ville således have været ligeså relevant for 20-25 år siden, som den er brugbar i 2016. Men forfatteren havde nok hverken tid eller tanke til at udfolde sig med en fyldig håndbog om produktion af radioreklame i 1996.
Men nu er den her.
Bogen er i to dele – først detaljeret inspiration til kreativ udarbejdelse og derefter praktisk kampagneeksekvering. Det er en hands-on guide, hvor han øser af i alt tre årtiers erfaring med radioproduktion; erfaringer der bidrager til alle led af processen – fra tanke, tekst, produktion og placering.
Kommerciel radio når faktisk langt ud
Kommer Palle Bos guide så for sent? Tja, som mediekategori har kommerciel radio på FM tilsyneladende for længst nået et plateau. Både målt på omsætning og lyttere. Og dog – den ret beskedne omsætning på radioreklame voksede forsigtigt i 2015.
Kommerciel radio når rent faktisk 2,8 mio. lyttere hver uge ifølge Gallup. Læg dertil, at de landsdækkende og semi-landsdækkende kommercielle radioer har konsolideret sig i ét selskab, tyske Bauer Radio, hvilket muliggør optimal drift.
Én af årsagerne (og der er mange) til et lavt plateau for dansk kommerciel radio er, at ingen tænder for radioen for at høre reklamer – slet ikke, når de er uopfindsomme og ubehjælpsomme, påpeger forfatteren.
En bøn fra forfatteren
Derfor hans mission – og bøn – på side 195:
"Radioreklame kan så utrolig meget, hvis du gør det rigtigt. Hvis du er modig, sympatisk og overholder den uskrevne aftale mellem lytter og annoncør om at give dem en oplevelse, inden du prøver at sælge noget. Hvis du bruger humor, musik og stemmer på den rigtige måde, og hvis du tager den tid, der skal til for at dit budskab kommer over på den anden side".
For at understøtte sit budskab går håndværkeren Palle Bo i sjældne detaljer; med råd og pointer om kreativitet og eksekvering.
Det handler om respekt og kærlighed til mediets virkemidler. Til friheden, der er til at skabe universer alene med lyd, og hvordan man tæmmer kreativiteten og udnytter den til at sælge varer og ydelser.
Læserne får en god fornemmelse for, at det er en metier, hvor de kreative rammer ret beset er langt større end på tv. Og langt billigere.
Hvis en arrig dinosaurus skal jagte den nye Peugeot ned af Køgebugt Motorvejen, er det voldsomt kostbart på tv – ikke på radio.
En bog for fagfolk
Det er udpræget en bog for fagfolk, vil jeg påstå, den er egentlig ikke til teoretisk brug. Bogen er en fin gave til tekstforfattere, annoncører og producenter, men næppe en bog for uddannelsesinstitutioner.
Den er fuld af mange forskellige konkrete eksempler, med gennemgang af manuskripter, der er tilsat et ekstra fif – QR koder – så man kan scanne med mobilen og høre eksekveringen af teksten – altså sprog, stemmer, timing og stemning.
Sprog, tale er af gode grunde en afgørende ingrediens i radiospots, og bogens opfordring til skarpere fokus på sproget i dansk radioreklame er velvalgt.
Alt i alt er det en glimrende guide til de fagfolk, der har ambitioner om at producere bedre radioreklamer og udnytte mediets styrke.
Det er dog en guide, der måske nok er blevet lidt lang og tung til at bære betegnelsen "håndbog".
De mange baggrundsfortællinger og private anekdoter er – efter min smag – ikke strengt nødvendige. De bidrager ikke til de vigtige håndværksmæssige pointer og inspiration til alle led i fasen.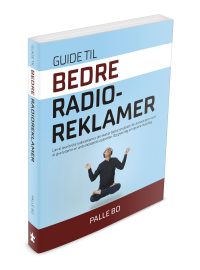 Guide til Bedre Radioreklamer
Forlag: GuruPress (sælges via www.bedreradioreklame.dk og Dafolo)
Antal sider: 262
Pris: 349 kr. (279,20 plus moms).