Cannes Lions har indtil videre budt på masser af spændende og underholdende talks.
AI, klimaet og gender equality har været de helt store emner ved dette års festival. Derudover er der meget taletid til forskellige virksomheder, som alle har fundet nye måder at analysere forbrugernes adfærd eller reaktioner på.
En af de talks vi var til var hed The Tounge Paints What The Eyes Can't See: Power of Voice, hvor mediabureauet Wavemaker kunne fortælle om vigtigheden af den rigtige stemme til sit brand.
Her viste de, hvordan det var muligt at måle folks reaktioner, når de blev introduceret for en række forskellige stemmer. For at spice det op, smed de Alexa ind i mixet og her var det tydeligt, at der stadig er et stykke vej før computergenerede stemmer kan afspejle et menneskes.
Alexa scorede nemlig bundkarakter på parametre som Caring og Trustworthy. Til gengæld fortalte de, at voice assistents i dag er nået til det punkt, hvor de er bedre til at tyde menneskers stemmer end vi selv er.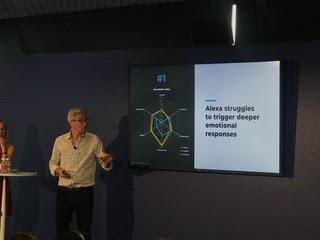 VR
Brugen af VR er også blevet diskuteret ved Cannes Lions i år og flere virksomheder var ude og promovere deres sidste nye VR udstyr. I videoen er Frederik i færd med at teste den første batteridrevne  VR brille.
Brillen havde indbygget motion detektor og gjorde én opmærksom på, om man var ved at støde ind i noget. Sejt, men en ting er i hvert fald sikkert, det ser bare aldrig helt lige så sejt ud at prøve dem.
Et godt tip til andre festivalgængere er at man nok skal undgå de fleste sofa interviews som også findes på festivalen. De interviewede virker sjældent særlig godt forberedte og gode pointer er sparsomme.
En anden interessant talk var Transformation at Speed af bureauet R/GA. Præsentationen lagde ud med at tegne de faretruende linjer op for den traditionelle reklames tilstand i 2018.
TV-seertallene daler, Ad-blocker er installeret på 30% af alle devices, og 'reklame-fri' premium modeller vinder indpas på tværs af hele mediespektret. Hvad gør man så som reklamebureau? Hvis man skal følge R/GA's råd skal man holde op med at opføre sig som reklamebureau.
Med afsæt i tre forskellige cases demonstrerede de, hvordan de arbejder sammen med specialister inden for nøjagtig de felter, der er relevante for kundens udfordringer.
Hvis man skal lave verdens første sneaker launch for Nike Jordan på Snapchat slår man sig sammen med AR-eksperter og agerer tech-udvikler.
Hvis man skal få unge brasilianere til at stole på banksystemet i et land præget af korruption, genopfinder man filialen digitalt og lægger afstand til den gængse opfattelse af en bank.
Og hvis man skal demonstrere, at man er en online shoppingportal, der hjælper folk med spare penge, så slår man selvfølgelig pjalterne sammen med medieplanlæggere og opbygger en kampagne baseret på budgetbesparerende medieindkøb.