Mary Meeker startede altså for 24 år siden med at beskrive internettendenser. Dengang var hun pænt foran sin tid og fandt også behov for overhovedet at definere, hvad internettet var: et åbent netværk af netværk. Sidenhen er hendes slides blevet autoritative beskrivelser af, hvordan vi bruger nettet. Se de forskellige tidligere rapporter her.
Verden er nu helt forbundet (sådan meget groft sagt)
Tilvæksten af mennesker, der kommer på nettet, er næsten stagneret nu, hvilket tyder på, at markedet begynder at blive mættet. Samtidig sker der et fald i salget af smartphones. Har vi nået grænsen for opkoblinger? Tja, det er faktisk stadig kun 51 % af verdens befolkning, der er på nettet, så der er lang vej endnu. Og det siger måske også noget helt andet om verdens ulighed.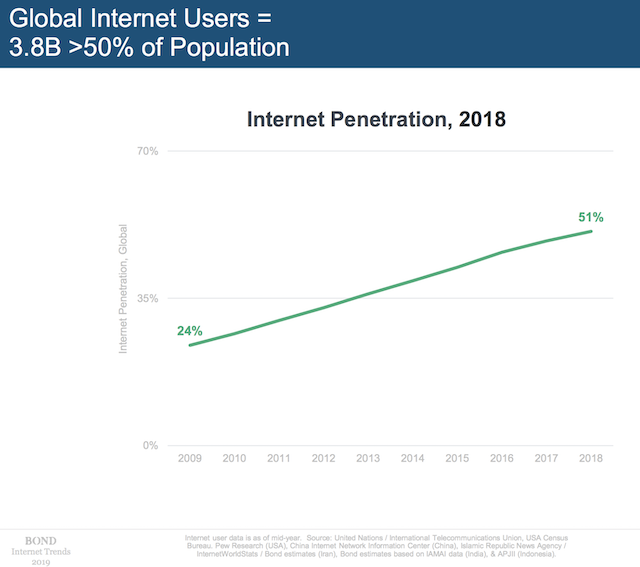 51 % er verdens befolkning er på nettet.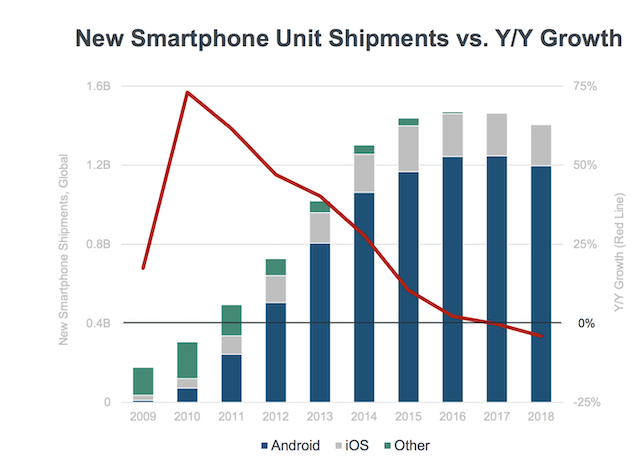 Væksten er faldet for salg af smartphones.
Internetforbruget går stadig bare op og op
Man tror hvert år, at nu er toppen nået, nu kan forbruget ikke vokse mere, nu er grænsen nået for, hvor mange timer man kan være online. Men nej, grænsen er ikke nået. I år var der en tilvækst på 7 %. I løbet af de sidste 5 år har vi i gennemsnit brugt en time mere på nettet. Vi er konstant online.

Kurven for internetopkobling bliver ved med at vokse. Og det er stadig mobilopkobling, der stiger.
7 ud af 10 af verdens mest værdifulde firmaer er tech
Microsoft, Amazon, Apple, Alphabet, Berkshire Hathaway, Facebook, Alibaba, Tencent, Visa, Johnson & Johnson. Fem amerikanske og to kinesiske firmaer, der er født på internettet og kun lever af internettet.
Internettet er også det primære kritiske parameter for, at Visa og Berkshire Hathaway kan fungere. Kun Johnson & Johnson, der er en medicinalvirksomhed, tilhører en produktionsæra, hvor internettet i sig selv ikke er bærende for forretningen. Hvis nogen altså skulle være i tvivl om, der er penge i nettet, så tager de fejl.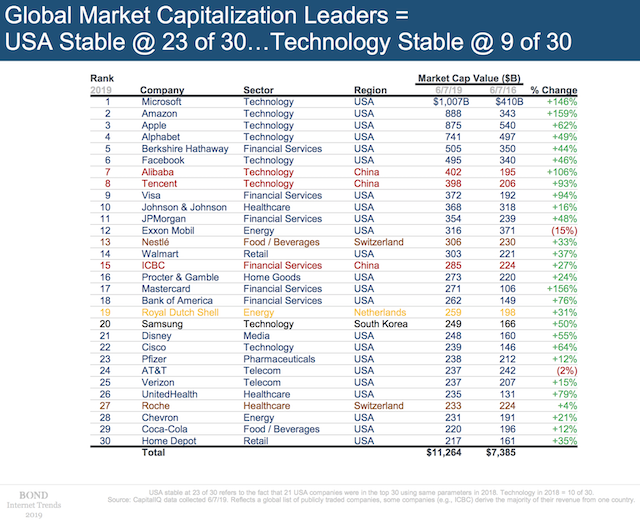 7 internetfirmaer blandt de 10 mest værdifulde. Se også de kinesiske, der brager frem.
E-commerce er stadig kun i begyndelsen
Det er stadig kun toppen af isbjerget, vi har set ift. onlinehandel. Markedet vokser 12,4 % mod 2 % i normal fysisk retail. I dag har e-commerce 15 % af markedet i USA. Vi har i lang tid efterhånden talt om omnichannel, og det bliver slet ikke mindre relevant.
Flere og flere brancher får en online salgskanal. Kun fantasien sætter grænser for, hvad der kan sælges online.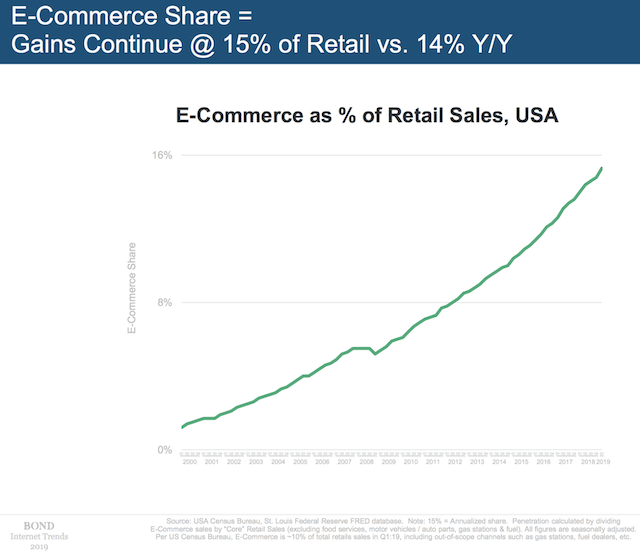 Væksten i onlinesalg i en støt stigende kurve.
Reklamer får verden til at løbe rundt
Vi er i dag produktet – eller bare et simpelt råstof, hvis man spørger Zuboff – i et reklamefinansieret internet. Det er reklamerne, der har vist sig at være den mest levedygtige forretningsmodel, og det, som verdens mest værdifulde virksomheder tjener deres penge på.
Reklameindtægterne flytter sig stadig mod telefonen. Og freemium forretningsmodellen har manifesteret sig som robust med Spotify som yndlingseksemplet. Samlet set viser det sig, at datadrevne reklamer bliver mere og mere tilpasset til den digitale adfærd, mennesker har.
Og hvis du skulle være i tvivl om, kunder ønsker det, eller om vi snart får den store kritiske techlash, så er svaret nej. Kunder afgiver stadig meget gerne data for services.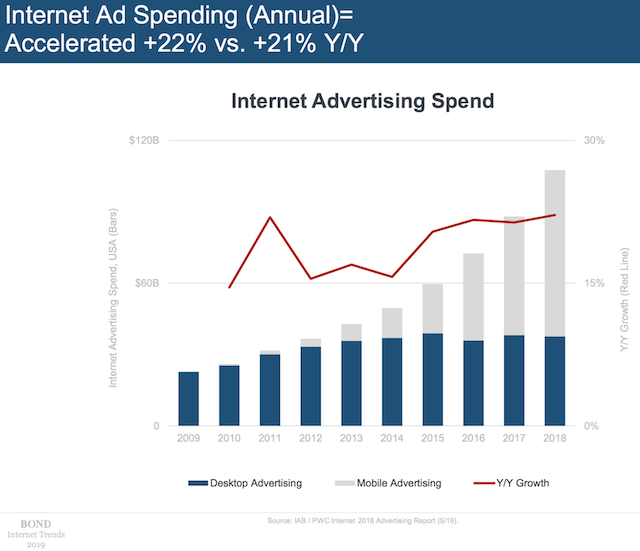 Reklamerne flytter sig mere og mere mod mobilen.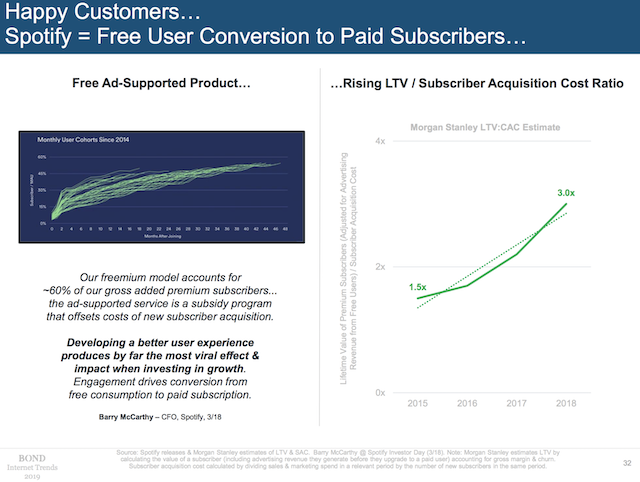 Freemium forretningsmodellen hos Spotify har vist sig at være indbringende.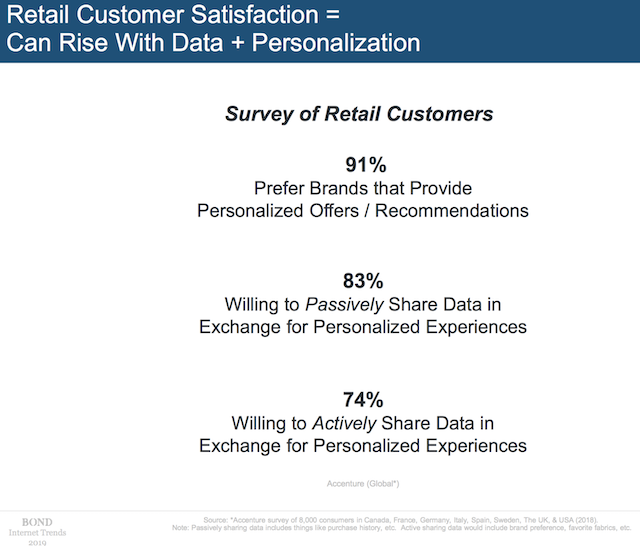 Rigtig mange kunder er villige til at give data for personlige services.
Nej, Facebook er ikke ved at dø
Som kommunikatør er man særligt interesseret i digitale platforme. Hvor er brugerne henne, og hvordan rammer man dem med relevant indhold? Selvom Facebook godt nok er faldet 1 %, fra 31 til 30 %, de sidste par år, er det stadig det førende medie.
Men stærkt forfulgt af YouTube og Instagram, der vækster mest. Det handler om billeder og små videoer.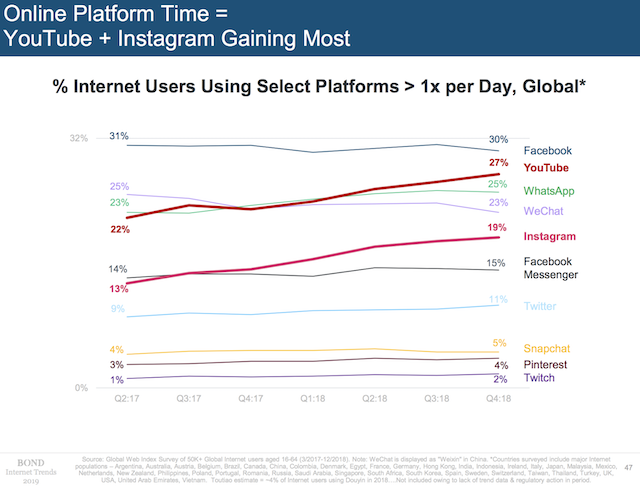 Facebook er ikke på retur. Det er stadig den største digitale platform.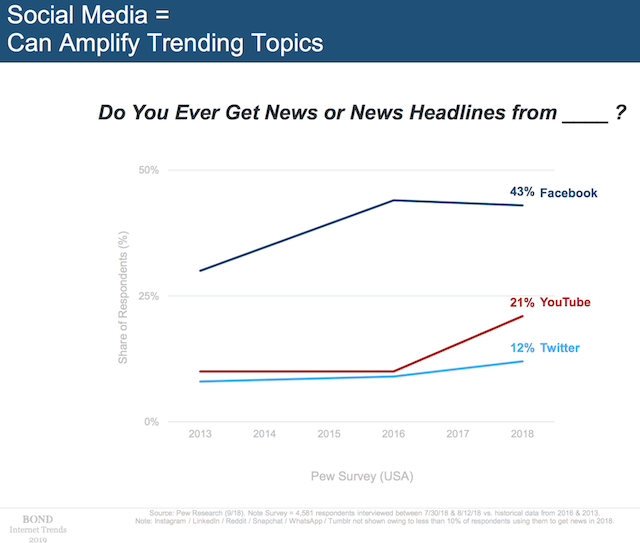 Det er stadig Facebook, som er den største platform for håndtering af nyheder for mange mennesker.
Podcast er virkelig på vej op
Statistikken er fra USA, men det vækker bestemt genklang herhjemme. Vi lytter mere og mere til bedre og bedre indhold fra podcast. Slidet viser en fordobling på fire år og en stejlt voksende kurve. Så hvis du ikke er i gang med mediet, så er det på tide at hoppe ombord.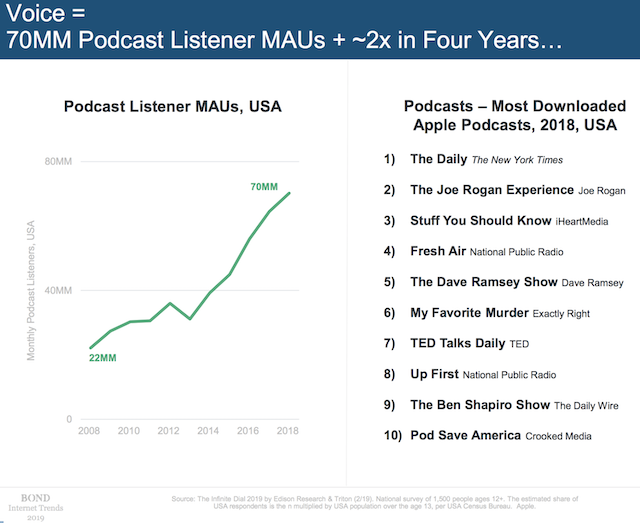 Podcast vokser bare.
Det lydbaserede interface
Det er ikke længere blot hype at have en digital assistent som ven i stuen. De faktiske salgstal af fx Amazon Echo taler sit eget tydelige sprog. Der er sket en fordobling i salg på bare to år.
Det talebaserede interface vinder langsomt, men sikkert frem, og man skal begynde at overveje, hvordan services kan designes til dette medieformat.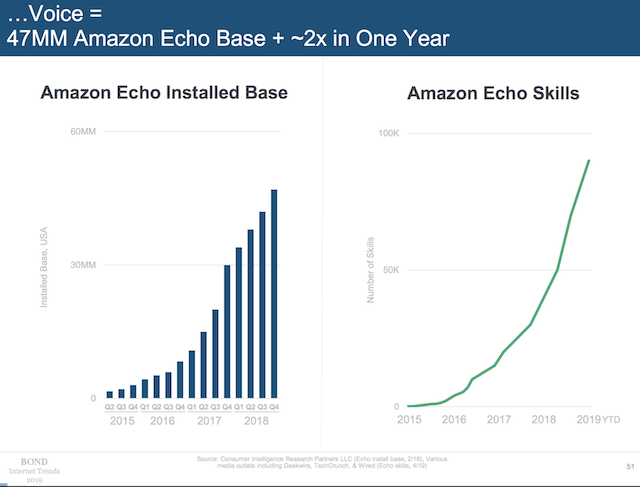 Echo bliver både bedre, og der bliver solgt flere.
Det visuelle internet
Vi har talt om billeder i laaaang tid, men statistikkerne bliver også ved med at blive skubbet ift., hvor mange billeder der bliver taget og delt. Men i dag handler det ikke kun om det, der fx bliver delt og solgt via Instagram, det handler også om, hvordan computer vision-teknologier gør billedgenkendelse mulig og anvendelig, som fx udviklingen i Google Lens.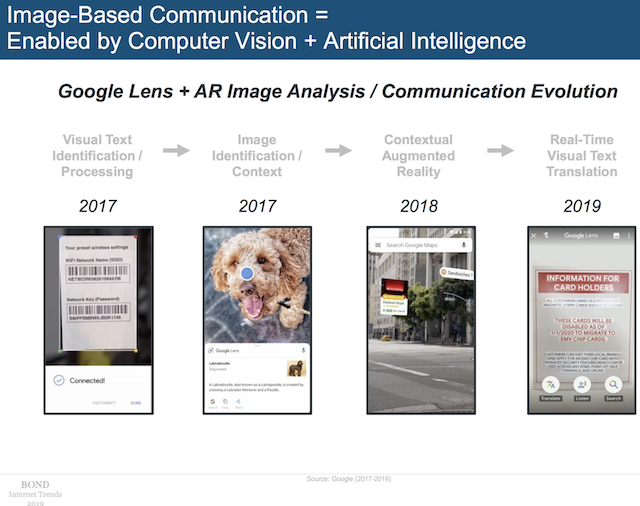 En hurtig udvikling frem til i dag, hvor computer vision er meget avanceret.
Datadreven udvikling og servicering
Meeker identificerer en historisk udvikling gående fra brugerne som selvudviklere af fx Nike-sko over anvendelsen af fokusgrupper og test til i dag, hvor flere og flere virksomheder får direkte kundefeedback via datasystemer.
Fx Adidas og deres samarbejde med Salesforce. Det siger også samtidig noget om, hvordan det i dag handler om at nedbryde små kongeriger og i stedet samarbejde på at skabe økologier og platformsøkonomier. Og hvis du er i tvivl om Meekers holdning til datas rolle, så bare se på hendes cirkelfigur, der sætter data i centrum for alt andet.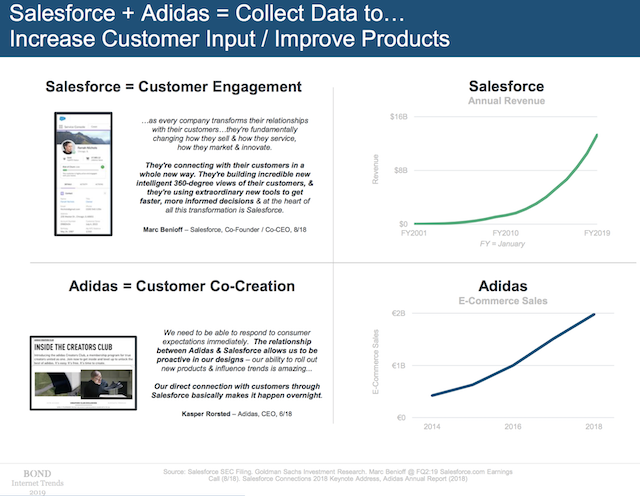 Adidas og Salesforce i samarbejde om at ramme kunder direkte næsten real time.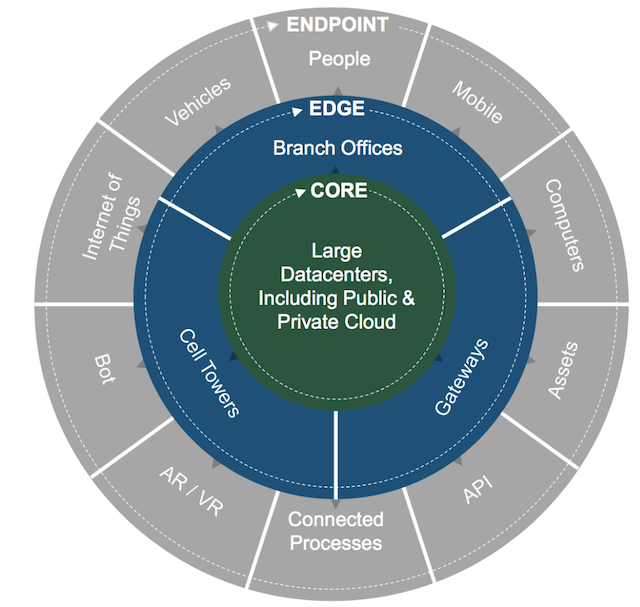 En fin model til din næste præsentation for bestyrelsen når du skal argumentere for investering i digitalisering.
Interesseret i mere indhold som dette? Skriv dig op til vores nyhedsbrev her.