Onsdag havde Markedsføring.dk et dobbeltinterview med to af branchens respekterede seniorer Poul Mikkelsen og Jørgen Duus. De filosoferede over, hvad der er op og ned på det hele med alle de nye medier under overskriften, "Hvem er egentlig konge?".
Læs med her, hvis I ikke så det i første omgang.
Interviewet har en form, som gør det svært at finde ud af, hvad de to herrer egentligt mener, og selv om de adresserer, at de ikke mener, at alting var bedre i gamle dage, så sidder man tilbage med en fornemmelse af, at det var det måske alligevel.
Nu kender jeg tilfældigvis Poul Mikkelsen godt nok til at vide, at det er uretfærdigt. Derfor vil jeg bringe en overvejelse til torvs, som jeg mener vil klæde hele branchen og ikke mindst dens fagmedier med tilhørende journalister.
Mit forslag er, at vi betragter den udvikling, branchen er inde i, i et evolutionært perspektiv. Det interessante ved evolutionen, der som bekendt drives af "survival of the fittest", er, at den har en mageløs evne til at bygge videre på den eksisterende knowhow.
Vi mennesker har således stadig en såkaldt reptilhjerne gemt inde i midten af hovedet, som ikke adskiller sig væsentligt fra krybdyrenes. Forskellen på dem – altså krybdyrene – og os er alt det, vi har bygget udenom. Det evolutionære princip smider ikke brugbare elementer ud, den sørger for, at organismerne tilpasser sig de ændrede omstændigheder ved at tilføje nye og mere smarte elementer. De arter, der ikke når det, uddør.
Jeg vil således anbefale, at vi i reklamebranchen holder op med at kaste grams på al vores knowhow og alle de kendte metoder og medier hver gang, der viser sig et nyt medie eller en ny teknologisk mulighed.
Det handler ikke om at smide væk. Det handler om, at tage det bedste af det gamle og kombinere det med det nye på en måde, så det bliver smartere.
Min erfaring er, at ligegyldigt hvor kløgtigt man forfølger cookies på nettet og optimerer sin kommunikation til potentielt interesserede kunder, og ligegyldigt hvor store ens "big data" er, så kommer man ikke uden om, at brandet er nødt til at have en kerne, som det udtrykker sig fra.
Og simpel observation af, hvad de mest succesfulde brands foretager sig, viser lige præcis, at de optræder evolutionært.
Lad os tage Unilever's brand, Dove, som eksempel, fordi alle oppegående reklamefolk kender og beundrer deres evne til at eksekvere på brandplatformen "Real beauty". Tilmed er Dove aktuel i Danmark med en gammeldags tv-kampagne.
For mange år siden handlede Doves kampagner primært om at vise kvinder, der var skønne, selvom de ikke holdt målene for en standardmodel. En klassisk Emotionel Selling Proposition-kommunikation (ESP).
Så tog det fart, da de lancerede FBI-sketches for et par år siden. Det var branded content, som man sjældent havde set magen til. Og det fortsætter naturligvis på nettet med alskens gode råd om, hvordan man får piger til at styre uden om det udbredte selvhad.
Men se nu der på dit tv-apparat. Der kører en klassisk Unique Selling Proposition-kampagne (USP), hvor de markedsfører deres produkter på alt det gode, de gør for dit hår og din hud.
USP, ESP og branded content – på tv, på hjemmesiden, på sociale media, på hvad som helst – hvad er nu det for noget?
Det er evolutionær branding, så det vil noget. De har ikke smidt noget ud med badevandet. I stedet orkestrerer de en symfoni af forskellige indsatser, der tilsammen bygger deres brand op.
I min daglige omgang med kunder og samarbejdspartnere har nedenstående hjemmestrikkede model været anvendelig til at skabe et overblik over situationen. Nu offentliggør jeg den, og hvis andre kan bruge den, skal de være velkomne.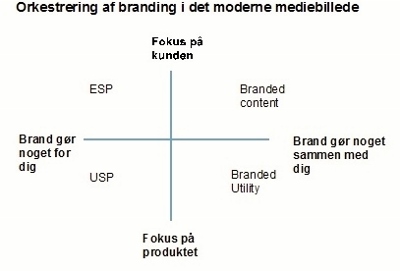 Modellen går i al sin gribende enkelhed ud på, at man ikke skal satse på et af de fire kvadranter, men i stedet sørge for at allokere sit budget, så man kan møde forbrugerne på alle relevante måder i en passende kombination.
Den venstre side, hvor brandet gør noget for kunden, er den klassiske, vi alle kender. I den højre side stiger brandet ned fra sin høje hest og inviterer kunderne til at gøre noget sammen med dem.
Hvordan man skal allokere sin indsats afhænger helt af målgruppen, brandet og forbrugssituationen. Og jeg tør godt vædde på, at ingen har fundet den optimale kombination endnu, og jeg vil også godt vædde på, at den ændrer sig hele tiden, hvorfor det handler om at eksperimentere, evaluere og udvikle sin form.
Det eneste, der ikke er til diskussion, er, at for at kunne manøvrere effektivt i den moderne virkelighed, er man mere end nogensinde nødt til at have en stærk brandplatform, som kan udbredes til det hele.
Hanne Feldthus er fast klummeskribent på Bureaubiz. Hun har udgivet bøgerne: "En arbejdsnarkomans bekendelser" og "Den stensikre vej til fiasko" og arbejder herudover som selvstændig kommunikationsrådgiver efter 12 år som strategisk direktør på reklamebureauet Wibroe, Duckert & Partners.

hanne@hannefeldtus.dk