Hele verden er nu på fornavn med Greta. Ret godt gået af en 16-årig svensk pige, som offentligheden intet kendte til før, hun indledte sin skolestrejke hver fredag foran det svenske parlament op til valgdagen.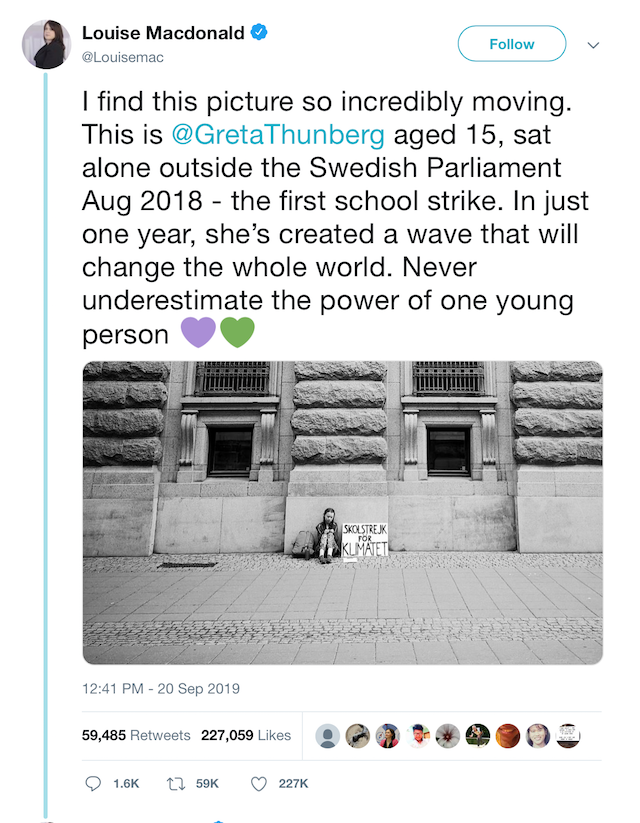 Siden Gretas første strejker for lidt over et år siden, har hun optrådt under enorm bevågenhed i magtens centrum i både Davos, EU, FN og den amerikanske kongres. Det er for mig at se en kongecase i personlig branding – og ovenikøbet med afsæt i den gode sags tjeneste; her kan man virkelig tale om purpose-led branding i højeste potens. Greta er blevet talerør for en ny generation og har mobiliseret millioner af mennesker verden over i forsøget på at råbe politikerne op til handling i forhold til klimakrisen.
En væsentlig katalysator i Greta Thunbergs opstigning mod medietinderne har også et navn: Ingmar Rentzhog, PR-mand og stifter af klimanetværket We Don't Have Time. Han deltager også i The Climate Reality Project, stiftet af Al Gore, der støtter EU's bestræbelser på at reducere CO2-udledningen.
PR-støtte er ikke odiøst – det er udtryk for en professionel tilgang
Det var Rentzhog, der fik et tip om Gretas skolestrejke og postede billeder og en video af hende på sociale medier, som så gik viralt, nok ikke mindst på grund af det provokerende skilt, hun havde medbragt med teksten.
"Vi barn gör inte så ofta som ni säger åt oss att göra, vi gör som ni gör, och eftersom ni vuxna skiter i min framtid gör jag det med. Jag heter Greta och går i åk 9. Och jag skolstrejkar för klimatet fram till valdagen."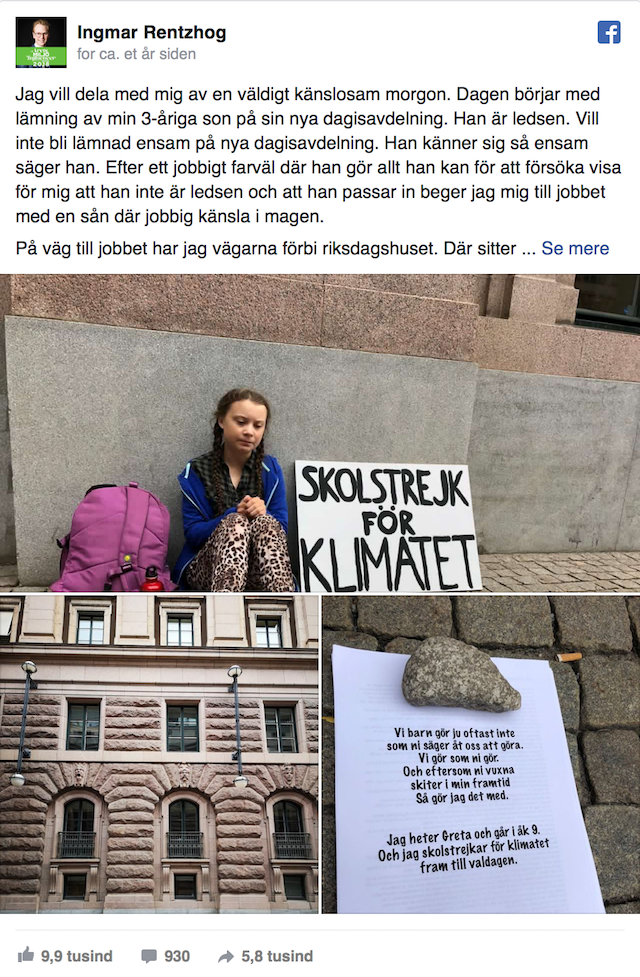 Der er allerede en del klimaskeptikere, der fnyser hånligt af PR-mandens involvering og fortsatte støtte, selvom Thunberg-familien har haft en kontrovers med ham, da han benyttede sig af Gretas navn og berømmelse til at rejse kapital til sin virksomhed. Det, mener jeg ærlig talt, er noget pjat.
Det må være fuldstændig legitimt at tage imod den hjælp, man kan få i en verden, hvor politikere, brancheforeninger og virksomheder i forvejen bruger store summer på lobbyisme, kommunikatører og reklamefolk. Det hører bare med til at være professionel. Og det er Greta Thunberg. Hendes budskab og overbevisninger er leveret med retorisk begavelse, karisma og en stor indlevelse. Også så meget, at hun deler vandene, men det gør alle stærke personligheder. Som den legendariske reklamemand Bill Bernbach, stifter af DDB, er citeret for at sige:
"If you stand for something, you will always find some people for you and some against you. If you stand for nothing, you will find nobody against you, and nobody for you."
Det er en af vigtigste læresætninger inden for branding, og en som mange virksomheder ofte mangler vovemod til at efterleve i deres forsøg på at tilfredsstille alle, hvilket i realiteten ofte indebærer en større risiko, hvis man i stedet opfattes som tandløs og ordinær.
Følelserne vinder over fornuften. Altid.
Naturligvis skal man være i overensstemmelse med sine vigtigste interessenter, hvilket er en anden lektion, mange virksomheder lærer på den hårde måde, når de kaster sig ud i større forandringer. De vigtigste interessenter er bare langt fra alle.
Stærk branding tager altid sit afsæt i en inderkreds og i ambassadørerne. Dem har Greta ramt lige i hjertekulen, fordi hun heller ikke er bange for at tale mere til følelserne end til fornuften. Også en øvelse, flere virksomheder i dag heldigvis er ved at få øjnene op for.


Thunbergs retorik kan generelt karakteriseres ved en velafbalanceret brug af etos, logos og patos, og altid med et emotionelt ståsted. Ved åbningen af FN's klimatopmøde i New York er frygten erstattet med vrede.
Skal man bygge et brand, så opnår man nu engang den største værditilvækst og prissætning ved at have et emotionelt ståsted. Det er vanskeligt at kede et publikum til succes.
Jeg orker i øvrigt ikke at komme ind på al den Greta-mobning, der finder sted. Den taler for sig selv i al sin pinagtighed, hvor en flok voksne, midaldrende mænd har ladet den indre tastaturkriger tage over (ja, det er meget lidt overraskende fortrinsvist midaldrende mænd, der bogstaveligt talt giver den gas).
Når det er sagt, skal medierne og alle andre også have lov til at stille kritiske spørgsmål til fænomenet Greta Thunberg og lave baggrunds- og faktatjek ligesom med alle andre, der bringer sig i søgelyset.
Men at kritisere hendes måde at kommunikere på og hendes eventuelle assistance fra en PR-mand, der har set en mulighed for at opnå pekuniær gevinst på al virakken, er at lukke øjnene for det faktum, at hun har haft en gennemslagskraft og sat en agenda, som kun meget få, om nogen, har formået hidtil i dette århundrede.
Ikke ved at være forsonende eller prøve at omfavne alle, men ved at turde eskalere og sætte tingene på spidsen. Ligesom i alle andre gode historier ved den effektive fortæller, at man skal opsøge konflikten og turde pege på elefanten i rummet. Ellers er der ingen, der gider at lytte i længden – for uden erkendelse af konflikten, vil der heller ikke være nogen forløsning i sigte.
Forestillingsevner slår fantasiløshed. Altid.
Det er kun ved at benytte dramaturgiens klassiske struktur, at man for alvor kan erobre det afgørende narrativ, som alle andre begynder at danne deres opfattelse omkring. Det gælder i forhold til politisk kommunikation og aktivisme. Det gælder også i branding. Her er det også nødvendigt i langt højere grad at finde tilbage til fiktionen.
Fiktion, siger du!? Jamen, i erhvervslivet skal vi jo være seriøse, nøgterne og rationelt tænkende. Lige præcis, og netop derfor er fiktion et uomgængeligt virkemiddel i ethvert strategisk narrativ.
For alle, der har læst nyklassikeren Homo Deus – A Brief History of Tomorrow af Yuval Noah Harari eller den meget økonomisk-sociologiske indsigtsfulde bog Imagined Futuresaf Jens Beckert, vil vide, at fiktion er nødvendig for at få såvel individer som virksomheder, stater og samfund til at fungere. Vi har brug for de fælles accepterede fortællinger. Som Harari skriver i Homo Deus:
"We can't play football unless everyone believes in the same made-up rules, and we can't enjoy the benefits of markets and courts without similar make-believe stories."
Beckert er inde på noget af det samme i Imagined Futures, og det må man sige, at Greta Thunberg intuitivt har fundet ud af udnytte til det maksimale:
"Actors are motivated in their actions by the imagined future and organize their activities based on these mental representations."
Ligesom virksomheders og dermed brands' markedsværdi er sat ud fra forventningen om en bestemt "future state", det vil sige det fremtidige scenarie, og hvordan forventningerne hertil kan opfyldes, så har Greta opereret med et fremtidsbillede, der er dybt bekymrende. Samtidig er der dog et håb, hvor der er handling – og det er jo kernebudskabet i Gretas mission.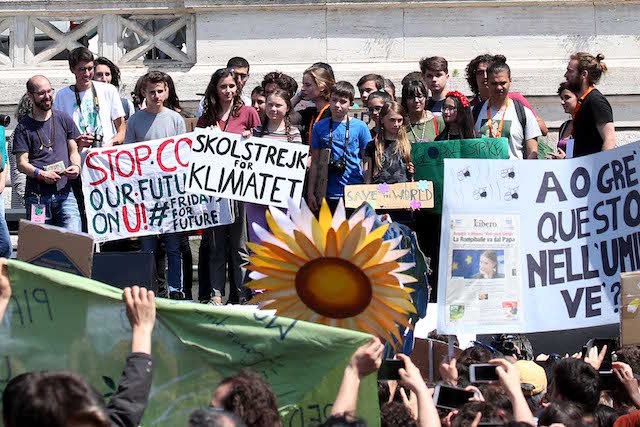 I stedet for at tale om tingene, så gør noget for at forandre tilstanden. Eller som jeg ofte selv ynder at sige, når jeg arbejder med at udvikle strategiske narrativer for virksomheder og brands:
"Hvis du ikke kan finde på og bruge din fantasi, kan du heller ikke finde vej og forandre noget."
Her vil klimaskeptikerne igen indvende, at Greta har brugt sin fantasi lidt for meget og malet fanden på væggen, men hvis det var det, der skulle til for at få politikerne og virksomhederne til at vågne op under indtryk af et storstilet, folkeligt pres, vil jeg i lige dette tilfælde tillade mig at mene, at målet helliger midlet. Det er trods alt vores fælles fremtid, der står på spil.
Så må det være op til især regerings- og virksomhedslederne at byde ind med både realistiske og holdbare løsninger, der nedbringer drivhusgasserne gennem omlægningen til grønne energiformer og deciderede "moonshots" i forhold till udviklingen af banebrydende, nye teknologier – eller genopfindelsen af gamle, som f.eks. brugen af kernekraft.
Interesseret i mere indhold som dette? Skriv dig op til vores nyhedsbrev her.