Ekspertvalg.dk har undersøgt de 100 mest populære virksomheder i Danmark – ud fra Group Calibers officielle liste – og deres evne til at samle likes på Facebook. Heraf har Ekspertvalg i denne undersøgelse specifikt udvalgt dansk-etablerede virksomheder, som udgør 70 af virksomhederne på listen.
Danske virksomheders position på listen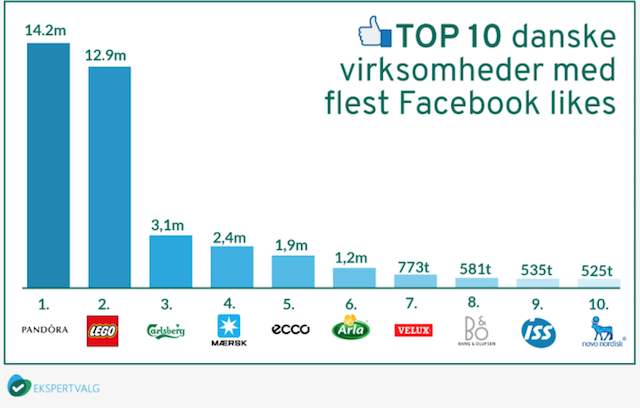 Kilde: Ekspertvalg. 
Den danske virksomhed, der har indtaget førstepladsen i top 10, er smykkevirksomheden Pandora med over 14 millioner likes på Facebook.
Lego sidder stærkt på andenpladsen med over 12 millioner likes, og selvom Carlsberg er længere bagud på antal likes, har de alligevel formået at indtage tredjepladsen med over 3 millioner likes.
Dernæst optræder virksomheder som Maersk, ECCO, Arla, Velux, Bang & Olufsen, ISS og Novo Nordisk.
Hvordan opnår man flest likes?
Facebook kan være lidt af en jungle at finde rundt i. Hvordan får man brugerne til at like og interagere med det indhold, man deler? Hvad virker, og hvad virker ikke?
Selvom der ikke findes noget entydigt svar, er det interessant at kigge nærmere på, hvordan topscorerne Pandora og Lego bruger Facebook til at kommunikere til deres modtagere på det sociale medie.
"Discover new jewellery pieces that speak of who you are"
Pandora taler til alle kvinder alle vegne og gør det med stor succes, hvilket de over 14 millioner likes også bevidner om. Men hvad er det egentlig, Pandora gør på Facebook, som sikrer dem så mange likes?
Dette er selvfølgelig en del af en større marketingstrategi, men noget af det, som de især er gode til, er at interagere med deres brugere på Facebook, eksempelvis ved at poste videoer og billeder ofte – og med stor succes.
Alle deres opslag får mange likes og kommentarer, og i kommentarerne tagger brugerne af Pandora andre Facebook-brugere. På den måde bliver Pandoras opslag delt meget imellem brugerne.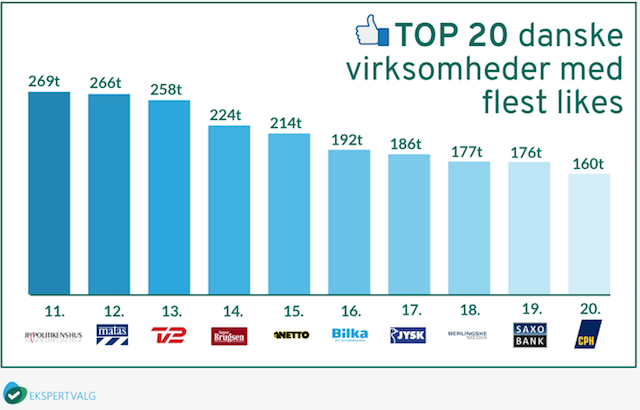 Kilde: Ekspertvalg.
"Denne forsvarer af universet består af 28.000 klodser, er 1,8 meter høj og tog 233 timer at bygge. Den mægtigste robot nogensinde!"
I modsætning til Pandora, poster Lego primært videoer. Disse indeholder ofte børn og voksne, der leger med Lego og bygger de mest fantastiske ting.
På den måde giver Lego deres brugere, små som store, masser af gode idéer til, hvordan man kan sikre sig en god leg. Rent sprogligt er Legos opslag også præget af en legende stil med mange emojis.
Den video, der har flest visninger i august – hele 274.000 af slagsen – blev postet d. 30. august og viser udarbejdelsen af en Lego Technic version af en Bugatti Chiron. Videoen er blevet delt over 2.600 gange og fungerer som et godt eksempel på, hvordan Lego formår at henvende sig til børn som voksne.
Uanset strategi lader det til, at det under alle omstændigheder kan betale sig at udnytte verdens største sociale medie aktivt til at nå ud til sine modtagere.