Den traditionelle bureaumodel bliver dramatisk disruptet lige nu og her, og det er til at græde over. Gigantiske og uløselige udfordringer tegner sig til skræk og advarsel. Udfordringer, som fint og loyalt er blevet fremlagt i såvel de globale medier som i den aktuelle bog "Frenemies: The Epic Disruption of the Advertising Industry (and Why This Matters)" af forfatteren Kenn Auletta.
I undergangen er dog en redning og en ny begyndelse. Fremtidens bureau er ifølge selveste Publicis en kakerlak, som finder sin føde i andres efterladenskaber eller holder sig gemt. Held og lykke.
"The Agency Model is dead. It's 70 years old and they're still holding on to the Art of Persuasion, as everything is deconstructing around them. Film is dead, the 30-second spot is dead, outbound creative is dead, the writer/ art director model of Bernbach is dead. The DDB model is dead. Magazines are dead. The consulting model is dead. … No vision, no investment, no restructuring, no risk, no collaboration, no innovation. … Everything is run by accountants and bean counters. Like deer in the headlights."

– Bob Greenberg, stifter og CEO hos R/GA.
Danske reklamefolk drager år efter år på pilgrimstur til Silicon Valley. Et klassisk stop på turen er naturligvis Facebooks HQ og selfien foran Facebooks store Like-skilt. I jubel over endelig at få lov overser de fleste en lille detalje og et skjult budskab på skiltets bagside.
Facebooks hovedkvarter var engang hjem for det tilbedte og berømte IT-firma Sun. Mark Zuckerberg har med vilje valgt at bibeholde det gamle Sun-skilt som bagsiden på det nye Facebook-skilt. Hvorfor dog?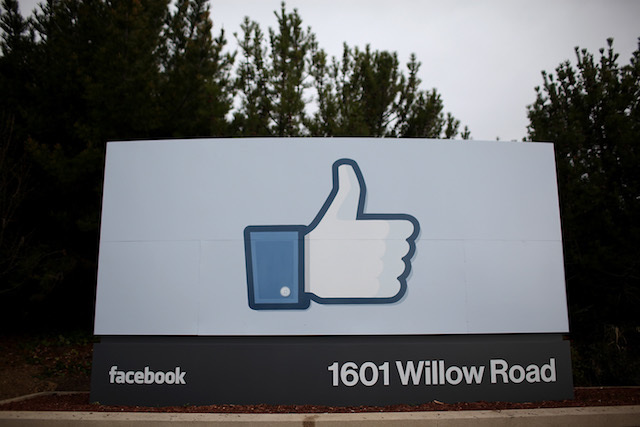 What's not to like? Det berømte skilt foran Facebooks HQ.

Bagsiden af Facebooks like-skilt afslører det gamle Sun-logo.
Fordi enhver, som ankommer eller forlader Facebook, skal huske, at alle kan blive irrelevante – ligesom Sun. Et berømt og feteret selskab, som nu er glemt og borte. På trods af branchens højkonjunktur føler vi os alle mere og mere som Sun. En branche i skyggen af tech-giganternes likes. En industri under angreb fra alle sider. Omgivet af frenemies. Altså, gamle venner, kollegaer, underleverandører og samarbejdspartnere, som nu er mere fjender end venner.
En nagende tvivl breder sig derfor bag de gode resultater. Kunne de være endnu bedre, og var det bedre i gamle dage, før Mad Men blev til matematik, megabytes og monopoler? Ja, for vi er i en episk disruption af reklamebranchen af usete dimensioner. Her er de udfordringer, som rammer os lige nu, lige her, lige lovligt hårdt.
"Technological forces are buffeting this model. The first big challenge is disintermediation. Despite the growing backlash against the tech giants, Google and Facebook make it easy for firms big and small to advertise on their platforms and across the internet via their powerful ad networks. The American advertising market grew by around 3 pct. last year, to $196bn, but only because of the tech giants. Moffett Nathanson, a research firm, estimates that Google and Facebook each accounted for more than $5bn of growth in advertising spend, and for almost 90 pct. of online ad growth. All forms of conventional advertising, apart from outdoor, shrank."

– The Economist.
The Big Four er Big Trouble for You
The Big Four (Amazon, Google, Facebook, Apple) spiller en større og større rolle som monopoler. De klipper så at sige reklamebureauer ud af værdikæden og tager selv de indtægtskilder, som branchen har levet af i årtier – ligesom de automatiserer og digitaliserer reklameøkosystemet i egne lukkede universer.
Med et fint ord kaldes det disintermediation. Altså, at bureauerne bliver mere og mere overflødige i en verden, som tilhører giganterne. Bemærk, at omsætningen i alle reklame- og mediekategorierne falder, mens Google- og Facebook-annoncerne stormer frem. De spiser den omsætning, du skulle leve af.
Faste store kontrakter er so last year
Den stigende kompleksitet i mediemiljøet og bevægelsen mod influencers/content-marketing og direkte samarbejde med duopolet betyder også, at de store faste full service-kontrakter bliver mindre og færre. Nu vil kunderne cherrypicke fra opgave til opgave og fra platform til platform, ofte i kombination med en stærk in-house-kompetence.
"Today clients are not married to an agency. They are only dating"

– Michael Kassan, stifter og CEO hos Medialink.
Privacy er det nye sort. Forbrugerne er en frenemy
I øjeblikket ser vi et dramatisk skifte fra den annoncesælgende 'you're the product'- platform mod reklamefri abonnementsbaserede modeller som Spotify Premium, Netflix osv. Fra indirekte eyeball-modeller til direkte faste abonnementsmodeller. Flere og ere forbrugere ønsker at betale for ikke at få reklamer og undgå at blive dataraped i annoncebaserede indirekte modeller.
Det er dårligt nyt for en branche, som lever af at overvåge befolkningen i en ny marketingbaseret overvågningskapitalisme. Her er brugen og udbredelsen af ad-bloggere mere et symptom på skiftet end sygdommen i sig selv.
"The key thing we see in privacy is that companies have made the decision to privatize privacy"

– Christian Sandvig.
Branchens forsøg på at privatisere privacy-problemet er mislykket. Nu ønsker forbrugerne privacy med stort P og vil ikke spises af med ulæselige og uforståelige Terms Of Service. Her er GDPR-indgrebet blot begyndelsen på nye, strengere regler og større bøder. Ja, tegnet på, at forbrugerne har fået nok af forsøget på at privatisere privatlivsproblematikken.
Vreden er faktisk så stor, at man kunne sige, at forbrugerne er den nye frenemy, med EU som våben og skjold. De ønsker at kollektivisere, regulere og politisere privatlivsproblematikken.
"What has happened is there is a certain need to grow to show increased profit year to year. At some point the agency business model changed because of the nancial pressures. Over time, clients began to ask, "Is what you're recommending to me good because it will be great for my business? Or is it because you will be making more money?"

– Brian Wieser, senior analyst hos Pivotal.

Data lyver aldrig; ergo, farvel til høj margin og fantasiregninger
Datafikation af fag og budskab betyder, at datatunge aktører såsom mediabureauer, The Big Four og de store datacentriske globale konsulenthuse æder mere og mere af markedet. Det hårdeste slag er dog, at datafikationen betyder, at det er slut med at sende fantasiregninger og sælge projekter med uhørt høj margin.
For data sladrer, og data ved godt, hvad ting skal koste. Ikke mindst, fordi the Big Four har skabt deres dominans på billigere og bedre datadrevne produkter. Det presser nu marginen dramatisk ned, og mere dag for dag. Ikke mindst, når tilliden er væk.


In-housification = ingen penge til dit bureau
Automatisering og kunstig intelligens betyder, at kunder kan mere og mere for færre penge. En gigantisk in-housification er i gang. Man kan nå ufatteligt langt med et in-house-bureau og storforbrug af Facebook/Google. For at gøre ondt værre er det kombineret med en større og større lyst til DIY-kampagner. Gamle venner, som nu vender branchens grådighed og profitjagt ryggen. Ikke mindst, fordi mange har følt, de har betalt for meget for alt for lidt. En anerkendelse, som blot vokser, jo mere de prøver selv. Et farvel og tak til den klassiske bureaumodel er resultatet. En ny og overraskende frenemy er født.
"The more immediate disruption threat to agencies comes from many former clients like consulting companies that are also invading the advertising and marketing business. Several years ago, we thought Google was going to eat our lunch. Lately, it's become more of a Facebook threat. But the bigger menace, may come from companies who have relationships with corporate CEOs or who have special skills to go along with their deep pockets."

– Martin Sorrell, forhenværende CEO hos WPP.
Strategisering, digitalisering og designtænkning tænker reklame ud af budgettet. Opfattelsen af marketing som strategisk disciplin, digitaliseringen og bevægelsen mod etnografiske metoder vokser dag for dag. Al den hype om disruption, servicerejser og designtænkning trækker energi og penge væk fra traditionel reklame.
Det betyder, at store konsulenthuse såsom McKinsey, software rmaer som Adobe/Salesforce og bureauer med socialvidenskabelige metoder tager flere og flere opgaver og redefinerer traditionelle reklameopgaver til strategiudvikling, antropologiske undersøgelser og adfærdsdesignsinterventioner, fx som vi ser det med digitaliserings- dagsorden, nudging eller GDPR.
Her har mange reklamebureauer svært ved at følge med, fordi de ikke har McKinseys adgang til topledelsen og softwarefirmaernes 360-graders perspektiv eller den nødvendige socialantropologiske faglighed. Det koster mange penge og betyder ere penge til strategi og antropologi på bekostning af kommunikation i traditionel forstand.
Marketing er et potentielt profit-loss- center
Store virksomheder som Unilever og P&G skærer drastisk ned i traditionel reklame og giver nu ere og ere af deres reklamepenge til duopolet Google/Facebook. Det har ramt WPP hårdt – men det rammer også snart dit bureau.
Mange store virksomheder er efter finanskrisen blevet bedre til at passe på deres penge. Ikke mindst, fordi flere og flere virksomheder nu drives af kapitalfonde, som har et meget stort og sundt fokus på marketing som et muligt profit-loss-center.
Der er muligvis en smule håb for branchen. Ingen har som reklamebranchen et instinkt for overlevelse, som chief growth officer hos Publicis, Rishad Tobaccowala, siger:
"People say agencies are dinosaurs. We are not dinosaurs. We are cockroaches. Everybody hates us. Nobody likes to see us. But cockroaches have outlived everyone. We know how to scurry around, we hide out in the corner, we gure out where the food is, we reconstitute ourselves."
Så vi står måske nok over for gigantiske udfordringer, men vi overlever heldigvis ligesom kakerlakkerne. At overleve er bare ikke det samme som at leve godt. Derfor held og lykke til alle.