Slack er en kun fem år gammel virksomhed, der med internettets hast har opnået en uhyre popularitet (i hvert fald i USA), og som allerede har en værdiansættelse på over to milliarder dollars.
Slack tilbyder en platform, hvor medarbejdere i en virksomhed, en forening eller bare en gruppe venner kan kommunikere hurtigt, nemt og uformelt. Med video og billeder – og integration af andre apps – er Slack lidt af en schweizerkniv; en platform, der samler alt på en uformel, men effektiv måde.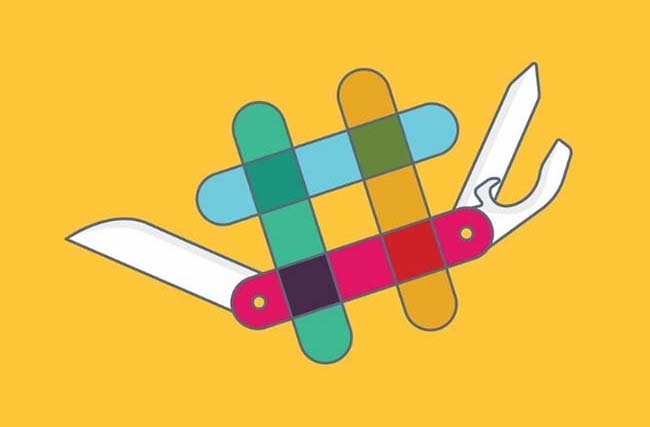 Alle, der er tvunget til at bruge ForældreIntra, burde prøve Slack. Kilde: trychameleon.com.
Firmaets navn er en forkortelse for Searchable Log of All Conversation and Knowledge, og på mange måder er Slack den ideelle erstatning for ForældreIntra: Man kan være så mange eller så få, man vil i en samtale, man kan oprette alle de kanaler, man vil – og man kan sætte det hele på pause, hvis man skal noget andet.
Slacks oprindelige symbol var et hashtag – et symbol, der også fungerer som markør for de 'kanaler', man som bruger kan oprette til de forskellige grupper og samtaler, man har kørende i appen.
Imidlertid opdagede Slacks PR-afdeling hurtigt, at det var svært at bruge hashtagsymbolet på en sammenhængende og konsistent måde. Det var lavet med Photoshops "transparens"-filter på ca. 50 % og så altså ud til at bestå af gennemsigtige farver. I realiteten var der tale om 11 forskellige farver i logoet.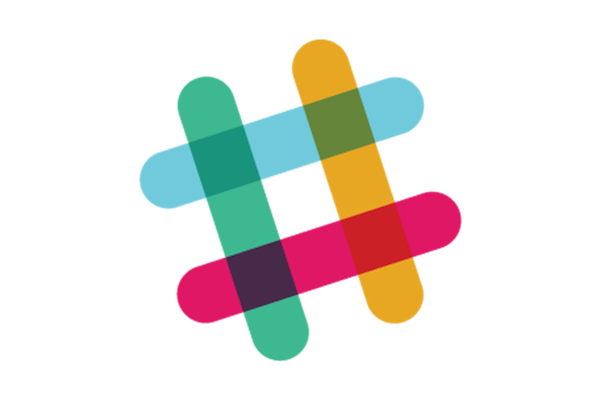 Man skal dog være meget præcis med sin farvebrug for at fastholde illusionen af gennemsigtighed.
Noget, der ikke er så svært i digitale medier, hvor man nemt kan sende hele billedfiler og meget præcise farvekoder frem, men som er tæt på umuligt, så snart man bevæger sig over i den fysiske verden, hvor ting skal trykkes på papir eller stof, og hvor den menneskelige faktor, forskelligt farvesyn, trykprocesser, materialer og hundrede andre ting normalt gør det vanskeligt nok blot at holde fast i en enkelt logofarve.
Der var derfor ikke så megen tvivl om, at det mærke skulle laves om. I takt med, at brugerantallet voksede, steg den grafiske forvirring tilsvarende, og Slack har derfor gennemgået en rebranding.
Fornuftigt nok har de ringet til nogle rigtige eksperter – nemlig brandingmestrene fra Pentagram – en ikonisk grafisk virksomhed med så mange fremragende projekter bag sig, at det halve kunne være mere end nok.
Pentagram har arbejdet sammen med Slacks egne designfolk og har dekonstrueret det oprindelige hashtag og skabt et originalt, smukt, effektivt og et – efter denne iagttagers mening – meget Slack-agtigt mærke.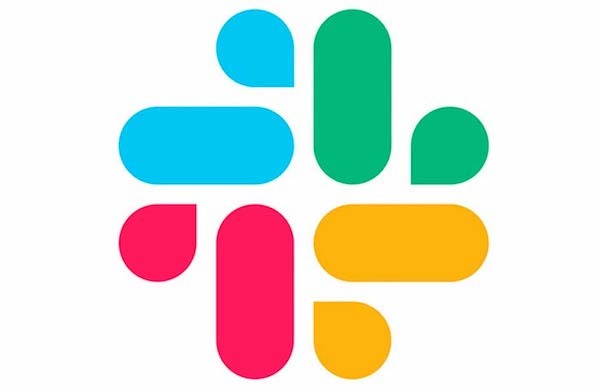 På de sociale medier – og endda på visse designsites (bl.a. DeZeen) – har der været nogle meget fantasifulde mennesker ude og sige, at det nye mærke ligner et hagekors. Dertil kan man sige to ting:
Et:
Hvis man skal være så nøjeregnende, så er der mange mærker, der ligner hagekors – for eksempel Columbia, Sun Microsystems og logoet til OL i London 2012.
Og to:
Hvis det ligner et hagekors, så er min røv en vandflyver.
Hvis man kigger på Pentagrams skitser, kan man se forskellige tidligere stadier, der med lidt ond vilje kunne siges at ligne hagekors – men kun med ond vilje som sagt.
Og hvis det er det, man vil, kan man uden tvivl finde henvisninger til sort magi i selve navnet Pentagram – en sammensværgelse med andre ord!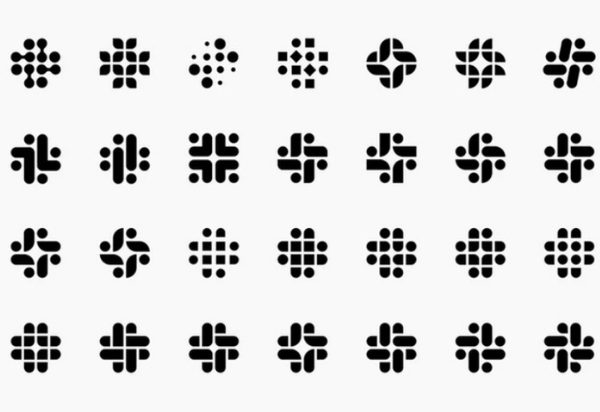 Pentagrams hagekorsvariationer – eller bare deres skitser til Slacks nye logo.
Men altså – vås til side: Hvad man kan sige om Pentagrams resultat, er, at det er ret godt: Et originalt mærke med klare referencer til det gamle, men med en tilføjelse af talebobler og en løst sammensat komposition, der gør, at de enkelte elementer – talebobler og piller –kan bruges hver for sig eller i andre kombinationer end mærket.
Man har samtidig reduceret antallet af farver fra 11 til fire – rød, gul, grøn, blå – i nuancer, der både klæder hinanden og den aubergineblå baggrundsfarve, der er blevet bibeholdt som Slacks signaturfarve.
Det løse design med talebobler og mindelser om udråbstegn har en roterende og dynamisk fremtræden, der helt ubesværet associerer til kommunikation, samtale, kontorer – og den slags.
Samtidig er farverne venlige som BR-legetøj, og hele udtrykket er varmt og inkluderende i modsætning til tech-industriens normalt mere kølige og glatte udtryk.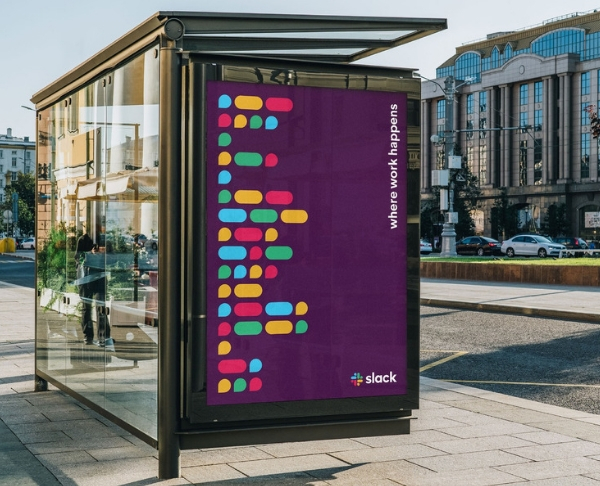 Slacks nye monokrome design, hvor alt fra farvevalg til symboler synes at associere til kommunikation.
Alt i alt et meget vellykket rebrand, der forhåbentlig får lov til at folde sig ud på alle de mange måder, det kan bruges på. Eneste anke er, at Slacks nye logo tilsyneladende lægger sig tættere på sine konkurrenters logo end det gamle.
Med andre ord melder Slack sig med det nye logo ind i en gruppe af apps, der har en række generiske elementer til fælles – såsom talebobler, streger, pilleformer og pangfarver.
Der kan naturligvis være gode grunde til at melde sig ind i en generisk gruppe – som når alle bagere bruger en kringle som logo –det bliver nemmere at vide, hvilken SLAGS app Slack er – man gætter på, at den hører sammen med Flock, Zoho Cliq, Hipchat og de andre i samme gruppe, og man ved uden at tænke, at det ikke er en photo-app eller en sports-app eller noget helt tredje.
På den anden side må det altid være en designers opgave at skabe dén forskel, der gør en forskel – at adskille sig fra konkurrenterne –og lige på det område skuffer Pentagrams ellers meget vellykkede redesign.