Alle taler om det, content marketing. Det fylder mere og mere på radaren hos CMO'erne, som det 'nye' redskab i værktøjskassen.
Et redskab, der skal gøre brandet til en del af det komplekse økosystem, hvor brugeren henter viden og bliver påvirket frem til, man træffer en beslutning om en handling eller køb.
Det er den rejse og proces, de dialoger og interaktioner man som moderne brand, skal være en del af. Og det er gået op for de fleste.
Aldrig har der været mere brandet content tilgængeligt på nettet. Enhver virksomhed med respekt for sig selv har en Facebook side, hvor de i nøje timede intervaller aktiverer content flere gange ugentligt.
Vi udvikler apps, skaber videocontent og YouTube kanaler, og alskens digitale tools. Men midt i hypen, og strømmen af indhold virker det som om, at mange kommer til at glemme, hvad essensen og formålet med content marketing egentlig er.
"Content marketing is a marketing technique of creating and distributing relevant and valuable content to attract, acquire, and engage a clearly defined and understood target audience – with the objective of driving profitable customer action."
Definitionen er fra sitet contentmarketinginstitute.com, som er stiftet af en af pionererne på området Joe Pulizzi.
 Nøgleordene her er naturligvis relevans og værdi, men også at den relevans og værdi man skaber for brugeren, skal kunne omsættes til en værdi for brandet i gennem en form for handling eller adfærdsændring.
 I mange tilfælde virker det som om, at der ikke bliver taget kritisk stilling til disse helt essentielle spørgsmål: Har det content, jeg skaber, relevans og værdi for brugeren? Og ligeså vigtigt har det et troværdigt og relevant link til mit produkt og/eller mit brand?
 Hvis vi helt glemmer at tage produkt og brand med i ligningen, og den dialog vi vil skabe med kunderne, hvori ligger så relevansen og værdien for virksomheden?
Når man ser på de brands, der excellerer inden for feltet, har de alle en content marketing strategi, der først og fremmest hviler på et solidt brandstrategisk fundament, og har en klar rød tråd til de produkter eller services, som de udbyder.
Kongeeksemplet er naturligvis Red Bull, hvis content marketing strategi tager direkte udgangspunkt i virksomhedens brandessens om at "give vinger til både mennesker og ideer". En strategi med et direkte link til fordelene ved det oprindelige kerneprodukt energidrikken.  
Igennem deres succesfulde content marketing strategi – med Felix Baumgartners udspring som toppen af kransekagen, har Red Bull så på helt fantastisk vis formået at transcendere virksomhedens oprindelige fundament som en producent af energidrik, og er nu blevet en succesfuld mediekoncern med alt fra magasiner til ekstremsport events.
Men vejen dertil bygger på ideen om et produkt, der giver vinger.
Et andet meget aktuelt eksempel er Amazons giant mystery box. Et billede af en kæmpe Amazon papkasse på ladet af en lastvogn blev seedet på det sociale medie Reddit.  
Det resulterede med det samme i en masse spekulation og hype. Amazon bekræftede efterfølgende, at kassen var ægte, og at den indeholdt den nye Nissan Versa Note.
Der var altså tale om en nøje planlagt co-promotion mellem de to. 
Det er ikke første gang, at Amazon tiltrækker sig opmærksomhed. Sidste år var det (løgne)historien om, at virksomheden ville begynde at bruge droner til at levere pakker med, der skabte en masse PR og omtale.  
Mystikken omkring begge ideer, er det der gjorde det spændende og interessant for brugeren at diskutere og involvere sig i, men samtidig havde begge ideer også et direkte link til Amazon som produkt og service; verdens største retailer, et sted, hvor du kan købe alt mellem himmel og jord, fra bøger til ungarsk salami (ja, det kan man) og nu måske også biler.
Leveret til døren med alt fra trucks til droner. Relevans og værdi for både forbrugeren og brandet.
Men mindre kan også gøre det.
Magasinet Hus Forbi, der har til formål at sætte fokus på hjemløshed i Danmark, kom i efteråret på nedenstående fantastisk simple idé, som de tog et billede af og slog op på deres Facebook side.
Opslaget er indtil videre blevet delt over 2700 gange på Facebook, hvilket enhver med indsigt i Facebook engagement må betegne som ikke mindre end fænomenalt.
Og igen er der tale om en idé, der tager direkte udgangspunkt i produktet i dette tilfælde organisationens formål.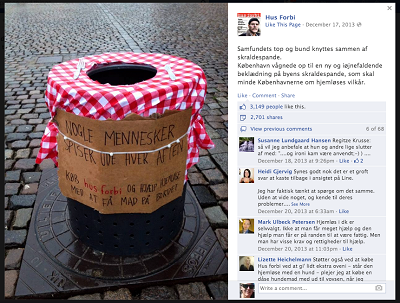 Kilde: https://www.facebook.com/pages/Hus-Forbi/108549692511917
Alle tre er eksempler, hvor man formår at trænge igennem informationsstøjen og levere for forbrugeren relevant og værdifuldt content, uden at man mister den røde tråd til brand og produkt.
I en tid hvor information og content er tilgængeligt i overflod, og hvor den mest dyrebare commodity er forbrugerens opmærksomhed, giver den tilgang bare endnu mere mening.
Det er egentligt ret simpelt: Skru ned for kvantiteten af content og brug i stedet mere tid på at udarbejde de helt rigtige værdifulde løsninger – løsninger, der har en relevans for forbrugeren og en klar linje til produktet.