Et amatørslogan er for eksempel "Er gulvet grim og skummel, så ring til Hummel", "Skal De feste, så ring til Eske", eller "De sidder og prutter, vi kommer og sutter". Det er tre slogans fra henholdsvis et gulvfirma, et firma, der leverer udstyr til fester og en kloakservice. De er lavet af firmaer, som er amatører til at lave slogans, men som er professionelle til at høvle gulve, arrangere fester og suge kloaker.
Men hvordan kan man egentlig forstå amatørslogans i en lidt bredere sammenhæng? Det giver jeg et bud på i bogen Er gulvet grim og skummel, så ring til Hummel: Hverdagens amatørslogans i et medievidenskabeligt perspektiv.
Bogen udkom første gang i 2010, og den 2. reviderede udgave er netop udgivet, med 70 nye sider og alt i alt 700 slogans, hvoraf 350 er nye i forhold til 1.-udgaven.
Amatørslogans forstået som kommunikation
Den overordnede pointe i bogen er, at amatørslogans bedst forstås som kommunikation; det vil sige: Hvem siger, hvad til hvem ved hjælp af hvad og i hvilken sammenhæng? Og man kunne tilføje: Hvor gør de det, og hvor længe har de gjort det?
Eller med lidt flere ord: Hvem er det, som skriver amatørslogans? Hvordan når de frem til dem, de er henvendt til? Hvad kendetegner et amatørslogan? Hvem henvender de sig til? Hvad er det for sammenhænge, amatørslogans indgår i? Hvor møder man amatørslogans; er det kun i Danmark, eller findes de også i udlandet? Og hvor langt tilbage i tiden har man brugt amatørslogans? Det er i al sin enkelhed de spørgsmål, som bogen er opbygget op om, med et kapitel til hvert spørgsmål.
Det lumre ved amatørslogans
I forhold til bogens første udgave fra 2010, er der tilføjet flere nye afsnit, bl.a. et om 'det lumre' ved amatørslogans, og et om, hvorvidt der er tale om et dansk fænomen. Lad os kort se på de to.
Det, der kendetegner de fleste amatørslogans, er, at de er korte. Men derudover så bruger de ofte vers og rim, de er ofte tvetydige, og så spiller de ofte på humor. Man skal ikke have set mange amatørslogans, før man finder ud af, at de tematisk ofte befinder sig syd for navlen. For så vidt man overhovedet kan gradinddele det lumre, så kommer amatørslogans i forskellig lummerhedsstyrke begyndende med det relativt pæne og næsten neutrale i en folder i forbindelse med en AIDS-kampagne: "Før du boller – læs en folder" (folder fra Odense Bibliotek i forbindelse med AIDS-kampagne i 1990).
Efterfulgt af de lidt mere vovede; den første for et firma, der presser store runde halmballer, den næste fra et transportfirma og den sidste fra en producent af plankeborde, der viser, at selv noget ret så pænt og familievenligt som et plankebord pludselig kan få en lummer drejning: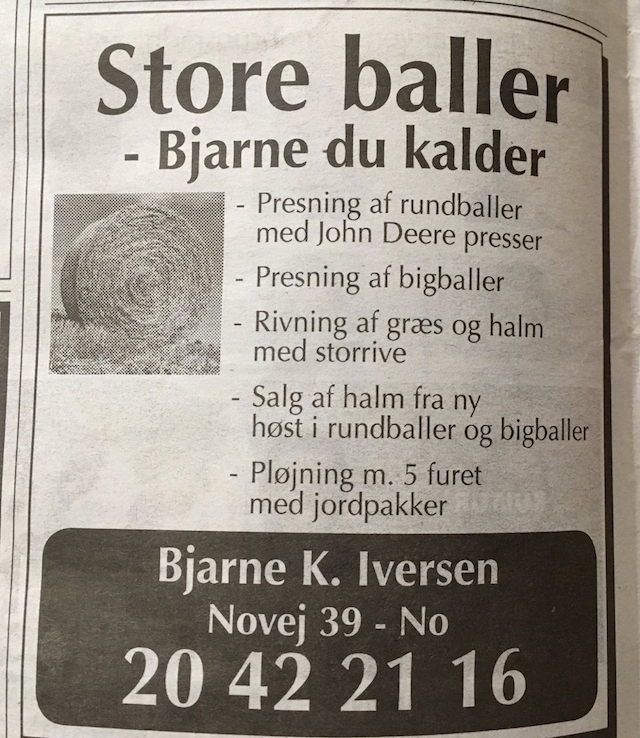 Store baller – Bjarne du kalder.
Og herefter taler de vist bare for sig selv, fra henholdsvis et metalskrotfirma og et stilladsfirma: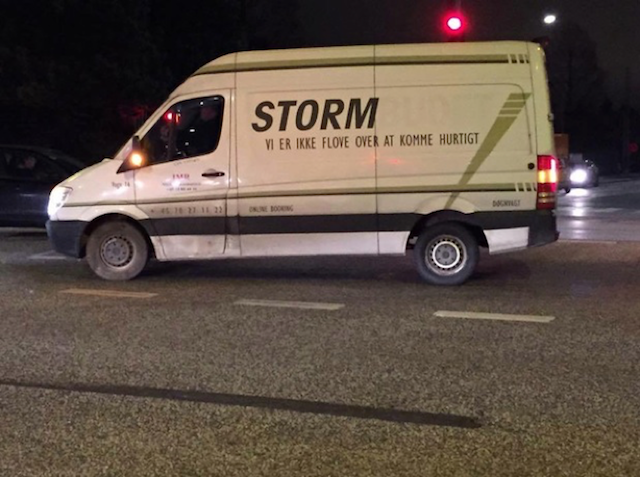 Storm – Vi er ikke flove over at komme hurtigt.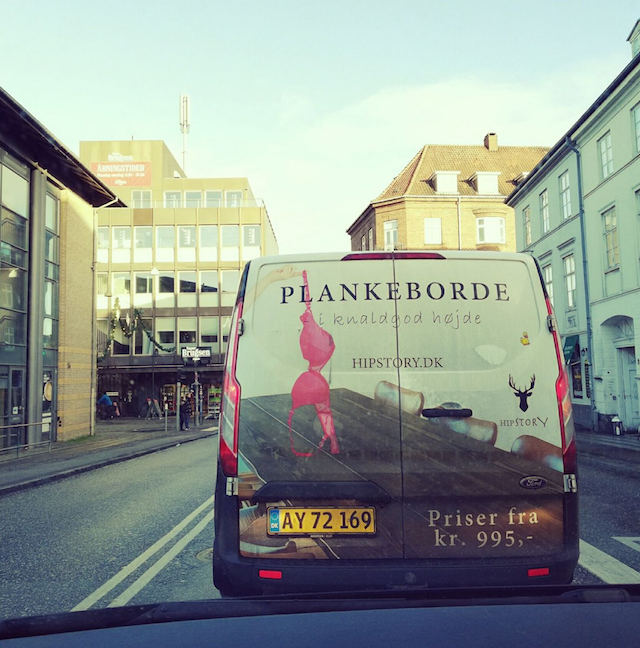 Plankeborde – i knaldgod højde.

Vi kører konstant med jern på.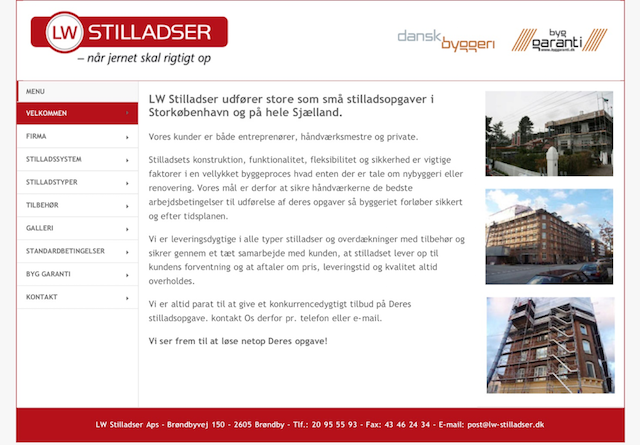 Stilladser – når jernet skal op.
Dobbeltlumre slogans
Ja, enkelte gange kan et amatørslogan ovenikøbet være dobbeltlummert; hvis man overhovedet kan tale om det. Et godt eksempel på det er Hus til Tiden – Murerelitens slogan, der på varevognen er sat sammen med et billede af en letpåklædt kvinde i bad: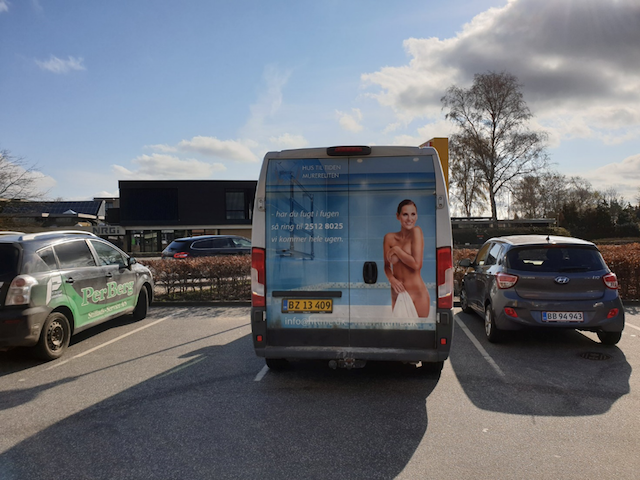 Har du fugt i fugen … vi kommer hele ugen.
Så konkluderende på det lumre: Som man kan se, kommer det lumre næsten altid i kombination med både humor og tvetydighed; ja, det er nærmest tvetydigheden, som får det pæne og det lumre til at balancere med hinanden.
Et dansk fænomen? Nej.
Jeg har siden udgivelsen af bogens 1.-udgave selv undret mig over, om amatørslogans udelukkende er et dansk fænomen, og siden 2010 har jeg fundet så mange udenlandske amatørslogans, at jeg nu godt tør slå fast, at denne form for folkelig udtryksform på ingen måde kun er et dansk fænomen.
På mine rejser og på forskellige websteder er jeg stødt på mange udenlandske slogans, som hvad angår humor, tvetydighed og det lumre er fuldt på højde med, hvad vi kan præstere i Danmark.
Håndværkeren er den fødte slogansmed
Hvem laver amatørslogans i udlandet? Ja, det er samme persongalleri som i Danmark, nemlig håndværkere og mindre erhvervsdrivende. For eksempel er slamsugere i udlandet i høj grad også leveringsdygtige i rene perler, og af det første slogan kan vi lære, at man også 'suger' i Norge: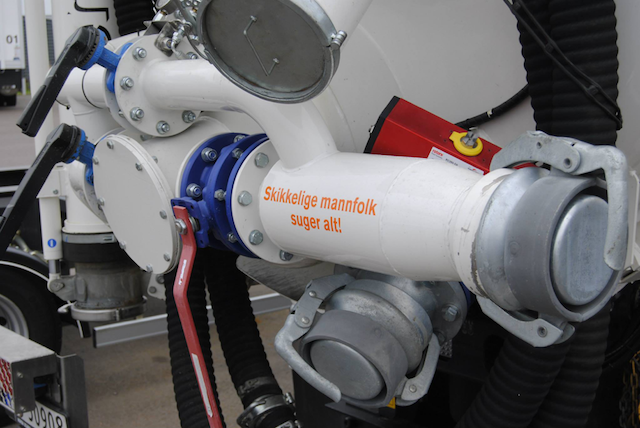 Skikkelige mannfolk suger alt!
Tvetydighed i amatørslogans er heller ikke et ukendt fænomen uden for Danmarks grænser. Her er to gode eksempler.
I USA leger persiennefirmaet All American Blind Company i Florida med tvetydigheden i ordet 'blind', der både kan betyde 'blind' og 'persienne', så selvom man skulle tro det, så er der ingen grund til at være ekstra på vagt, når man ser streame­ren i forruden på firmats varevogn — der er bare en persiennemand på vej: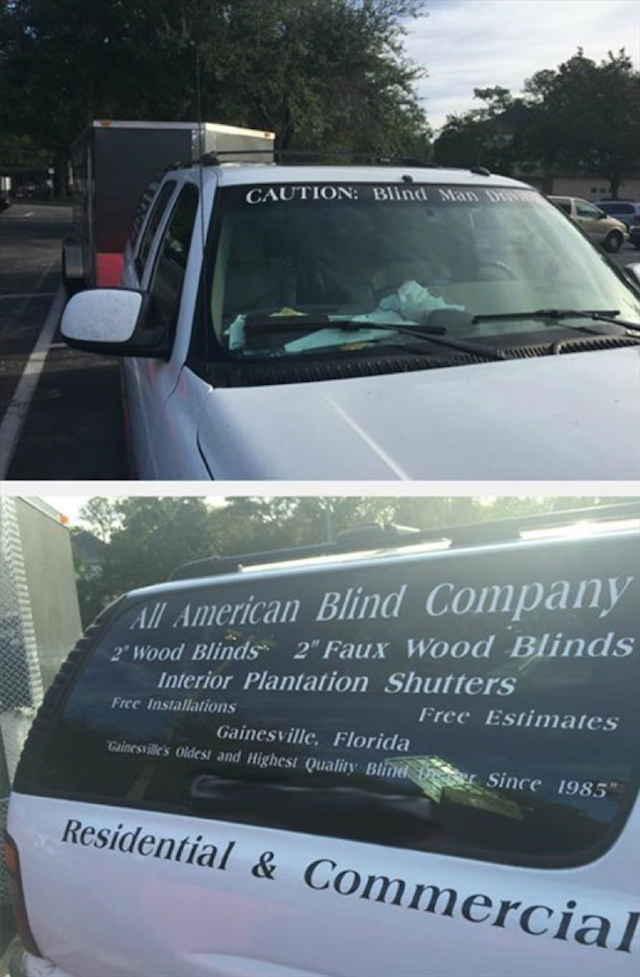 '
Blind man driving.
Det er selvfølgelig heller ingen overraskelse, at det lumre også har fundet plads i udenlandske slogans — og i tæt samspil med det tvetydige – og de kan fint være med under bæltestedet. Her er et godt eksempel fra et bilvaskefirma (ved håndkraft forstås):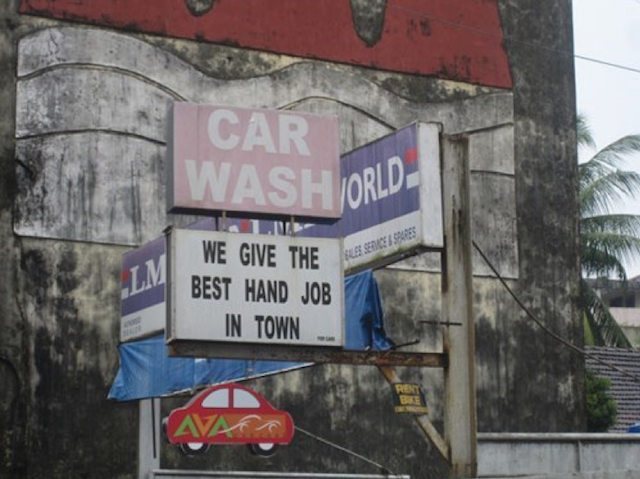 We give the best hand job in town .
Til slut to udenlandske typer, som vi ikke møder i en tilsvarende dansk sammenhæng; den første fra en lavprisbedemand (!), den anden et gulvfirmas meget opfindsomme genfortolkning af en sangtekst af Lionel Richie, og den sidste – ja, den kræver en helt særlig forklaring: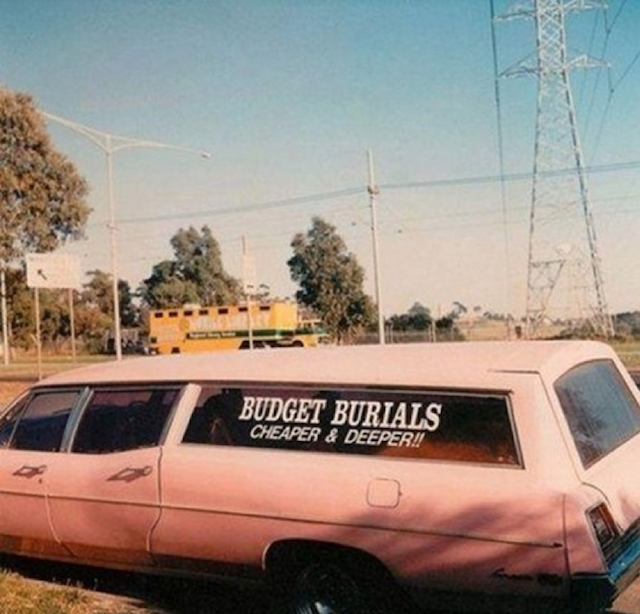 Budget burials – cheaper & deeper!!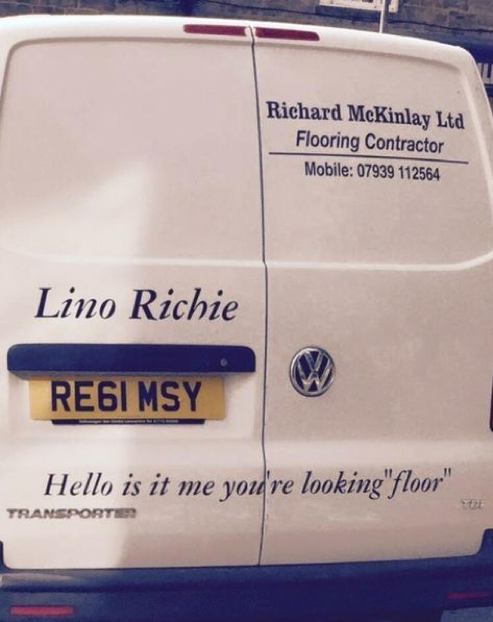 Hello is it me you're looking "floor".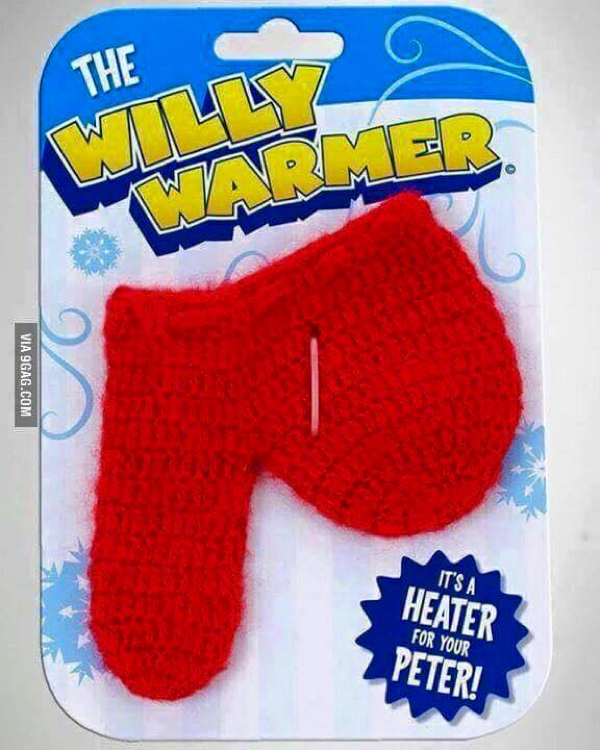 It's a heater for your Peter!
"It's a heater for your peter" – hvad går det nu ud på? Jo, det er et slogan for noget, der unægteligt er et nicheprodukt, nemlig en penisvarmer med plads til det hele – i rød strik! Den kan købes på amazon.com, hvor sloganet, som det fremgår af billedet, findes på indpakningen – et helt særligt produkt med en stor fremtid foran sig i de danske vintre.
En fremtid for amatørslogans
Som man kan se, er amatørslogans på ingen måde et rent dansk fænomen. Der findes et utal af slogans i det fremmede, mange af dem er næsten ordret identiske med deres danske slægtninge, men der er også nye slogans, som danske sloganamatører kan lade sig inspirere af i fremtiden.
Har amatørslogans en fremtid, også i en digitaliseret verden? Jeg vil tro, amatørslogans er kommet for at blive, men de vil nok også fortsat være et nichefænomen i vores kommunikative folklore. Og under alle omstændigheder er der stadig masser af amatørslogans at finde derude, så, kære læser, gå på opdagelse i bylivet, og send mig gerne et foto, hvis du støder på et slogan, som ikke er med i bogen.
Hvis du i øvrigt er interesseret i subgenren af slamsluger-slogans, så læs med her.
Niels Brügger: Er gulvet grim og skummel, så ring til Hummel: Hverdagens amatørslogans i et medievidenskabeligt perspektiv. Books on Demand, 2019, 204 sider, 129,- kr.
Bogen kan købes på forlagets website, bod.dk, eller i enhver boghandel, både på og uden for nettet.