Der bliver vendt op og ned på mange ting i disse dage. Jeg skal spare jer for følelsesladede klicheer i den anledning. Lad mig i stedet dele en observation, som må blive skelsættende for vores forståelse af, hvad vi mennesker og dermed forbrugere er for en størrelse.
Jeg går ud fra, at læserne har kendt Maslows behovspyramide siden grundskolen. Hvis detaljer skulle have undsluppet jeres hukommelse, har jeg lånt en udgave fra nettet til jer.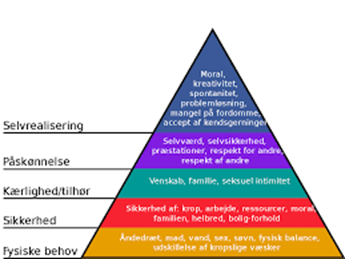 Den konventionelle forståelse af modellen går ud på, at det handler om at komme så højt op i pyramiden som muligt for at kunne realisere sig selv og sit fulde potentiale.
Det mål har det vestlige menneske i fred og frihed kunne forfølge de sidste 30 år. Hermed ikke sagt, at alle har været lige privilegerede, men danskere har levet med en grundfortælling om, at det nærmest var deres forbandede pligt at skynde sig til tops i modellen.
Heroppe forestillede Maslow sig, at mennesker ville have overskud til at opføre sig moralsk, uden fordomme, med accept af kendsgerninger og udfoldelse af kreativitet.
Det er der helt sikkert nogen, som er i stand til, men vi ser også det stik modsatte. Vi ser mennesker, som i jagten på det lovede potentiale bliver helt utroligt selvoptagede.
Folk giver hinanden fingeren i trafikken. De overfuser kassedamen og busschaufføren. De forlanger særstatus i skolen for lille Fidolin, for Fidolin er noget helt særligt. De dyrker sig selv på sociale medier med ulideligt trivielle fotos af hjemmebagte brød, ferieoplevelser og pornolækre retter på smarte restauranter. De sviner hinandens køn og religion til i kommentarspor og lader sig forlede af fake news og konspirationsteorier. Jeg kunne blive ved.
Lad mig i stedet konstatere, at mange på toppen af pyramiden ikke har overskud til andet end sig selv og deres nærmeste. I stedet for at kigge udad kigger de indad for at finde det potentiale, som måske ikke er helt så unikt og fantastisk, som Maslows grundfortælling har forledt dem til at tro.
Det er åbenlyst en stærkt strabadserende proces, for aldrig har vi været mere psykisk udfordrede, end vi er lige nu. Gud og hver mand, kvinde og børn har en diagnose og lider af stress og angst.
Lad mig lige supplere analysen med, at ubegribeligt mange CEOs og deres løjtnanter kaster sig ud i marathon-løb og det, som er værre. Måske for overhovedet at kunne mærke sig selv. De opsøger paradoksalt nok den fysiske smerte, som de med alle til rådighed stående midler har forsøgt fjernet fra deres liv.
Her stod vi så torsdag morgen d. 24/2 2022 som fredsforkælede mennesker alene udstyret med I-landsproblemer. Hvor identitetspolitiske udsagn på et splitsekund kunne udløse en shitstorm, så de forsmåede kunne komme af med deres uretfærdige harme. Hvor unge mennesker ikke bare skulle tage stilling til, hvad de skulle være, når de blev store, men også hvilket køn de skulle identificere sig med.
Onsdag d. 23/2 2022 var der ikke meget hjælpsomhed og solidaritet at spore. I løbet af torsdagen opdagede vi, at det i virkeligheden er på bunden af Maslows behovspyramide, at den slags findes.
Det er når, vi bliver slynget ned til opfyldelsen af de allermest basale behov, at mennesker træder i karakter og byder ind. Hernede kan vi ikke undgå at mærke livets virkelige alvor. Hernede er der sjovt nok ingen hertillands, som fordømmer den ukrainske præsident for, at det "kun" er mænd, som bliver beordret til at blive hjemme og kæmpe.
Selv når jeg i fuldkommen sikkerhed sidder hjemme i min sofa og stirrer mig blind på nyheder fra diverse kanaler, får jeg det fysisk dårligt af at betragte de heroiske ukrainske mænd og kvinders kamp mod Putins soldater.
Det er den klump i maven, som fik mig til at tænke på Maslow og hans gigantiske fejlfortolkning af den menneskelige natur. Det er ikke i toppen, men i bunden af pyramiden at solidariteten findes.
På TV2 News bliver min higen efter nyt fra fronten og verden ind imellem afbrudt af en reklamefilm fra Boozt.com. Til glad musik danser unge, smukke og etnisk korrekt castede unge, hvorefter seerne bliver opfordrede til at købe nyt tøj.
Tøj, de ikke har brug for. Tøj, som uden for enhver tvivl er produceret med kunstige fibre, der stammer fra olie. Olie, som med stor sandsynlighed er pumpet op af jorden i Rusland.
Tøj, som mennesker på flugt ikke har plads til i den ene rullekuffert, som de magter at slæbe over grænsen.
Og midt i det hele kommer en rapport fra FN's klimapanel, som endnu engang skærper deres forudsigelser om, hvor voldsomme klimaforandringerne bliver – ikke i 2050 – men inden for de næste 10 år.
30 års naivitet, hvor vi har solgt vores sjæl til selvrealiseringens gud, er slut.