Vi er stadig nogle, som finder inspiration hos vores bedsteforældre og en tid, hvor man tog tingene lidt mindre for givet – også når vi laver indhold til de digitale medier. Det gøres ved at lade sig inspirere af de følgende fem 'madlavningsprincipper', som sikkert kan findes i de fleste grundbøger om at være en god husmor:
Lav den samme ret til alle ved bordet
Smid ikke resterne ud
Tilføj nye 'toppings'
Gem til vinteren
Del og byt med naboerne
Ved at implementere de fem principper i sin content-produktion kan man ikke kun effektivisere sin proces. Man kan også få langt mere ud af sit indhold og sætte sit indhold i spil på tværs af kanaler og på tværs af sin organisation.
Tag med på SoMe bootcamp i efteråret og lær, hvordan du får det optimale ud af jeres indsats på sociale medier.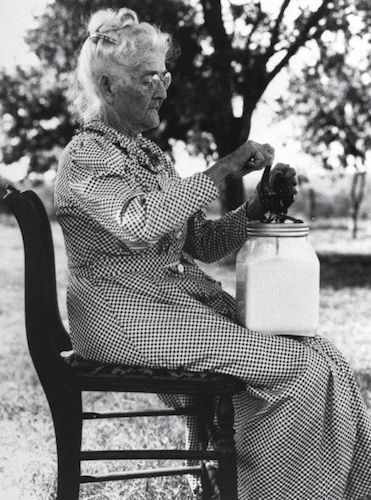 Din mormor er legemliggørelsen af "old school", og der er guld at finde i mormors krukker, når du skal koge din SoMe-strategi sammen.

1. Lav den samme ret til alle ved bordet
Det første og vigtigste princip, både hos bedstemor og i indholdsproduktion, handler om at kunne appellere bredt. Selvom alle har unikke behov og præferencer, bliver man nødt til at starte med at producere noget, som kan bruges på tværs af familien – eller på tværs af kanaler.
Kaster vi os ud i at producere helt unikt indhold til hver eneste kanal, har vi taget det første skridt imod at overvælde os selv alvorligt, og vi kan sikkert forvente, at nogle vil føle sig forsømt, da vi simpelthen aldrig får tiden til at producere til så mange krav.
Start derfor med at forstå, at indhold skal kunne fungere på tværs af kanaler. Selvfølgelig med hensyntagen til målgruppen, formatkrav og lignende. Nogle skal have serveret retten på en specifik måde, nogle skal have ketchup på siden, og nogle skal måske fristes med en dessert, når de har spist op, men kokken ved godt, at de nogenlunde spiser det samme. Velsmagende mad. Relevant indhold.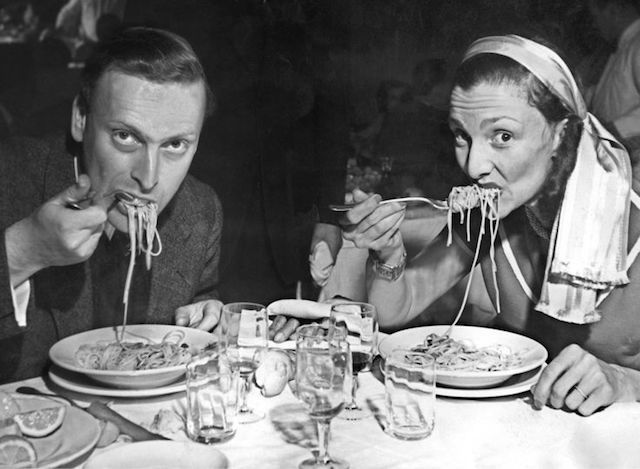 Mormor siger: Find den SoMe-indholdsmæssige ækvivalent til pasta. Alle kan lide det i dets grundform, og det kan nemt tilpasses forskellige behov og præferencer.
2. Smid ikke resterne ud
Når vi producerer indhold, er der oftest en masse rester, som sagtens kan bruges. Det kan være fraklip, overskydende idéer, brødtekst, research eller billeder, og selvom de ikke har en rolle i det umiddelbare indhold, så kan de ofte aktiveres på et senere tidspunkt.
Gem derfor altid overskydende elementer fra indholdsproduktionen i en systematiseret mappe, f.eks. sorteret efter emner. Du kan desuden lave et overblik over de idéer o. lign., som var oppe at vende, før I endte på det endelige stykke indhold, så du ikke starter fra bunden næste gang.
Ligesom når du smider resterne af mormors gullasch i fryseren, skaber det overskydende indhold altid stor glæde i en travl hverdag, og i nogle tilfælde smager det faktisk bedre end første gang.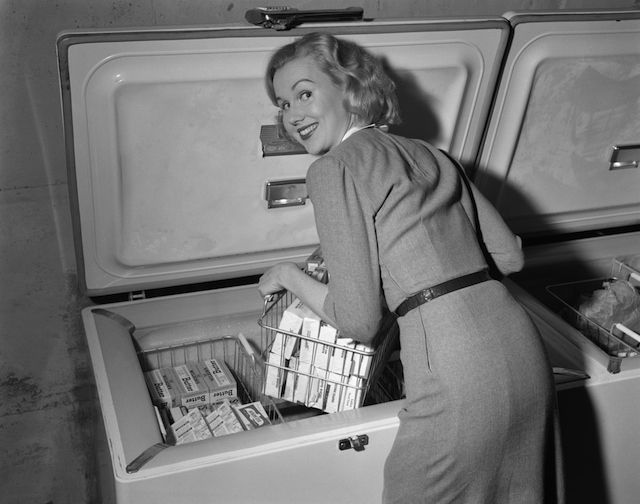 Mormor, da hun var 60'er-sprød og ekstatisk over fryserens anvendelighed siger: Smid ikke ud, når du kan gemme! Hvis idéerne ikke passer ind i det indhold, du er ved at producere, så gem dem et passende sted til en anden god gang. Kilde: Getty Images.

3. Tilføj nye 'toppings'
Hvem har ikke prøvet at få den lækre flæskesteg som velsmagende biksemad dagen efter? Det samme gør sig gældende for godt indhold. Mens indholdet oftest ikke skal genpostes allerede dagen efter, kan det meste gode indhold genoplives efter nogle måneder eller efter behov med "et twist" eller en ny fængende tekst.
Husk, at folk ikke interagerer med dine profiler eller dit indhold i en lineær proces. De springer ud og ind, de misser opslag, de ryger uden for din segmentering, eller de får ikke klikket sig ind på linket. Så længe du supporterer dit 'genbrug' med gennemtænkt segmentering, god timing og stærk vinkling, kan det kun understøtte og styrke din indholdstilstedeværelse og effekten af dit hårde arbejde.
4. Gem til vinteren
Glassene skal lige skoldes, og eddike, sukker og salt kan forlænge holdbarheden betydeligt. Men det skal tænkes ind fra starten. På samme måde kan indhold godt få et langt liv. Hvis du fra starten har besluttet dig for, at dette indhold skal kunne leve længe og bredt, kan du også tænke det ind i din produktion.
Sørg for, at indholdet får liv på dit website, så det dukker op på relevante søgninger. Design det, så det kan brydes op i mindre bidder og bruges på tværs af kanaler. Tjek, at det ikke nævner konkrete tidspunkter, så du også kan trække det frem, når der pludselig opstår en situation i fremtiden, og kommuniker det til din organisation, så andre også kan tænke det ind i nyhedsbrevet eller pitche det til pressen.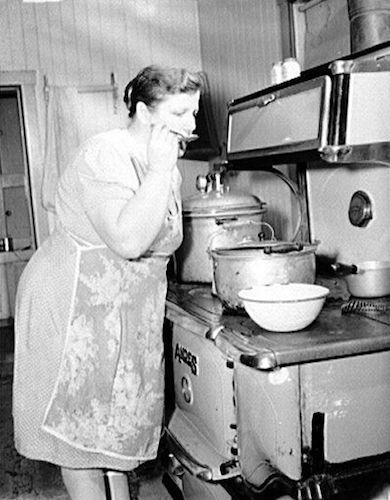 Mormor siger: Sylt, for søren! Hvis du fra starten ved, at noget indhold vil have relevans i lang tid, så sørg for at tilpasse det, så det kan genbruges fremover. Kilde: Getty Images.

5. Del og byt med naboerne
Du skal øve dig på at se de sociale og digitale medier som et netværk. Ligesom din vej, dit nabolag eller din landsby. Vær ikke bange for at dele og gå i dialog, både med venner og fjender. Det vil styrke jeres fællesskab.
De eneste, som differentierer imellem, hvor indholdet kommer fra, er indholdsejerne. Modtagerne konsumerer på kryds og tværs, er illoyale og altid på udkig efter noget nyt. Vær derfor ikke bange for at dele ud af det arbejde, du har lavet. En artikel udgivet på jeres blog er oftest mindst lige så god hos jeres fagorganisation, og på den måde sikrer du rækkevidde og eksponering.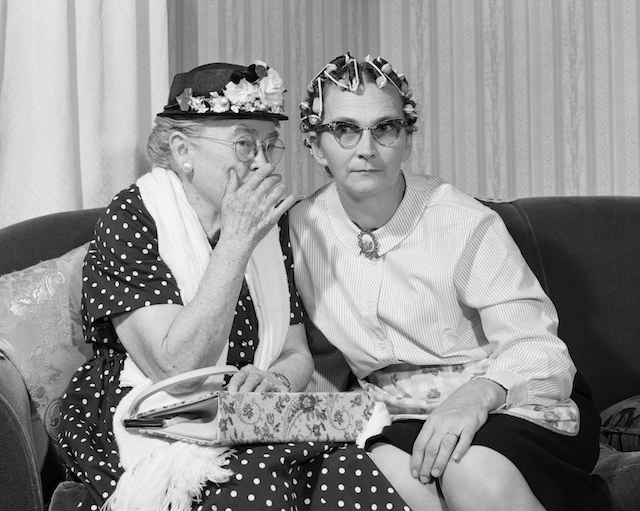 Har du hørt at… Sæt dit indhold i spil, og boost rækkevidden af dit indhold. Kilde: Getty Images.
Modsat den lokale villavej er der ikke noget som hedder 'anonyme donationer' her. Sørg selvfølgelig altid for, at det optræder tydeligt, hvem der har produceret indholdet, at det linker til jeres website eller nævner jeres organisation.
Og dette princip går selvfølgelig begge veje. Lån, og vær aldrig for stolt til at spørge en kollega-organisation, om du må bruge deres indhold. Brug din sunde fornuft for, hvornår det vil modarbejde dit formål eller overeksponere en konkurrent, og husk selvfølgelig, at du kun kan udnytte retargeting og tracking på det indhold, som bor på din egen side.
Så alt i alt, hipster eller ej – du kan blive mere effektiv i din indholdsproduktion ved at tænke det ind fra starten, gemme indhold og dele med dit netværk. Og hvis du stadig ikke er overbevist om, at man bør lade sig inspirere af de gamle dyder, så husk 'everything was simpler in the olden days'.