Mærsk er i gang med at renovere deres hovedkontor. I den anledning udstiller de deres selvforståelse på det plankeværk, som omgiver byggepladsen.
Selvom plakaterne strækker sig over virkelig mange meter og har hængt der længe, har jeg først fornylig taget stilling til deres budskab, men så kom jeg til gengæld op i det røde felt, for hvad er det dog, de siger?
De lægger ud med at påstå, at de gør livet bedre for ALLE.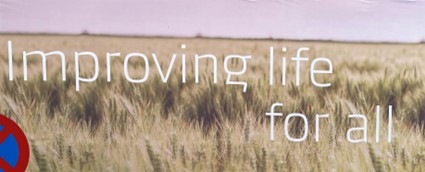 Al den stund, at de er en global virksomhed, må vi antage, at de mener alle i hele verden. Det er fuldkommen vildt, når man tager i betragtning, at de udleder mere CO2 end hele Danmark, og at deres udledninger tilmed er stigende.
Vi tager lige tallene, som stammer fra Klimamonitors bearbejdning af Mærsks bæredygtighedsrapport:
2020: 70,81 mio. tons
2021: 76, 38 mio. tons
2022: 77,96 mio. tons
Resten af os danskere udleder i følge Energistyrelsen 63 mio. tons, når vi tager det hele med inklusive udledninger fra importerede varer.
Nu vil jeg ikke fortabe mig i, at verdens forbrugere selv efterspørger alle de varer, Mærsk transporterer rundt. Det alarmerende i denne sammenhæng er, at de åbenbart går rundt på Esplanaden og mener, at de forbedrer livet for hele menneskeheden, alt imens skove brænder, ørkner spreder sig, oversvømmelser hærger og levesteder forsvinder, som følge af lige præcis CO2-udledninger.
Hvis man tror, at man er en del af løsningen, men faktisk er kernen i problemet, er der lang vej hjem.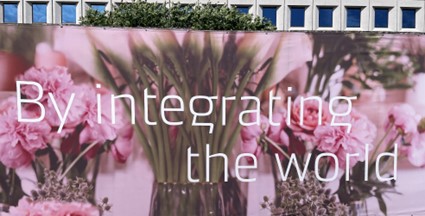 Næste del af deres selvforståelse er som et ekko fra fortiden. Fra dengang man stadig troede, at globaliseringen var til gavn for alle, at alle blev rigere af at handle sammen.
I dag kan vi ikke ignorere, at selvom fattige mennesker i lavtlønslande i et par årtier har fået lidt mere at leve af, så står de nu i overhængende fare for at blive sendt tilbage til nød og elendighed. Det accelererende forbrug har skabt accelererende katastrofer for klima, miljø og biodiversitet.
Vores rigdom er kun tilsyneladende. Nu kommer regningerne, og rudekuverterne vælter ind. Fakturaerne lyder på genopbygning efter vildt vejr; fremtidig klimasikring af infrastruktur, byer og bygninger; håndtering af – og nødhjælp til flygtninge; mindsket produktivitet; stigende priser på fødevarer som følge af tabt landbrugsjord; usikre forsyningskæder Jeg kunne blive ved.
80% af verdens energiforbrug er fortsat baseret på fossile brændsler ifølge IEAs Rapport: World Energy Outlook 2022.Og vi ved faktisk ikke, hvordan vi får den grønne omstilling til at række til at erstatte den sorte energi i hele verden. I tide.
Globaliseringen eller integration af verden, som Mærsk kalder det, har vist sig at gå fra at være et løfte om mere velstand til at blive til et monster, som ikke bare truer mennesker langt væk i det globale syd eller vores børn og børnebørn en gang i fremtiden. Det truer os lige nu. Dig og mig lige her.
Det værste er, at ingen tilsyneladende kan finde ud af at træffe de nødvendige beslutninger. Ingen udviser rettidig omhu, selvom det netop er det, Mærsk slutter sine selvforståelsesplakater af med.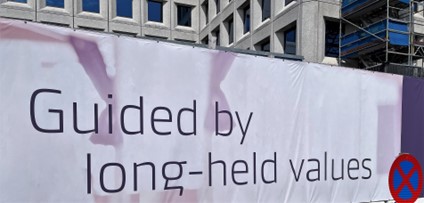 Da jeg læste, at de var Guidede by long-held values, tænkte jeg, hvad er det egentlig med det herostratisk berømte krav om rettidige omhu og slog det op. Her fandt jeg et brev, som Skibsredder A. P. Møller i 1946 skrev til sin søn Mærsk McKinney Møller. Faren skrev:
"Min gamle sætning: Intet tab bør ramme os, som kan undgås ved rettidig omhu, bør være et løsen, som går igennem hele organisationen."
Se det er jo en lidt mere præcis udlægning, end vi normalt går rundt og forestiller os. Det handler alene om at tjene penge, og det skal man ikke sjuske med.
Her er vi fremme ved sagens kerne, som den er formuleret af superliberalisten og økonomen Milton Friedman. Han fremførte, at "The business of business is business."
Det kan ikke være anderledes. En virksomhed er sat i verden for at tjene penge. Og en børsnoteret virksomhed skal levere på den korte bane uden alt for mange hensyn til fremtiden. Og her er Mærsk i disse år i en liga for sig selv.
I 2022 havde de et overskud på 211 milliarder kroner. Det største overskud nogensinde her til lands, men inden læserne begynder at glæde sig over de mange skatteindtægter, som man kunne forestille sig ville tilflyde os, skal man lige have in mente, at Mærsk kun betalte 0,7% i skat i Danmark. (Kilde: Finans).
Det skyldes den omdiskuterede tonnageskat, som på papiret er 3% i modsætning til den normale selskabsskat, som er på 22%. Hvordan de har fået skatten helt ned på 0,7% går over min forstand, men aktionærerne er nok godt tilfredse.
Man kunne således omformulere deres højstemte selvforståelse til en mere retvisende en af slagsen:
Improving our buttom line
By moving stuff around the world
Fueled by fossil energy
Guided by yesterdays values
Ja, det er bare et forslag.
På byggepladsen slutter de af med at love os: All the way.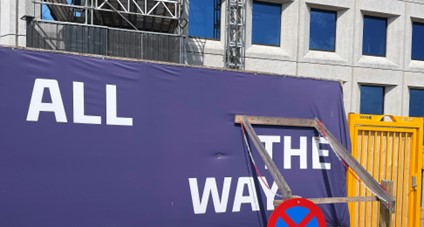 Hvis man skal være bogstavelig i sin fortolkning, kan det udlægges, som om de vil gå hele vejen for at forbedre livet for alle i hele verden, men sådan skal det nok ikke helt forstås. Sloganet er snarere et udtryk for, at de som virksomhed er gået fra kun at være et rederi til at være en fuldt integreret logistikvirksomhed, som tager deres kunders varer fra dør til dør. Med god service forstås.
Jeg gætter på, at deres kommunikationsafdeling tankeløst knalder deres gængse løfte om "at gå hele vejen" på som afslutningen på alt, hvad de skriver, uden at læse, hvad det kommer til at betyde.
De har i hvert fald nok ikke tænkt på, at DR ville komme til at afsløre, at Mærsk har lobbyet for at undgå at komme til at betale C02-afgifter. Men hov, det er jo en long-held value, der skal undgå tab af indtjening, så det er der ingen grund til at undre sig over.
Hvad rettidig omhu for menneskeheden vil være står hen i det uvisse på havnen i København. Til gengæld er det åbenlyst, at de ansvarlige i corporate communication, skal tage sig gevaldigt sammen i en fart for at komme på omgangshøjde med virkeligheden.