Kapløbet om at genopfinde penge er startet.
Kina og flere andre lande har i lang tid været på vej mod et kontantløst samfund, og coronakrisen har skubbet yderligere til denne udvikling pga. risikoen for at blive smittet ved berøring med fysiske penge.
Samtidig har den kinesiske regering mistet magten og kontrollen til bl.a. Alibaba og Tencent, som i dag er ansvarlige for fire ud af fem transaktioner i Kina, og derfor ved de mere om forbrugerne og deres indkøbsmønstre end regeringen. Derudover frygter regeringen en verden, hvor den fremtidige globale digitale valuta kan ende med at blive kontrolleret af f.eks. Libra-selskabet ledet af Facebook.
Derfor fremskynder Kina udrulningen og udstedelsen af verdens første digitale valuta fra en centralbank: DCEP (Digital Currency Electronic Payment).
Det vil ikke som sådan være en klassisk kryptovaluta. Det er mere en digital version af Yuan, udstedt og bakket op af centralbanken. Men DCEP vil dele nogle ligheder med kryptovalutaer, nemlig muligheden for at slippe af med mellemmændene og muligheden for at lave smarte kontrakter bundet op på de digitale penge.
Billede: Sådan ser en betaversion af DCP ud. (Ret det til DCEP)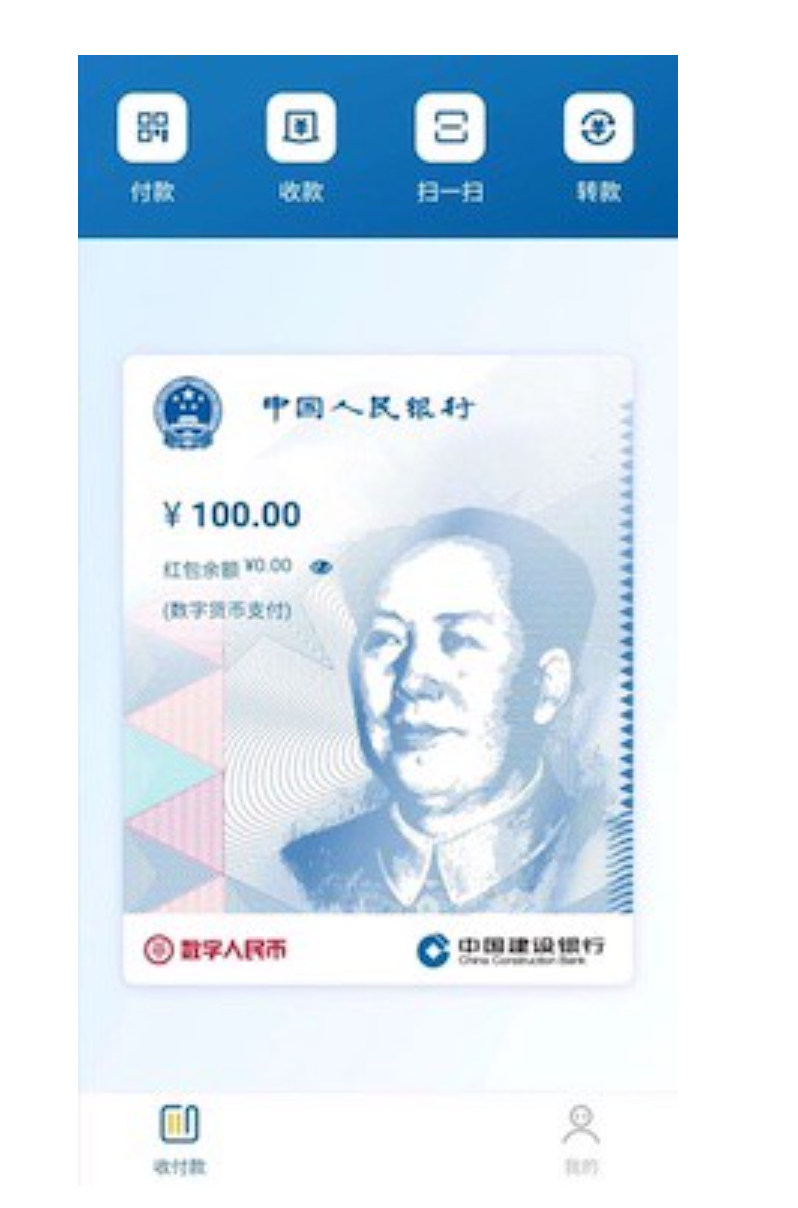 Sådan ser en betaversion af DCEP ud
For at teste valutaen og få bolden til at rulle, udstedte Kinas centralbank i oktober 2020 10 mio. yuan (ca. 1,5 mio. dollars) i digital valuta til 50.000 mennesker i Shenzhen-området. De blev valgt via et lotteri, hvor mere end to mio. havde tilmeldt sig. Disse digitale kontanter kan nu bruges til at rejse, i butikkerne og til at købe mad og drikke fra bl.a. Starbucks og McDonalds.
Forskellen mellem de kinesiske løsninger og tjenester som Apple Pay, Google Pay og lign. er, at Apple Pay fungerer som en tegnebog, men transaktionen skal stadig gennemgå flere faser, f.eks. gennem din bank. Den kinesiske version er de faktiske penge i tegnebogen. Så når du overfører pengene fra en telefon til en anden, flyttes det digitale aktiv direkte.
En af ulemperne ved denne løsning er selvfølgelig, at den kinesiske regering kommer til at kende alle digitale transaktioner, som man foretager, og derudover vil de være i stand til at kontrollere adgangen til dine penge. Hvis du kombinerer det med det kinesiske sociale kreditsystem, kan det betyde, at hvis du ikke agerer som en 'god borger', kan adgangen til dine penge blive frosset.
Kina er langt fra det eneste land, der undersøger og eksperimenterer med udviklingen af en centralbankstyret digital valuta (CBDC). Centralbanker over hele verden ser potentialet i digitale valutaer, og hvordan de skal styres. En gruppe på syv centralbanker, herunder Sveriges Riksbank og Bank of Canada, har for nylig offentliggjort en rapport, der beskriver et fælles sæt vejledende principper for centralbankudstedte digitale valutaer.
Og ifølge Bank for International Settlements (BIS) overvejer eller tester mindst 17 regeringer en eller anden form for digital valuta.
Så der vil komme en international konkurrence, der vil få stor betydning. For når det sker, vil genopfindelsen af penge mod en digital tidsalder blive startet. Kina opfandt papirpengesedler helt tilbage i det 11. århundrede, og nu ser det også ud til at de vinder kapløbet om at opfinde og lancere den første nationale digitale valuta.
Jeg forudsiger, at vi vil se den første store udrulning af et CBDC i 2021.