Når man gør brug af virtue signalling, flasher man offentligt, at man spiser vegansk for at redde miljøet, tager toget, når man skal til Berlin og i det hele taget gør et stort nummer ud af at prale med sin godhed.
Virtue signalling er med andre ord, når man tager et iøjefaldende fromt og dydigt standpunkt. På dansk kunne det oversættes til fromhedsfremvisning; det, at man stiller sin dydighed frem i display, så alle kan se den. Det er velkendt i politik fx hos Alternativet, der er kendt for deres klichefyldte postulater om bæredygtighed, klima og empati.
Når virtue signalling bliver corporate, antager virksomhedens kommunikation en form af aktivisme, hvor de med mere eller mindre held forsøger at kommunikere på samme måde, som græsrodsbevægelser typisk gør det. Med corporate virtue signalling forsøger virksomhederne at inspirere, provokere og påvirke beslutninger.
(Ikke) særlig interesseret i seksuelle minoriteters vilkår
Pinkwashing er et eksempel på corporate virtue signalling. Begrebet blev for første gang anvendt om den israelske regering, da den forsøgte at frame Israel som et sikkert sted for seksuelle minoriteter.
Pinkwashings danske lillesøster er pridewashing. Pridens egentlige formål er at hylde seksuelle minotiteters ret til at være sig selv, men en lang række virksomheder har luret den og vil gerne være med, så det gode budskab forhåbentlig kan smitte af på deres brand. Ofte består pridewashingen i at plastre sin butiksrude til med regnbuefarvet folie i metermål.
Det bliver tomgangssnak og for afkodeligt, at det handler om billig signalværdi og at banke noget social kapital op i forhold til forbrugerne ved at associere sig med Priden. Det er Valentines Day eller Black Friday – bare med regnbuer. Tomt. Hult. Kommercielt. Og helt utrolig kedeligt. Der er ikke ret mange virksomheder, der bruger det som et afsæt til at komme ud med nogle reelle budskaber eller til at skabe en kreativ kampagne, der rører ved noget.
Man skal i Bilka, hvis man skal have alle ingredienserne til en farverig pridesalat. Men er der nogen, der forbinder Bilka med at være særligt interesserede i seksuelle minoriteters vilkår? Nej, vel.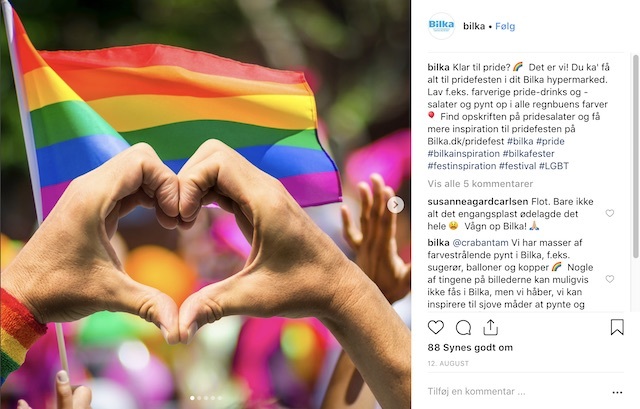 Mother of all virtue signalling er greenwashing, hvor en organisation eller virksomhed forsøger at vise offentligheden via PR og marketing, at de er mere grønne, end de reelt er.
Et eksempel på nogle, der forsøger at greenwashe sig selv for tiden, er Venstre, der i god tid inden valgkampen har opdaget, at den grønne dagsorden er noget, der ligger mange vælgere på sinde. Det, Venstre dog lige har glemt, er, at der er nødt til at være handling bag ordene, før man kan begynde at pryde sig med den grønne farve. At lave et grønt Venstre-logo er med andre ord en gratis omgang.
Venstre viser, hvor grønne de er, men de irriterende vælgere køber den ikke.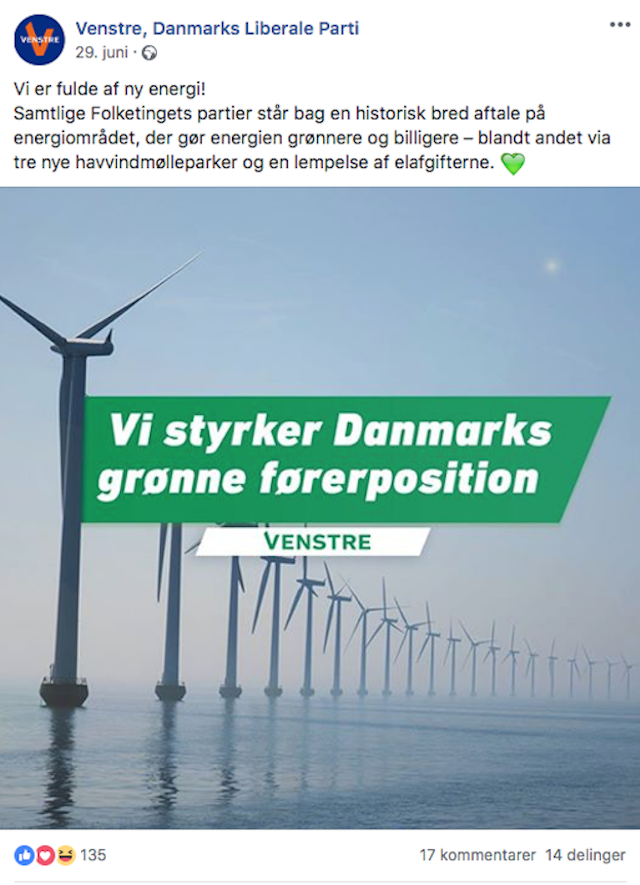 En anden variant er SDG washing (sustainable development goals-washing). Alle falder i svime over FN's verdensmål for tiden, og de er så populære, at man bare går og venter på, at Summerbird laver en flødebolle med dem. De CSR-ansvarlige rundt om i de store danske virksomheder jubler – for der er masser af materiale til pressemeddelelser, arrangementer og foredrag i de ambitiøse verdensmål fra de store virksomheder til de helt små.
Et lille rengøringsfirma har luret, at der er noget værdi i de der verdensmål: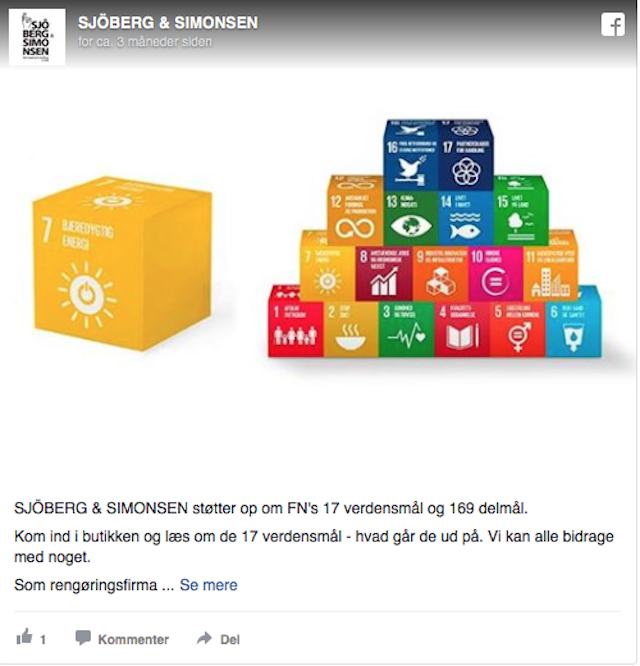 Lige nu er kulturel appropriation også hipt. Det er når elementer fra en minoritetskultur anvendes i en dominerende kultur på en – ifølge nogen – stødende måde. Vi så det på Københavns Universitet, hvor to studerendes klager betød, at der ikke længere måtte holdes mexicanske temafester rundt om på fakulteterne.
Den kulturelle appropriation har en corporate-svigerinde, legacy appropriation, hvor virksomheder anvender en afdød person og dennes virke på jorden i sit brand. Feministen Frida Kahlo er de seneste år blevet et globalt brand, som mange virksomheder gerne vil forbinde sig selv med. Mange virksomheder, herunder Mattel, har fået Fridamania og har blandet andet lavet en Frida Kahlo-Barbiedukke i deres Inspiring Women-serie.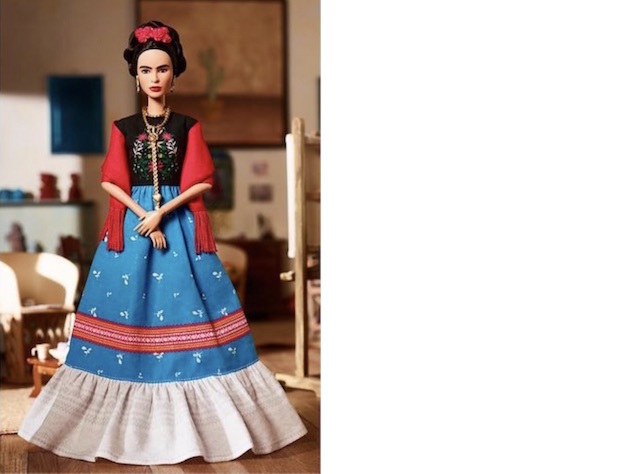 Mattel laver legacy appropriation med deres Frida Khalo-Barbiedukke.
Også Visa har brugt Kahlo i deres markedsføring, og det er lidt mudret, for Kahlo selv var kommunist, og det er derfor ret utænkeligt, at hun ville ønske at være en del af Visas kampagne for deres prepaid cards. Visas anvendelse af Kahlo viser derfor med al tydelighed, at brand og den person, man forsøger at knytte til brandet, ikke behøver at have de samme værdier. Når gallionsfiguren og brandet slet ikke matcher, ender det blot op med at blive smagløs virtue signalling.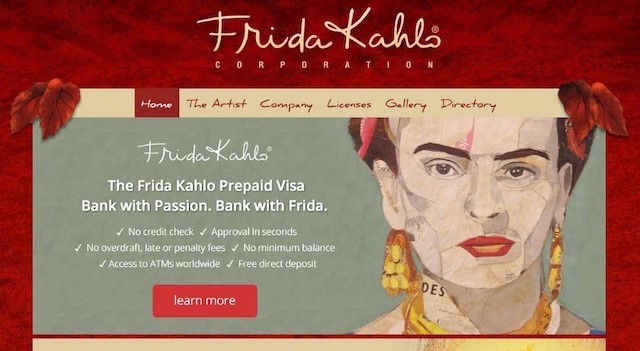 Var det noget med et prepaid Frida Kahlo-Visakort? Billede fra Medium.com.
For nylig blev den amerikanske NFL-spiller Colin Kaepernick pludselig vartegn for Nike, efter han havde knælet under nationalsangen i protest mod Donald Trump og derefter blev smidt ud af NFL. Nike var hurtige til at hoppe på den og brugte Kaepernick til at fejre 30-året for sloganet "Just do it" med et billede af NFL-spilleren og teksten "Believe in something. Even if it means sacrificing everything".
Believe in something, even if it means sacrificing everything. #JustDoIt pic.twitter.com/SRWkMIDdaO

— Colin Kaepernick (@Kaepernick7) 3. september 2018
Det er godt tænkt af Nike, der er kendt for rent kommunikationsmæssigt at udfordre dogmerne, men kampagnen faldt ikke i lige god jord hos alle og i Trump-segmentet gik der sport i at lave videoer, hvor man brænder sine Nike-sko.
First the @NFL forces me to choose between my favorite sport and my country. I chose country. Then @Nike forces me to choose between my favorite shoes and my country. Since when did the American Flag and the National Anthem become offensive? pic.twitter.com/4CVQdTHUH4

— Sean Clancy (@sclancy79) 3. september 2018
Resten af verdenen lavede spoofs.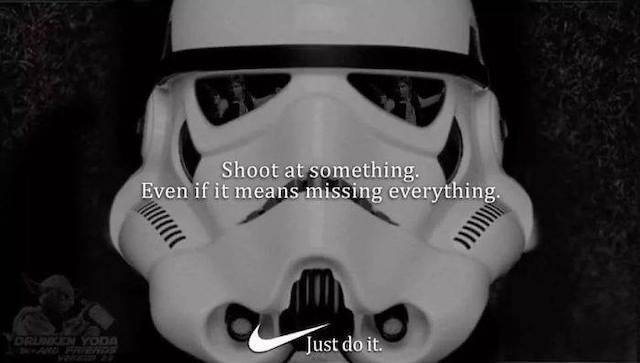 Et af de spoofs, der opstod på bagrund af Nikes Colin Kaepernick-kampagne.
Corporate virtue signalling er sjældent autentisk, og vi behøver ikke virksomheder, der vælger side i kulturelle krige. Jeremy Sammut, der netop har udgivet en
afhandling
med titlen Curbing Corporate Social Responsibility: Preserving pluralism – and preventing politicalisation – in Australian Business, påpeger, at det at anvende corporate virtue signalling i sin kommunikation som virksomhed ofte er en måde, hvorpå man tager afsæt i elitens frelste synspunkter meget mere, end man tager udgangspunkt i almindelige dødelige.
Og dét er problematisk, for så er det værdisæt, man tager afsæt i, slet ikke i trit med størstedelen af befolkningens. Som virksomhed risikerer man at skyde sig selv i foden, når det øvrige brand ikke hænger sammen med det værdisæt, man forsøger at foregive at have. Det, der kan ske, når befolkningen begynder at føle sig tilpas provokerede af alt det, virksomhederne propper ned i halsen på dem, er, at de begynder at gøre oprør.
Måske er det i virkeligheden bedre, hvis virksomhederne bare gør det, de er bedst til. Nemlig at lave deres produkt og tjene penge.