Hjørnestenen i enhver visuel identitet er logoet – mærket – emblemet – det har vi lært i skolen (i hvert fald de af os, der har taget en grafisk uddannelse). Og når noget er en hjørnesten, så er det tungt, stabilt og uforanderligt. Sådan har det fungeret for den visuelle kommunikation i godt 100 år. Men …
Lad os dog starte med historien.
I kølvandet på masseproduktionen og forbrugersamfundet blev det nødvendigt for virksomhederne, at deres varer og tilbud var nemt identificerbare: genkendelige fra gang til gang og i kundens øjne uforanderlige. Derfor opstod virksomheds- og produktidentiteten.
Efterhånden blev det klart for verdens organisationer, at bomærket, logoet – eller hvad man nu kalder det – var meget mere end et skilt eller en farve. Mærket var en personlighed og blev efterhånden spundet ind i et system af processer og tanker, man i dag under et kalder branding.
Just swoosh
Nogle mærker var så stærke, at man mente, de kunne skjule eller helt erstatte et fejlbehæftet produkt – og branding blev en kort overgang omkring årtusindskiftet set som hele verdens frelse. Når bare historien var god og den grafiske idé klar nok, så betød det intet, om produktet bagved var andet end luft.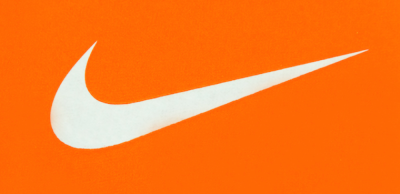 Det verdenskendte swoosh fra Nike kan sagtens stå alene, uden at firmanavnet behøver at støtte op om det.
Den lektie blev mange reklamebureauer rige på at prædike i de år (ingen nævnt, ingen glemt). Nike var en af de første virksomheder, der spektakulært tog det nye budskab til sig. De droppede i en periode helt at have navn på deres produkter, men nøjedes med den berømte swooosh. Alle vidste jo alligevel, hvad den betød, og i branchecirkler diskuterede mange mennesker seriøst, om Nike kunne sætte deres mærke på fx sodavand eller forbrugerelektronik og på den måde udvide deres forretning uendeligt.
I de år var det også, at Lego ville lægge navn til hvad som helst: legetøj, computerspil, tøj, forlystelsesparker og al mulig andet sjov og ballade.
Lego har blandt andet lagt navn til børnetøj.
Virgin var det store forbillede: De havde et pladeselskab og et flyselskab, de havde en bank, gik ind i togdrift, lavede en cola – det syntes uendeligt.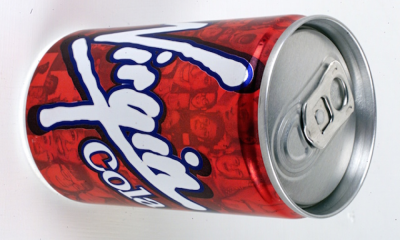 Et af Virgins mange tiltag – Virgin Cola.
I de år var der også folk, der arbejdede på at gøre Roskilde Festival til så stærkt et brand, at man slet ikke behøvede musik, arkitektvirksomheder ville lave et parfumebrand – i det hele taget var der frit slag for drømmere.
Det ukrænkelige logo
En logisk konsekvens af denne tænkemåde var, at logoet var helligt og ukrænkeligt: Når de produkter, logoet sættes på, er vidt forskellige i både varekategori, pris og kvalitet, må der være en konstant – og det blev logoet. Designeren var konge (det var en skøn tid), og vi lærte, at der altid skulle være en historie knyttet til vores arbejde – jo stærkere dén var, desto stærkere var mærket – og dén designer, der havde lavet det.
Der var bare et problem med 'superbrand'-tanken (som den hedder blandt fagfolk): Den virkede ikke. Selv Virgin kunne ikke sælge togbilletter og mobiltelefoni og cola på samme tid, Lego var ved at gå fallit, og Nike fandt ud af, at det nok var bedst at have et navn ved siden af mærket.
Richard Branson måtte sande, at togbilletter og mobiltelefoni ikke stemte overens med salget af cola og pladeselskabets succes.
Det blev igen tid til at fokusere på kerneforretningen, som man siger i en konsulent-powerpoint. Det gjorde verdens virksomheder så, og i en periode måtte logodesignerne igen slå sig til tåls med at lave enkelte mærker til enkelte virksomheder, produkter eller ydelser.
Imidlertid var der sket noget, som ingen havde været opmærksom på: Internettet var kommet for at blive. Vores kommunikation kunne pludselig ikke kontrolleres og styres så let som før i tiden, da alle meddelelser til offentligheden udgik fra virksomheden selv.
Flydende personligheder
Nu var der en stor, uformelig sky af snak og kommentarer – hverken produktet eller virksomheden bag kunne opfattes som en monolit i denne verden. Produkterne havde personligheder som mennesker, fandt vi ud af, og skulle derfor kunne vise forskellige sider af sig selv – skulle kunne være mangefacetterede som en spændende personlighed, der altid er både genkendelig, forudseelig og foranderlig. "Alting flyder", som Heraklit sagde – eller som en anden vismand, Bob Dylan, formulerede det: "If you're not busy being born, you're busy dying".
Jeg arbejdede selv med problemstillingen i de år og formulerede begrebet 'liquid branding', som stadig er en dækkende betegnelse for den form for branding, der har været god latin i de seneste syv-otte år.
Ideen om, at både produkter og deres virksomheder har flydende, genkendelige personligheder, måtte naturligvis have et visuelt udtryk, og derfor opstod idéen om det foranderlige logo omkring år 2005. Virksomheder som MIT, PWC, AOL, ITI og mange andre skabte identiteter, der kunne transformere og udvikle sig – skifte former og farver – men inden for et genkendeligt system på samme måde som et alfabet.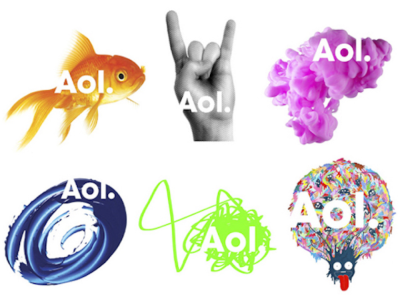 AOL har skabt en identitet, der kan forandre og tilpasse sig, men som stadig er genkendelig for brugeren. 
Disse mærker er interessante og grafisk på mange måder det helt rigtige svar til den foranderlige verden, men de er meget vanskelige at arbejde med. I løbet af kort tid bliver de mange mulige fremtrædelsesformer reduceret til et par stykker, man bruger igen og igen – og dermed er systemet væk, lige så hurtigt som det kom.
Aparte stavning som markør af det unikke
Samtidig var den gammeldags opfattelse af virksomhedsidentitet under pres. Internettets totale dominans i al kommunikation gjorde billedlogoerne mindre attraktive for virksomhederne. Nettet var jo tekstbaseret, og det var i nettets ungdom besværligt at integrere små grafikker i al digital kommunikation. Derfor blev firmaidentiteten i nogle år domineret af bogstavmærker – gerne med en aparte stavning som markør af det unikke: Flickr, tumblr, Netflix osv. osv.
Imidlertid er der i de senere år sket noget, der har givet de gamle dynamiske mærker en ny mulighed for at komme på banen: Internettet er blevet grafisk. Vi har fået uendelige serier af emojis og derfor har alle (unge) mennesker vænnet sig til at blande tekster og små uformelle grafiske stumper i deres kommunikation.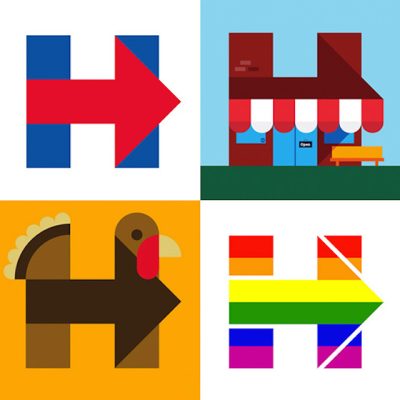 Denne nye luft til logoerne er tydelig i for eksempel Hillary Clinton-kampagnens nye iscenesættelse af det ellers ret kiksede logo, som den med rette fik hård kritik for, da det blev lanceret.
På samme måde er Googles leg med sit navnetræk blevet en fast del af søgemaskinens identitet – den er netop genkendelig ved sin foranderlighed på samme måde som vi mennesker.
"På din maske skal jeg kende dig", skrev Karen Blixen – og det er måske dén erkendelse, der nu er nået til logografikkens verden.