Et af tidens virale hits er en på overfladen middelmådig reklamefilm set over 4 millioner gange. Filmen føles dated, men den er ikke værre eller bedre end alt muligt andet politisk ukorrekt, stereotypificerende, sexistisk, uinspireret skodreklame. Ingen nævnt, ingen glemt. De sampler sågar det trætte L'Oréal "Because I'm Worth It".
Se reklamen, der startede Pelotons shitstorm her:
Bevidst skræmmende?
Det, der går helt galt her, er skuespillerinden: Hun ligner en pornodebutant, der bliver truet med en pistol – eller når man kigger på en kat, der skider. Hun er forpint, og hendes øjenbryn krøller, så det er som at bide i kridt at se filmen. Måske har hun det marginalt mindre neurotisk efter et år på cyklen, men hun er præcis lige så tynd. Jeg fornemmer, det er mental fitness, vi arbejder med her. Men det er vel bedre end nervepiller til den stakkels ydrestyrede kvinde.
Hende på billedet mestrer både moderskab, et boxy meno-core job-look, selfie-selvovervågning og en stram røv. Samtidigt prøver hun at reducere sit skrantede selvværd (marginalt) med cyklen. Det er næsten en mindfulness-rejse, hun er på. De prøver ikke engang at redde filmen med en oplagt ironisk helgardering, selvom det tangerer retro-kitch. Først troede jeg, den var bevidst sløj for at gøre den viral, men nej.
Det, der virkelig krænker mig – nej, der skal mere til – skræmmer mig, er det liv reklamen foregøgler. Jeg kunne læse så mange ubehagelige subtekster og tidsåndsdiagnoser ind her:
Parret lever i et sterilt perfekt middelklasseshowroom blottet for personlighed eller tegn på liv. Hendes uhyggeligt karakterløse Tom Cruise-fyr holder hende fanget som Fritzl med en avanceret koneparkeringscykel – en tøjbutik eller et galleri var ikke nok. Der er mere endnu. Der er en undertone af SM og kontrolfetichisme over parforholdet her.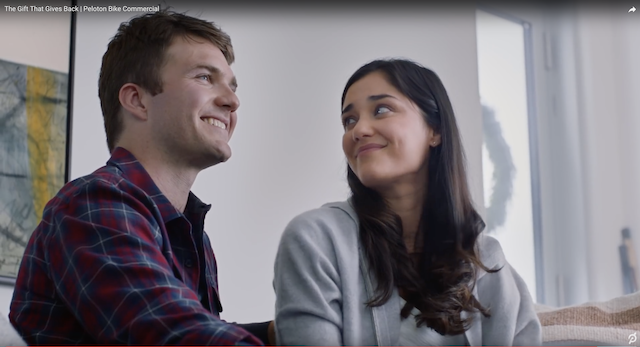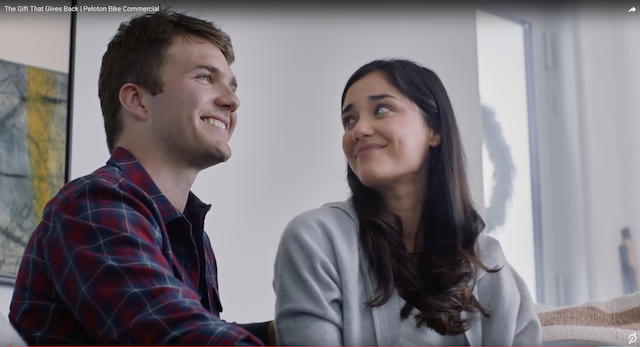 For hvorfor køber de ikke bare en cykel – er der farligt udenfor? Bander? Smog?
Eller er manden bange for, hun ikke kan tåle at cykle med en live spinninginstruktør – eller at hun boller ham? Er han bange for, hun slår sig på miljøet i træningscenteret? Får fodsvamp?
Det virker meget ensomt at streame sine spinningklasser og sende virtuelle rygklap til de andre narcissistiske slaver. Det er uhyggeligt, ikke rationelt – det stinker af angst og isolation.
Det er en akavet gave: "Træn dame, du har en fed krop". Jeg har selv engang dummet mig ved at forære kæresten et fitnesskort. Hvis hun ikke havde været så selvsikker, havde jeg fået et knæ i nosserne.
Jeg er ikke den eneste, der synes, at reklamen er dårligt håndværk:
I really thought Christmas music before Christmas was the worst, then I saw a Peloton ad. pic.twitter.com/GwqwbVe7wH

— Sapiosexual -Bat- Jenkins (@ShallowPear) November 30, 2019
Guys, the Peleton Wife ad isn't all bad, they debuted their new instructor!!!! pic.twitter.com/vQzaXpxV4M

— happy sparksmas 🖤🥂⚾️🏀 (@kyliesparks) December 2, 2019
Nogles tanker vendes mod Black Mirror:
Give the Peloton ad girl a full episode you cowards @blackmirror

— Michael Porfirio (@JadedJournal) December 3, 2019
Guys … what if the peloton ad is really just an episode of Black Mirror and we are all part of the cast? pic.twitter.com/QilDVz3UU7

— J Deck the halls Malone (@J_D_Malone) December 3, 2019
Dyr reklame for Peloton
Filmen har gjort, at Peloton-aktierne er faldet én millard dollars. Ideen med at blive fitnessnetflix for middelklassen – for 40 dollars om måneden – er ellers oplagt. Overvægt er en folkesygdom, og jeg kan ikke få ondt i popoen over, at nogen køber en stationær cykel til 2.400 dollars med wi-fi.
Men jeg bliver lidt fristet af cyklen, når jeg i perioder skal se hundredevis af timers råmateriale igennem på min flade. Men nej – jeg dropper det; det ville blive for bøvlet med musen på styret. Jeg venter til, de laver en af genbrugsmaterialer, der laver strøm, der ikke er i SM-matsort med tastaturholder på. Eller går en tur uden telefon – det er mere værdigt.
Filmen viser en ond, nær fremtid, hvor vi lever på fitnessmaskiner med VR-briller på. Simpelthen, fordi der er for trafikeret, forurenet og farligt udenfor, når velfærdsstaten, de sociale rum, ja, selve virkeligheden endelig kollapser totalt.
Jeg håber, kondicykler bliver et cool alternativ til alle de selvmålende spandexfædre klædt som Robocop, der forpester vores skove og veje.