Plastikforbruget skal gentænkes. I kølvandet på eventen Sustainable Brand Index Awards fulgte Everland op med deres Packed with Purpose-event med Plastic Change, True Gum, Coop og Carlsberg på talerstolen.
Forbrugernes og brands' opmærksomhed rettes i højere og højere grad mod konsekvensen af vores ubæredygtige forbrug. Og det hjælpes alt sammen godt på vej af stærke billeder af døde pelikaner druknet i sugerør og skildpadder fanget i plastikringe fra sixpacks – for ikke at glemme sidste års nyhed om det første plastikfund i mennesker.
Der er endnu ingen "quick fixes", men det betyder ikke, at man skal læne sig tilbage og vente. En gennemgående opfordring ved Packed with Purpose-eventet var, at virksomheder fremadrettet skal stille større krav til sine produkter – på vegne af den enkelte forbruger, samfundet og egen fremtid. I det følgende bringer vi de fire væsentligste pointer fra talerne: Plastic Change, True Gum, Coop og Carlsberg.
Forbrugerne er ikke kritiske nok – endnu
På trods af vores grønne selviscenesættelse er Danmark Europas affaldsskurk nummer 1. Vi producerer 777 kg affald per person. Årligt! Denne iørefaldende åbningsreplik lød fra den fremadstormende NGO Plastic Change, der dog samtidig understregede, at affaldsudfordringen ikke er vores eneste svaghed.
I gennemsnit køber vi 25.000 engangsflasker i løbet af et liv, fortalte miljøorganisationen. Og selvom danskerne er gode til at pante flaskerne – faktisk ryger 9 ud af 10 flasker retur – er det ikke nok. Over 50 % af alt plast, der produceres, er single-use-plastik, og selvom vi i Danmark indsamler 34 % af alt plast (gennem retursystemet og affaldssortering), genanvendes reelt set kun omkring 13 %.
Genanvendelse og bæredygtighed er nemlig komplekse størrelser, og derfor er det ikke nok at pante eller affaldssortere.
Anbefalingen fra Plastic Change til såvel forbrugere som virksomheder er klar: Reducér brugen af plastik, for løsningen er ikke "bare" at genanvende eller indsamle plastik.
Men som Plastic Change også påpeger, er vejen til at reducere brugen af plast ikke altid ligetil; i nogle tilfælde kan løsningen faktisk være at bruge bedre og mere ensartet plastik for at lave en mere holdbar emballage, der kan bruges flere gange.
Virksomhederne skal uddanne forbrugerne
Konventionelt tyggegummi indeholder de samme typer plastik, som findes i trælim, bildæk og plastikflasker. Dækproducenten Goodyear er altså i dag en af hovedleverandørerne til tyggegummiindustrien.
I Danmark tygger vi os årligt igennem, hvad der svarer til mere end 42 lastbillæs plastik i form af tyggegummi.
Så da to tyggeglade forbrugere kom til at fundere over, hvorfor tyggegummi – som den eneste fødevare, de kunne komme i tanke om – kan modstå vind og vejr og stædigt plette gader og stræder i årtier, var ideen til True Gum født, og ambitionen om at lave 100 % naturligt, plastikfrit tyggegummi sat.

Adspurgt, hvorvidt True Gum har naturtyggegummimarkedet for sig selv, kom svaret dog prompte: "Vores konkurrenter er de store spillere, der dominerer markedet. Det er Stimorol, vi er oppe imod, hvis dette her skal lykkes," forklarede det danske tyggegummi-startup.
Det bæredygtige alternativ skal ikke bare være et alternativ. Det skal kunne konkurrere med de etablerede brands og overbevise forbrugerne om, at vi bliver, hvad vi spiser – også når det gælder tyggegummi.
For når brands har en utvetydig mission, og 7-Elevens og Coops butikker køber ind i den, så kan True Gum få forbrugernes øjne op for en ubehagelig sandhed, som mange af os gerne vil være med til at ændre.
Drop plastikagurken!
Detailvirksomheden Coop har om nogen taget på sig at uddanne forbrugerne. Gennem årtier har virksomheden ført an inden for mærkningsordninger og øget kravene til deres leverandører – blandt andet inden for økologi, dyrevelfærd og miljøvenlighed.
Og pionerarbejdet har båret frugt. Forbrugerne har nemlig udnævnt Coop til Danmarks mest bæredygtige brand ved Sustainable Brand Index Awards 2019.
Coop påtager sig gerne ansvaret lidt endnu. For selvom flere forbrugere ytrer sig mere plastikkritiske end før, har detailkæden ikke fået et overvældende indtryk af, at varer nødvendigvis fravælges på grund af deres ubæredygtighed – endnu.
Rejsen er dog stadig lang. På trods af en mere kritisk tilgang, så er der stadig et stykke arbejde for detailhandlen i at skelne den opfattede udfordring fra den reelle.
Et eksempel er agurker, hvor 90 % af miljøbelastningen består i produktionen – altså dyrkningen af agurken – mens indpakningen kun står for 5 % og til gengæld forlænger produktets holdbarhed.
Så før agurken i plastik fravælges af den enkelte forbruger, har Coop stadig en opgave i at sikre de optimale dyrkningsforhold for samfundets skyld.
Farvel til 1.200 tons plastik om året
Når Carlsberg har introduceret sin Snap Pack på alle markeder, kommer virksomheden til at spare 1.200 tons plastik om året. Allerede nu har det resulteret i positiv omtale verden over, men – utroligt nok – også kritik fra enkelte forbrugere. For man ændrer ikke bare på et ikon.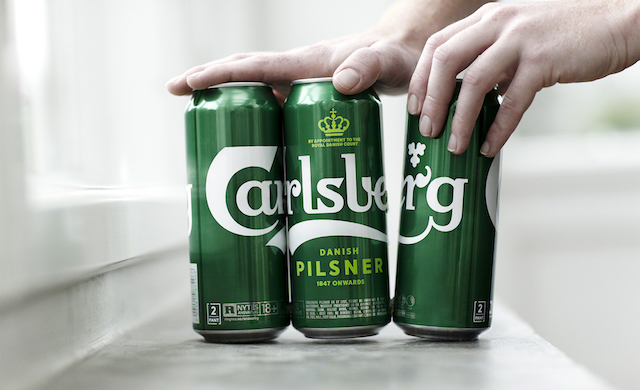 Det er dyrt at omlægge en velfungerende produktionslinje. Og det er dyrt at lære forbrugerne at snappe – præcis som da korkpropperne blev udskiftet med kapsler, og forbrugerne skulle introduceres til en øloplukker.
Men er det argument nok for ikke at spørge sig selv: "Kan vi gøre det her bare en lille smule bedre?". Ikke ifølge Carlsberg, og efter sigende heller ikke ifølge grundlægger J.C. Jacobsen.
Løsningen er som skrevet ikke altid at fjerne plastik. Den ofte udskældte ressource kan også hjælpe med at reducere madspild, spare ressourcer og mindske miljøpåvirkningen. I stedet skal de værdifulde materialer tænkes ind i en større helhed, så vi udnytter materialernes levetid.
Det gjorde den ikke for Carlsberg, og det gør Tuborgs plastkrus på Roskilde Festival heller ikke. De smides ud og ender de forkerte steder. Her giver reduktionen derfor mening.
Der er altså stadig intet quick fix.
Lige nu er løsningen nok bedst beskrevet som en totrinsraket. Første trin er at gøre virksomheden grønnere på kort sigt. Det vil sige: fjerne plastikken, forbedre produktionen, forlænge levetiden, optimere kvaliteten, osv. Næste skridt består i at slå sig sammen med forbrugerne og industrien i arbejdet på at finde løsningen på længere sigt.
Alt det, der ikke bare er god PR og stil, men som potentielt set forandrer din virksomheds eksistensberettigelse. Det, der bryder vanerne og ændrer kernen af produktet, produktionen og emballeringen. For vores alles skyld.
Interesseret i mere indhold som dette? Skriv dig op til vores nyhedsbrev her.