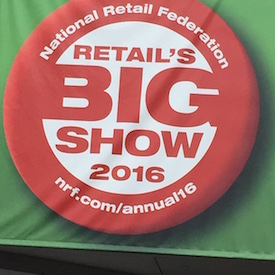 Udbydere af kasseterminaler var gemt af lidt vejen, i hjørnerne, ved Retail Federations Big Show. Og dekoration og indretning var reelt erstattet med big data, da 34.000 branchefolk fra 80 lande mødtes i New York i sidste uge.
Retail er derfor lig med IBM, SAP, Salesforce, Microsoft og 100vis af andre IT-spillere – og retail er først og fremmest lig med big service, der er rundet af big data.
Tag f.eks. Ms Pepper. En imødekommende robot på ca. 150 cm. Hun havde arme, fingre og to øjne, der kunne registrere, hvis du kiggede på hende. Jeg præsenterede hende for forskelligt tøj, jeg havde fundet – og hvis jeg viste hende stregkoden, var hun klar med en udførlig præsentation af tøjet, alternative farver, hvad det ville passe til, osv. Med rettidig service-omhu spurgte hun: 'I could keep going – should I?', og jeg kunne få informationer om materialet, og hvordan tøjet skulle vaskes.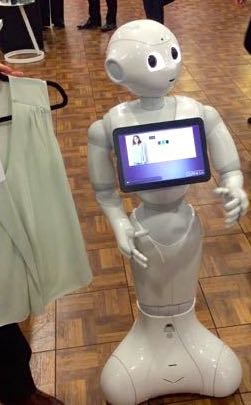 Og mød Watson – det gennemgående tema på IBM-standen. Afsæt: 90 pct. af al data i verden er skabt inden for de seneste 24 måneder, og 80 pct. af denne data er 'ustruktureret' i form af artikler, researchdata, sociale media posts, billeder etc. Watson kan trække indsigter ud af denne mængde og gøre det brugbart. Oversat til detailhandel'sk kan man – ud af data som vejrudsigter, udbrud af virus, sociale arrangementer, trends i søgninger og meget (meget) mere – forudsige, hvordan salget af givne varer i bestemte områder af verden vil udvikle sig fra dag til dag. Og dermed hvordan du skal disponere lager og indregning.
Et betaeksempel fra thenorthface.com/xps: I stedet for at nøjes med 'skijakke' i søgefeltet kunne du skrive 'jeg skal på skiferie og har brug for en jakke'. Watson vil så spørge: Hvor skal du hen? Og hvornår? Den vil så finde vejret i 'Sydfrankrig uge 7' – og så spørge til langrend eller alpin? Samt hvilke farver etc.
Fidusen er, at Watson både finder det rigtige skitøj og forstår dine spørgsmål i en samlet kontekst. Dermed 'tænker' Watson også over hvilket spørgsmål, der skal stilles næste gang, for at få dét, der passer dig bedst.
Fysiske butikker dominerer
Fysiske butikker står stadig for 94 pct. af handlen, men online vokser fortsat markant.
Butikkerne må derfor finde nye måder til at få kunderne til at slippe tasterne og komme ud i den fysiske verden. Hvilket de fleste af os jo gerne vil – hvis butikkerne bare tænker i at gøre besøget sjovt, spændende, berigende m.m.
Derfor handler det også om, hvordan vi integrerer data og teknologi for at gøre hele indkøbsoplevelsen mere spændende, relevant og effektiv.
På konferencen var også to gorillaer – i form af Amazon og Uber.
Amazon var den største og blev nævnt i stort set alle indlæg. En indlægsholder hævdede, at væksten i den amerikanske onlinehandel i 2015 havde været tocifret, og at Amazon stod for halvdelen af denne vækst.
Det blev også hævdet, at Amazon ikke har nogen planer om at tjene penge de næste 5-10 år. Jeff Bezos kunne forholdsvist nemt skrue på nogle små knapper og sikre, at pengene begyndte at vælte ned på bundlinien, men alt bliver investeret i vækst – hvilket gør Amazon til en frygtindgydende modstander. Den før så urørlige kæmpe Walmart har således bekendtgjort, at de vil lukke 100vis af butikker, bl.a. fordi Amazon ånder dem i nakken.
Uber buldrer frem globalt og inspirerer til nye måder at tænke forretningsmodeller og betaling. Deres løsning til at betale for turen uden at tage kreditkortet frem var den model, andre skulle forfølge. Hvordan løser man i det hele taget udfordringen med sømløs betaling – altså betaling, du ikke opdager, du foretager, men som du har tillid til, fordi det sker på et grundlag, der er i overensstemmelse med de handlinger, du har foretaget. Et stort tema.
Iværksættere med gang i
Tre iværksættere/stiftere gjorde sig også gældende:
Den 41-årige stifter og CEO for UnderAmour, Kevin Plank. Han har købt Endomondo for 500 mio. kr. og derudover en række andre helse-apps. Han råder nu over en base på 160 mio. personer, som han kan tracke søvn, motion, mad m.m. på. Hans vision er, at du skal have et 'dashboard' over dit fysiske liv, og det faciliterer UA. Det handler om at sælge mere sportstøj, og data er nøglen. Han omsætter for næsten 4 mia. dollar og er stærkt på vej mod de 10.
23-årige Stacey Ferreira solgte sin første virksomhed som 20-årig – og hun har derefter stiftet virksomheden Forrge, der i korte træk er arbejdskraftens Uber.
Den 25 årige designer Natalia Allen arbejder med teknologi i tøj og har startet en virksomhed, der ved hjælp af robotteknologi og 3D print vil producere tøj til dig efter mål, på stedet, mens du venter. Glem oplægning af bukser som det mest avancerede. Fremover kan din kjole, fremstillet på mål til dig, være klar på 30 minutter.
Det bliver ikke kedeligt at være i retail – en oplevelse, som blev delt med mange danske virksomheder og rådgivere, der også havde fundet vej til råkolde New York. Udover konferencen kunne vi opleve byens butikker, der er frontløbere med koncepter som robotbetjening af kunder og skærme, der tilpasser sig kunderne.