Russisk-finansierede Facebook-reklamer var med til at skabe ravage før, under og også efter den amerikanske valgkamp.
Wall Street Journal har fundet frem til mindst 60 optøjer og protester, der er blevet arrangeret af Rusland eller betalt med russiske rubler.
Facebook-siderne med navne som Born Patriotic, United Muslims of America, Blacktivist og Black Matters opfordrede til aktive begivenheder på bestemte datoer.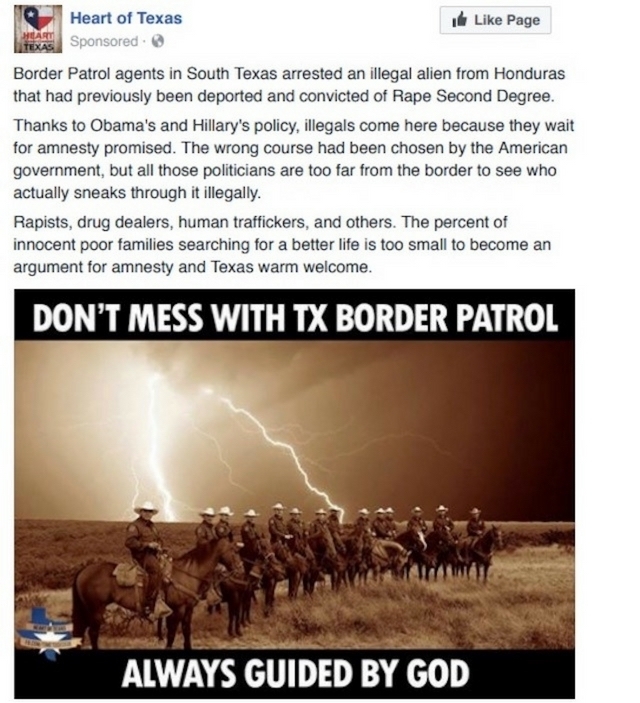 Denne russiske reklame er målrettet 18-65-årige fra Texas, som har 'liket' patriotisme eller selvstændighed.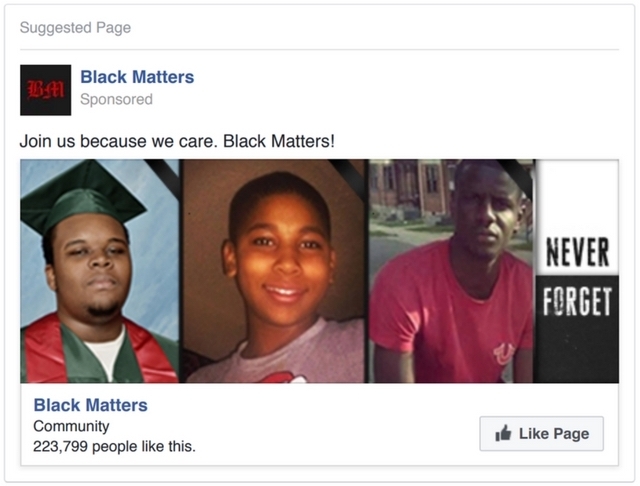 Reklamen portrætterer tre afroamerikanere, der alle er blevet skudt af politiet. Navnet 'Black Matters' læner sig op ad den oprindelige (og ægte) 'Black Lives Matter'-bevægelse. Reklamen er målrettet 18-65-årige bosatte i byerne Atlanta, Maryland, Ferguson, Mo. Virginia og St. Louis, hvor politiskyderierne fandt sted. Desuden er reklamen også indstillet til at nå ud til dem, der har liket eller på anden vis vist interesse for Martin Luther King, Huffpost Black Voices, Malcolm X og African-American Civil Rights Movement.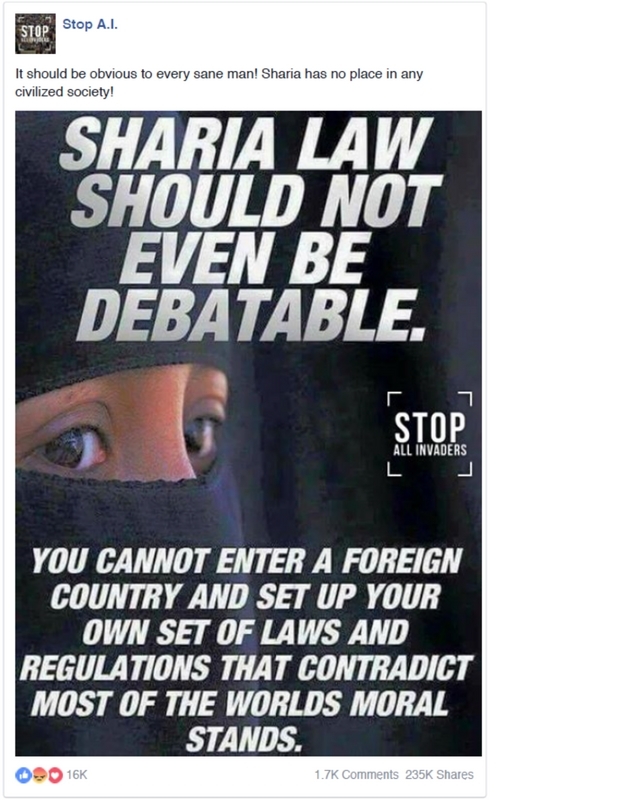 Reklamen er én af fire posts, der blev publiceret i gruppen "Stop All Invaders".
Det er blevet bekræftet, at 22 af protesterne har fundet sted. Ved en begivenhed demonstrerede nationalistiske amerikanere foran et islamisk center i Houston, mens moddemonstranter opfordrede nationalisterne til at dræbe sig selv som deres leder, Adolf Hitler, gjorde det. Begge demonstrationer var iscenesat af russerne.
Ifølge New York Times indleverede Facebook omkring 3.000 russisk-finansierede reklamer til kongressen, som nu har offentliggjort en række af reklamerne.
Reklamer, som skyder med spredehagl af budskaber. Nogle er rettet mod Hillary Clinton, nogle støtter Bernie Sanders, andre støtter Donald Trump. Også anti-muslimer, homoseksuelle, sorte og våbenentusiaster bliver kaldt til kamp.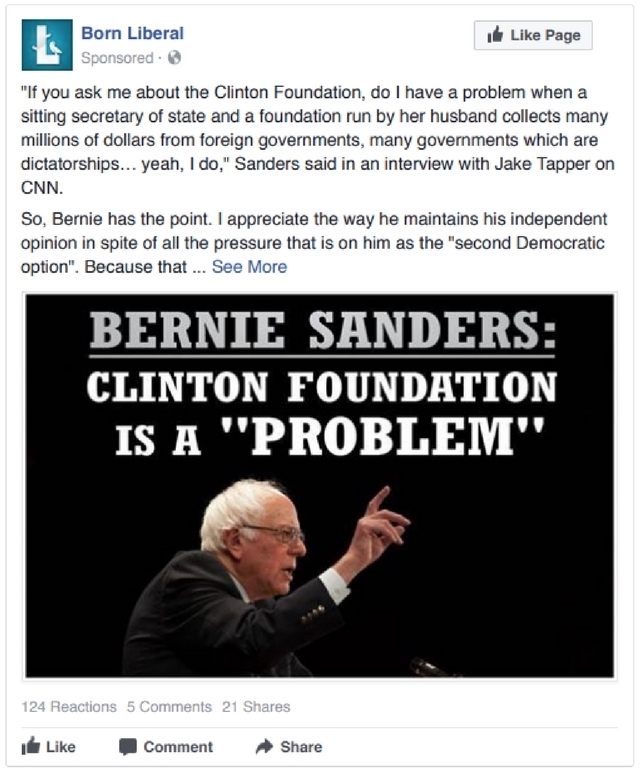 Reklamen blev kørt 8. juni 2016 og var målrettet Bernie Sanders-supportere.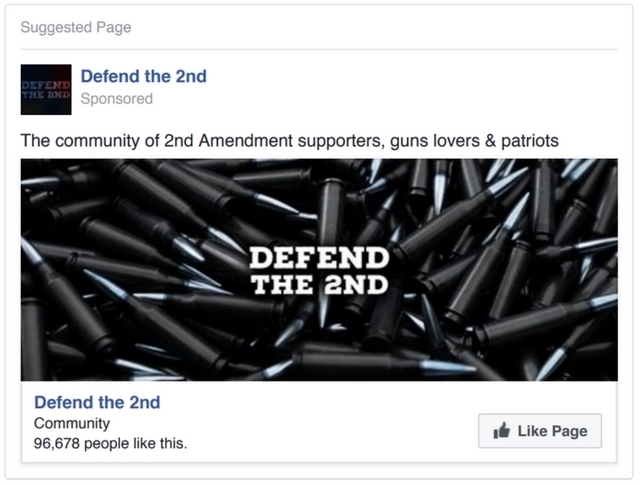 Reklamen blev publiceret 21. oktober 2016 og blev rettet mod Facebook-brugere, der havde vist interesse for The Second Amendment, National Association for Gun Rights, NRA (National Rifle Association) og Gun Owners of America.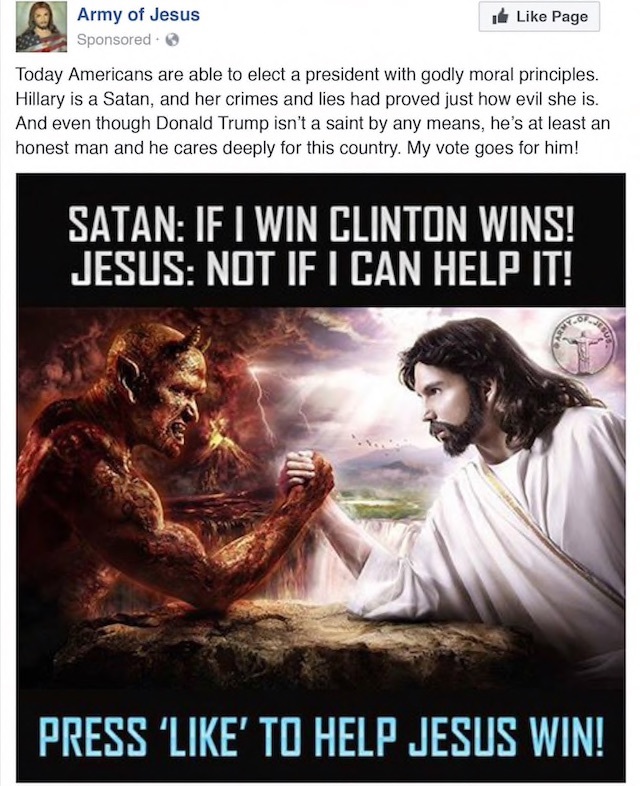 Reklamen blev kørt d. 19. oktober 2016 og målrettet Facebook-brugere, der har vist interesse for Gud, kristendom, Biblen, den konservative journalist Laura Ingraham, den konservative politiker Ron Paul og stifter af det ekstremt højreorienterede medie Breitbart, Andrew Breitbart.
Ifølge kommunikationsrådgiver Nikolaj Grøn, informationsofficer ved SSR, og tidligere presseofficer i Afghanistan, handler det for russerne om at skabe intern splid i landet, hvilket kan føre til, at regeringen i USA ser et øget behov for at styrke den centrale magt for at få ro på gemytterne.
"Vi ser en dagsorden, som ikke bare handler om at skabe ravage, men om at udfordre centralregeringer i Vesten. I det her tilfælde er det USA, det går udover, men det kan lige så vel være EU," siger Nikolaj Grøn.
"Den russiske tanke er, at hvis nu Vesten har nok at gøre med sit eget, blander de sig nok mindre i vores. Det, som er den røde tråd i det her, er at vinde gehør for, at næste gange nogle vil løsrive sig fra Rusland, kan vi så ikke bare blive enige om, at det er et internt russisk anliggende?"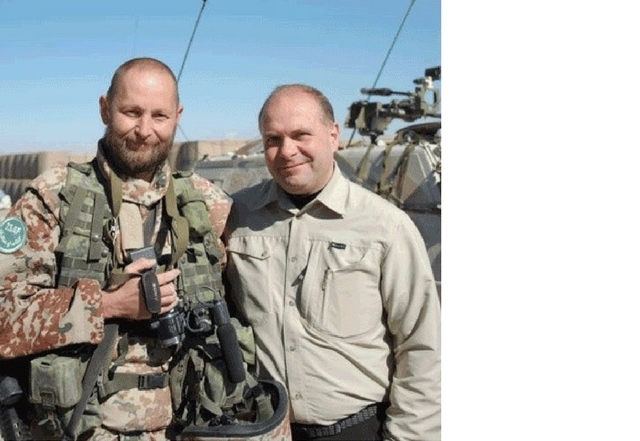 Nikolaj Grøn (tv.) og forhenværende forsvarsminister Søren Gade (th.)
Ønsker opbakning fra Vesten
Det russiske imperium er blevet gradvist mindre og mindre, og den udvikling har Vesten et eller andet sted bakket op om, mener officeren.
"Så hvis man kan skabe intern splid i Vesten, kan man måske få Vesten til at sige, vi har nok i vores eget. Vi kan ikke forbande, at russerne går ind med kampvogne, hvis nu – et forestillet eksempel – at den spanske regering kører kampvogne ind i Barcelona og Catalonien."
Kampvogne er lige nu ikke på dagsordenen, men analytikere har peget på, at Putin håber, at striden om Catalonien kan få europæere og Vesten til at give Rusland sympati i forhold til Krims løsrivelse.
Putin har allerede udtrykt stor bekymring for, hvad der sker i Catalonien, samtidig med at der er forlydender om, at der også har været forsøg på russisk indblanding og dermed optrapning af den spanske konflikt.
Russisk propaganda ramte 100 millioner amerikanere
Ifølge seniorforsker og centerleder Henrik Ø. Breitenbauch, der er forsker på Center for Militære Studier på Institut for Statskundskab ved Københavns Universitet, er det ikke usædvanligt i sig selv, at nationer blander sig i hinandens indre anliggender.
"Men mængden af sager og intensiteten fra russisk side er usædvanlig. Russerne søger at undergrave institutioner og skabe splid i forhold til at påvirke den offentlige opinion og stemningen i befolkningen ved hjælp af sociale medier. Vi så det også ved Brexit, ligesom der var tegn på det ved den tyske og franske valgkamp," siger forskeren.
Der blev i alt brugt det, der i rubler svarer til 640.000 danske kroner på at sprede budskaber i USA via Facebook. Men ifølge Washington Post var den gratis propaganda fra sociale medier afsendt fra russere langt mere effektiv. Den ramte 126 millioner amerikanere mod de 11,4 millioner, der så reklamerne. Oveni det skal man lægge andre internetmastodonter som Twitter, Instagram og Google.

Udtalelser fra både Facebook og Twitter indikerer, at disses platforme har været benyttet af Kremlin-relaterede organisationer til at udøve indflydelse på vælgerne ved præsidentvalget i 2016.
Ifølge Henrik Ø. Breitenbauchs universitetsrapport Orden og afskrækkelse er Ruslands informationskrig en del af en magtkamp, hvor de kæmper for indflydelse og en retmæssig position i verden. For russerne er en fredstid ikke andet end en variation af en evig magtkamp i den internationale politik.
"Jeg synes, man skal passe på med at bruge begrebet trussel om Rusland. De udgør et geopolitisk problem, fordi de ikke længere overholder nationernes spilleregler om blandt andet at respektere grænsedragning. Rusland mener selv, at de er i konflikt med Vesten, og det kan vi ikke ignorere," siger han og tilføjer, at det er klassisk efterretningsarbejde at sørge for et armslængdeprincip, så der er tvivl om, hvem i Rusland der rent faktisk står bag de sociale medier.
"Danmark for småt"
I Danmark kan vi dog ånde lettet op, mener han. Selvom Forsvarets Efterretningstjeneste offentliggjorde en rapport i april 2017, der viste, at en gruppe med tilknytning til det politiske system i Rusland både hackede sig ind det danske forsvar i 2015 og 2016, har vi ikke meget at frygte.
"Jeg tror, Danmark til dels er for småt. Men jeg tror også, at de her ting virker, så længe der ikke er anerkendelse af problemets omfang. Derfor vil effekten tage af over tid, og jeg tror, at når det næste danske valg kommer, vil vi være vaccinerede for nogle af virkemidlerne. Det er i hvert fald min optimistiske læsning – at de åbne samfund fungerer bedre end de lukkede."
Facebook har taget konsekvensen af kritikken og har ansat 10.000 flere medarbejdere til at tage sig af sikkerheden.