Timing kan være et kraftfuldt middel i markedsføringen. En kreativ ide, der bygger på en aktuel begivenhed på en charmerende måde, kan mangedoble opmærksomheden. Udfordringen er, at de bedste ideer sjældent kan planlægges – de skal gribes i farten.
Men man kan også komme galt afsted, hvis den kreative ide rammer ved siden af skiven. Gælder det f.eks. en rabatkode som Covid19? Mere om det senere.
Desuden kan der også være situationer, hvor begivenheder piller tæppet væk under ens markedsføring, og hvor man skal finde ud af at stoppe eller tilpasse sin kommunikation.
Corona-krisen rummer det hele – og nærmest i yderste potens. Det går så stærkt, at mediebilledet helt naturligt rummer masse af eksempler på annoncer og tillæg, hvor man har svært ved at se, at de har nogen form for effekt – og det er i bedste fald.
Annoncer og tillæg blev overhalet af virkeligheden
Det oplagte er annoncer for flyselskaber og rejser til udlandet – og de er set også i dagene efter, at statsminister Mette Frederiksen lukkede de danske grænser. F.eks. en annonce i Børsen mandag for firmature til Budapest med fly og overnatning. Og tirsdag reklamerede Aalborg Lufthavn stadig – godt nok for gratis parkering. På den anden side, så er gratis parkering jo ret ligegyldigt, hvis flytrafikken er indstillet.
Så sent som tirsdag aften kunne man også se en reklamefilm for Tivoli Hotel og Konferencecenter, hvor der bl.a. blev fokuseret på restauranterne og gratis adgang til fitness-centeret. Hvis den skal have nogen som helst mening lige nu, så må det være en langsigtet branding. Men mon ikke det er den optimistiske udlægning?
Det samme kan man sige om en annonce i Politiken, hvor Plantevækst og Danmarks Veganske Forening ønskede vinderne af årets veganske spisested tillykke.
Der er andre eksempler, og mange af dem kan meget vel være udtryk for, at det er gået så stærkt, at man ikke har kunnet nå at afbestille annoncerne. Men selvom medierne også er pressede i denne situation, så ville det ikke være en dårlig kundeservice, hvis de proaktivt hev fat i annoncørerne og tilbød dem i det mindste at udsætte annoncerne frem for at fastholde dem for at få pengene i kassen.
Jyllands-Posten udkom også lørdag med et rejse-tillæg, hvor forsiden handlede om 'Den lyse side af Mexico City". Men det er formentlig forproduceret, så alternativet var nok at smide hele oplaget ud.
Politiken udkom så med et 'I byen-tillæg. En titel, der kan forekomme noget malplaceret og nærmest i modstrid med myndighedernes anbefalinger. Man havde dog nået at gribe situationen og tilpasse en del af indholdet, så det kom til at handle om noget af det, man kan 'I isolation".
Smart rabatkode?
Mens mange er blevet overhalet indenom, så er der andre, der har været hurtige til at gribe ud efter mulighederne.
Jeg har ikke selv set det, men det har min kollega, Peter Engholm. Han kan ikke huske præcist, hvem det var, men det handlede om bogsalg og pointen var, at man med rabatkoden Covid19 ville kunne få 19 pct. rabat.
Smart og kreativt? Eller lidt for smart?
Personligt synes jeg den er lidt for smart. Jeg tror, det støder mig, at man på den måde joker med Covid19, men det er formentlig en af den slags ideer, der kan splitte. Nogle synes den er sjov – andre reagerer negativt, og set som markedsføring kan den således være god.
Jeg kan meget bedre lide en anden bogrelateret case. Boghandlen Tranquebar i Borgergade i København har reklameret med, at "det er tilladt at hamstre bøger – og er du i karantæne kommer vi gerne hjem med dem til dig". Den synes jeg er lige i skabet.
IP Nordic er generelt meget aktive på TV 2 News med testimonials og inden for de seneste dage har jeg set en, hvor det er en restaurant-ejer, der er talsperson. Den variant burde nok have været udskiftet. Til gengæld ser IP Nordic ud til at have reageret hurtigt ved at indrykke annoncer med overskriften: "Brug for hjælp til den optimale hjemmearbejdsplads". Det drejer sig om et videomøde-software, men det er en testversion, der netop er lanceret, så det kan ligne en hurtigt besluttet markedsføring som reaktion på udviklingen.
Den er nøgtern og ikke specielt kreativ, men rummer et relevant budskab i situationen og ligner således en god ide.
Louis Vuitton producerer håndsprit
Luksusmærket Louis Vuitton har fået en god CSR-ide. De bruger en del af den produktionskapacitet, der normalt bruges på parfume, på at producere håndsprit, som vil blive givet gratis til myndighederne. Det er en ide, der tager afsæt i firmaets kompetencer, som bruges til at afhjælpe et samfundsproblem, så det fremstår både relevant og sympatisk.
Lidt i samme boldgade er det danske dealsite, Bownty, som har tilbudt restauranter at bruge sitet gratis til at tilbyde take-away. Det er en hjælpende hånd til en stærkt presset branche, og selvom det ikke giver nogen indtægter, så kan det godt vise sig at være en god investering.
Kram og håndtryk i annoncer?
En ting er proaktive kreative ideer eller budskaber, der rammer forkert i tiden, men også et mere generelt indhold af reklamer kan komme i skudlinjen. Amerikanske Hershey har f.eks. allerede for en uge siden fjernet et spot, der rummer håndtryk og kram og er i stedet gået over til rent produktorienterede spot.
Budskabet er jo ganske klart fra myndighederne: det primære middel til at bekæmpe en pandemi er at begrænse menneskelig interaktion mest muligt, og derfor er det en relevant overvejelse, om man i sin kommunikation risikerer at fremme en uhensigtsmæssig adfærd.
Men hvornår man krydser grænsen, er nok ikke det letteste spørgsmål at svare på. F.eks. havde Danske Bank i søndags en annonce med overskriften 'Tryghed er bare en af fordelene'. Det handler om samarbejdet med Tryg, men billedet er venner samlet til et middagsselskab.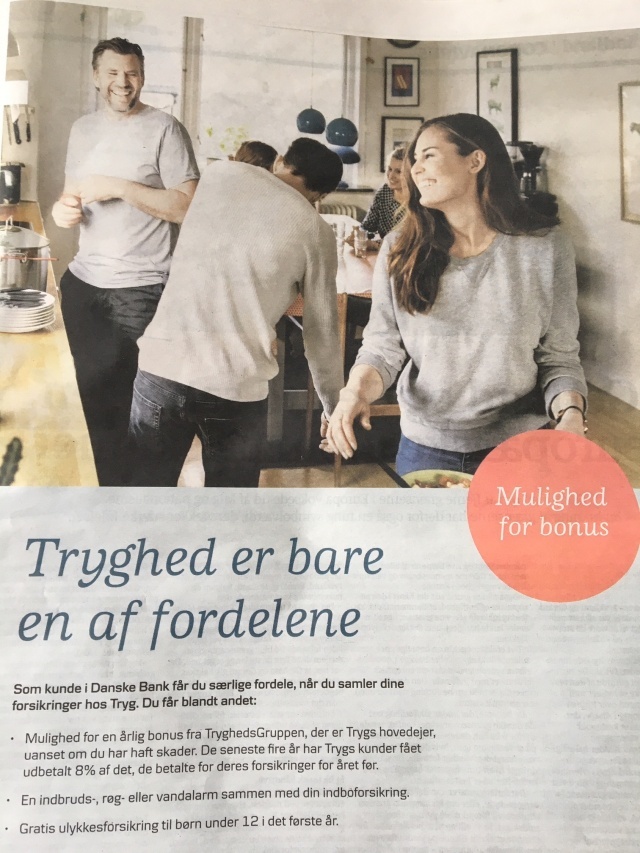 Danske Bank annonce i søndags
Umiddelbart ret uskyldigt og bestemt ikke provokerende. Men oven på statsministerens pressemøde tirsdag er den middagssituation faktisk en, som man bør undgå.
Og det efterlader så overvejelsen, om Danske Bank bør finde et andet udtryk – eller måske bare helt at undlade reklame lige nu.
På den anden side – hvis Danske Bank fortsat kan bruge penge på markedsføring, så hjælper de en branche, der også er ramt af Corona, og det kan vel være ok. Så måske skal de bare tilpasse illustrationen.
Der er givetvis mange, mange andre eksempler og fælles for dem alle er, at verden forandrer sig lige nu i et tempo, som er næste umuligt at følge med i. 'Verden af i går' er blot for en uge siden, og det rejser en masse spørgsmål og overvejelser som skal besvares – og i virkeligheden helst i går.
Klummer på Bureaubiz er et udtryk for skribentens egen holdning.