Det kræver sin mand at bygge verdens største bureaunetværk op fra nul. Nu står den mægtige mand bag, Martin Sorrell, i sit livs største krise, anklaget af sin egen bestyrelse for ikke at opføre sig, som det sig hør og bør for en WWP CEO.
Det er let at grine skadefro af hans ulykke. Den iltre og usympatiske CFO-agtige CEO er langt fra elskelig. David Ogilvy kaldte ham engang en uhyggelig, lille lort, hvad Financial Times pænt ændrede til uhyggelig, lille nar. Han er muligvis nok en nar, men ved nærmere eftertanke er der bare ikke så meget at grine af.
Den traditionelle bureaumodel bliver dramatisk disruptet lige nu og her, og det er til at græde over. Gigantiske og uløselige udfordringer tegner sig til skræk og advarsel. Udfordringer, som fint og loyalt er blevet fremlagt i såvel Financial Times som The Economist efter Sorrells deroute.
For Martin Sorrells krise er dit bureaus katastrofe. Du har bare ikke opdaget det endnu. Fremtidens bureau er ifølge Publicis en kakerlak, som finder sin føde i andres efterladenskaber eller holder sig gemt.

The Big Four er Big Trouble For You
The Big Four (Amazon, Google, Facebook, Apple) spiller en større og større rolle som monopoler. De klipper så at sige reklamebureauer ud af værdikæden og tager selv de indtægtskilder, som branchen har levet af i årtier – ligesom de automatiserer og digitaliserer reklameøkosystemet i egne lukkede universer.
Med et fint ord kaldes det disintermediation. Altså, at bureauerne bliver mere og mere overflødige i en verden, som tilhører giganterne. Bemærk, at omsætningen i alle reklame- og mediekategorierne falder, mens Google- og Facebook-annoncerne stormer frem. De spiser den omsætning, du skulle leve af. Som det udtrykkes i The Economist:
"Technological forces are buffeting this model. The first big challenge is disintermediation. Despite the growing backlash against the tech giants, Google and Facebook make it easy for firms big and small to advertise on their platforms and across the internet via their powerful ad networks. The American advertising market grew by around 3% last year, to $196bn, but only because of the tech giants. MoffettNathanson, a research firm, estimates that Google and Facebook each accounted for more than $5bn of growth in advertising spend, and for almost 90% of online ad growth. All forms of conventional advertising, apart from outdoor, shrank."
Marketing er et potentielt profit-loss-center
Store virksomheder som Unilever og P&G skærer drastisk ned i traditionel reklame og giver nu flere og flere af deres reklamepenge til duopolet Google og Facebook. Det har ramt WPP hårdt – men det rammer også snart dit bureau.
Mange store virksomheder er efter finanskrisen blevet bedre til at passe på deres penge. Ikke mindst, fordi flere og flere virksomheder nu drives af kapitalfonde, som har et meget stort og sundt fokus på marketing som et muligt profil-loss-center.
Inhousification = ingen penge til dit bureau
Automatisering og kunstig intelligens betyder, at kunder kan mere og mere for færre penge. En gigantisk inhousification er i gang. Man kan nå ufattelig langt med et inhouse-bureau og storforbrug af Facebook/Google. For at gøre ondt værre er det kombineret med en større og større lyst til DIY-kampagner. Et farvel og tak til den klassiske bureaumodel er resultatet.
Pull – marketing er det umulige U-turn
Push-marketing svækkes og erstattes gradvist dag for dag af pull-marketing. Det er en kæmpe udfordring at skifte fra push til pull, når man i årtier har arbejdet ud fra en push-model. Ingen kan løfte det i Danmark p.t.
Data lyver aldrig; ergo farvel, til høj margin og fantasiregninger
Datafikation af fag og budskab betyder, at datatunge aktører såsom mediebureauer, The Big Four og de store datacentriske globale konsulenthuse æder mere og mere af markedet.
Det hårdeste slag er dog, at datafikationen betyder, at det er slut med at sende fantasiregninger og sælge projekter med uhørt høj margin. For data sladrer, og data ved godt, hvad ting skal koste. Det presser nu marginen dramatisk ned, og mere dag for dag.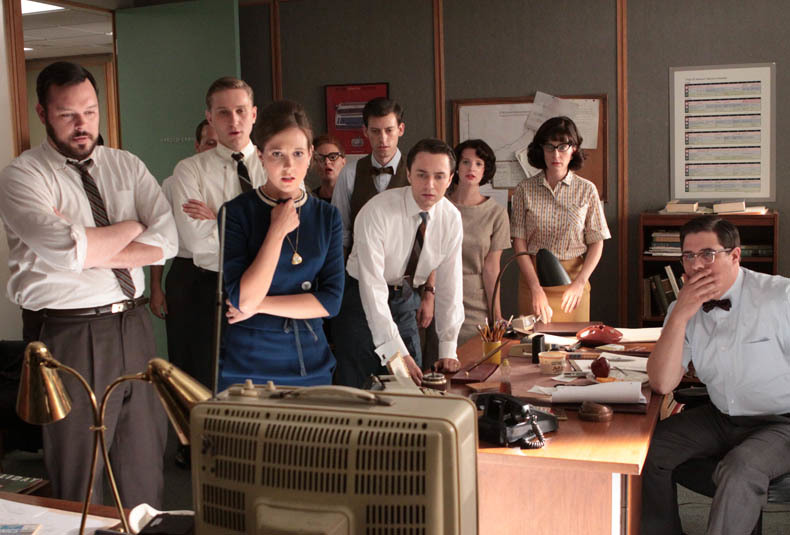 Faste store kontrakter er so last year
Den stigende kompleksitet i mediemiljøet og bevægelsen mod influencers/content-marketing og direkte samarbejde med duopolet betyder også, at de store faste full service-kontrakter bliver mindre og færre. Nu vil kunderne cherrypicke fra opgave til opgave og platform til platform, ofte i kombination med en stærk inhouse-kompetence.
Som det udtrykkes af The Economist:
"The ad giants have conventionally made much of their money from huge fixed contracts with clients, which lock in long-term relationships with multiple agencies. Their holding-company structures include famous creative firms that design and make ads for TV and other media, but also a host of other businesses that bring in the bulk of their revenue, such as media-buying operations, digital services, brand consulting and public relations. This month Marc Pritchard, chief brand officer of P&G, criticised their model as a "Mad Men" operation that is "archaic" and overly complex in an era when campaigns and ads need to be designed and refined quickly across lots of platforms."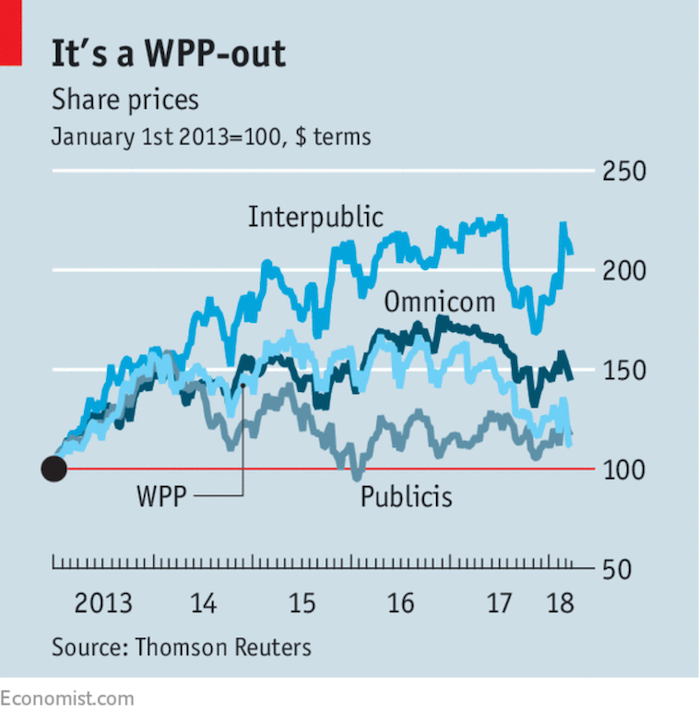 Designtænkning tænker reklame ud af budgettet
Bevægelsen mod etnografiske metoder vokser dag for dag. Al den hype om servicerejser og designtænkning trækker energi og penge væk fra traditionel reklame. Det betyder, at nye aktører og bureauer med socialvidenskabelige metoder tager flere og flere opgaver og redefinerer traditionelle reklameopgaver til antropologiske undersøgelser og adfærdsdesignsinterventioner, fx som vi ser det med nudging.
De koster mange penge og betyder flere penge til antropologi på bekostning af kommunikation i traditionel forstand.
Ad-free er det nye sort
I øjeblikket ser vi et dramatisk skift fra annoncesælgende 'you're the product'-platform mod reklamefri abonnementsbaserede modeller som Spotify Premium, Netflix osv.
Fra indirekte eyeball-modeller til direkte faste abonnementsmodeller. Rygter vil vide, at Facebook også snart vil tilbyde en reklamefri betalingsversion.
Flere og flere forbrugere ønsker at betale for ikke at få reklame og undgå at blive dataraped i annoncebaserede indirekte modeller. Her er brugen og udbredelsen af ad-bloggere mere et symptom på skiftet end sygdommen i sig selv. Det er bare ikke godt for de traditionelle bureauer.
Velkommen til Amazons detail-Armageddon
Amazon spiser lige nu den amerikanske detailsektor til morgenmad. Nu er de sultne efter mere og åbner snart i Danmark.
Det betyder i USA, at detailindustriens marketingkroner er pressede og bliver endnu mere pressede. Bare vent, når giganten kommer til Danmark. Haps, haps.
Der er muligvis en smule håb for branchen for Rishad Tobaccowala fra Publicis siger til The Economist:
"Everybody says that we're dinosaurs but we're not. We're cockroaches. We know how to scurry around, we hide out in the corner, we figure out where the food is, we reconstitute ourselves."
Så måske nok en katastrofe, men vi overlever heldigvis som kakerlakker. At overleve er bare ikke at leve godt. Held og lykke.
Link og læs mere her:
Technology has upended the world's advertising giants
Advertising agencies are under pressure to change archaic and inefficient elements of their business model
Martin Sorrell, WPP's adman under fire
His grip on the group could be loosening amid allegations of personal misconduct
A hard sell for the ad men
Consumer goods groups are cutting costs amid slowing growth – the advertising industry is first to feel the pinch
Advertising companies struggle to adapt to a new world
WPP, Publicis, Omnicom and Interpublic have suffered as marketers shift focus