Forestil dig en shoppetur i gågaden. Ikke på udkig efter noget særligt, men åben for indtryk. For de gode tilbud eller den inspirerende oplevelse. Og dér er de: De røde sko. Du kigger på dem, du prøver dem på. Du overvejer. Og beslutter så, at de ikke lige er dig. Eller at du i hvert fald ikke skal have dem lige nu.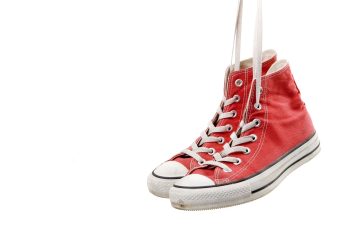 Ti minutter senere drikker du en kop kaffe på cafeen om hjørnet. En mand, du ikke kender, sætter sig pludselig ved bordet. "Hvad med de dér røde sko?" siger han og blinker indforstået til dig.
Frem trækker han skoene, stiller dem på bordet foran dig sammen med en smart dankortterminal. "Du skal da have dem, skal du ikke?"
Høfligt og lettere forbløffet afslår du det pæne tilbud og rejser dig. Kun for at blive mødt af en mand med et enormt sandwich-skilt: "Røde sko – slå til nu", står der med fede typer.
Du vender om, men han følger efter dig, mens han peger febrilsk på skiltet og pifter. Du sætter i løb ned af gaden, hvor alle facadevinduer pludselig er beklædt med reklamer for de røde sko, som pludselig ikke virker så attraktive.
Fed oplevelse? Næppe. Normal adfærd..? Langt fra. Med mindre du er på nettet. For her er det helt legitimt at stalke brugerne under dæknavnet retargeting.
Sammen med fætrene remarketing og omnichannel marketing – og bevæbnet med cookies og statistikker om conversion rates – møder de forbrugerne med tilbud, de i forvejen har vist interesse for.
Intelligent eller irriterende
Det er jo smart nok, og man skal være fagligt blind for at misse alle de fordele, der kan være ved det. Også for forbrugerne. Hvis det vel at mærke bliver gjort intelligent. Ellers er det bare pisseirriterende.
Som når du fx har købt den fodboldtrøje, der nu hjemsøger dig på alverdens websites. Eller når du måske slet ikke selv var interesseret i de røde sko, men bare ledte efter en gave til den fødselsdag, du var til i lørdags. Eller når du skal se den selvsamme reklamefilm ni gange i træk, når du prøver at se højdepunkterne fra weekendens kampe.
Eller når selve tonen bliver skinger i form af altopslugende flashbannere, som bare larmer. Forstyrrer. Irriterer. Og skaber modvilje mod det brand eller den webshop, som ellers lige troede, den havde din sympati. Og måske endda havde den engang.
Vejen fra at være relevant til at blive creepy er nemlig ganske kort, hvilket man fx kan få vished om i denne undersøgelse fra det engelske digitale bureau InSkin Media. Af målingen fremgår det bl.a, at 35 procent bliver decideret irriterede, hvis man mødes af den samme annonce mere end tre gange.
Man skulle tro, at graden af indsigt, som annoncører og bureauer ligger inde med, efterhånden ville sætte en stopper for stalkerfænomenet. Men i stedet virker det som om, det bliver værre. Måske er det, fordi vi i dag kan måle mere end nogensinde før – og dermed kan se sort på hvidt, at det tilsyneladende kan betale sig.
Fokus på de få købere – eller de mange ikke-købere?
Kan man påvise, at 0,8 procent flere klikker og køber, lever nogen åbenbart med, at de resterende 99,2 procent udsættes for noget, der tangerer ren forfølgelse.
Hvor meget det skader brandet, er svært at sige. For selv hvis nogen skulle interessere sig for dét, er det vanskeligt at måle, eftersom de fleste forbrugere ikke brokker sig. De vender bare ryggen til og orker ikke nødvendigvis redegøre for årsagen.
Forstår man at koble de rette budskaber, den rette kontekst og en bedre forståelse af forbrugernes vaner og mønstre kan man skabe forrygende resultater. Og det er der heldigvis masser af gode eksempler på.
De gode cases er tilsyneladende alle kendetegnet ved, at nogle levende mennesker har gjort sig den ulejlighed at overveje, at massiv opfølgning kan have andre effekter end de tilsigtede. Og når man til den erkendelse, bliver indsatsen noget nemmere at tilrettelægge med respekt for forbrugerne – og almindelig pli.
Men der er også tonsvis af skræmmende resultater af det modsatte, hvor kommunikationen alene bliver en sag for forprogrammerede systemer og algoritmer. Og de har det med at råbe lidt for højt og lidt for ofte. Og sådan en sælger er der aldrig nogen, der har brudt sig om.