Der kan være flere grunde til at holde din tegning så enkel som mulig. For mange punkter i tegningen kan gøre den tung at arbejde med både i Illustrator og i InDesign. Skæremaskiner kan også have problemer med for mange ankerpunkter eller hvis tegningen ikke er helt 'ren'.
Her kommer tre smarte måder, hvorpå du kan forenkle og rydde op i din illustrator tegning.
1 Simplify
Via menupunktet Object> Path> Simplify… kan du forenkle den valgte illustration. Når du har valgt punktet, fjerner Illustrator automatisk et antal punkter. Hvis du vil have lidt mere kontrol over forenklingen, kan du trække i slideren for at justere antallet af punkter.
Hvis du vil have endnu mere kontrol over forenklingen af illustrationen, kan du klikke på More Option-knappen (de tre prikker i bjælken). Nu ser du nedenstående boks.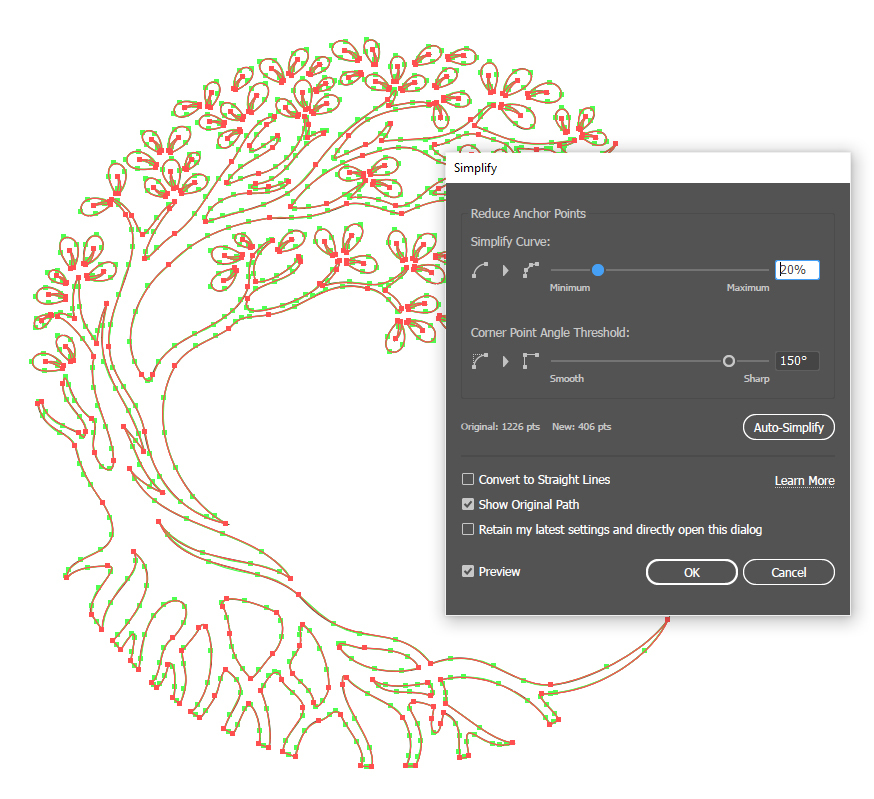 Under punktet Simplify Curve, bestemmer du, hvor mange punkter der skal fjernes på illustrationen. Funktionen må naturligvis ikke ændre på den oprindelige form på illustrationen, men hvis du klikker på punktet Show Original Path til, kan du se illustrationen før og efter forenklingen. Og herefter kan du justere antallet af punkter på slideren. I eksemplet er der fjernet ca. to tredjedele af alle punkter uden nogen synlig ændring af Illustrationen. Fra 1226 punkter til 406 punkter, og altså en betydelig mere enkel illustration, der vil være lettere at arbejde videre med.
2 Ryd op i dokumentet
En anden smart funktion i Illustrator er Clean Up, som du finder under menupunktet Object> Path> Clean Up… og som er vist herunder.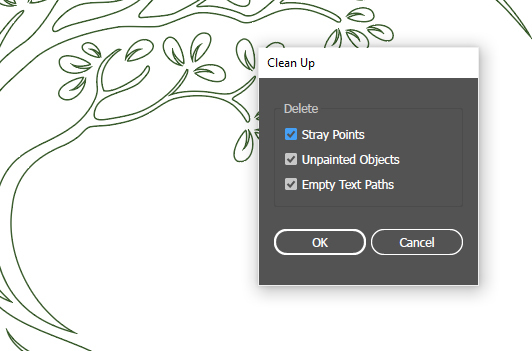 Funktionen kan automatisk fjerne Stray Points: punkter der ikke har forbindelse med andre; Unpainted Objects: objekter, der ikke indeholder en farve, og altså er usynlige; samt Empty Text Paths: tomme tekststrenge. Disse tre ting kan give problemer i en skæremaskine, og måske også under konstruktionen af grafikken.
3 Fjern ankerpunkter
Hvor de to første metoder automatisk forenkler eller rydder op i dokumentet, er den sidste metode uhyre nyttig, når du opretter eller arbejder med din tegning. Og tilmed meget, meget enkel at bruge. Du har sikkert være ude for at skulle fjerne et ankerpunkt fra en tegning. Du vil sandsynligvis bruge værktøjet Delete Anchor Point Tool til dette, hvorefter din kurve ændrer udseende, og du skal tilrette den efterfølgende. Men hvis du holder Shift tasten nede, når du fjerner ankerpunktet, vil kurven forblive i dens oprindelige form, og du slipper for at tilrette den. En af de mest nyttige og måske oversete funktioner i Illustrator.
Her er vist kurven efter fjernelse af ankerpunktet – kun med brug af den nævnte genvejstast.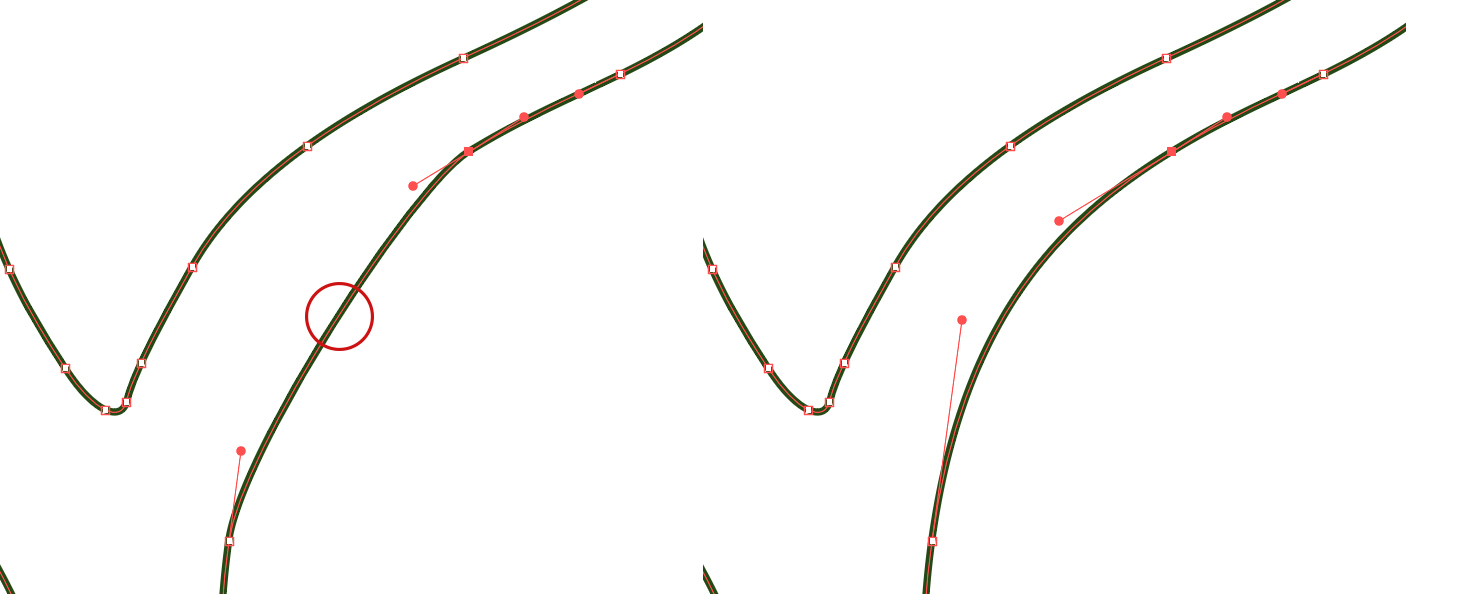 Bonus info
Og så en lille bonus information, der har relation til emnet, og som måske også kan være nyttig for dig. Som noget relativt nyt i Illustrator (og InDesign 2022), kan vi selv bestemme størrelse på ankerpunkterne på vores tegning. Det gør du i Preferences (ctrl/cmd+K) og under punktet Selection & Anchor Display. På slideren kan du vælge størrelse på ankerpunkterne (og andre ting). Jeg plejer at indstille den som vist herunder,
men prøv dig frem, indtil du finder en passende indstilling til dit brug.