En ny måde at sikre ejerskab og ægthed over digitale produkter er eksploderet i løbet af 2021 og vil fortsætte med at revolutionere bl.a. kunstverdenen med stærke tråde til ejerskab af digitale objekter i metaverset.
Da kunstneren kendt som Beeple solgte et digitalt kunstværk kaldet 'Everydays: The first 5000 days' på Christie's i marts 2021 for 69 mio. dollars, markerede det nogle milepæle: Værket var det første unikke stykke digitale kunst, solgt fra auktionshuset og det var første gang, at kryptovaluta blev accepteret som betaling.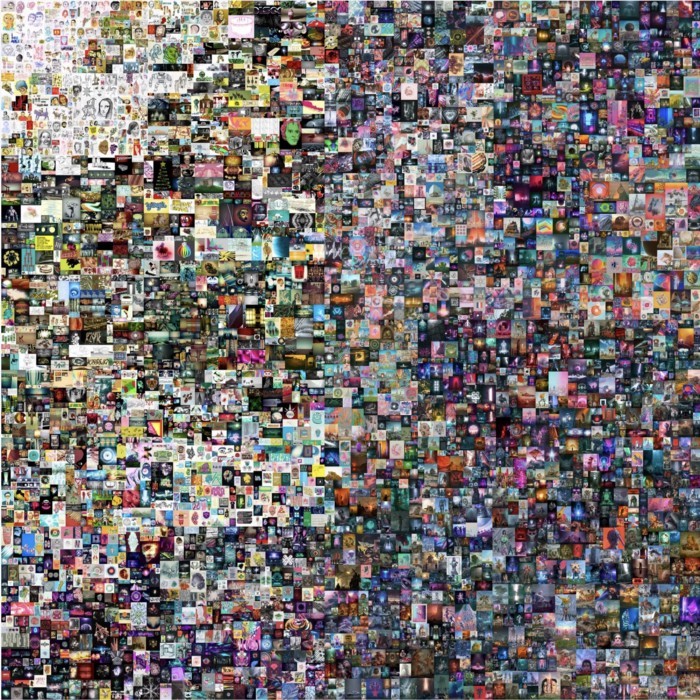 Digital kunst til 69 mio. dollars
Det betød også, at debatten omkring digitale aktiver – eller NFT'er – eksploderede. Fordi det giver mulighed for, at autentificeringen af kunstværker og verifikationen af ejerskab gemmes i en Blockchain, der ikke kan pilles ved.
Og det er helt nødvendigt, når vi taler om oprindeligt ejerskab af ethvert stykke digitalt indhold. Når noget er digitalt, betyder det jo netop, at man ikke kan skelne originalen fra kopien, som ofte kan laves med et enkelt højreklik. Så vi har brug for en mekanisme til at kunne bevise et digitalt kunstværks herkomst. Det er her, NFT'er kommer ind i billedet.
Hvad er en NFT?
En NFT er et unikt datacertifikat, som kan associeres med et digitalt samleobjekt. Som ethvert fysisk samlerobjekt tillader NFT-teknologien, at digitale samleobjekter beviseligt er unikke, autentiske og kan ejes, hvilket giver dem en iboende værdi i samleres øjne.
I tilfælde af digital kunst er en NFT et digitalt aktiv, der er uløseligt bundet til kunstværket ved hjælp af blockchain-teknologi og inkluderer vigtige detaljer vedrørende kunstværkets herkomst og ægthed på en måde, der er uforglemmelig.
For at lære mere om emnet signede jeg op til det digitale kunstwebsite Nifty Gateway. Det er en centraliseret markedsplads for køb og salg af NFT'er (de kalder dem Nifties).
Her lærte jeg, at kunstværkerne kan sælges på mange forskellige måder: Enten som et enkelt stykke eller som en nummereret serie, hvor du ofte skal vinde et lotteri for at være den heldige køber. Et stykke kunst kan bortauktioneres, eller en kunstner kan beslutte at sælge kunstværket i et afgrænset tidsinterval til alle dem, der ønsker at købe det og som er klar i det pågældende tidsvindue.
Hvis du ikke får kunstværket, når det lanceres til salg (kaldet et drop), kan du købe det på det sekundære marked. Og hver gang et stykke sælges videre, får kunstneren en andel af prisen.
Jeg ejer nu to forskellige kunstværker. Et af dem hedder 'Reborn' af en kunstner ved navn Vexx. Han åbnede for salget af værket i to minutter og solgte 245 styk til 333 dollars – jeg fik nummer 172. Det er 81.000 dollars i omsætning – ikke dårligt, når man er en relativ ukendt 22-årig kunstner fra Belgien.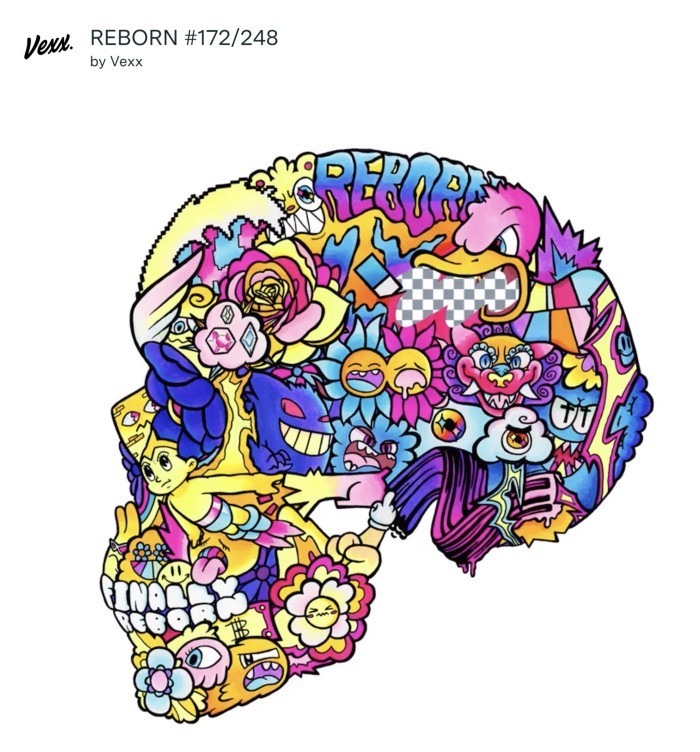 Reborn af Vexx
Nogle eksperter kalder hele NFT-bevægelsen for et kæmpe fidusnummer, men værket Reborn er allerede blevet videresolgt 187 gange på det sekundære marked til både mindre og mere end den oprindelige pris. Lige nu sælges mit kunstværk – købt i april – for 1.150 dollars, så det har ikke været den værste investering indtil videre.
OpenSea – den største peer-to-peer-markedsplads for kryptovarer – oplevede en omsætningsstigning til 3,4 mia. dollars alene i august 2021, så interessen er enorm og aktivitetsniveauet tårnhøjt.
NFT'er til alle slags digitale produkter
For at forstå NFT-bevægelsen, er vi nødt til at forstå, at NFT'er vil blive skabt til alle former for digitalt indhold. Hvordan ville du have det med at eje den originale Charlie Bit My Finger-video – en af de første virale videoer, der er set mere end 880 mio. gange på YouTube? Familien fjernede videoen fra youtube og solgte den som en NFT for 760.000 dollars!
Eller hvad med at eje den originale kildekode til World Wide Web, skrevet af Tim Berners-Lee? Han satte den til salg som en NFT på Sotheby's og fik 5,4 mio. dollars.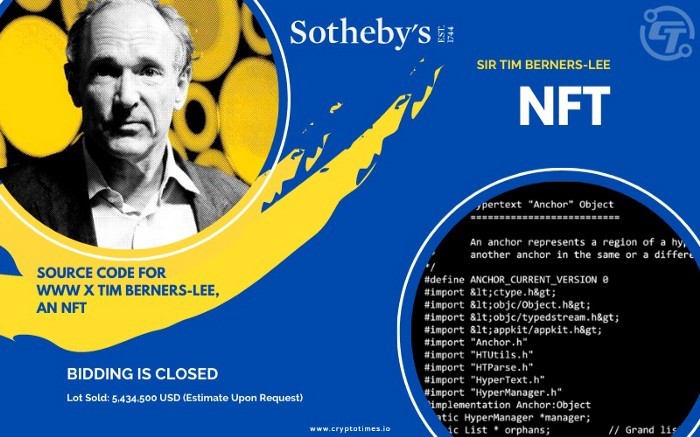 Den originale www-kode
Eller hvad med at eje en videofil af en LeBron James Basketball dunk? 59 eksemplarer blev solgt – den højeste pris var 210.000 dollars.
I den forstand er NFT'er ligesom baseballkort og autograferede produkter. Man kan samle på dem, de er sjældne og omsættelige. Så selvfølgelig blev sportsmemorabilia-industrien også involveret i NFT-markedet.
Limited editions
Brands og virksomheder rundt omkring I verden er også begyndt at integrere NFT-verifikation i deres produkter. LVMH, Prada og Cartier er gået sammen om at skabe Aura – deres egen skræddersyede blockchain til digitale aktiver og verifikation af ejerskab over luksusvarer fra den virkelige verden.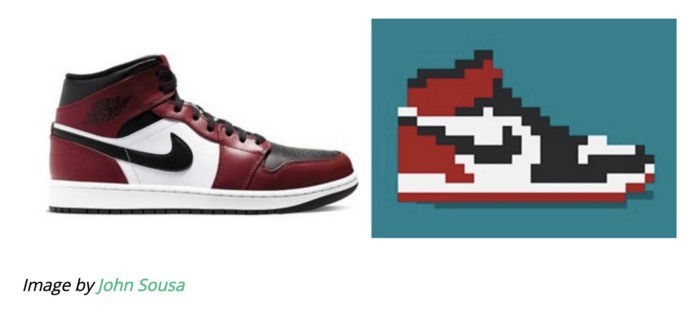 Nike er begyndt at oprette NFT'er, der passer til hvert par solgte limited-edition sneakers. Så, når du køber et par fysiske sneakers, får du også en digital NFT-version, der er bærbar i ethvert virtuelt rum og som beviser, at du er ejeren.
NFT er stadig i sin vorden
Hvorvidt NFT-bevægelsen er en boble, et fupnummer, en nødvendighed for verifikation af produkter i det kommende Metaverse eller en revolution på kunstmarkedet, skal vise sig (og det er nok lidt af hvert). Men én ting er sikkert: NFT-bevægelsen vil få meget fart i 2022, og den vil forgrene sig i en masse utænkelige retninger. Som med alle nye teknologier, skal du træde forsigtigt, hvis du vil være med.
Jeg forudser, at NFT'er vil fortsætte med at vokse som en teknologi i 2022 og ende som en meget mere mainstream måde at sikre ejerskab af dine ting på.