Her på kanten af årsskiftet er der tradition for at kigge lidt indad.
Se på året der gik. Reflektere over det. Var det OK? Er vi tilfredse med det, vi udrettede? Og hvis ikke, hvorfor så ikke?
Hvad nu, hvis vi løfter blikket og kigger rigtig langt tilbage? På hele vores arbejdsliv og på det liv, der var tid til udover det. Har vi været dygtige, og har vi nydt turen?
Det var det Linds Redding gjorde, da han i marts måned publicerede et essay: 'A short Lesson in Perspective'. AdAge karakteriserede det som det vigtigste, der er skrevet om kreativitet.
Nu er han død. Men den skæbne skal hans sidste og måske vigtigste budskab til os ikke have lov til at lide.
Linds Redding var en britisk Art Director, som arbejdede primært i London og Edinburgh, senere rejste han til New Zealand, hvor han arbejdede indtil ca. et år før han modtog sin dødsdom (cancer). Her etablerede han et animations-studie.
Der er ikke noget særligt at sige om Linds, han var ligesom os andre, optaget af at være god til det, han lavede, og ligesom os andre løb han fra tid til anden sur i proportionerne i forhold til, hvad der var vigtigst i ens liv, og ligesom os andre mistede han lidt magten over, hvad det er for forhold, der gør, at det lykkes for os – ind imellem – at være så dygtige, som vi gerne vil være.
Tre citater fra essayet:
"The trick to being truly creative, I've always maintained, is to be completely unselfconscious. To resist the urge to self-censor. To not-give-a-shit what anybody thinks. That's why children are so good at it. And why people with Volkswagens, and mortgages, Personal Equity Plans and matching Louis Vuitton luggage are not."
"It takes a certain amount of courage, thinking out loud. And is best done in a safe and nurturing environment. Creative Departments and design studios used to be such places, where you could say and do just about anything creatively speaking, without fear of ridicule or judgment. It has to be this way, or you will just close up like a clamshell. It's like trying to have sex, with your mum listening outside the bedroom door. Can't be done.
"Now of course we are all suffering from the same affliction. Our technology whizzes along at the velocity of a speeding electron, and our poor overtaxed neurons struggle to keep up. Everything has become a split-second decision. Find something you like. Share it. Have a half-baked thought. Tweet it. Don't wait. Don't hesitate. Seize the moment. Keep up. There will be plenty of time to repent later. Oh, and just to cover your ass, don't forget to stick a smiley on the end just in case you've overstepped the mark."
Det handler om kreativitet. Hvordan vi skaber den, og specielt om hvordan vi næsten systematisk ødelægger muligheden for, at den opstår. Vi er nødt til at forstå og respektere dens væsen for at sikre, at de ting vi præsterer bliver kreative og originale.
I takt med, at vi nedgraderer de forhold, der skaber rammerne omkring det kreative produkt, så bliver det i højere og højere grad væsentligt for branchen at kunne levere denne vare.
Jeg er gammel nok til at kunne se tilbage på utallige dage, hvor jeg har kunnet siddet væk fra telefon og afbrydelser og har oplevet, at to personer med tillid til hinanden ikke bare er dobbelt så gode som en, men langt langt bedre.
Men jeg er også ny nok til at opleve, hvordan man alene, én senior kreativ, arbejder op mod en håbløs brief og en håbløs tidsplan og med utallige afbrydelser og ændringer, der forhindrer dig i at komme i det kreative flow, hvor du med din underbevidsthed, bevidst bragt i spil, får skabt noget unikt.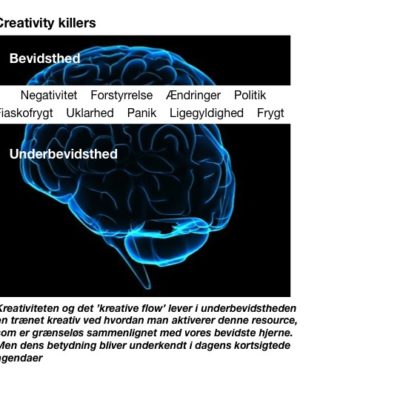 Vi kreative er jo pleasere. Vi vil jo så gerne. Samtidig er vores job væsentlig anderledes end andres på bureauet. Vi arbejder med nogle personlige resourcer der er ekstremt skrøbelige. Vi er følgelig også ret elskværdige ved hinanden, da vi deler en indsigt omkring hvordan man undgår at dræbe kreativ energi. Vi ved at retten til at sige noget dumt er rygraden i kreativ udvikling, og at det dumme vi siger kan blive den geniale løsning i en andens hoved.
Vi ved også at vi skal ind i os selv for at nå den kraft der laver 'det fede'
Vi har vores huler. Claus Walter og jeg havde et nedlagt is-mejeri i Skovshoved med en el-radiator og no phone. Man kunne også finde os i værelse 14 på Marina. Her var der fred. Her kunne vi på to dage præstere, hvad der ellers ville have taget uger i det stress helvede der især prægede mit job dengang.
Passion og stolthed
Kreative menneskers største svaghed er deres passion og stolthed. Vi angler efter anerkendelse. Det er faktisk ret sørgeligt. Nærmest patetisk hvad det kan drive nogle af os til. Det kan få os til at glemme de virkelig vigtige ting. Koner, børn, venner, ja selv penge forekommer os ubetydeligt i forhold til vores faglige omdømme. Ingen lykke overgår følelsen når vi har knækket den. Endofinerne bølger gennem vores hjerne og krop. Vi bliver afhængige.
Dygtige kreative direktører ved at jobbet udover at inspirere, coache og opbygge selvværd, også består i at skærme vores folk mod bl.a. stress, dårlige briefs, fiasko-frygt, forstyrrelser og intern politik.
Og samtidig skal vi drive dem i mål om det så kommer til at tage natten eller natten derefter. Bagefter skal vi samle dem op og gøre dem klar til den næste kamp. Lykkes vi, er vi helte. Taber vi har vi været urimelige og egenrådige…Tough job.
Disse synspunkter får ofte bare et skuldertræk eller en kynisk bemærkning fra de der ikke ved bedre.
Mod dumhed kæmper selv guderne forgæves. Men vi er også selv med til at nedbryde konditionerne. Vi kaster vores arbejde foran kritikkerne før vi selv har været kritiske. Vi giver 'ikke kreative' adgang til vores kreative proces, for at skildre åbenhed i en intern co-creation proces.
Vi siger ja til et utal af interne touch point møder hvor stressen over at vi kun er halvvejs får lov at brede sig. Som om der er noget der hedder halvvejs når det gælder en idé. På disse møder får de alt for mange deltagere så lov at positionere sig overfor CEO'en der ofte sidder alvidende for bordenden, ofte helt uden at kende brief eller formål.
Vi gør det, selvom vi ved at gode løsninger laves af en lille kreds af jævnbyrdige og ikke i en bred kreds af no good's med hver deres karriere agenda.
Vi lader os rive med af en afstumpet macho kultur og spiller rollen som muskelmand, hvor usikkerhed og søvnbehov ikke er en option.
I vores søgen efter at gøre løsningerne uakademiske, gør vi dem uintelligente.
Vi indfører kreative skabeloner der skal hjælpe folk uden mavefornemmelse til at afgøre hvad der er godt eller skidt og hvad værre er, så tillader vi alle at bruge disse skabeloner, uden at stille krav til deres baggrund for at kunne.
Projektleder rakkede spæd og nyfødt ide ned
Engang da jeg havde hørt en lidt for extrovert projektleder, med en fortid i et mediebureau, rakke en ganske spæd nyfødt kampagne sønder og sammen, forhørte jeg mig om personens baggrund for at komme med kritikken. Jeg fik det svar, at alle jo er kreative, som om at det gav personen et alibi til ganske ufølsomt og indsigtsløst at rive ned, uden at føle anledning til at bygge noget som helst op.
Og det er lige her, det kommer til at gå rigtigt galt. Lige pludselig er selv det mest jammerlige irrelevante input blevet kreativt. Vi glemmer hvor stærk kreativitet kan være når det er mesterligt tænkt og udført og stiller os tilfredse med forudsigelige regnestykker, der bare går op.
Eller vi låner i panik noget en kollega har lavet tidligere.
Man er ikke kreativ pr. definition. Man kan være original og kreativ hvis man respekterer de regler og forudsætninger, der gælder. Og ikke alle har det nødvendige grundlag. Sorry. Vi er heller ikke alle musikalske.
Kreativitet er i gang med at tabe i værdi. Kursen rasler ned. Eller også er det kvaliteten der rasler ned. Måske er det fordi vi for sjældent leverer varen.
Fordi vi har mistet troen eller evnen, eller måske blot fordi vi har mistet respekten for det, der skaber den. Kreativitet er ikke blot en veldrejet overskrift eller en film-ide der sidder i skabet. Det er ikke engang en kampagne der kan lave 10 millioner hits. Kreativitet går langt ud over fagdiscipliner. Kreativitet er det der flytter vores verden. Det der løser problemer på nye måder.
Dem, der ikke tror på det jeg siger, tror i reglen på McKinsey:
"The best possible solutions come only from a combination of a rational analysis based on the nature of things and imaginative reintegration of all the different items into a new pattern using non liniar power."
Hvis i synes at jeg går til makronerne, så synes jeg i skal læse hvad Linds Redding gør. Her er hele hans 6 siders essay. Det er i Ad Age blevet kaldt det vigtigste der er skrevet om kreativitet.
Reddings tanke med at skrive dette er jo ikke at blive kåret til noget som helst. Ej heller at få os til at se ham som guru. Han ønsker at skabe en erkendelse. At få os til at gøre noget ved det. Han skrev det for vores skyld. Ikke fordi han elskede branchen, men fordi han elskede kreativitet. Han vidste han skulle væk da han skrev det.
Og det er nok ikke kun os kreative der skal tage action. Det er hele branchen. Ellers er det spørgsmålet om vores allersidste bastion består fremover. Og dermed branchens eksistensberettigelsen.