Adfolio Academy er navnet på en ny e-learningsskole, der skal udvikle de studerendes kreative evner og udfylde deres mapper.
Målet er forbedre de studerendes chancer for at komme ind på længerevarende kreative uddannelser – alternativt at skaffe dem en praktikplads på et bureau.
Manden bag initiativet er Lars Busekist, der har været kreativ direktør på flere internationale bureauer, bl.a. JWT i Cairo og SEK Grey i Helsinki. Han var også i tre år – sammen med Michael Nyrup – fagansvarlig for Kreativ Basis på DMJX, der reelt var en forberedelse til Kreativ Kommunikation samme sted.
Det er erfaringerne fra denne undervisning samt et internationalt netværk, Lars Busekist har samlet i Adfolio Academy.
"Jeg har brugt de seneste to år på at forberede e-learning skolen. Den foregår på engelsk og er sat til at kunne køre i 30 forskellige lande. Indholdet er universelt, idet kreativitet basalt set er evnen til at kombinere to ting, så det giver en ny mening. Vi har udviklet et system, som vi – helt ubeskedent – finder unikt," siger Lars Busekist.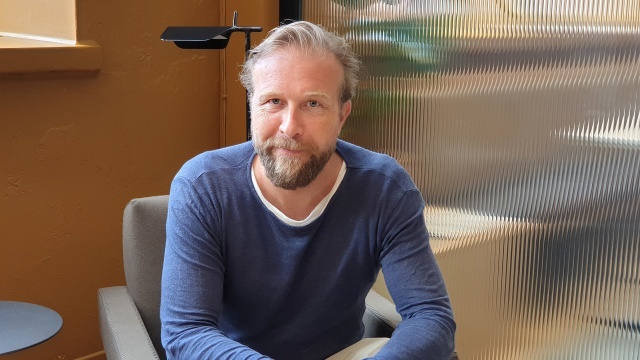 Lars Busekist
Fire moduler over et par måneder
Adfolio Academy-systemet består af fire moduler: Symbolic thinking, Insigths, Scaling your ideas into pop culture samt Creating your ultimate portfolio.
"Du kan tage modulerne på tre uger, hvis du ikke laver andet. Hvis du laver andet ved siden af, og hvis tingene skal bundfælde sig, så vil skolen vare et par måneder," siger Lars Busekist og præciserer, hvem "du" er:
"Skolen henvender sig særligt til dem, der gerne vil ind på længerevarende eller videregående kreative uddannelser. Det kunne være personer, der allerede har søgt ind én gang – og ikke er kommet ind."
Adfolio Academy har haft Miami Ad School EU som sparringspartner i opbygningen af skolen, og Miami Ad School vil anbefale Busekists initiativ til afviste og nye ansøgere til skolerne i hhv. Hamburg og Berlin.
Det internationale snit ses også i feltet af bla. undervisere:
Graham Fink. Indtil for nylig kreativ direktør for Ogilvy & Mather i Kina. Har bl.a. været executive creative director for M&C Saatchi i London, og han var den hidtil yngste formand for D&AD.
Ian Grais. Medstifter af den canadiske bureaukæde Rethink og kåret fem år i træk som den bedste art director i landet.
Alexander Matt. Tidl. CMO for Adidas Originals. Nu CMO for Fjällräven.
Adam Ferrier. Uddannet i klinisk psykologi. Medstifter af Naked Communications og siden Thinkerbell, som AdNews i Australien kårede til hhv. Agency of the year og Creative agency of the year. Forfatter til bl.a. Stop Listening to The Customer.
Afleveringer og feedback
"De studerende skal aflevere opgaver – mange opgaver. Vi vil presse dem til at eksekvere, for du bliver ikke god af at lave 10 annoncer, men 200. Nogle af opgaverne vil blive gennemgået, og der vil være videoundervisning – 1:1 eller samlet i små grupper," siger Lars Busekist.
Han har indtil for nylig været kreativ direktør for Bob The Robot i Helsinki, men gik freelance i februar for at arbejde med bæredygtig innovationsmarketing.
"Timingen i forhold til coronavirussen var ret elendig, kan man sige. Til gengæld har virussen og pandemien åbnet folks øjne for e-learning. Her har timingen vist sig at være anderledes god. Men succesen for Adfolio Academy afhænger også af, hvornår – og på hvilken måde – de kreative uddannelser åbner. Og her er der meget, der er endnu er uvist," siger Lars Busekist.