Der har været rokeret om i ledelsen hos Kontrapunkt nogle gange de senere år. Det sker nu igen.
Johan Lawaetz, der kom til Kontrapunkt som COO for et år siden, bliver ny CEO efter Philip Linnemann, som indtrådte i partnergruppen i 2018.
Samme år blev Rikke Nalepa Olesen adm. direktør efter Thomas Gamst, som rykkede over til Kontrapunkts nyetablerede designbureau Everland.
Den nye omrokering sker som følge af en ny strategi, siger bestyrelsesformand Jens Wittrup Willumsen i en pressemeddelelse:
"Kontrapunkt har det sidste år lagt en ny ambitiøs strategi om at forene forretningsstrategi og brandstrategi gennem nye ydelser og partnerskaber. Med Johans baggrund har vi de rigtige kompetencer til at lykkes med strategien og skiftet er samtidig en naturlig forlængelse af den rejse Kontrapunkt er på."
To nye medarbejdere
Samtidig med en omrokering i toppen, har Kontrapunkt ansat to nye medarbejdere.
Det er Sean Manion, der bliver en del af det digitale team som lead producer. Han kommer til at referere til Philip Linnemann, der som creative director, bliver ansvarlig for Kontrapunkts digitale team.
Sean Manion er amerikaner og kommer fra Hello Great Works i København. Tidligere har han arbejdet seks år hos Stink Studios i New York.
Den anden nye medarbejder er Emilie Prajakta Kamradt, der ansættes som strategic communications lead for at udbygge selskabets kommunikationsydelser.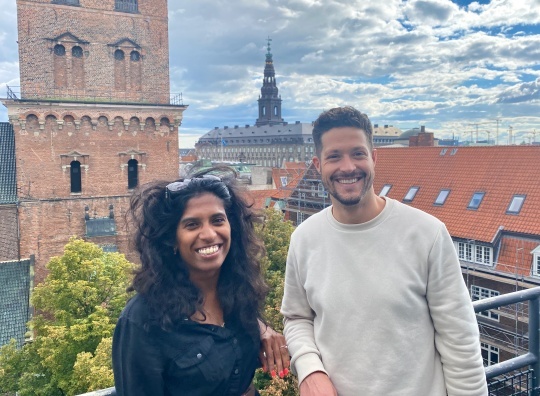 Emilie Prajakta Kamradt og Sean Manion