I de forgange uger har Lungeforeningens kampagne 'Hvem deler du spyt med?' kørt målrettet mod unge på de sociale medier. Her ser man tidligere deltagere fra Paradise Hotel feste sammen med alt, hvad det indebærer af ølbong, beer pong, kys og kram.
En UV-følsom gel, der har været på øl-bongen, viser i mørket, hvordan spyt er blevet delt på kryds af tværs af deltagerne under festen. Tanken bag er at få unge til at tænke over deres festvaner i en tid, hvor fester potentielt kan betyde corona-smitte.
Kampagnevideoen er blevet vist 1,5 millioner gange på sociale medier, meddeler Sincera, der er kommunikationsbureauet bag.
Lysrefleksteknologien skal nu have ben at gå på – eller i hvert fald hjul at køre på. I en forlængelse af kampagnens budskab er buslinjen 7A, der kører fra Rødovre til Ny Ellebjerg gennem hjertet af København, blevet folieret i et selvlysende, lys-følsomt materiale, så byen og bilerne oplyser motivet: festende mennesker, der er dækket af klamme bakterier. Out of Home Media har sponsoreret folieringen.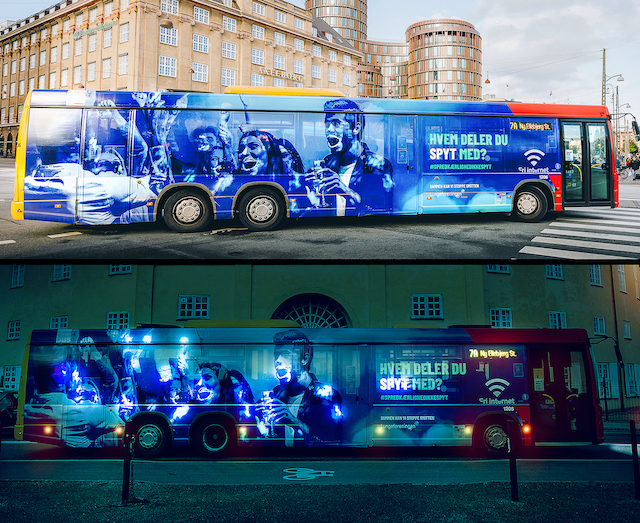 "For at skabe en klar rød tråd fra filmen, valgte vi at benytte os af nøglemotivet – festglade unge fra filmen – på en folieret bus på linje 7A. Vi kaldte den partybussen. På dens rute gennem centrum af København befinder mange unge sig i løbet af dagen – og ikke mindst om aftenen," siger Niels Damgaard-Jensen, partner i Sincera og kreativt ansvarlig for kampagnen, i en pressemeddelelse, og fortsætter:
"For det er efter mørkets frembrud, at bussen for alvor kommer til sin ret. Med en specielt udviklet folie med reflekseffekt fremhæves alt det klamme, og man ser for alvor, hvor meget vi i virkeligheden deler med hinanden, når vi fester."
Til Bureaubiz oplyser Kim Helmuth, partner i Sincera, at det – så vidt vides – er første gang i verden, refleksteknologien bliver brugt til at skabe en rullende kampagne.
Udover bussen kan kampagnen (gen)opleves ved landets Netto butikker, på busskærme og -langsider, i landets storcentre og på Ocean Outdoors kæmpeformater i København.