Da Niels Heilberg og Kitta Petersen fra bureauet Heilbergs foretog en rundspørge og kunne tælle sig frem til mindst 325 fyrede på til sammen 27 bureauer, var de ikke sene til at lancere The People Bank.
Jobfællesskabet vil samle bureauernes fyrede, udsatte og bekymrede medarbejdere, og det skulle forene kompetencer og bureauer. Og behovet er der tydeligvis: Den første dag efter offentliggørelsen fik The People Bank 10 jobs ind fra 4 virksomheder – og ikke uvæsentligt: En stor mængde People.
Mandag eftermiddag var tallet oppe på 277 mennesker.
"Opmærksomheden har været overvældende. Vi var usikre på, om folk og virksomheder forstod formålet og den gode hensigt – og om folk ville tilmelde sig, for vi beder om mange informationer. Men vores bekymring blev gjort til skamme, heldigvis," siger Niels Heilberg.
Initiativtagernes afsæt er, at når det går godt, så lægger vi energien i arbejdsfælleskabet. Men når krisen rammer, og jobbet er væk, står medarbejderne alene. Derfor fællesskabet, omend The People Bank blot dækker et hjørne, erkender Kitta Petersen:
"Fokus, nu og i resten af 2020, er at hjælpe de hårdest ramte medarbejdere, free agents og talent videre. Senere håber vi at blive et samlingspunkt, job- og fællesskabsmæssigt. De ansatte har manglet et sted, som var til for dem, og det bliver kun understreget af den store interesse, vi ser netop nu."
Profilerne spænder vidt, med hovedvægt på bureaukompetencer – primært kreative og kontaktfolk. Marketingafdelinger fylder også godt op, hertil kommer profiler inden for filmproduktion, CRM, CSR, PR, økonomi, design, mediebureau og UX.
"Vi har ikke så mange SoMe-profiler og online-kompetencer, hvilket kunne tyde på, at disse ikke er så hårdt ramt som mange andre," siger Niels Heilberg og tilføjer:
"Nu vil vi række ud til bureauer og virksomheder for at gøre dem opmærksom på de mennesker, vi har i banken. Ud fra de møder, vi har haft, ser virksomhederne ud til at ønske screenede kandidater frem for at sidde med 200 ansøgninger på et jobopslag."
Hos Grakom, der bl.a. har bureauer samlet i Creative Club, hilser adm. direktør Thomas Torp initiativet velkomment:
"At The People Bank ser særligt på de hårdest ramte, er i selv prisværdigt. Når der kommer gang i hjulene igen, har virksomhederne en stor interesse i at få stillinger besat, og her vil The People Bank være et supplement – et fint supplement, hvis de får mange mennesker ind. I særdeleshed hvis The People Bank også specialiserer sig i search," siger Thomas Torp og tilføjer:
"Til tider kan den ideelle kandidat være én, der ikke selv ved, at hun eller han er jobsøgende, men bliver bevidst om det ved at se en jobannonce. Men under alle omstændigheder åbner det aktuelle initiativ nogle nye muligheder."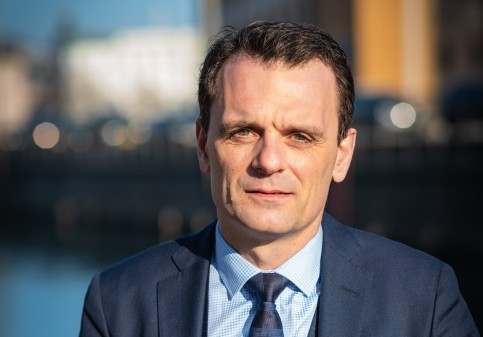 Thomas Torp, direktør for Grakom, som Creative Club er en del af. Creative Club overtog i øvrigt Bureaubiz pr. 1. marts 2020.