I forbindelse med PR-Tigeren 2017, der blev uddelt torsdag aften, holdt Jesper Andersen, ejer af enkeltmandsvirksomheden Quantum og ekspert i kommunikationsstrategi, et oplæg, hvor han satte spørgsmålstegn ved bureaubranchens prisuddelinger generelt.
Ifølge Jesper Andersen er der gået inflation i branchepriser og award shows; dels på baggrund af digitaliseringen, der har medført nye arbejdsområder inden for eksempelvis SoMe og influencer marketing, og dels på grund af den forretningsmæssige vinding – for prisuddelinger er en forretning, fastslår Jesper Andersen og tilføjer, at et enkelt deltagerpas ved Cannes Lions Festival koster 24.000 kr.
Ikke desto mindre er bureauverden begyndt at give udtryk for en frustration over de mange award shows, da man føler sig tvunget til at deltage i så mange uddelinger som muligt, fordi kunderne sætter lighedstegn mellem vundne priser og dygtighed.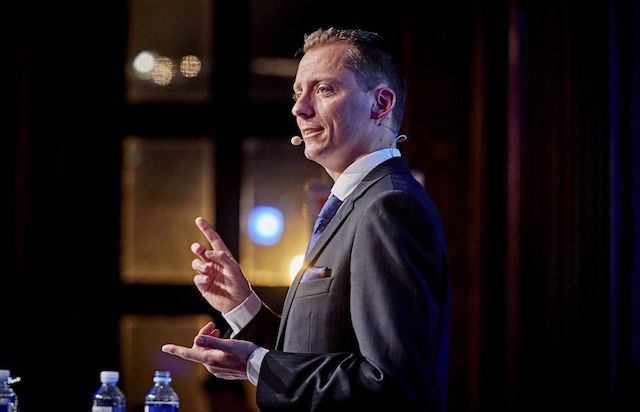 Jesper Andersen på scenen ved PR-tigeren. Kilde: Carsten Lundager
Flere bureauer boycotter prisuddelinger
Denne frustration fik i sommer den konsekvens, at Publicis Group forbød samtlige underselskaber at indstille eller deltage i prisuddelinger, som kostede konglomeratet cirka 20 millioner dollars årligt.
Forbuddet sendte chokbølger igennem branchen, sagde Jesper Andersen og tilføjede at det medførte at man begyndte at sætte spørgsmålstegn ved prisuddelingers eksistensberettigelse og gyldighed.
Herefter fulgte bureaukonglomeratet WPP, hvor CEO Martin Sorrell kritiserede Cannes for blandt andet at være for dyr, og DDB Worldwide, hvor CCO Amir Kassaei anklagede bureaubranchens priskonkurrencer for at have udviklet sig til at være internt, narcissistisk rygklapperi, der kun tjente til at imponere kunder fremfor at løse reelle eksterne problemer.
Dette førte til, at Ace Metrix analyserede 25.000 cases fra Cannes Lions. Her fandt man frem til, at vinderne alle delte samme karakteristika, et såkaldt vinder-DNA. Der findes altså en opskrift på 'vindercasen'.
Endvidere erfarede man – efter man havde vist disse vindercases til lægmænd – at forbrugerne var radikalt uenige med juryen og tværtimod reagerede med væmmelse eller forvirring på de prisbelønnede cases.
De kampagner, som forbrugerne ratede højest, var derimod de informative og tryghedsskabende kampagner, men som var blevet valgt fra af juryen.
Der er altså en diskrepans mellem de cases, som juryen belønner og de kampagner, som forbrugerne forstår og synes om, konkluderede Jesper Andersen.
Dette understøttede Amir Kassaeis pointe om, at branchepriser har udviklet sig til at dyrke det overraskende og provokerende, som er oplagt award material, på bekostning af de kampagner, som sælger varen, når ud til forbrugeren og gør en reel forskel i verden.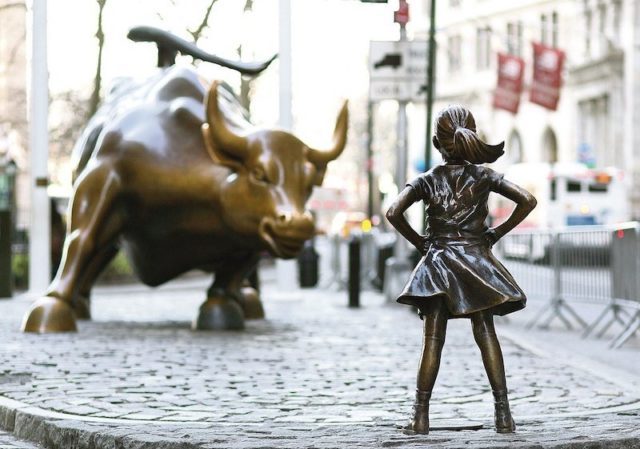 Fearless Girl: Mest vindende kampagne var pink-washing
Jesper Andersen tager herefter fat i den ultimativt mest vindende kampagne i år: Fearless Girl, som stirrer stålfast på den store Charging Bull på Wall Street, Manhattan i New York.
Fearless Girl, der er skabt af McCann New York for State Street Global Advisors, blev installeret natten til Kvindernes Internationale Kampdag med det formål at sætte fokus på at få flere kvinder i topledelsen.
Målet var todelt: På den ene side ville man markere årsdagen for investeringsselskabets lancering af en investeringspulje i virksomheder med et højt antal af kvinder i topledelsen.
På den anden side ville State Street Global Advisors lægge pres på de virksomheder, som de investerer i, ift. at få flere kvinder med i ledelsen.
På kun 12 timer gik kampagnen viralt og fik over 1 millard visninger på Twitter. Senere kunne Fearless Girl høste 18 statuetter ved Cannes Lions, heriblandt 4 Grandprix-statuetter samt 1 Black Pencil og 5 Grand Clio Awards.
Jævnfør Jesper Andersen hang denne magtpræstation sammen med, at kampagnen formåede at kombinere hård forretning, purpose, samfundsengagement og SoMe på eksemplarisk vis.
Alt dette faldt i grus, da investeringsselskabet – få uger efter award-årets afslutning – blev afsløret i blandt andet at have indgået et 5 millioner dollars forlig efter at have kønsdiskrimineret 300 kvinder i eget firma.
"Hvis sådan er kampagne kan vinde så mange statuetter og samtidig blive anklaget for pinkwashing, hvad er så formålet med branchepriser?" spurgte Jesper Andersen et meget tavs publikum i Børsens festsal.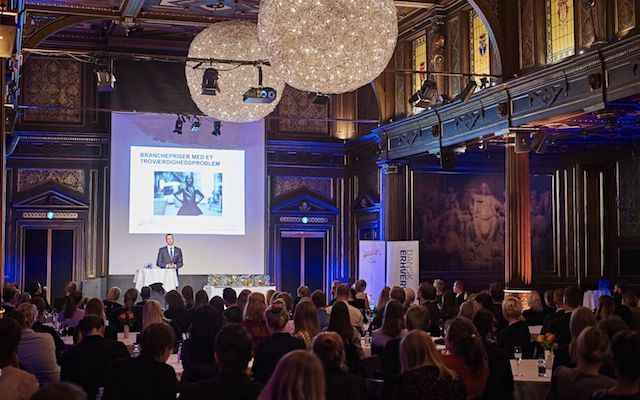 Kilde: Carsten Lundager.
Jesper Andersen svarede selv på spørgsmålet: "Kampagnen har fået en masse views, stort reach, meget PR og en massiv share of voice, men det er kun forfængelighedsparametre".
Han fortsatte:
"Kampagnen har haft stor markedsføringsværdi og en god effektmåling i henhold til sociale medier, men der forelægger ingen dokumentation for, om der er rent faktisk er kommet flere kvinder ind i topledelsen".
I stedet har Bloomberg kunnet rapportere, for en måned siden, at man 39 ud af 41 gange har stemt imod kønsudligning i lønninger i egne rækker.
Det stemmer for det første ikke overens med kampagnen, og fører for det andet tilbage til spørgsmålet:
Hvad er branchepriser overhovedet godt for? Er de i virkeligheden udtryk for en branche, der samles i elfenbenstårnet til en omgang rygklapperi? Og hvad er egentlig vigtigst: Talent og kreativitet eller kvalitet og reel effekt?
Med dette åbne spørgsmål, sluttede Jesper Andersen sit indlæg.