Everland vil ikke længere opfattes som den nye dreng i klassen. På trods af kun at have været på markedet siden 2017, er det blevet tid til at rebrande sig som et førende designbureau.
Med 42 medarbejdere og en bruttoavance på godt 35 mio. i 2019 ifølge MyResearch og Bureaubiz' rapport, BureauTrends, ligger bureauet nummer fem på listen over designbureauer herhjemme.
Det er med andre ord gået stærkt for Everland. Også lidt for stærkt nogle gange, erkender Christian Halsted, der er stiftende partner og executive strategy director på bureauet. Everland forsøger med rebrandingen at tage mere kontrol over bureauets fortælling, siger Christian Halsted:
"Vi er vokset virkelig hurtigt, og det er sket meget organisk. Da vi for 3 år siden brød ud af Kontrapunkt, tog vi både kunder og noget DNA med os. Vi har aldrig kigget vores eget brand efter i sømmene, og det har betydet, at vi hurtigt er blevet endimensionelle omkring packaging-design. Vi havde nok forventet, at vi havde mere tid til at bygge bureauet op, men vi har mødt en kæmpe interesse for os."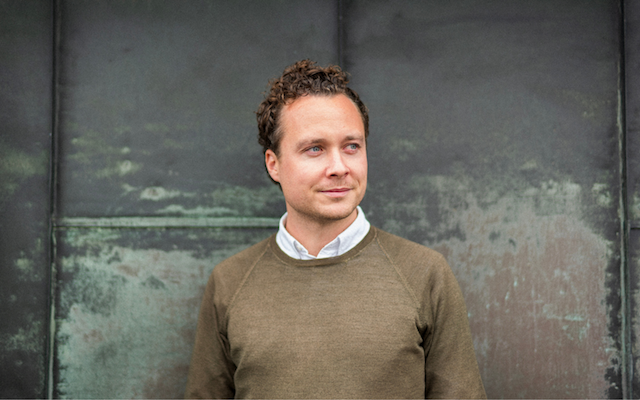 Christian Halsted, partner og executive strategy director i Everland
Interessen og størrelsen til trods, så oplever Christian Halsted ikke, at folk helt ved, hvem Everland er, og hvad bureauet egentligt laver. Det skal rebrandingen lave om på.
"Vi er nok Danmarks 5.-største designbureau, og arbejder med kæmpe FMCG-kunder fra hele verden, men ingen ved, hvem vi er. Vi er meget nichede, men at være nichede er jo ikke en dårlig ting – det er dog en position, vi skal tage aktivt. Som vi også siger til vores egne kunder: Hvis man ikke selv definerer sit brand, så gør andre det for dig. Det forsøger vi nu at undgå ved at tage skeen i den anden hånd."
Et land of opportunity
Håbet er, at man kan positionere sig selv som en slags thought leaders på markedet. Vise, at man ikke bare er en leverandør, men en kompetent samarbejdspartner til FMCG-brands, der kan andet og mere end grafisk design.
For at understøtte dén fortælling har man blandt andet sat sig for at udgive analyser og publiceringer. I starten af marts udsendte Everland den første af slagsen – en analyse af danske, svenske og norske forbrugeres forhold til bæredygtighed suppleret med ekspertudtalelser fra forskellige marketingfolk.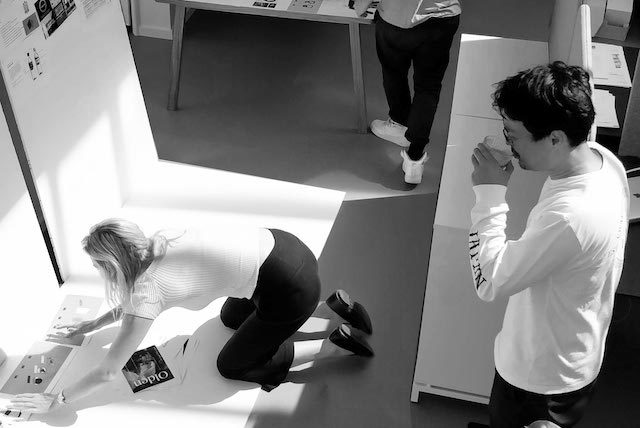 Foto fra workshop ifbm. rebranding af Everland
Samtidig ændrer Everland en smule i betoningen af kompetencer, så "packaging ikke fylder det hele". Kommunikation, branding og konceptudvikling fylder til gengæld mere, men FMCG forbliver kernen i arbejdet.
"Everland skal være et land of opportunity. Det kræver, at vi får kommunikeret, at vi altså dækker hele paletten. Vi skal lidt groft sagt være pop. Mere Justin Bieber end folk-musik. Forstået på den måde, at vi ikke kun vil arbejde med lokale nichebrands. Vi vil arbejde med market leaders eller kunder, der har ambitioner om at blive det," siger Christian Halsted.
Han fortsætter:
"Vores bedste kunder er brands, man kender. Brands som Carlsberg, REMA1000, Danone og Den Gamle Fabrik for eksempel. Vi synes, det er fedt at designe til dem, der faktisk bruger og indtager et produkt. Rebrandingen er også et vink med en vognstang om, at vi er kommercielt kreative, og at vi kan hjælpe med at gøre brands til kategorikaptajner."
Everland opfatter også sig selv som en slags kategorikaptajn. Ifølge Christian Halsted er bureauet Nordens førende inden for branddesign og identitet. De nærmeste konkurrenter er i hans optik London-bureauer som JKR og Design Bridge, fordi man i højere grad håber at bevæge sig ud på det internationale marked.
Skandinaviens globale FMCG-designbureau
I dét farvand ender man til gengæld ret hurtigt med at blive overset, medgiver Christian Halsted. Alligevel er bureauet blevet inviteret med til – og har vundet – internationale pitches for brands som Carlsberg, Evian, Tindle og kinesiske Mizone.
Hvorfor har I en chance der?
"Vi bliver jo nok inviteret med som 'challenger-bureau', der kan komme med et nordisk perspektiv. Dansk design er en væsentlig konkurrencefaktor, selvom vi stilistisk forsøger ikke at være endimensionelle. Vi har også bare en stor interesse for udlandet. Meget kan laves hjemmefra, som corona også har vist os, men det giver ikke spændende kundeforhold at sidde på hver sin side af kloden."
Det er derfor på tegnebrættet, at Everland i løbet af de næste år får mere tilstedeværelse i andre markeder end det danske. For at udnytte den vind i sejlene, de mærker kommer udefra.
Hvad betyder det mere konkret?
"Vi har KPI'er omkring, at vores omsætning er 75 % uden for Danmark inden for de næste tre år. Og så har vi en ambition om, at vi skal være med til at definere branchens udvikling. Mere præcist vil vi gerne igangsætte nogle tanker om, at vores design og tilgang ikke kun er relevant Norden."
"Vi skal åbne kontorer med fysisk tilstedeværelse i den store verden. Skandinavien er første skridt på blokken, for vi har spændende kunder der, men vi har også lavet meget i fx Shanghai, Indonesien, Hong Kong og Singapore. Markederne er bare fænomenalt store der. Hvis vi maler med den helt brede pensel, så er ambitionen da at lave et move som Forsman og Bodenfors, der ville være Skandinaviens globale reklamebureau. Lidt mindre mundret vil vi på sigt være Skandinaviens globale FMCG-designbureau," siger Christian Halsted.