Det er vist ikke gået nogens næse forbi i bureaubranchen, at der gennem en del år er sket en konsolidering. Måske er du også i markedet for at købe eller blive købt. Hvordan man regner prisen på et bureau ud, har Henrik Jensen, adm. direktør i Brandse & Co. tidligere fortalt.
Hvis du overvejer at blive opkøbt – eller sagt på en pænere måde: fusionere – med et andet bureau, kan du have interesse i først at optimere prisen på dit bureau. Hvordan man kan gøre det, fortalte Henrik Jensen om på et seminar i Creative Club i henh. Aarhus og København.
Faktisk præsenterede han hele 8 måder til at forbedre bureauets finansielle performance.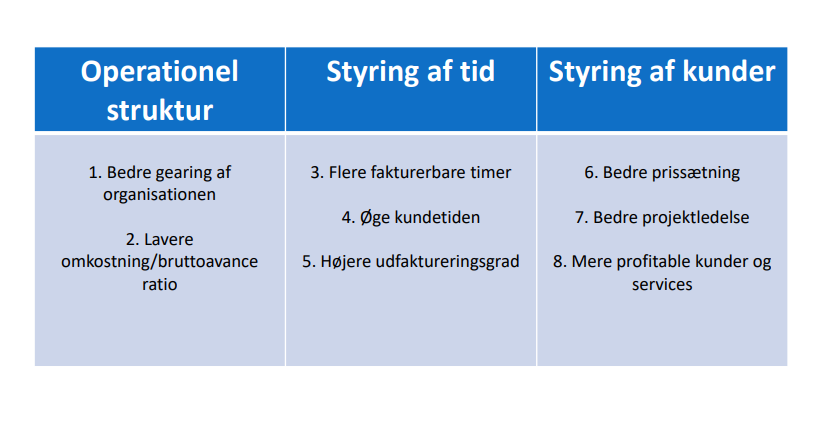 8 måder til at forbedre bureauets finansielle performance
De to første punkter handler om den operationelle struktur, fortalte Henrik Jensen, og lagde ud med, hvordan man får en bedre gearing i organisationen.
"En bedre gearing af organisationen handler om, hvor mange ledere man vil være i forhold til medarbejdere, og om medarbejderne skal være seniorer eller juniorer. Hvis der er mange seniorer, er omkostningerne store. Til gengæld vil kunderne presse prisen, hvis de ser, at det er juniormedarbejdere, der står for opgaverne. Her gælder det om at finde et sweetspot."
Det handler ifølge Henrik Jensen selvfølgelig meget om, hvilket valg, man har taget i forhold til, hvor tung man vil være som organisation.
Han gav eksempler på hvad det betød for omkostningen i forhold til, hvor mange juniorer, der er pr. seniormedarbejder: 1:2, 1:4 eller 1:8.
"Der er en tendens til, at danske bureauer bliver for tunge, og det rammer den finansielle performance. Hvis man tænker på, at det gennemsnitlige overskud før skat per medarbejder i Danmark er 100.000 kr. , kan man forbedre sin finansielle performance væsentligt ved at tænke på, hvordan ens gearing er," sagde Henrik Jensen.
Ovenstående er den vertikale gearing, men også den horisontale gearing spiller ind. Her handler det om hvor mange, der er i hvert team, sagde Henrik Jensen og henviste til Michael Farmer:
På et traditionelt reklamebureau, skal der for hver kreative, som er kernekompetencen, være en i client service/planning og, 0,7 i produktionen.
"Det er den perfekte blanding. Hvis man har en hel medarbejder i produktionen, er man overstaffed med 10 pct., og så stiger lønandelen og overskudsgraden falder. Så man skal se på både den vertikale og horisontale gearing," sagde Henrik Jensen.
Punkt nummer to handler om omkostningerne i forhold til bruttoavance.
"Ofte udgør personale 75 pct. og alt det andet udgør 25 pct. Udfordringen er, at man ofte kigger på de 25 pct. fordi det ikke gør så ondt. Men hvis man skal forbedre noget, er det personaleomkostningerne, man skal kigge på, " sagde Henrik Jensen.
Og det er ikke kun lønnen, men også bonus, man skal tage fat i, og andre personaleovervejelser:
"Man skal overveje, hvor store man skal være, før man får en HR-medarbejder. Og om man skal outsource den rolle, hvis man er for lille et bureau. En anden ting er, hvordan man måler produktivitet. Måske skal man give højere løn, hvis produktiviteten stiger. Det kan tale for flere seniorkræfter, fordi de producerer bedre."
Billigere at give en uges ekstra ferie end at indføre fire dages arbejdsuge
De tre næste punkter handler om styring af tiden. I øjeblikket er der flere, der indfører fire dages arbejdsuge, men man skal overveje om der ikke er andre løsninger, sagde Henrik Jensen:
"Hvis man fx indfører fire dages arbejdsuge, reducerer man de fakturérbare arbejdstimer med 20 pct. Det skal man ikke gøre, hvis man vil profitmaksimere. Så er det billigere at give en uges ekstra ferie. Og det koster omkring 7 pct., hvis man giver medarbejderne den halve times frokost i stedet for, at de selv betaler den. ."
Henrik Jensen fortalte, at der også kan være noget kulturelt, man skal ændre på. Det kan være antallet og længden af møder – ikke mindst hos ledere.
"Ifølge studier bruger medarbejdere omkring 50 pct. på møder og ledere bruger helt op til 80 pct. Det er også et område, man kan tage fat på at ændre," lød det.
Kig på udfaktureringsgraden
Det kan være en god ide at få styr på, hvad man egentlig bruger tiden på, mener Henrik Jensen:
"Den tid, vi bruger på kunder, som ikke handler om at sælge noget, den skal vi se at få registreret," sagde han og fortsatte:
"Selv små ting betyder noget. Hvis man både kan justere på den vertikale gearing og udfakturere 1 pct. mere, kan man flytte meget."
Han tilføjede, at hvis man også kigger på den aktuelle bruttoavance og den reelle udfaktureringsgrad, kan man finde ud af om man har for mange ansat.
Styr kunderne
Én ting er styring af tid, også kunderne skal styres bedre. Her gælder det bl.a. om en bedre prissætning og om at komme væk fra en taxameterordning, og få efterbetaling for alle anvendte timer.
Ifølge Henrik Jensen er det dog bedst at prissætte efter, hvor meget værdi, man giver kunderne. Han fortalte om 10 prismodeller, som de danske bureauer bruger, men anbefaler, at man for ikke at miste overblikket, bruger højst tre forskellige.
Bedre projektledelse
I forhold til projektledelse, kan der gå hele seks ting galt, fortalte Henrik Jensen og viste følgende slide: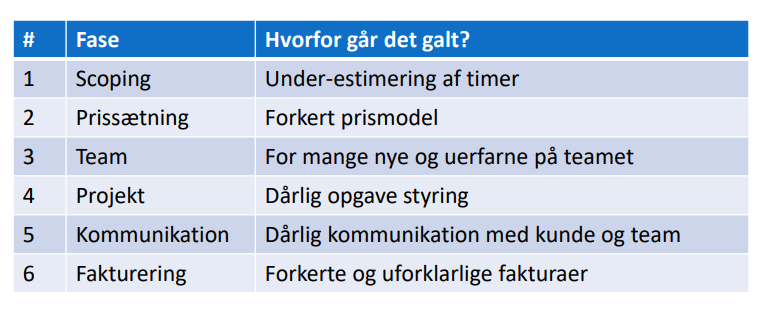 Seks årsager til dårlig projektledelse
Det er ofte de samme projekter, der kører forkert, sagde Henrik Jensen og henviste til en tjekliste fra Nico Schou, der findes i dennes bog: Styring af kreative virksomheder.
"I stedet for at skære ned på alle mulige ting, kan man få styr på projektledelsen ved at bruge den Nico Schou har lavet," sagde Henrik Jensen.
Mere profitable kunder og services
Den sidste af de otte måder til at forbedre bureauets finansielle performance er at kigge på at gøre kunder og services mere profitable.
Ifølge Henrik Jensen handler det om 125/80 reglen.
«80 pct. af kunderne står for 125 pct. af indtjeningen, mens de resterende 20 pct. reducerer indtjeningen med 25 pct. Så det er en rigtig god ide at finde ud af, hvilke kunder, man tjener penge på;" sagde han og fortsatte:
"Et gennemsnitligt dansk bureau taber ofte penge på de små kunder. Og 80 pct. af problemerne kommer fra 20 pct. af kunderne. Nogle bureauer kører for stærkt og skal prøve en masse nyt og får derfor for mange services. Her er der penge at hente."