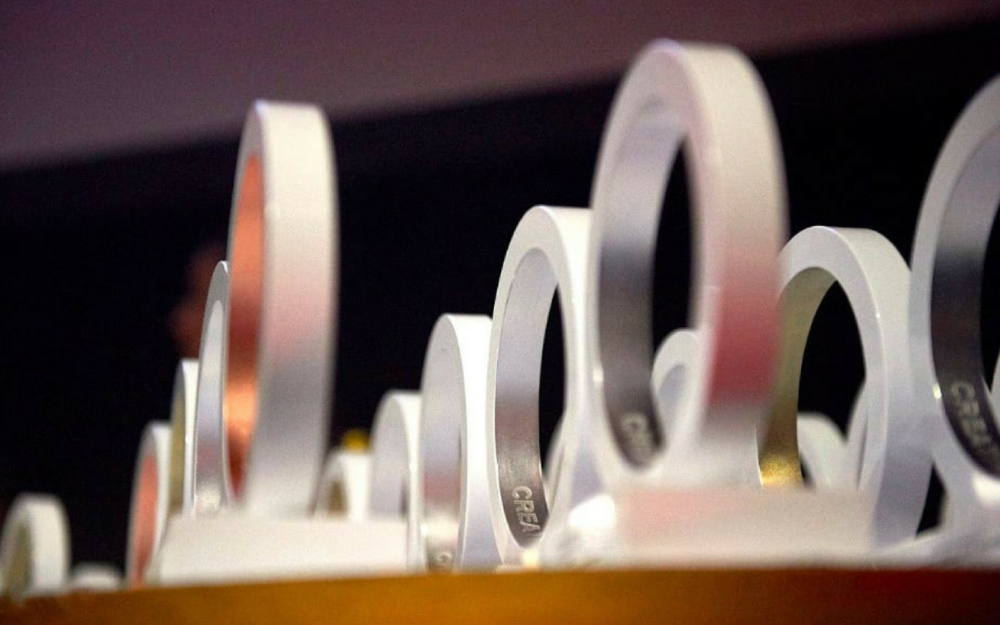 61 bureauer deler 200 nomineringer i årets Creative Circle Award. Niveauet blandt de nominerede er ekstraordinært højt. Se shortlisten her – samt bureau-oversigten.
Bureauerne holdt lidt igen, da de skulle sende ind til Creative Circle Award (CCA), men når det gælder kvaliteten af deres arbejde i corona-året, har de ikke holdt sig tilbage.
Mere end hver tredje af de i alt 558 indsendte arbejder er af CCA-juryerne fundet værdig til shortlisten – 200 i alt – og så høj en andel er ikke set før i awardens 29-årige historie.
"Vi tjekkede – og det er ikke et spørgsmål om, at juryerne har været flinke. Meldingen fra de 7 juryer er, at niveauet er højt. Ikke nødvendigvis højt over hele linjen, men de arbejder, der stikker ud og er kommet på shortlisten – ja, de stikker nærmest af," siger Dorte Nielsen, der er bestyrelsesformand i Creative Circle.
De 201 nomineringer er fordelt på 61 bureauer, se dem alle nederst i artiklen. UncleGrey er årets højdespringer og får 24 shortlister. Det er omtrent lige så mange, som de to næste på listen har til sammen; Robert/Boisen & Like-minded og Hello Monday med hhv. 13 og 12.
Men nu hvor &Co er holdt op med at holde op med at sende ind – efter ni måneders award-pause – så er det fortsat svært for andre bureauer at blive nr. 1. &Co topper CCA-statistikken med 30 shortlister.
I alt 106 annoncører er repræsenteret på listen. Den mest nominerede i denne kreds er Fernet Branca med 9 shortlister – Brandhouse står bag de 7, og Pong leverer 2.
Kampagnen med flest nomineringer er 'Den levende avis' fra Politiken med 6, som &Co er bureauet på.
Kommentarer fra jurymedlemmerne
Ikke færre end 110 jurymedlemmer granskede over to hele jurydage arbejderne, og flere af medlemmerne noterede deres indtryk – bl.a. Malene Lyngbæk Olsen fra Geelmuyden Kiese siger om Advertising:
"Trods et år med corona og restriktioner er der kommet rigtig meget godt kreativt arbejde ud – noget endda i en international liga. Fantastisk at se, hvordan en forandret verden også har skabt nye kreative løsninger og præget idéer positivt."
Den digitale del af indsendelserne formåede virkelig at levere, og særligt niveauet i Creative Use Of Technology blev fremhævet af flere, bl.a. Morten Grubak fra Virtue:
"I denne kategori er Danmark i absolut international klasse. Kreativitet og Innovation står øverst på vores nationale eksportliste, og jeg er sikker på, at disse cases kommer til at inspirere mange i udlandet og forhåbentlig tiltrække globale brands til den danske bureau-branche."
Han suppleres af Kenneth Kaadtmann fra Hjaltelin Stahl:
"Creative Use of influencers har også et højt niveau i år. Man fornemmer virkelig, at der arbejdes mere strategisk og kreativt med influencers i forhold til tidligere."
Fredag den 18. juni vil årets CCA-vindere blive afsløret ved et awardshow.
CCA Shortliste 2021
(annoncør, titel, bureau)
Ambient & Posters
Tivoli
Pas på hinanden
&Co.
Pleasant
Promote Your Local
Uncle Grey
Dansk Råd for Genoplivning
Red liv imens du venter
&Co
Animation
Tuborg
Tuborg NUL – Præcis som ingen andre øl
Wibroe, Duckert & Partners
3 Danmark
Følelsen af 3
Co/Plus
Telenor
Telenor – Gør Hver Dag Bedre
&Co
App Design
DR Ramasjang
User Experience for Kids
Dwarf
Digitaliseringsstyrelsen
Et kort mindre
Signifly
Art Direction
1664 Blanc Danmark
Trends by 1664 Blanc
Uncle Grey
Veluz
The Pinewood Contract
&Co – Claus Collstrup og Peter Dinesen
Gustaf Ljunggren & Emil de Waal
Måne
SeLigeMig og HjaltelinSthal – Simon Engstrøm
Politiken
Den levende avis
&Co –Jacob Benjovitz og Martin Baltzer
Canon
Missed Shots
Uncle Grey – Mads Alexander
Art Direction Film & Online
ITW Construction Products ApS. Brand: NKT Fasteners
Danskersikret
Kunde & Co – Katharina Anastacia Larssen
Dansk Retursystem
Hjem Til Jul
Robert/Boisen & Like-minded
Kræftens Bekæmpelse & TrygFonden
Dit barn, din alkoholdning
Robert/Boisen & Like-minded
IKEA
IKEA Food Ghosts
Virtue
EPOS Gaming
Out of this world gaming audio
&Co – Jeppe Hansen og Kasper Dohlmann
DK Company
Gestuz – The Journey
New Land – Fatima Fransson og Sille Sørensen
Branded Content
Danish Crown
The big danish bacon pre-roll
Hjaltelin Stahl
Sydbank
I Røven af 4. Division
Robert/Boisen & Like-minded
Tuborg
Tuborg – Selvfølgelig
Wibroe, Duckert & Partners
Campaign Sites & Apps
GANNI
GANNI – Digital showroom
Dept og Moon
Syddansk Universitet (SDU)
SDU – Future Education
Hello Monday
Commerce Sites & Apps
Rudolph Care
Rudolph Care
Spring/Summer
Accord
A second life for the vinyl
Dwarf
Muuto
Muuto
Dept og Norgram
Stykka
Stykka
Spring/Summer
Playtype
Playtype
e-Types
Company Sites & Apps
Aurélia Durand
Aurélia Durand
Granyon
Cofoco
Corsa Pizza
Spring/Summer
Virgin Hyperloop
Virgin Hyperloop
Hello Monday
Copywriting
Fernet Branca
2020
Brandhouse
Politiken
Den levende avis
&Co – Johan Køhler
Irma
Bummelum
Republica – Sune Overby
Eurojackpot / Danske Spil
Kuponskjuleren
&Co – Jacob Benjovitz
Copywriting Film & Lyd
EPOS Enterprise
What?
&Co – Jeppe Hansen, Kasper Dohlmann og Cris Anthony Hödar
HBO Nordic
The HBO Titles
NORD DDB – Tim Fremmich
Corporate Identity
Monstarlab
Monstarlab Identity
Uncle Grey
Creative Impact – on business
Ikea Danmark
Black Friday Re(Sale)
Hjaltelin Stahl
1664 Blanc Danmark
1664 Blanc | Inspired by Taste
Uncle Grey
Canon
Canon | Live for the Story
Uncle Grey
Creative Impact – on society
European Parliament
Choose Your Future
&Co
Dansk Retursystem
Plastic Fantastic
Robert/Boisen & Like-minded
Kræftens Bekæmpelse & TrygFonden
Help a Small Dane
&Co
Kræftens Bekæmpelse & TrygFonden
Pølsepresser du?
Robert/Boisen & Like-minded
Dansk Råd for Genoplivning & TrygFonden
Red hjernen / Stræk, Snak, Smil
&Co
Creative Loyalty
Canon
Truthmark
Uncle Grey
Tivoli
Voks med Tivoli
&Co
Patent- og Varemærkestyrelsen
Den falske investor
&Co
Creative Programming
Made on a Monday
Touch — Less
Hello Monday
Google
Chrome Developer Summit: Adventure
Set Snail
Microsoft
The Q-Wall
Manyone
Made on a Monday
Wongle.xyz
Hello Monday
Creative Use of Influencers
Dansk Retursystem
Pant Cup 2020
Robert/Boisen & Like-minded
Patent- og Varemærkestyrelsen
What's in my bag?
&Co
Patent- og Varemærkestyrelsen
Den falske investor
&Co
Stofa
An Ad For An Ad
Robert/Boisen & Like-minded
Kræftens Bekæmpelse
Røgfri Fremtid / Der er et splittet land
&Co
Creative Use of Technology
Fernet Branca
Bitter Destinations
Brandhouse
DDR Museum
teAR down this WALL
Virtue og No Sleep
Homme Homme / Femme Femme Paris
Spørg Før Du Poster
Nordlid
Canon
Truthmark
Uncle Grey
Digital Campaigns
Canon
Truthmark
Uncle Grey
Irma
#TænkSmåt
Republica
Digital Media, single executions
DDR Museum
teAR down this WALL
Virtue og No Sleep
Homme Homme / Femme Femme Paris
Spørg Før Du Poster
Nordlid
Danish Crown
The big danish bacon pre-roll
Hjaltelin Stahl
Direction
Levis India
Levis – Join the Movement
New Land – Nadia Marquard Otzen
Mødrehjælpen og Lev Uden Vold
Isolation
Bacon – Emilie Thalund og Christina Amundsen
Facebook
Born In Quarantine
Droga5 – Martin de Thurah
Codan & Ældresagen
Tak fordi vi er venner – Codan & Ældresagen
&Co – Tore Frandsen
Earned Media
Hus Forbi
The No Shelter Snow Globe
Advice
Burger King Danmark
Whopper Reply
Uncle Grey
Børns Vilkår
De Tomme Stole
Uncle Grey
Editorial / Design
Headlight
Headlight Journal 01
Brunswicker
Bolia
Bolia Brandbook
Uncle Grey
Brask Studio
Brask Studio Visits VI
Bold Scandinavia NoA
Events
Tuborg og Muskelsvindfonden
Grønnere Grøn
Wibroe, Duckert & Partners
Børns Vilkår
De Tomme Stole
Uncle Grey
DDR Museum
teAR down this WALL
Virtue og No Sleep
Film / 1 – 20 sekunder
Sundhedsstyrelsen
Det er fedest at blive hjemme når du er syg
Advice
TV 2
Håndbold VM
TV 2 Creative
Læger uden Grænser (MSF)
Empty Arms
The Unicorn
Film / 21-60 sekunder
Danske Spil – eOddset
eOddset – Catwalk
Black Rabbit
Danske Spil – eOddset
eOddset – Toilets
Black Rabbit
Danske Spil / Lotto
Fotoalbummet
Robert/Boisen & Like-minded
Patent- og Varemærkestyrelsen
Den falske investor
&Co
TV 2
Knæk Cancer – Liv
TV 2 Creative
Sundhedsstyrelsen
Gå nu hjem
Advice
Film / 61 – 180 sekunder
Bomae
Bomae
Robert/Boisen & Like-minded
Kræftens Bekæmpelse & TrygFonden
Dit barn, din alkoholdning
Robert/Boisen & Like-minded
Codan & Ældre sagen
Tak fordi vi er venner
&Co
TV 2
Maks. 10
TV 2 Creative
Politiken
Scoop Scoop Loops
&Co
Film over 180 sekunder
Sundhedsstyrelsen
Jeg har ondt i hovedet. Altid.
Operate
TV 2
Zulu Comedy Galla
TV 2 Creative
Humour in Advertising
Tuborg
Tuborg – Selvfølgelig
Wibroe, Duckert & Partners
Fernet-Branca
Bitter bus
PONG
Sundhedsstyrelsen
Gå nu hjem
Advice
Sundhedsstyrelsen
Det er fedest at blive hjemme når du er syg
Advice
Bomae
Bomae
Robert/Boisen & Like-minded
Illustration
KNI
Indre grønlandsk liv
Marketsquare – Mads Berg
Kiss My Drinks
Kiss My illustrations
Pearlfisher – Louise Mikkelsen
Tivoli
Hjerternes fest i Tivoli
&Co – Julia Yellov
Odense ZOO
Dengang og Nu
Step – Signe Beck
Goodwings Aps
Goodwings Brand illustrationer
Dot Noir – Victor Nguyen Johannesen
Integrated Campaigns
IKEA Danmark
The Second Hand Campaign
Marketsquare
Sundhedsstyrelsen
Vi kan godt – corona kampagne
Advice og Wavemaker
Stofa
An Ad For An Ad
Robert/Boisen & Like-minded
Politiken
Den levende avis
&Co
Logo
KIND Film & Creative services
KIND Logo
Olivia Muus
HumanAid
HumanAid
Bold Scandinavia NoA
Media & Informational Sites & Apps
Made on a Monday
How To Talk to White Kids about Racism
Hello Monday
Creative Denmark
Creative Denmark
Spring/Summer
Bartlett School of Architecture
Bartlett – Summer Show 2020
Hello Monday
SPACE10 + IKEA
Everyday Experiments
Norgram og Set Snail
Motion Graphics
EPOS Gaming
Out of this world gaming audio
& Co. / NoA
Carl Hansen & Søn
BM325 Movie
Studio Bjørn Ibsen
Patent- og Varemærkestyrelsen
Den falske investor
&Co
Louis Poulsen
Verner Panton Panthella
Frame
Outdoor
Politiken
Den levende avis
&Co
1664 Blanc Danmark
Trends by 1664 Blanc
Uncle Grey
Fernet Branca
Bitter Destinations
Brandhouse
Fernet-Branca
Bitter bus
PONG
Packaging / Food
Botanistry
Botanistry
Pearlfisher
Let´s Eco
Infant Formula Milk
Simply
Yogamood
Yogamood Essential Teas
Simply
Naturfrisk
The Essence of Nature. Quite Literally.
Everland
Kiss My
Kiss My
Pearlfisher
Packaging / Non-food
Askul/Lohaco
ASKUL/Lohaco — Japan
Bold Scandinavia NoA
Gustaf Ljunggren & Emil de Waal
Måne
SeLIgeMig og Hjaltelin Stahl
AIAIAI
AIAIAI Packaging
AIAIAI
Photography
Demenslinien.dk
Når jeg glemmer…..
McCann Copenhagen – Mads Armgaard
Læger uden Grænser (MSF)
Empty Arms
The Unicorn – Søren Solkær
BIS Publishers
Connection Memory
Creative Thinker – Katrine Granholm og Dorte Nielsen
Poster Design
Politiken
Den levende avis
&Co
Pas Normal Studios
Pas Normal Studios T.K.O. Collection
Uncle Grey
Velux
The Pinewood Contract
&Co
Kiss My
Kiss My posters
Pearlfisher
Print / Advertising
Politiken
Den levende avis
&Co
Canon
Missed Shots
Uncle Grey
Dagbladet Politiken
Pak ind i viden
Sparetime
Fernet Branca
2020
Brandhouse
Print / Design
Restaurant LYST
LYST – An Immersive Dining Experience
Hatch & Bloom
Bolia
Bolia Lookbook
Uncle Grey
#NAVN?
PLUS Journal
e-Types
Promo & Activation
DDR Museum
teAR down this WALL
Virtue og No Sleep
Burger King Danmark
Whopper Reply
Uncle Grey
Børns Vilkår
De Tomme Stole
Uncle Grey
Danish Crown
The Big Danish Bacon Pre-Roll
Hjaltelin Stahl
Fernet Branca
Bitter Calendar Hack
Brandhouse
Hus Forbi
The No Shelter Snow Globe
Advice
Rebrand / Corporate Identity
JAJU
JAJU
e-Types
Welltec
Welltec
Bold Scandinavia NoA
Fritz Hansen
Fritz Hansene-Types
Danmarks Medie- og Journalisthøjskole
Danmarks Medie- og Journalisthøjskole
e-Types
Rebrand / Small Business Identity
Heartbeats
Heartbeats
e-Types
KiteX
KiteX Identity
Uncle Grey
Chamberlain Coffee
Chamberlain Coffee
Kontrapunkt
Paralenz
Every Dive Counts.
Everland
Selfpromotion
Kontrapunkt
Kontrapunkt Type
Kontrapunkt
The Unicorn
The Great Webby Hack
The Unicorn
Mikkel Møller
5 361 0 49 0
Mikkel Møller
Services & Utilities Sites & Apps
Wongle.xyz
Wongle.xyz
Hello Monday
Canon
Truthmark
Uncle Grey
Made on a Monday
Touch — Less
Hello Monday
Digitaliseringsstyrelsen
Et kort mindre
Signifly
Small Business Identity
Folkekirken Vesterbro
Folkekirken Vesterbro
Re-public
Maltfabrikken
Maltfabrikken – Brand Identity
Mount Agency og Walk
Empathy
Empathy
e-Types
5 Media
5 Media
e-Types
Mad,One
Mad,One Identity
Uncle Grey
Heap®
Heap® Fund yourself
Norgram og T For Troels
PWR.8
PWR.8 Identity
Uncle Grey
SoMe Campaigns
Patent- og Varemærkestyrelsen
What's in my bag?
&Co
Stofa
An Ad For An Ad
Robert/Boisen & Like-minded
Burger King Danmark
Whopper Reply
Uncle Grey
SoMe Presence
TV 2
TV 2 Zulu
TV 2 Creative
Visit Lolland-Falster
Tæt på
Wibroe, Duckert & Partners
Fernet Branca
Bitter SoMe
Brandhouse
SoMe Single Post
Interflora
The Disguised Call
Jean Creative
TV 2
Date Mig Nøgen
TV 2 Creative
Fernet Branca
Bitter Calendar Hack
Brandhouse
Danish Crown
The big danish bacon pre-roll
Hjaltelin Stahl
Spatial Design
Zurich Airport
The Circle at Zurich Airport
LOOP Associates
Type Design
Chamberlain Coffee
Chamberlain Coffee Typeface
Kontrapunkt
Playtype
Royal Theatre Serif and Sans
Playtype Foundry
Playtype & e-Types
Studio 6
Playtype Foundry
5 Media
5 Media
e-Types
Empathy
Empathy Serif
e-Types
Use of Emerging Technology
Google ATAP
Google Soli Sandbox
Norgram og Set Snail
Made on a Monday
Wongle.xyz
Hello Monday
Microsoft
The Q-Wall
Manyone
Made on a Monday
Touch — Less
Hello Monday
Website Design
Muuto
Muuto
Dept og Norgram
Bartlett School of Architecture
Bartlett – Summer Show 2020
Hello Monday
Syddansk Universitet (SDU)
SDU – Future Education
Hello Monday
Nikolaj Juhlsen / Stease
TAKEARIDEWITH.ME
Tore Bentsen
Stykka
Stykka
Spring/Summer
Bureaulisten – CCA 21 shortlister
30 &Co
24 UncleGrey
13 Robert/Boisen & Like-minded
12 Hello Monday
10 e-Types
7 Advice
7 Brandhouse
7 Hjaltelin Stahl
6 TV 2 Creative
5 Norgram
5 Spring/Summer
5 Wibroe, Duckert & Partners
5 Virtue
4 Bold Scandinavia
4 Pearlfisher
4 No Sleep
3 Dept
3 Kontrapunkt
3 Set Snail
3 The Unicorn
2 Black Rabbit
2 Dwarf
2 Everland
2 Manyone
2 Marketsquare
2 New Land
2 Nordlid
2 Playtype Foundry
2 Pong
2 Republica
2 SeLigeMig
2 Signify
2 Simply
1 Aiaiai
1 Bacon
1 Brunswicker
1 CoPlus
1 Creative Thinker
1 Dot Noir
1 Droga5
1 Frame
1 Granyon
1 Hatch & Bloom
1 Jean Creative
1 Kunde & Co
1 Loop Associates
1 McCann Copenhagen
1 Mikkel Møller
1 Moon
1 Mount Agency
1 Nord DDB
1 Olivia Muus
1 Operate
1 Re-public
1 Sparetime
1 Step
1 Studio Bjørn Ibsen
1 T for Troels
1 Tore Bentsen
1 Walk
1 Wavemaker