"OK Boomer, "I'm Baby" og "Yeet" er tre af MANGE eksempler, som vi for tiden ser overalt på de sociale medier: TikTok, Instagram, Reddit og Twitter. Og nu også på T-shirts, trøjer, huer og sokker.
Det er på Amazon, det sker. Her kan man forhandle og købe meme-merchandise på en nem måde. Sælgeren skal først finde et meme og derefter skabe tøjet via Amazons hjemmeside. Amazon printer og står for fragt. Sælger får en 'lønseddel' – og Amazon får nedskæringen i salget.
Lad os gå igennem nogle af de memes, der har fået forlænget levetid som meme-merchandise.
"Respect the drip, Karen"
I en video på TikTok viser en teenager sit outfit. Hun laver sjov med sin stedmor (en Generation X-kvinde) og beder hende respektere sit outfit.

Med 553.000 likes og 1.400 kommentarer blev memet til en TikTok-trend – og brugt af mange andre brugere. Og er nu også blevet lavet til merchandise.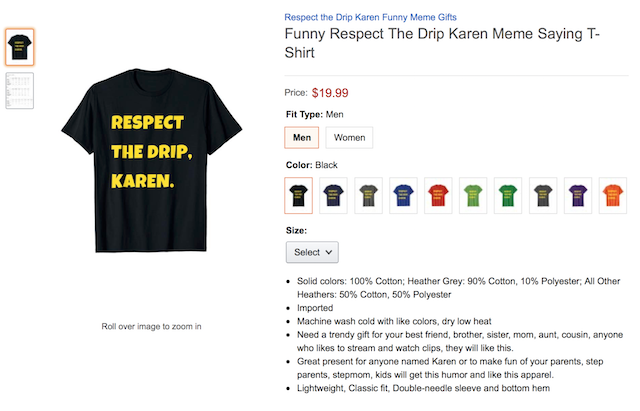 "Respect the drip, Karen"-T-shirt, der forhandles på Amazon.
"I'm already Tracer"
"I'm already Tracer" er et ældre meme – godt et år gammelt. Det er en lip-sync, der gik viralt. Så viralt, at det har været muligt for en youtuber at samle én times optagelser af TikTok-brugere, der synger "I'm already tracer".
Memet kan stadig købes på Amazon. I forskellige varianter. Her som en kasket.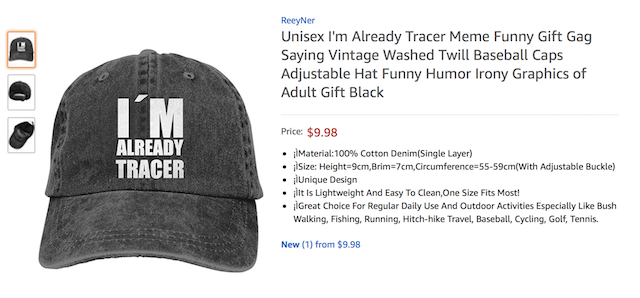 "I'm already Tracer"-kasket, der forhandles på Amazon.
Meme-jagt efter de gode memes
For at finde de gode memes skal du være til stede de steder, hvor de deles. Steder, hvor Generation Z (i alderen 22 og under) befinder sig. Det betyder Instagram, Reddit og TikTok. Og ikke Facebook. Facebook er fyldt med outdatede memes.
Det gælder om at finde de memes, der ikke kun er populære én uge. Hvordan er svært – ligefrem gambling, da det er svært at spå, hvad der holder og ikke holder. Især på internettet, hvor opmærksomheden er flygtig.
Et populært meme, der har været der længe, er … ja, du gættede rigtigt: "OK Boomer". Først var det – og er stadigvæk – klistret på utallige billeder på sociale medier. Nu er det også at finde på T-shirts, huer og din julesweater.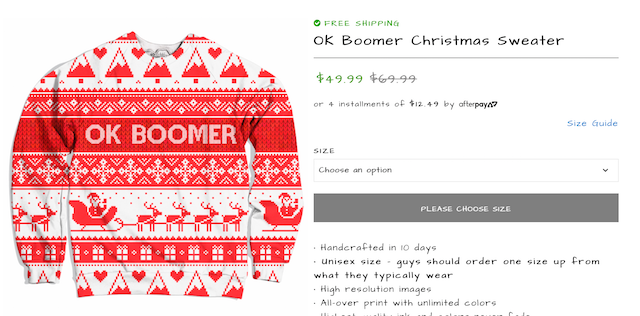 "OK Boomer"-juletrøje fra SoScribbly.
Meme-merchandise er toppen af poppen. Men det er ikke en ny ting. De sidste fem år er det blevet solgt på print-efter-behov-hjemmesider. Og Shirtwascash startede allerede merchandise-salget i 2014. Amazon var lige efter i 2015, hvor de lancerede Merch By Amazon.
Merch By Amazon er nemt. Sælger uploader et billeder helt gratis – og Amazon klarer resten. Det er effektivt og forhindrer spildte lagre, da der kun produceres det antal af T-shirt, der sælges.
Det er smart i en tempofyldt-meme-verden, hvor livscyklussen er bestemt af Generation Z.
Interesseret i mere indhold som dette? Skriv dig op til vores nyhedsbrev her.