IKEA holder genbrugsdag. Sofakompagniet planter træer i Kenya. Andre gør simpelthen ingenting.
3 hurtige om Black Friday:
Danskerne havde

sidste år

et dankortforbrug på 1,94 milliarder kroner på Black Friday. Det var 8 % lavere end rekordåret 2017.
Der forventes højere tal i år, da dagen falder på en lønningsdag samt lægger sig op ad julehandlen.
De første webbutikker introducerede Black Friday til danskerne i årene 2011-2012.
Kernen i Black Friday er forbrug. Og selvom de fleste forretningsmodeller er baserede på netop dette, så er det ikke alle brands, der kan tillade sig at skilte med det. Blandt andet er det massive brug af purpose-markedsføring med til at besværliggøre udnyttelsen af en forbrugsfest som Black Friday.
Det er især klimabelastning, der lægges vægt på, når brands boykotter Black Friday.
IKEA opfordrer fx. på deres hjemmeside til at købe genbrug(s-IKEA-møbler), i stedet for at shoppe amok lige præcis på Black Friday. Men det er da også med hjemmelen om, at der ikke er grund til det, når IKEA nu har 'lave priser hver dag':
Teksten er akkompagneret af denne annonce:

Et andet eksempel på boykot af Black Friday er tøjmærket Mads Nørgaard, der på fredag vil lukke webshoppen.
Da dontt.dk spurgte Mads Nørgaard, om de foretrak, at deres forhandlere ikke solgte mærket på Black Friday, svarede han kort og kontant: "Ja".
Anti-Black Friday-markedsføring er ikke banebrydende. Tænk bare på Patagonias Black Friday-kampagne fra 2011: "Don't buy this jacket". Men siden 2011 er antallet af virksomheder, som tager afstand til forbrugsfesten, vokset hvert år.
I Frankrig er der i år over 450 mærker, der er gået sammen om at boykotte forbrugsfesten i kollektivet "Make Friday Green Again".
Køber vi, at vi ikke skal købe?
Der er tale om et tydeligt signal, der på længere sigt skal give et afkast ved virksomhedens image.
Men hvis signalet ikke stemmer overens med det billede, som forbrugeren i forvejen har af brandet, så risikerer resultatet at virke som endnu et ugennemtænkt forsøg på purpose-markedsføring.
IKEA's kampagne kan her bruges som eksempel. Det er værd at nævne, at deres tiltag ikke er globalt.
På IKEA's egen Facebookside er brugerne overvejende positive, men ikke alle mener, der er overensstemmelse mellem brand og signal. Her er et udpluk:
Rudan He: "

Så har man da pengekassen i orden, IKEA. Og hvis ikke, så får man det på goodwill. Nice one."

Ole Sørensen: "

Fint reklamestunt for dem selv, men god stil!"

Asbjørn Andreasen: "Er det ikke lidt hyklerisk, når netop jeres møbler er lavet af så ringe kvalitet, at de ofte ikke kan holde til en flytning?"
Bureaubiz' læsere var mere skeptiske. Du kan læse kommentarerne her.
Dette er måske også en grund til, at brands som Power og Elgiganten ikke tyer til boykot. Ikke udelukkende på grund af profit, men fordi de ville vinde meget lidt ved det.
Det ville virke dobbeltmoralsk, hvis Power boykottede Black Friday – men fortsatte med deres 'crazy' tilbud resten af året.
Men der er altså en umiddelbar positiv signalværdi i at boykotte Black Friday, selvom det ikke er alle, der har lige meget gavn af strategien. Og mit bud er, at vi kommer til at se mere til det i fremtiden.
Alligevel vil der stadig være masser af 'crazy' tilbud i morgen. For mens nogle boykotter prisfesten, så udvider andre den.
Black Friday, Black Week, Black Year
Som de fleste ved, så er Black Friday oprindeligt én dag med ekstreme tilbud, der falder den første fredag efter Thanksgiving. Men flere og flere brands udvider prisfesten.
Nogle strækker fænomenet over weekenden frem til Cyber Monday, mandagen efter. Flere målretter deres marketingindsats mod ugen op til Black Friday, så der bliver afholdt Black Week.
Det gør blandt andet Matas og Thansen: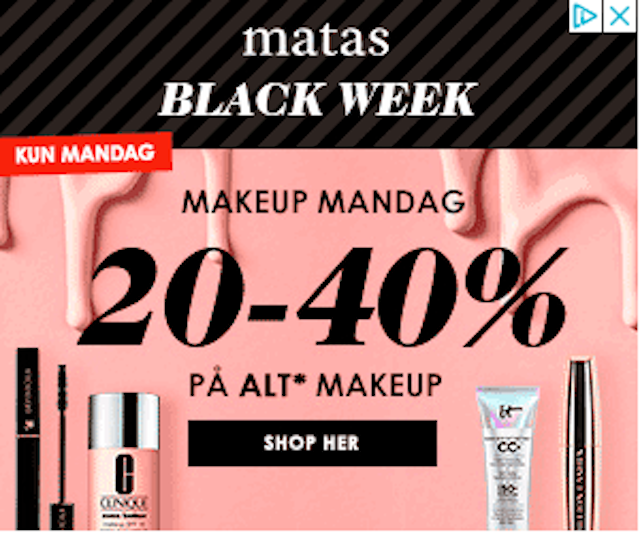 CDON udvider også Black Friday. De afholder fra den 24. november til 2. december 'Black Days – som Black Friday, men endnu bedre!'.

CDON mener, at det er godt, der er fokus på bæredygtighed i branchen. Men de mener ikke, at det er uforeneligt med Black Friday.
CDON's administrerende direktør, Kristoffer Väliharju, har udtalt til ehandel.dk:
"Jeg synes, holdningen er sund, og det er godt, at spørgsmålet får mere plads. CDONs rolle har dog altid været og vil fortsat være at tilbyde kunderne et relevant tilbud. Med stærkere krav til holdbarhed er vi også nødt til at revidere denne dimension, uanset om det er Black Friday eller en almindelig ugedag"
Andre virksomheder deler CDON's syn. Det gælder eksempelvis Powers CEO, Jesper Boysen, der har udtalt følgende til DR:
"Vi følger den teknologiske udvikling og har et ansvar over for det. Det handler for eksempel om at have et køleskab med klimazoner, som betyder, at dine fødevarer holder længere."
Der er ingen tvivl om, at alle gerne vil have del i bæredygtighedspointene. Men det er ikke alle, der er klar til at boykotte Black Friday for at blive højdescorer på klimakontoen, og det bliver det nok heller ikke i nærmeste fremtid.
For dagen er – lige meget om man har splitterravende 'crazy' priser eller helt boykutter konceptet – en mulighed for at markedsføre sig i forhold til konkurrenterne. Og det gøres både gennem en angivelig altruistisk klimabevidsthed eller en fuldkommen overkastelse til dagen, hvor kunderne i stor stil har spenderebukserne på.