Der er intet nyt under solen. Vi foretrækker til stadighed brands, der lægger deres fokus og ikke mindst massive ressourcer i socialpolitiske dagsordner. Se blot på 78 procent af årets Cannes Lions Grand Prix-vindere.
Nogle kalder det 'purpose', andre 'why', men uagtet, hvilket anglofilt substantiv man klistrer på post-CSR-bevægelsen, lader det til at være en win-win-situation for både jordkloden, forbrugerne og virksomhederne.
Selv da Nike (tilsyneladende) kompromisløst kastede sig for løverne med det famøse Kaepernick-reklamestunt og gjorde det, som ingen markedsgigant før har turdet, nemlig bekende politisk kulør, endte alting med, at skofabrikantens onlinesalg steg med 35 procent.
Men hvis outputtet for virksomhedernes engagement i samfundets ve og vel er øget salg, som hos Nike, hvad er så problemet?
Udfordringerne består i, at vi har forsømt de øvrige værktøjer, vi også har i marketingkassen. Og at purpose faktisk er en kompleks størrelse, der kan være svær at tøjre.
Og så er der den gamle sang om, at virksomhederne i højere grad pådrager sig et socialt ansvar af kommercielle grunde. På den måde var Nikes notoriske reklamestunt nok heller ikke lige så altruistisk, som man kunne foranlediges til at tro (mon ikke, man havde kørt en cost-benefit-analyse inden, Kaepernick blev sendt i brechen).
Sidstnævnte er ikke en ny anklage, men nu er der kommet tal fra vores egen andedam, som understøtter den.
En undersøgelse af Danmarks Statistik påviser, hvordan to tredjedele af større danske virksomheder engagerer sig i FN's verdensmål, og skønt flertallet heraf ønsker at tage samfundsansvar, er der også en del, der svarer, at man mener, arbejdet med verdensmålene kan tiltrække samarbejdspartnere og medarbejdere samt udgøre en markedsføringsfordel.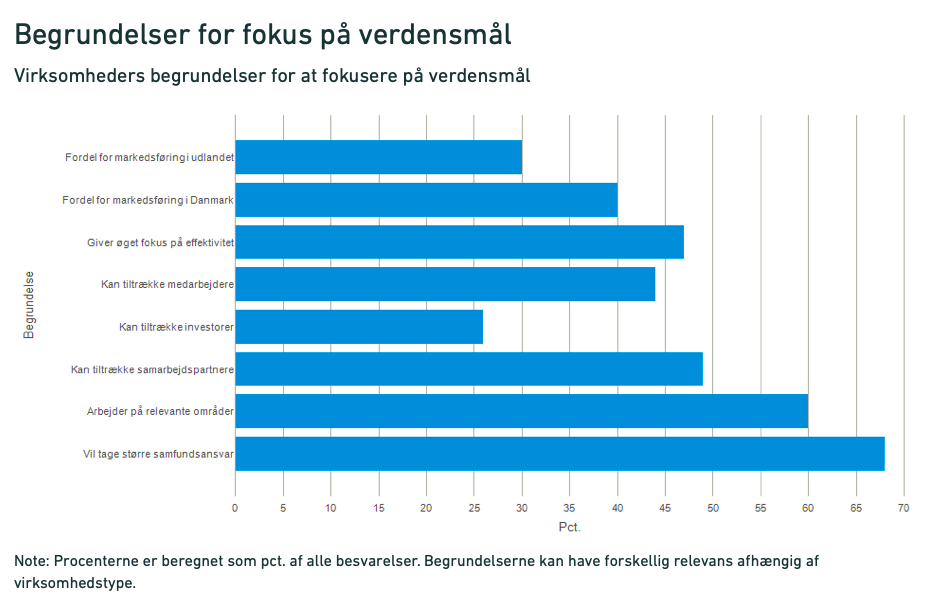 Er verdensmålene blevet et markedsføringsværktøj i fåreklæder?
Vi kender modargumentationen: Virksomhederne må gerne tjene penge på purpose – det er netop win-win-konstellationen, der gør den så effektfuld. Og det giver mening, så længe vægten fordeles lige. Det er der desværre allerede flere eksempler på, at den ikke bliver (tænk blot på Pepsis redwashing-kampagne fra 2017).
Ønsker man én gang for alle at korrigere opfattelsen af, at profitten er virksomhedernes primære målsætning, så gør som Novo Nordisk og Letz Sushi – indskriv samfundsansvaret direkte i virksomhedens bindende selskabsretlige vedtægter, så purpose og forretningen ligestilles juridisk.
Kan man få for meget purpose?
Et andet kritikpunkt går på, hvorvidt purposefænomenet kan stå distancen? Og her menes der ikke, at det blot er en dille, der snart dør hen, men snarere, om der er grænser for, hvor mange purposedrevne virksomheder, verden kan rumme. Too much of a good thing won't be good anymore… synger Sam Smith.
Tag blot et kig på sommerens Gay Pride-fejringer, hvor store internationale brands var ivrige efter at vise deres støtte og iklædte alt fra butiksfacader til produkter i regnbuens farver. Tilslutningen har imidlertid affødt diverse sub-parader, der tager skarp afstand til kommercialiseringen af Priden.
Sidste år på Nørrebro gik en alternativ Pride for første gang, løsrevet fra hovedarrangøren Copenhagen Pride, som man kritiserede for den stigende kapitalisering af paraden. Og i år marcherede tusinder til Queer Liberation March i New York i protest mod samme under taglinen 'Reclaim Pride Coalition'.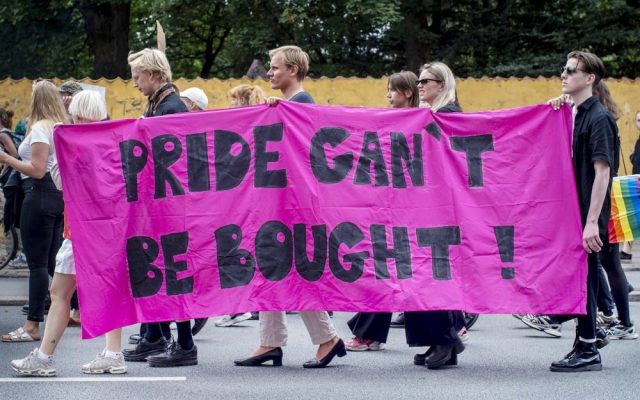 Brands' overvældende støtte har skabt et problem for LGBTQAI+-miljøet. Man kalder det Pridens 'globale identitetskrise'. Foto: Celina Dahl / Ritzau Scanpix.
Hertil kan man ikke andet end konkludere, at når den minoritet, man som annoncør forsøger at støtte, føler et stigende behov for at tilbageerobre sit eget brand (og event), så er man gået for vidt – uagtet om engagementet er dybfølt eller ej. Måske findes der en grænse for purpose?
En bredere konklusion kunne være, at purpose er en kompliceret størrelse – én man som virksomhed skal turde lege med, men dét ikke uden at tænke sig rigtig godt om først.
Overraskelsesværdien er væk
En ting skal lige slås fast: Selvfølgelig skal virksomhederne ikke resignere fra at gøre verden til et bedre sted. Men måske er det på tide at afsøge andre måder at gå til opgaven på?
Og set med marketingstrategiske øjne er det sværere og sværere at skille sig ud fra mængden, hvis man som brand slår sig på 'social ansvarlighed' – det er brandingdisciplinens mest befærdede rum, og så kan man endda risikere at de-positionere brandet (som tilfældet er med Priden).
Purpose er et godt værktøj for virksomhederne, der altid kæmper for at holde sig relevante, men purpose er ikke længere den diffentiator, som det engang var.
Et eksempel kunne være Procter & Gambles case 'The Look', der er den svære to'er til Cannes Lions Grand Prix-vindercasen 'The Talk' fra 2017. Efterfølgeren er uden tvivl godt reklamehåndværk, men det er ingenlunde den samme unikke oplevelse, hvilket reflekteres i reklamens kommercielle effekt. Overraskelsesmomentet udebliver simpelthen – og det må siges at være et essentielt virkemiddel i reklame og markedsføring.
Overraskelse var der til gengæld masser af i de få Grand Prix-vindercases, der ikke var funderet i purpose. Her lå fokusset i stedet på brandets positionering og ja … på produktet.
Tag for eksempelvis Burger Kings Whopper Detour, der spiller på brandets personlighed som 'den frække dreng i klassen', der altid driller storebror McDonald's. Eller Wendys Fortnite-kampagne på Twitch, der var baseret på et narrativ om produktets unikke position i markedet. På samme måde udsprang Westworld: The Maze-casen af selve produktet og oplevelsen heraf.
Måske er det på tide, at vi ryster tunnelsynet af os og om ikke vender tilbage til så i hvert fald husker den gode gamle brandpositionering, når der skal sælges produkter?
Interesseret i mere indhold som dette? Skriv dig op til vores nyhedsbrev her.