Der er noget appellerende ved skærmen. Den giver os adgang til mangfoldig og grænseløs information fra fingerspidserne og giver os en evne til altid at kunne blive set, hørt og bemærket. Mens vi søger om svar på vores trætte øjne, dundrende hoved og søvnmangel på NetDoktor, burde vi måske alligevel overveje, om vores symptomer kunne have en digital oprindelse.
Teknologisk afhængighed er ikke et fremmede emne for diskussion i denne digitale tidsalder, men i lyset fra skærmen og dets mange umiddelbare "praktiske fordele" kan det måske være nemt at se igennem mulige negative konsekvenser, den kan have for mennesket.
Den er ment til at gøre livet nemmere – hvorfor skulle det dog stresse os?
I femte afsnit af podcastet Design Kan rejser foredragsholder og forfatter Peter Svarre, forfatter og læge Imran Rashid og jeg selv blandt andet spørgsmålet om den digitale verdens appellerende kvaliteter – og de faldgruber, der hører sig til.

Hør podcasten på iTunes og Spotify eller lokalt hos AM.
Der tales om, hvordan design kan skabe tiltrækkende løsninger, men også om, hvordan det kan skabe afhængighed, mangel på impulskontrol og en befolkning af "selvkørende mennesker". Kan vi overhovedet undgå denne udvikling, når man tænker på det greb, digital markedsføring allerede har på dets forbrugere – og hvad gør det ved os?
Som læge har Imran Rashid personligt erfaret, hvordan hans patienter har henvendt sig grundet søvnbesvær, hovedpine og udmattede øjne. Når de ikke sover, finder de telefonen frem. Telefonen, som, ifølge Imran, kan lægge til grund for en massiv del af problemet.
"Flere og flere lider af et informationsoverload. De glemmer, hvordan man tanker op og søger både mod telefonen for at arbejde og klare de praktiske ting – og når de har brug for et øjebliks distraktion. Vi kan ikke længere koble af" – Imran Rashid.
Det er sandt, telefonen kan hjælpe os med mange aspekter af vores liv. Den kan give os et overblik over vores økonomi, planer, nyheder og holde os i kontakt med mennesker, som vi ellers ville have svært ved at række ud til.
Problemet ligger til gengæld i, at vi kan blive så afhængige af vores telefon, at vi bruger den som en sutteklud, når vi kunne interagere mere nysgerrigt og undersøgende med verden.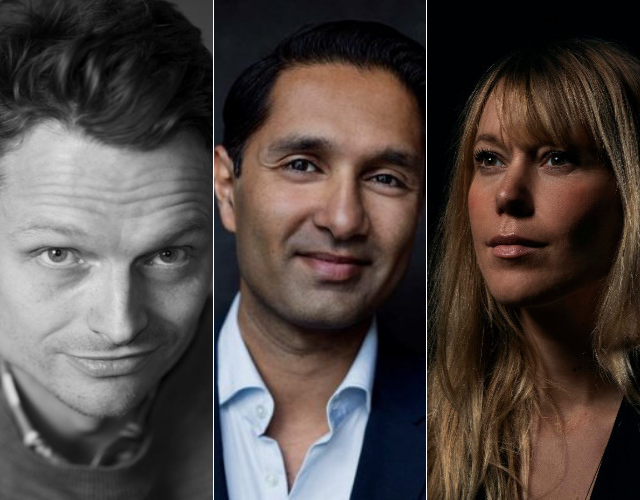 Petter Svarre, Imran Rashid og Kristina May Pries.
Vi glemmer, hvordan man underholder sig selv
Du har sikkert bemærket det – du kender typen. Måske er du typen. Typen, der fisker mobilen op af lommen 'bare fordi' og griber hvert ledigt øjeblik til at læse op på nyhederne, undersøge, hvad fitness-bloggerne nu giver dig dårlig samvittighed over, eller til at presse ekstra ubetalte arbejdstimer ind, bare fordi du jo "er ved telefonen".
De små bip fra lommen tvinger vores opmærksomhed væk fra den rigtige verden, og det virker måske også som en bekvemmelig løsning for forældre at sætte børnene foran skærmen, så de kan kigge på arbejdsmailene.
Jeg forsøger selv at undgå "iPasning" af mine fire børn, men en sådan beslutning kan for mange virke drastisk i en digital tidsalder.
"Der er altid en anden måde, hvorved vi kan være på, når det gælder det digitale. Det svarer nærmest til, at folk banker på vores dør konstant, fordi de vil have noget fra os – blot fordi de ved, vi er hjemme" – Kristina May Pries.
Sociale medier gør os asociale
Den digitale verden binder os sammen på godt og ondt. Den lader os følge med i andres liv, men hvilke aspekter er det egentlig, vi får at se? Dem, de ønsker at vise os – et simpelt svar på et kompliceret spørgsmål.
Det handler om en iscenesat virkelighed, og pludselig kan vi måske overbevise os selv om, at vi skal præsentere os selv ligesådan. Vi vil gerne overbevise andre om vores succes, og de digitale medier gør dette nemmere end nogensinde før.
Selvom forfatter og foredragsholder Peter Svarre udtrykker en interesse i den personlige tid, man kan vinde ved at overlade kedsommelige opgaver til teknologien, sår podcastet "Design kan gøre mennesker afhængige" et holdningsrykkende samtaleemne:
"Hvem skal den selskabssøgende barista i det tilfælde så snakke med på kaffebaren, hvis alle sidder med hovedet begravet i en telefon?" – Kristina May Pries.
Med andre ord, kan mennesket overhovedet interagere med andre i den digitale tidsalder, vi går i møde – eller måske allerede lever i? Og kan telefonen opfylde vores behov for selskab og nærvær?
Det er måske nemmere for os at skjule os bag en skærm. Paradoksalt ønsker vi, at fremmede mennesker på sociale medier skal se os, mens vi nærmest gør, hvad vi kan for at undgå dem, der befinder sig i virkeligheden, fordi de kan se igennem vores filtre og iscenesættelser.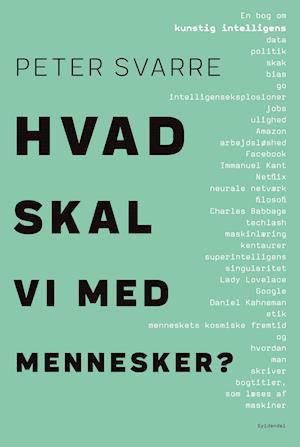 Peter Svarres nye bog "Hvad skal vi med mennesker?"
Vi skal lære at genvinde bevidstheden, kreativiteten og give plads til lidt kedsomhed …
Begynder hovedet at dundre efter en stressende arbejdsdag, skal man måske ikke løfte telefonen for at finde trøst. Man bør ikke arbejde, hvor man sover –skærmene gør det svært for os at "slukke" hjernen.
"Teknologisk afhængighed er lige så smittende som forkølelse. Vi smider links efter hinanden og promoverer en kultur, hvor "likes" pludselig står som en vigtig form for bekræftelse" – Kristina May Pries.
Forkølelse kan ikke kureres, men symptomerne kan lindres. Sådan bør man måske se den digitale indflydelse på vores liv. Vi kan måske ikke fjerne dens tilstedeværelse helt, men vi kan arbejde på at lindre elementerne, der kan være skadelige for os.
Det handler om at træffe bevidste valg. I stedet for at dirigeres af notifikationer og muligheden for at arbejde, når vi har fri, bør vi måske tillade os selv at koble af.
Livet er trods alt ikke en generalprøve. Vi har kun ét. Vær til stede i det.
Interesseret i mere indhold som dette? Skriv dig op til vores nyhedsbrev her.