Før du læser videre, så gør dig selv en tjeneste: Se den to minutter lange interne brandingvideo.
Revitalisering af grisen from Landbrug & Fødevarer on Vimeo.
Videoen handler om de unge – altså, de såkaldte Millennials – som ikke længere spiser gris, og om, hvordan vi får dem til det. Vi er her Landbrug & Fødevarer, butikker, distributører og den slags.
Den viser unge, glade mennesker, der hygger og fester, går rundt med kasser med grøntsager, griller, snakker, træner og alt det der, som vi alle sammen godt ved, at Millennials gør hele tiden.
Og så er der selvfølgelig masser af nærbilleder af smågrise, som i hvert fald ikke lige har fået halen skåret af.
Det er en vild video, for den er alt for meget. Alt, alt for meget. Faktisk så meget for meget, at jeg var sikker på, at jeg så et stykke satire. At dømme ud fra reaktionerne på Twitter var jeg ikke den eneste med de tanker.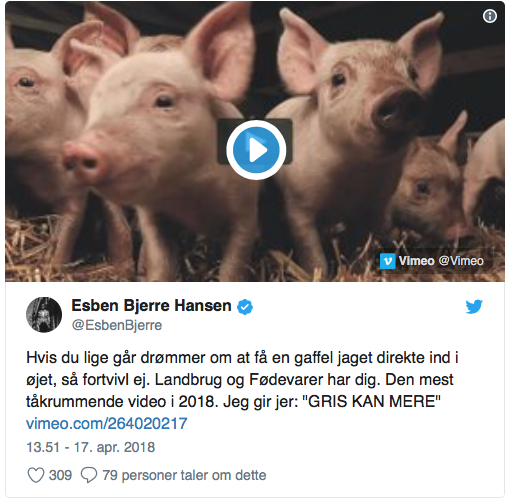 Alene starten virker helt malplaceret. "Kød er under pres," siger speakeren. "Gris er under pres." Men er det? Sådan føles det sgu ikke her i provinsen, hvor jeg bor, og hvor Weber-kuglen er fast inventar på snart sagt hver terrasse.
Og har I glemt pulled pork, Landbrug & Fødevarer? Altså, det der fænomen, som vistnok kom lidt før stenalderkost og fidget spinners og fyldte alt i en kort periode.
Jeg siger bare, det lever altså i bedste velgående blandt grillfædre, så helt presset er hverken kød eller gris vist ikke. Det virker mere som om, presset kommer af de groteske mængder slagtesvin, der bliver produceret hvert år, og som nogen jo for helvede skal købe.
Nej nej, siger Landbrug & Fødevarer. Det handler nemlig om, at vi er ved at tabe en hel generation på gulvet. Og det illustreres ved en sekvens med folk, der springer i faldskærm. Undskyld, men hvis man springer ud i det, kan man så være tabt?
Er der ikke lidt metafor-mismatch der? Det er der muligvis, men Landbrug & Fødevarer er ligeglade. For de ved, at Millennials vil have coolness, convenience og occasions, så det får man sgu i den ene stockphoto-situation efter den anden.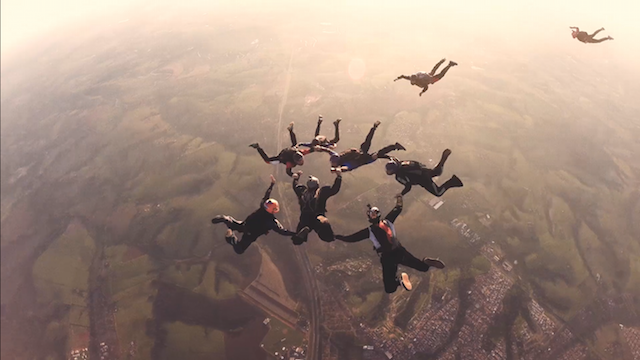 Faldskærme og gris hænger sammen, fordi … fordi … okay, jeg aner det simpelthen ikke.
Fuld plade i bullshit-bingo
Det er alt for meget over the top, og det stopper aldrig. Fra ham, der sidder med sin laptop på et skateboard, over en ekstremt lang skålesekvens, hvor den kolde hvidvin må have nærmet sig stuetemperatur, og så til den der flok faldskærmsudspringere.
Faldskærmsudspringere – come on! Når jeg har spist gris, har jeg mere lyst til at kaste mig i sofaen end at kaste mig ud fra en flyver.
Men sådan er Millennials åbenbart ikke. For dem er convenience ikke en blød pude og måske det lille slumretæppe.
Det er åbenbart at flyve gennem luften, hvor smagen af angst for at blive splattet ud mod jorden så skal blande sig med den der antydning af halsbrand, kun et ordentligt læs gris kan give.
Men det er da nogle fine billeder, sådan isoleret set. Jeg kan for eksempel godt lide tanken om at sidde på stranden og grille, mens solen går ned.
Og jeg gad måske godt lave mad sammen med nogle entusiastiske venner i matchende forklæder, selvom jeg ikke nødvendigvis ville tage billeder af maden imens.
Og jeg er for få måneder siden flyttet i bofællesskab på Midtsjælland, så det der med en skægget fyr i hue, der kommer gående med en kasse hjemmedyrket produce, er ikke skide langt fra flere af mine naboer.
Problemet er bare, at de ikke er isolerede, situationerne. De læsses oven på hinanden og kombineres ikke mindst med et speak, som er helt uden for kategori.
Vi skal for eksempel 'revitalisere og rekvalificere grisen'. Vi skal 'gentænke den og iscenesætte den med stolthed' – noget der kun kan få mig til at tænke på ordsproget om lipstick on a pig.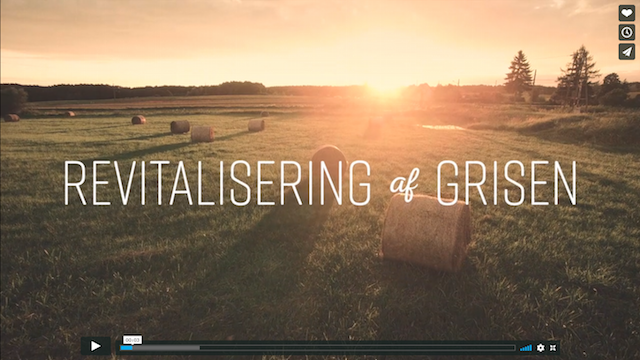 Vi skal revitalisere grisen. Altså, give den livet igen eller hvad? For så er det jo lidt svært at æde den.
Forbrugerne siger
Men jeg er jo ikke målgruppen her. Videoen handler ikke om mig, og så er det jo lige meget, om jeg synes, den bevæger sig i grænselandet mellem virkelig håbløs og vidunderligt underholdende.
Og det er heller ikke en video, der skal få Millennials, som godt kan lide at lave saltomortaler et sted i Sydeuropa, til at spise mere gris.
Det handler om, at Landbrug & Fødevarer gerne vil sælge mere svinekød, og om, at de tror, det bliver nemmere, hvis vi kalder det gris i stedet for svin.
Og den er til dem, som skal sælge det til Millennials. De, som, for nu at citere et kernebudskab, har 'overset, hvad der virkeligt betyder noget, når det kommer til grisekød.'
Og hvad er dét så? Ifølge Landbrug & Fødevarer er det, at 'gris er smagen af hygge' – de har endda spurgt forbrugerne, påstår de.
Men jeg køber den ikke. Slik er smagen af hygge. Chips er. Rødvin. Ben & Jerry's. Lidt opkast bagerst i halsen, fordi man har spist lidt for meget Ben & Jerry's. Dét er smagen af hygge.
Gris er sgu da ikke. Gris er allerhøjest smagen af den juleaften, hvor mor og far skændtes hele tiden, og alt blev serveret med en bismag af skilsmisse, men det kom åbenbart ikke med i videoen.
Hvad er det, der virkelig betyder noget, når det kommer til grisekød? Hvad fanden er det for et spørgsmål at stille forbrugerne?
Og er der nogen andre end reklamefolk, der tror på, at de første svar ikke har været dyrevelfærd, færre medicinrester og mindre MSRA – helst ingen, faktisk? Jeg tvivler.
Men jeg bliver nødt til at indrømme: Videoen virker sgu. Den får mig til at gentænke grisen. For hver eneste gang jeg i fremtiden ser ordet 'gris' på en pakke svinekød i Brugsen, så har jeg en occasion til at le og le og le over denne video og dens totale mangel på coolness. Det glæder jeg mig allerede lidt til.