For en uge siden var jeg med en flok venner på en tur rundt på diverse værtshuse på det ydre Østerbro. Vi gik for en gangs skyld uden om cafeer og vinbarer og opsøgte alene bodegaer for at ruske op i os selv.
Da den mandlige del af selskabet på første pitstop fandt ud af, at de serverede Guld Tuborg, ville jublen ingen ende tage.
Alle kunne en historie om den ikoniske, men ofte oversete øl, som af Tuborgs brygmestre betegnes som den bedste i sortimentet. Eller det gjorde den i hvert fald, den gang jeg arbejdede for Tuborg i min egenskab af strategisk direktør på Wibroe, Duckert & Partners.
Mit bidrag til vores venskabelige udveksling af røverhistorier var, at jeg havde været med til relanceringen i 1995, hvor den Gyldne Dame kom på etiketten, og der var en stor event i Imperial Biografen, hvor en hel hær af skønne kvinder i stramtsiddende guldkjoler serverede øl fra bakker.
Den historie fortalte jeg uden fortrydelse og helt uden nærmere eftertanke om kønsrollemønstre.
Det var først, da jeg læste artiklen om, hvordan etiketten er blevet opdateret med en dame, der holder en ølflaske i hånden – underforstået til eget brug – i stedet for at holde en bakke for at servere for andre, at problematikken gik op for mig.
Siden er bølgerne gået højt i min omgangskreds, og positionerne er velkendte. Den ene fraktion mener, at nu er det gået for vidt med al den politiske korrekthed. Andre mener, at det var en progressiv fornyelse, som tjener Tuborg til ære.
Selv tilhører jeg den sidste fløj, men det, jeg er mest optaget af, er mine egne blinde vinkler.
Jeg skænkede virkelig ikke det kønsstereotype en tanke på det værtshus, hvor vi sad og hyggede os. Det gør jeg nu, og i den anledning er jeg kommet i tanke om en endnu ældre Peter Wibroe-annonce for Guld Tuborg. Den kørte i midten af 1980'erne og var sjovt nok meget mere kønspolitisk korrekt, selvom den havde endnu stærkere seksuelle signaler end kampagnen med den Gyldne Dame.
Annoncen viser et par elegante dameben i stramme læderbukser og røde sko med høje stilethæle. Man ser kun benene, der spadserer hen ad en gade og kvindens hånd, der holder et gennemsigtigt net med to Guld Tuborg i. Teksten konstaterer tørt: "Some guys have all the luck."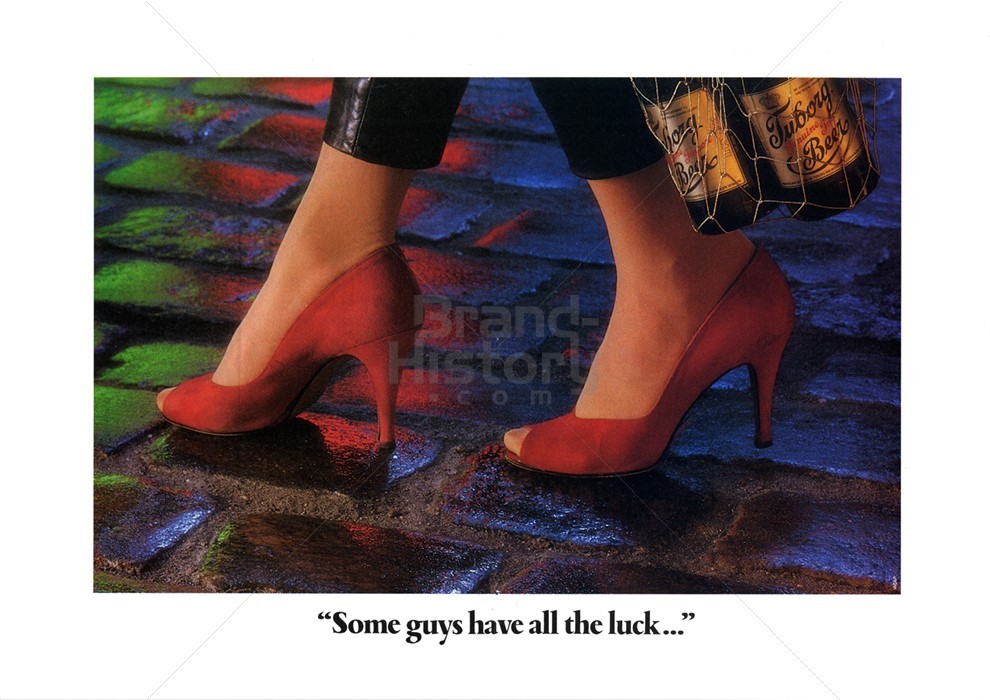 Se det er jo en historie med mange lag. Her er ikke bare en attraktiv kvinde, men en kvinde med initiativ. Hun ved, hvad hun vil og medbringer selv drikkevarer. Selvom hun er udfordrende klædt, er der ingen, der vil opfatte, at hun ligger under for traditionelle kønsrollemønstre. Tværtimod.
Annoncen skriver sig ind i genren, der med et uskønt ord kaldes målgruppe-empowerment. Den genre var ikke særlig anvendt dengang for næsten 40 år siden. Ikke overfor kvinder i det mindste. De blev mest portrætteret som husmødre eller passive sexobjekter.
Guld Tuborg kom således fra et mere moderne udgangspunkt end den endte 10 år senere med den gyldne serveringsdame. Nu er etiketten så opdateret med en dame, der selv drikker guldøl. Ud fra et kønsrolle perspektiv er det et fremskridt, om det også er det ud fra et brandingmæssigt perspektiv kan diskuteres.
Guld Tuborg er – på trods af alle Tuborgs forsøg på at positionere den som en eksklusiv fest-øl for begge køn – fortsat en øl som mest drikkes på bodegaer af mænd, der hænger i baren og fortæller røverhistorier.
På den slags steder er der ikke mange elegante kvinder i snævert siddende selskabstøj. Og hvis der var, ville mændene i baren sikkert blive forlegne.
Omvendt er der meget få kvinder (og mænd), som drikker en håndbajer, når de optræder i selskabstøj, så etiketten er endt med at sætte sig i mellem to stole.
Måske skulle Tuborg have konsulteret en brandingekspert, efter de havde konsulteret Kvinfo m.fl. Måske skulle de være begyndt forfra i stedet for at forsøge at reparere på noget forældet. Eller de kunne have opdateret den oprindelige etiket, som man kan se på billedet af den gamle annonce.
Når det er sagt, skal Tuborg have tak for at have fjernet en af mine blinde vinkler. Dem har jeg tilsyneladende fortsat alt for mange af, og vi får ikke rigtig ligestilling, før vi får gjort op med alle de kønsstereotype signaler, vi omgiver os med.
Bemærk her, at Wibroes gamle annonce viser os, at det behøver det overhovedet ikke blive mere kedeligt af.