Udfordringerne med at tiltrække talent fylder mindre. Det var en af konklusionerne fra Bureaubiz' bureaulederundersøgelse i sidste uge. Men derfor er det relevant at blive opdateret på både, hvad de unge og resten af arbejdsmarkedet lægger vægt på.
Konsulenthuset Ballisager er netop udkommet med Kandidatanalysen 2023. Den viser, at den vigtigste præference for danskerne, når de søger job, er en god løn (34 pct.). I 2019 var det at have gode kolleger den vigtigste præference (45 pct.). At have gode kollegaer er faldet en del, og kommer i 2023 ind på den anden vigtigste præference med 33 pct.
Dernæst er det vigtigt for danskerne at have fleksible arbejdstider og det at have en god chef. Begge præferencer lå også blandt top fem i 2019.
"Vi troede at corona ville skabe kollegiale afsavn. Men det viste sig faktisk, at corona gav appetit på mere balance mellem arbejde og fritid. Vi kunne lide roen, der kom omkring vores arbejde – mere end vi savnede kollegaerne. Så i dag er der efterspørgsel efter de arbejdspladser der tilbyder fleksibilitet og worklife balance – det handler lidt mindre om den stærke kollegiale kultur, når folk vælger job. Arbejdspladserne individualiseres lidt i øjeblikket," siger Morten Ballisager, der er direktør i Konsulenthuset Ballisager.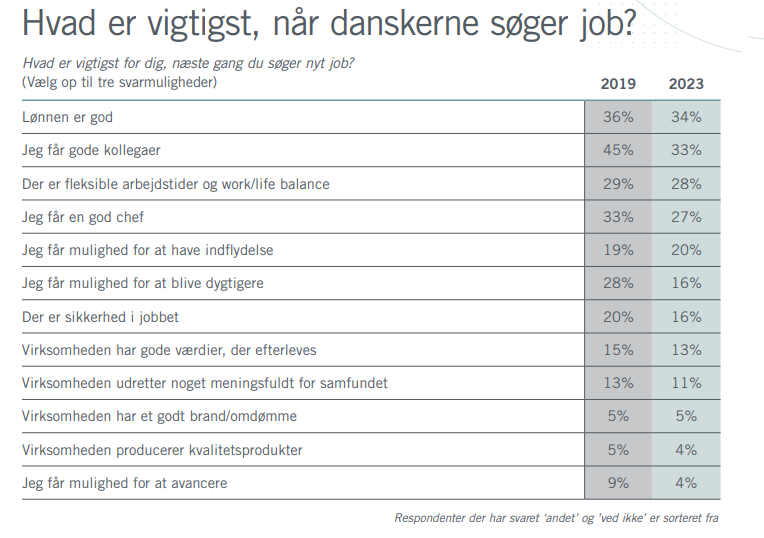 Det er ikke de unge, der ønsker, at arbejdspladsen udretter noget meningsfuldt
Man hører ofte, at unge vil ansættes i virksomheder, der udretter noget meningsfuldt. Men ifølge Ballisagers analyse, er det kun 11 pct. der anser det for vigtigt, at 'virksomheden udretter noget meningsfuldt for samfundet', når de skal skifte job. Fordeler man det ud på alder, er der ingen forskel på unge og ældres præferencer, for alle tre alderskategorier på 18-34, 35-50 og 50+ ligger på 11 pct.
Forskellen dukker først op, når man ser på arbejdsplads og køn. 10 pct. af de mandlige respondenter lægger vægt på, at den kommende arbejdsplads udretter noget meningsfuldt for samfundet, for kvinderne er det 12 pct. Arbejder man i den private sektor, er det 8 pct. af respondenterne, der har et ønske om at blive ansat i en virksomhed, der udretter noget meningsfuldt for samfundet. I den offentlige sektor er det 15 pct.
Færre unge er glade for deres job
I 2021 var rekruttering den helt store udfordring, og dengang sagde Henrik Jensen, adm. direktør i Brandse & Co., at flere studier viste, at den primære årsag til, at medarbejdere stoppede i en virksomhed, var den nærmeste leder.
De fleste (fire ud af fem) er glade for deres job ifølge Ballisagers analyse. Men hvis man ikke er det, viser analysen, at det især fordi samarbejdet med chefen ikke fungerer. Det gælder for en fjerdedel. Men for 27 pct. er årsagen, at 'Jeg føler ikke, at jeg udvikler mig i mit arbejde' og for 19 pct. er det, at 'de opgaver, jeg har i mit arbejde, passer ikke til mig'.
Der er færre unge, der ikke er glade for deres job. I hvert fald er andelen af de 18-34-årige, der siger at de er glade for deres job, faldet fra 85 pct. i 2020 til 79 pct. i 2023.
Faglighed og tillid spiller en rolle for opfattelsen af chefen
43 pct. af respondenterne mener, at de har dårlige chefer, fordi de er 'fagligt inkompetente', mens 42 pct. siger, at det er fordi de 'ikke er i stand til at skabe teamwork'.
Til gengæld synes, 53 pct. at deres chef er god, fordi vedkommende 'viser mig tillid og lader mig styre behovet for sparring' og 42 pct. er glad for chefen, fordi han eller hun 'er fagligt dygtig'.
Færre vil være ledere
Det er ikke altid nemt at være leder, og analysen viser da også, at færre ønsker at blive leder. Hvor det i 2020 var 27 pct. der gerne ville være leder, er det i dag faldet helt ned til, at kun 15 pct. vil være leder.
Det er især de unge (18-34 år), der ikke vil være chef for andre. Hvis man er en af dem der gerne vil være leder, er motivationen forskellig alt afhængig om man er mand eller kvinde. 65 pct. af mændene vil være leder for at få indflydelse, mens 58 pct. af kvinderne vil være leder for at udvikle andres potentiale.
Kvinder foretrækker kvinder og mænd foretrækker mænd
En pudsighed er, at både mænd og kvinder – uanset alder – foretrækker at arbejde sammen med en fra deres eget køn.