Frederik Voetmann var 19 år, på interrail og i det moment liggende på en bænk et sted i Frankrig, da han fik en besked fra Nørgård Mikkelsens Testcamp. Beskeden lød, at han havde vundet et forløb i reklamebureauet.
"Første gang jeg satte fod på et reklamebureau, var som ung prøvekanin på Nørgård Mikkelsens Testcamp i 2011. Testcampen var et forløb, hvor man som helt ung og totalt uskolet fik en plads ved de voksnes bord og fik lov at arbejde på en vaskeægte brief," fortæller Frederik.
Frederik og hans team af andre unge prøvekaniner fik til opgave at skaffe frivillige til Natteravnene, der for første gang skulle lanceres i Odense.
"Jeg kan huske, jeg sad foran den der enorme iMac for første gang i mit liv, lidt skræmt og omgivet af smarte AD'ere, der diskuterede, om en eller anden font skulle være med seriffer eller slab-seriffer, og copywritere, der tastede løs (og som jeg i øvrigt i lang tid troede, arbejdede med copyright)," uddyber Frederik.
Siddende foran den enorme iMac gik Frederik i gang. Forvirret, men også spændt.
Han fik fritlagt den klassiske gule Natteravnene-jakke, og derfra snublede han sig gennem den ene overskrift efter den anden.
"Efter jeg havde stirret på én af de 117 overskrifter en halv formiddag, prikkede Sven-Erik, en af bureauets gamle tekstforfattere, mig på skulderen og sagde "søvnløshed". Der gik lige et par sekunder, før det gik op for mig. Jeg havde lavet min første reklame – i co-lab med Sven-Erik."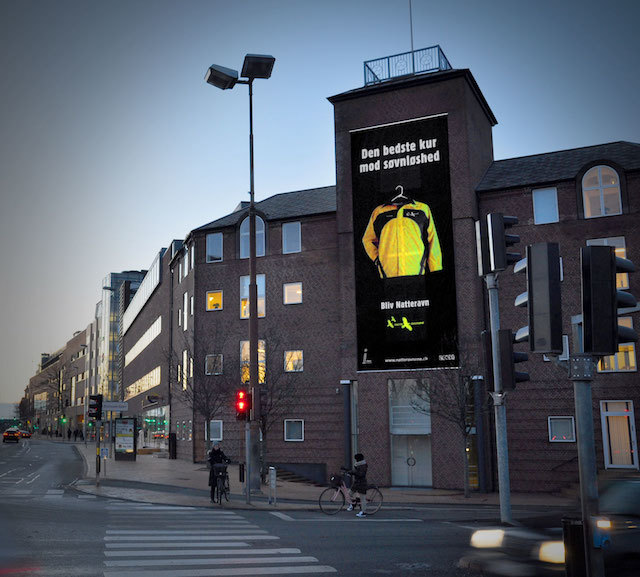 'Den bedste kur mod søvnløshed' og en ikonisk gul Natteravnene-jakke blev Frederiks første reklame.
"Jeg kan huske, at nogen talte om indsigt til vores interne præsentation. Og det havde mit medbragte forslag tilsyneladende. Jeg tror ikke helt, jeg fattede, hvad de voksne mente; jeg synes bare, det var svedigt at have lavet noget, der faktisk lignede en "rigtig" reklame nogenlunde."
Hvad synes du om din første reklame i dag?
"I dag kan jeg jo se, at jeg tog nogle spæde, uvidende skridt mod de værktøjer, man bevidstgør sig om i løbet af sin uddannelse. Tanken bag holder vel stadig, men i dag havde man nok ikke stoppet ved en one-off og hængt den op som et billboard i centrum af Odense," fortæller Frederik.
Blev reklamen din adgangsbillet ind i branchen?
"Jeg vandt ikke hele Testcampen, så den helt store adgangsbillet til branchen, kan jeg nok ikke kalde annoncen. Jeg tror sgu også, at det ville have været katastrofalt at have ladet mig blive siddende ved den store iMac og tonse videre," fortæller Frederik og uddyber:
"Jeg havde helt klart godt af at få udfordret min kreativitet væk fra en professionel arena i nogle år. Men jeg tror, at den der magiske gennembrudsfølelse fra Natteravns-idéen blev siddende hos mig. Det er jo stadig den, jeg jagter hver dag."
Hvilket arbejde er du mest stolt af i dag?
"Det arbejde, jeg er mest stolt af, er de kampagner, som min makker Niklas Hultquist og jeg har lavet for Kræftens Bekæmpelse og TrygFondens alkoholindsats, 'Fuld Af Liv'."
Frederik fremhæver især to kampagner, som begge har klaret sig flot i kreativitets- og effektivitetspriser. 'Spritstiv Speeddate' og senest 'Pølsepresser Du?'. Han har lavet begge i samarbejde med Niklas Hultquist, som han efterhånden har arbejdet tæt sammen med i mange år.
"Dér synes jeg, vi har formået at give unge nogle argumenter for at skrue ned for drukken og sige fra over for drikkepres – noget, man ikke er specielt lydhør over for som 19-årig på vej til Ibiza på interrail," afslutter Frederik.