Bureaubiz laver hvert år en simpel, men sigende analyse: Bureaudiagrammet. Kort fortalt deles de danske bureauer op i fire kategorier baseret på to nøgletal: gennemsnitsløn (jo højere, jo bedre for medarbejderne) og lønandel (dvs. hvor stor en andel af bruttoavancen lønomkostningerne udgør – jo lavere, jo bedre for ejerne). Der er selvfølgelig masser af fejlkilder i en så enkel analyse, men de store linjer kan alligevel være interessante.
Bureaubranchen er særdeles konjunkturfølsom. Og netop i år burde analysen blive studeret grundigere end vanligt rundt omkring på bureauerne – i hvert fald i bestyrelserne, hvor man ikke bør nøjes med at finde sig selv i det let uoverskuelige matrix.
Bureaubranchen har nemlig en lang række udfordringer, som man risikerer, bliver skjult bag flotte regnskabstal båret oppe af samfundets højkonjunktur.
Skulle der sidde en ejer, der græder tørre tårer over at ende i kategorien Slavepisker, kan man ikke fortænke vedkommende i det. Det lyder måske ikke så attraktivt at være slavepisker, men hvis man kan slippe af sted med lave lønninger og alligevel være en god forretning, er der vel grund til smil.
Ligesom en attraktiv medarbejder vil se til, i hvilken grad deres del af succesen bliver belønnet, vil en dygtig bestyrelse også studere tallene. Dels for at se, om de resultater, bureauet har skabt, er udtryk for branchens medvind eller dygtig ledelse, og dels for at se, om der tegner sig en eller flere vinderopskrifter i branchen.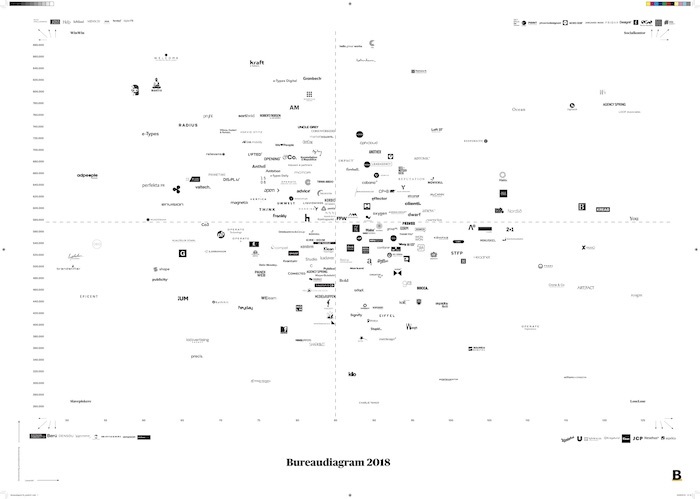 Læs definitionen af kategorierne WinWin, LoseLose, Socialkontor og Slavepisker i faktaboksen nederst. Klik på billedet for at se det forstørret.
Bureaubiz har bedt mig give et bud på en læsning af årets udgave, og det har fået form af fire anbefalinger til bureauernes bestyrelser (og lidt til deres medarbejdere).
1. Voks ikke for enhver pris
Af forskellige årsager har bureauer altid gerne villet opfattes som store ("Vi er halvtreds skarpe hjerner" – altså inklusive receptionist, praktikanter og rengøringshjælp). Måske fordi det er et mål for succes. Måske fordi jo større de er, jo mere komplekse opgaver kan de løse. Og jo flere penge kan de tjene til ejerne.
Men Bureaudiagrammet viser, at mange medarbejdere langt fra er den eneste vej til at blive et WinWin-bureau. Der er således en lang række af forholdsvis små virksomheder (<20 medarbejdere) i kategorien, bl.a. Boye & Spellerberg, Sorthvid, Help PR, Face Media og AM. Her betaler man pæne lønninger, men formår samtidig at veksle lønningerne til indtjening til ejerne.
Der er naturligvis også eksempler på store bureauer i kategorien, som formår at høste stordriftsfordelene og håndtere de risici, der kommer af at have mange medarbejdere. Det gælder bl.a. Advice, DIS/Play/AKQA Danmark, Valtech og Magnetix.
Det kunne være interessant, hvis Bureaubiz lavede en kvantitativ analyse af, hvilken sammenhæng der er mellem bureaustørrelse og overskud. Findes den ideelle bureaustørrelse mon?

2. Høj profil koster
Bureaufolk lever af kommunikation, og derfor er de ofte af den overbevisning, at en høj profil kan veksles til forretning.
Og der er da også masser af eksempler på, at højprofilerede bureauer finder vej til WinWin-kategorien, fx e-Types, Mensch og Robert/Boisen & Like-minded, hvor dygtige medarbejdere får en høj løn, men hvor lønudgifternes andel af bruttoavancen alligevel er lavere, end det er for gennemsnitsbureauet.
Men der er langt fra en entydig sammenhæng: Mindst lige så mange højprofilerede bureauer ender i kategorien Socialkontor, hvor de nok betaler høje lønninger, men hvor udgifterne udgør en uforholdsmæssig stor andel af bruttoavancen. Det gælder for eksempel Another, Friday, Kommunikationsbureauet København, Hello Great Works og Lead Agency.
3. Digital er ikke en strategi
Skulle der stadig sidde en gammel hanelefant eller to i et bureau med en drøm om at "blive digital," afslører Bureaudiagrammet med al ønskelig tydelighed, at digital ikke er opskriften på en vinderstrategi, men blot et mindset og nogle kompetencer.
Og nok veksler stærke digitale kompetencer sig til en god forretning i nogle bureauer (fx Valtech, 1508 og Think). Men der er også store digitale bureauer, der har det sværere og ender i LoseLose, hvor lønandelen er høj, men gennemsnitslønnen lav. Det gælder blandt andet for Klean, Hedehus, Headnet, Adapt og KMD-ejede Charlie Tango.
Og andre digitale bureauer, hvor man betaler høje lønninger, men hvor det tynger bureauets bruttoavance relativt meget, så man ender i kategorien Socialkontor; det gælder for eksempel Dwarf, Skybrud og DigitasLBi.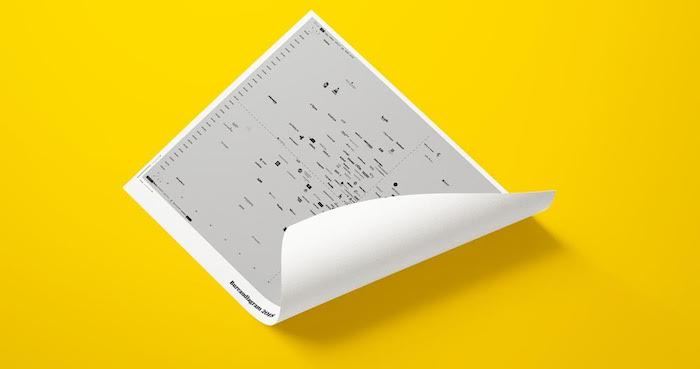 4. Produktion er stadig en god forretning
WinWin lyder måske nok som vinderkategorien. Men skulle der sidde en ejer, der græder tørre tårer over at ende i kategorien Slavepisker, kan man ikke fortænke vedkommende i det. Det lyder måske ikke så attraktivt at være slavepisker, men hvis man kan slippe af sted med lave lønninger og alligevel være en god forretning, er der vel grund til smil.
Traditionelt har det især været produktionstunge bureauer, der dominerer kategorien med lavtlønnede personalegrupper eller mange unge medarbejdere. Og kategorien er stadig domineret af bureauer med meget produktion, men ikke længere kun tilbudsaviser.
Det gælder for eksempel performance marketing-bureauer som Novicell, Precis og Integral og socialbureauer som Untold og Mindjumpers. Givetvis bureautyper med unge medarbejdere med mange fakturerbare timer – og tydeligvis en lav løn.
Modellen er skræddersyet af ophavsmanden Steen Holm til at beskrive en type virksomhed, hvor medarbejderne udgør den reelle styrke. Lønandelen beskriver, hvor god en forretning et bureau er, mens gennemsnitslønnen fortæller, hvor meget medarbejderne får ud af det.
Så WinWin er en lønandel under branchegennemsnittet og en gennemsnitsløn over branchegennemsnittet. Altså en virksomhed, der betaler høj løn, men hvor lønnen alligevel kun udgør en mindre del af bruttoavancen.
Socialkontorer lønner bedre end gennemsnittet, men har til gengæld en lønandel over gennemsnittet, mens det forholder sig modsat for Slavepiskere. Endelig er LoseLose modsat af WinWin.