Altid velskrivende Hanne Feldthus har begået en klumme med 4 hypoteser om, hvorfor mange virksomheder kaster branding over bord til fordel for datadrevet markedsføring.
Om hypoteserne – at tal og statistik ligner sandhed og derfor behager ledelsen; at data forfører; at mediebureauerne leverer subjektiv rådgivning med overdrevet fokus på digitale løsninger; og at en ny generation af marketingfolk er fanget i tech-fælden og grundlæggende ikke forstår branding – er rigtige eller forkerte, ved jeg ikke.
Men Hannes indlæg er endnu en sten i den mur, der gennem en årrække er blevet bygget mellem fortalere for strategisk langsigtet branding på den ene side og data-taktisk kortsigtet salg på den anden. Branding- henholdsvis data-disciplene råber højt på hver sin side af muren, men ligesom i de fleste andre ekkokamre misser de pointen – eller rettere pointerne. For der er i hvert fald to.
Den første er ligetil: Branding versus datadrevet marketing er ikke enten-eller; det er både-og. Den anden er, at de to discipliner skal bindes sammen af marketingaktiviteter, ingen taler ret meget om.
I toppen af tragten sværger hardcore brandingdisciple, Hanne inklusive, til emotionelle fortællinger, der kalder på store følelser som middel til at skabe stærke langvarige relationer til forbrugerne og 'bang for the bucks'.
Som eksempel nævner hun Topdanmarks seneste 'brand-genoplivnings-initiativ'; en række små fine film hjulpet til verden af altid dygtige Boye Spellerberg. Ingen skal dog fortælle mig, at 25 sekunder med en løbsk indkøbsvogn, der producerer en Bilka bule i en parkeret bil, efterfulgt af et "Vi er her for at hjælpe", gør arbejdet alene.
På tilsvarende vis kan ingen performance marketing-disciple overbevise mig om, at rendyrket data-fetichisme nederst i tragten er nok.
Lysten til at hjælpe og inspirere forbrugerne henover kunderejsen binder top og bund i tragten sammen
Bindemidlet, der kitter top og bund i tragten sammen, er alt det marketing, der foregår, når virksomheder og brands sådan for alvor dropper "se-lige-hvor-fede-vi-er"- henholdsvis "tag-nu-for-helvede-og-køb"-eksekveringerne og rent faktisk prøver at stille sig til rådighed for forbrugerne med svar på spørgsmål, inspiration mm., når de skal vælge et produkt fra en given kategori; ergo når virksomheder og brands arbejder med beslutningsprocessen, altså kunderejsen, som omdrejningspunkt for marketing-økosystemet.
Dét er marketingaktiviteter, ikke ret mange brand- og data-aficionados taler ret meget om. I stedet har de overladt det til content marketing- og SEO/SEM-specialisterne at arbejde med 'alt det der i midten'. Og nå ja, så også lige Google …
For internet-giganten fra Mountain View agiterer på det kraftigste for, at virksomheder i højere grad bør fokusere på det, der foregår mellem polerne i tragten – det de kalder for 'the messy middle – som er …
"[…] a space of abundant information and unlimited choice that shoppers have learned to manage […]."
Kilde: Google, Decoding Decisions, Making sense of the messy middle, 2020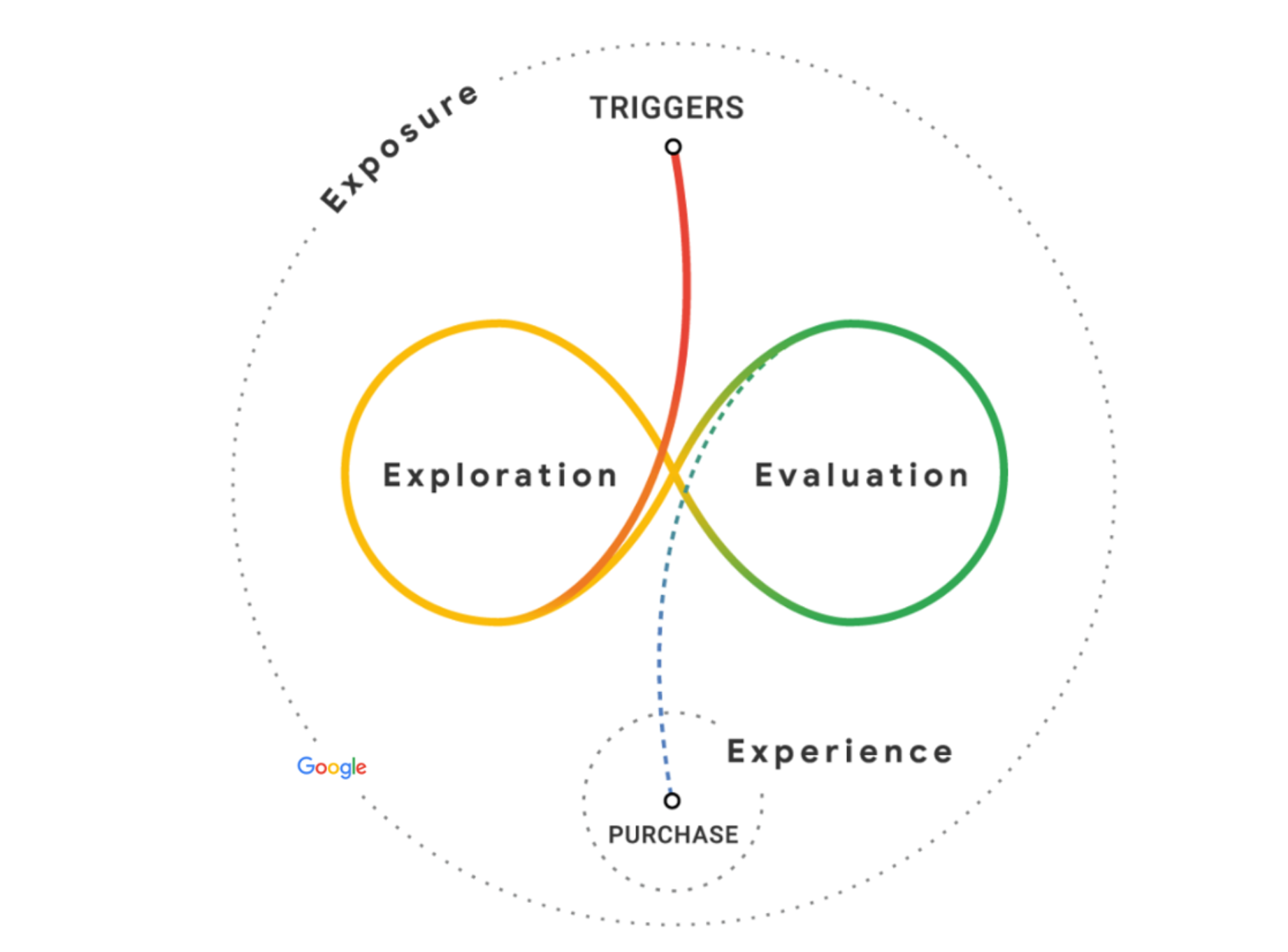 'Information' refererer til de spørgsmål, forbrugerne stiller sig selv eller bliver opmærksom på undervejs på kunderejsen i forskellige explorative situationer, mens 'choice' er svarene, de giver sig selv, når de vejer for og imod de enkelte brands (evaluation) i en given situation.
Det endelige svar, valg af produkt, er i nogen grad påvirket af den brand feeling, Hanne gerne vil realisere – og i nogen grad af det velplacerede digitale asset nederst i tragten, som sætter forbrugerens 'preferred brand' skakmat til fordel for det gode tilbud.
Men de fleste svar er ifølge Google påvirket af 'the power of showing up' undervejs på kunderejsen:
"The goal [is to] show up at key moments of exploration and evaluation to win or protect your share of consumer preference; [to] provide [people] with the information and reassurance they need to make a decision; [and to] close the gap between trigger and purchase so your existing and potential customers spend less time exposed to competitor brands."
Kilde: Google, Decoding Decisions, Making sense of the messy middle, 2020; (klummeskribentens sammenskrivning)
I et kunderejse-perspektiv er Topdanmarks indkøbsvogn altså et stykke marketing-asset, der kan fungere som to ting, som jeg ser det:
Enten som et 'trigger asset', der kan sætte kunderejsen i gang for en (mindre) gruppe mennesker, der i forvejen ruminerer over deres forsikringsselskab
Eller som et 'brand asset', der kan flytte Topdanmark på short-listen, når den endelige beslutning om valg af bilforsikringsselskab skal træffes.
Men the real deal for Topdanmark – ifølge Google's messy middle logik – er at vise sig begavet og relevant for forbrugeren, når lejligheden byder sig, og herefter hægte sig lige så begavet og relevant på vedkommende på resten af kunderejsen ved at hjælpe og inspirere undervejs.
I dét perspektiv er den rullende indkøbsvogn altså ikke ret meget andet end staffage, da "Vi er her for at hjælpe" ikke er et kvalificeret svar på ret mange forbrugerspørgsmål undervejs på kunderejsen …
Drop silo-tænkningen og invitér messy middle folk inden for
Tænk hvis nu man droppede silo-tænkningen og inviterede messy middle folk – content marketing- og SEO-/SEM-ekvilibrister – med i diskussionen om, hvordan man udvikler et robust marketing-økosystem, der kan brande, drive trafik til relevante platforme samt konvertere og sælge? Måske der var mulighed for at skabe lidt bedre sammenhæng mellem top og bund i tragten – for lige nu er der et problem:
" It seems then that 'messy middle' might also be a good way to describe how marketing has evolved over the past decade or two, with the polarisation between branding and direct response creating a gap into which all sorts of valuable consumer behaviour goes unrecognised and underserved."
Kilde: Google, Decoding Decisions, Making sense of the messy middle, 2020
Der ville nok være lidt mindre gang i underholdende diskussioner i diverse marketing-fora – men måske er det til at leve med?
Og så skal Feldthus & co. jo også lige huske, at Rød 25's bonanza af en reklamefilms-portefølje med Peter Frödin som Franzi vel ret beset også kvalificerer sig til betegnelsen 'branding-asset'. Måske er lidt mindre af det også til at leve med …?
Klummer på Bureaubiz er et udtryk for skribentens egen holdning.