I sidste uge besøgte vi Web Summit i Lissabon og over 4 dage oplevede vi en lang række talere fra forskellige afkroge af verden – som alle var kommet for at dele deres viden, visioner og bekymringer for fremtiden.
Der var meget at opleve på Web Summit, og mange var mødt op. Vi fandt hurtigt ud af hvordan 60.000 gæster føles, og kombineret med de mange scener og talks, som i gennemsnit varede 20 minutter – var det om at holde tungen lige i munden, hvis man skulle få det maksimale ud af dagene.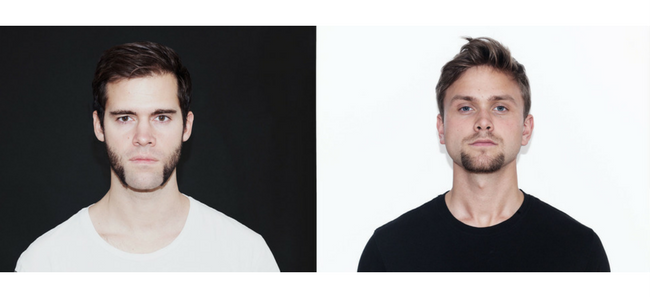 AI, Trump og fake news.
Det helt store emne i år var AI og dens betydning i fremtiden. Allerede på åbningsaftenen holdt Stephen Hawking en surprise talk, hvor han kridtede banen op og proklamerede, at AI kan blive det bedste eller det værste, der nogensinde er sket for menneskeheden.
Trump og fake news var også på manges læber under konferencen. Især var mange interesseret i, hvordan Trump og hans folk bar sig ad med at vinde præsidentvalget og hvordan sociale medier og nyhedsmedierne skal forholde sig til fake news og deres betydning i fremtiden.
Takeaways og tendenser
• Trump blev kaldt Best marketer in the world i 2017.
• Trump vandt præsidentvalget ved at fokusere på få ting. En reminder til fremtidige kampagner om at holde det enkelt.
• Trump-kampagnen benyttede data research til at finde de mest effektive narrativer, så de kreative forstod målet med deres content.
• AI er på vej og blev sammenlignet med, da man for syv år siden overvejede, om man skulle bekymre sig om sociale medier.
• En forudsigelse lød på: Inden juni næste år vil et af de traditionelle reklame-holdingselskaber være ejet af et af de traditionelle konsulentbureauer.
• Selvom vi har robotter og AI, der snart overgår menneskelig intelligens, er det (heldigvis) stadig idéen, det handler om.
• Vi må ikke blive for optagede af her-og-nu promotion og ultra specifik targeting. Brands bygges over tid.
• Serien Black Mirror er ikke længere fiktion: En amerikansk programmør har lavet en chatbot af sin afdøde far.
•Kuratér dit indhold til hver enkel kanal. Forbrugeren fornemmer lynhurtigt, hvis de oplever content, der ikke er optimeret. Så tag hver kanal du anvender lige alvorligt.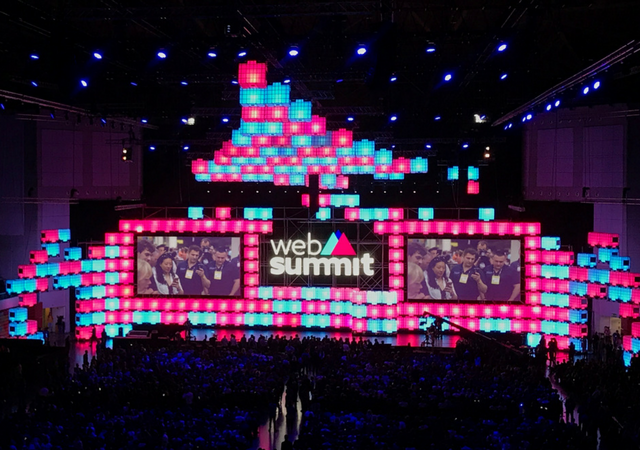 Interview med Brad Parscale
Et af de interviews, vi var meget interesseret i at høre, var med Brad Parscale, som er digital kampagneleder for Donald Trumps præsident-kampagne.
Yahoo! News-journalisten Michael Isikoff sad klar med spørgsmålene og lagde ud med at spørge Parscale, hvad han havde forstået omkring sociale medier under kampagnen, som Clinton-siden ikke havde forstået.
Parscale pointerede 2 ting, der havde haft en positiv virkning for Trump-kampagnen:
At folk flyttede sig i høje tal mod sociale medier og mobiltelefoner.
At Trump i sig selv var et 'great piece of product' som ville give genklang hos amerikanerne.
Parscale fortalte også, at Donald Trump ikke bare havde skrevet en check for finansieringen af hele kampagnen. Kampagnefolkene havde skabt en græsrodskampagne og fundet millioner af deres støtter gennem Facebook.
Parscale forklarede, at Trumps Facebook-kampagne endte med at producere 280 millioner dollars, hvoraf 100 millioner dollars efterfølgende blev brugt på targeted ads. Her løftede han også sløret for, at Facebooks ansatte havde hjulpet dem under kampagnen: "Look, you go spend $300 million dollars on social media, a lot of people show up at your office, wanting to help you spend that money on their platforms',sagde han og uddybede: "So teaching us and educating us how to use that platform as best as possible was a good thing for Facebook to do."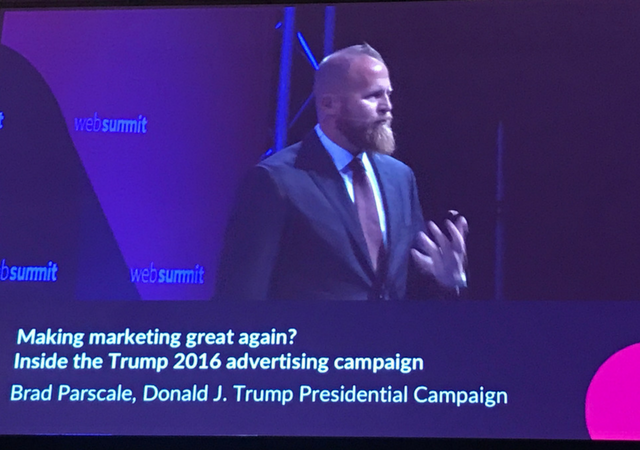 Herefter blev Parscale spurgt ind til, hvordan de havde kunnet producere op mod 60.000 targeted ads under kampagnen. Parscale forklarede:
"We had multiple programmatic buyers and platforms running across Facebook. What that would do is, sometimes, when you're trying to raise money, different people like different colors, people like different messages, long form, short form, pictures, images. You put those across each other and automate the construction of the ads, and your math goes up really fast."
Senere ændrede interviewet pludselig karakter, da journalisten Isikoff spurgte om Parscale havde fortrudt, at han havde været med til at promovere en kandidat, som på ingen måde havde gennemført de ting, han havde lovet.
Spørgsmålet udløste et kæmpe bifald i salen og det var tydeligt, at størstedelen af publikum nok ikke var støtter af Trumps. Parscale svarede, at Trump stadig har lang tid igen til at gennemføre sine løfter.

Brad Pascale og journalist Michael Isikoff på scenen.
Isokoff kunne heller ikke dy sig for at spørge ind til Ruslands rolle i det amerikanske valg, og  Parscale nægtede at haft kendskab til nogen russisk indblanding. Kort efter påpegede journalisten, at Parscale selv havde retweetet en besked fra en russisk bot, som var blevet designet til at ligne en republikaner fra Tennessee. Parscale udtrykte, at han fortrød tweetet, men forklarede at et enkelt tweet ikke havde den store betydning.
Derimod udtrykte han større bekymring over Twitters håndtering af den russiske indblanding: "Do I feel manipulated by Russia for retweeting a tweet? Twitter went to Russia and tried to sell 15 percent of our entire messaging to them for millions of dollars," sagde Parscale og fastslog: "I didn't take Russia's money; I retweeted a tweet that says the media is biased, which I believe it truly is".
Herefter sluttede et interessant interview, som startede ud med strategiske råd om kampagner på  sociale medier og senere udviklede sig til en intens snak om storpolitik.

Den britiske komiker David Schneider.
'So you think you're funny?'
Sådan lød den småprovokerende titel på en af de talks, vi også havde sat et fedt kryds ved i vores Web Summit-kalender. Den britiske komiker David Schneider ville tale om værdien af humor på sociale medier og give sine bud på, ja kort sagt, hvordan man er sjov.
Schneider arbejder med tre simple grundparametre: Brevity, structure og specificity, og i 25 minutter uddybede han på energisk vis disse, mens han underbyggede med en lang række eksempler.
Første punkt var brevity. Eller på godt gammelt dansk at fatte sig i korthed. Et parameter, der er mere aktuelt end nogensinde før set i lyset af Twitters hidtidige 140-tegn grænse (og publikums generelle attention span, der snart nærmer sig guldfiskekaliber).
En gammel vittighed lyder:
'My dog's got no nose. How does it smell? Terrible'. Ikke nødvendigvis stor humoristisk kunst, men trods alt en kompakt joke, der stadig bliver fortalt i skolegårde og af onkler verden over.
Men hvad ville der ske med sjovhedsfaktoren, hvis man ikke havde været så tight i sin vittighedsforfatning?
Schneider eksemplificerede sarkastisk:
"My dog's got no nose. I'm sorry to hear that. That sounds like a very unfortunate situation not just for the dog but also for you as well. It must have so many consequences. For instance, he or she – I don't know which one it is – must have a lot of trouble smelling things. How does it smell? Terrible".
Så gode gamle KISS, Keep It Simple Stupid, holder altså stadig.
Schneider fulgte op på sin pointe med en række eksempler, bl.a. one-lineren: "Describe yourself in three words. Lazy."
Han forklarede i øvrigt, hvordan han i sand Hemingway-stil altid kører en gennemlæsning af sine tekster, hvor hans eneste opgave er at fjerne alt, der kan udelades. Selv tegnsætning skrælles ned.
Andet punkt: Structure.
Her var en af Schneiders tommelfingerregler 'the rule of three'. En slags tre-trinsraket. Man skal nemlig først opbygge et mønster for at kunne bryde det, og to lignende ting er den hurtigste vej til et mønster, du derefter kan bryde med din tredje uventede ting.
Han eksemplificerede med en joke:
"I can't think of anything worse after a night of drinking than waking up next to someone and not being able to remember their name. Or how you met. Or why they're dead."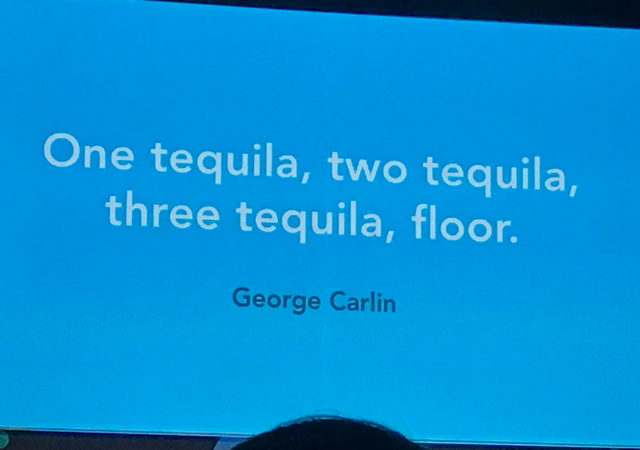 Et andet aspekt af struktur er overraskelsen. At lede din lytter ud af en vej, for så at bryde forventningen med et uforudset twist. Eksemplificeret med en gammel George Carlin joke:
'One tequila, two tequila, three tequila. Floor.'
Trejde og sidste punk var specificity.
Schneider forklarede, at der er en slags taknemmelighed hos lytteren, når de fornemmer, at afsenderen har gjort sig umage for at være så specifik som muligt i sine beskrivelser. Han eksemplificerede med en replik, han selv havde forfattet, hvor en karakter skulle beskrive størrelsen på en genstand.
I stedet for at sammenligne med en typisk størrelsesreference, lød replikken:
''It's roughly the size of a small child's face'.
Hermed bygger han humor og karakter ind i en ellers ubetydelig linje.
Et andet eksempel var fra serien 'The Thick of It', hvor en af karaktererne brokker sig over en politiker og replikken lyder:
"He's about as much use as a marzipan dildo".
Igen en meget specifik beskrivelse, der giver rig anledning til farverige indre billeder.
Det var muligvis ikke banebrydende betragtninger, David Schneider diskede op med i sine tætpakkede 25 minutter. Men han formåede at opridse en række relevante parametre for god opbygning af kommunikation –  og det er brugbart uanset om man står i skolegården eller sidder bag tasterne på sine kunders SoMe-kanal.
Var du også til Web Summit? Kom gerne med dine højdepunkter, nedenfor.