Bæredygtighed og klimavenlig adfærd er ikke altid en nem størrelse for forbrugerne at forholde sig til. Så selvom vi gerne vil have en bæredygtig livsstil, så er det ikke altid lige let. Mange frygter desuden, at de med et bæredygtigt liv må give afkald på det gode liv. Det er derfor vigtigt, at brands viser forbrugerne vejen i bæredygtighedens landskab, og ikke mindst fremhæver, at et bæredygtigt liv også kan være det gode liv.
I en spørgeskemaundersøgelse udført i forbindelse med Dentsus trendstudie Pulse, ser vi blandt andet, at hver fjerde dansker føler, at de går på kompromis med deres levestandard jo mere, de vælger at leve bæredygtigt og klimavenligt. Danskerne har altså brug for en hjælpende hånd, og dette skal brands imødekomme.
For danskerne vil gerne. Dentsus spørgeskemaundersøgelse viser også, at hver anden dansker i løbet af det seneste år er blevet mere bevidst om, hvorvidt et produkt er bæredygtigt eller ej. Dog ser danskerne stadigvæk en del udfordringer forbundet med den bæredygtige livsstil. Lad os tage et kig på de seks barrierer, som forbrugerstudiet Pulse21 har identificeret.
#1: Bæredygtighed er fluffy
Forbrugerne kan have svært ved at forholde sig til bæredygtighed, fordi det ikke er nært. Vi har brug for, at det bliver mere håndgribeligt og konkret. Både brands og forbrugere taler eksempelvis om FN's Verdensmål, men få forstår, hvad de konkret handler om. Kun 13% af danskerne har et kvalificeret kendskab til verdensmålene.
#2: Det er svært at gennemskue, om et produkt er bæredygtigt
Halvdelen af danskerne har svært ved at gennemskue om et produkt er bæredygtigt – og det er alt for mange. Det er et ansvar, som brands skal påtage sig. Hjælp forbrugerne, så de ikke er i tvivl om, hvad I som brand står for, og hvad jeres produkter indeholder.
#3: Greenwashing gør os skeptiske
Halvdelen af danskerne er skeptiske overfor virksomheders grønne tiltag pga. kendte tilfælde af greenwashing. Altså, når virksomheder udadtil kommunikerer, at de er grønne, men reelt ikke er det. Imødekom derfor forbrugernes skepsis med actions. Det handler ikke om kommunikation: Vis actions først og kommunikèr bagefter.
#4: Vi føler, at vi går på kompromis med vores levestandard
Forbrugerne skal forstå, at det gode liv er det bæredygtige liv. Vi behøver ikke at vælge det ene fremfor det andet. Et brand, der har arbejdet med dette, er SodaStream. Med kampagnefilmen 'The Small Things' har Sodastream i samarbejde med Snoop Dogg vist, hvordan forbrugerne kan leve bæredygtigt ved konkret at påvise, hvor mange plastikflasker der bliver 'sparet' ved at anvende en Sodastream.
#5: Vi har dårlig samvittighed over ikke at leve mere bæredygtigt
En ensom isbjørn, der står på en isflage. Plastik, der flyder i havet. Danskerne kender alt for godt til disse skræmmebilleder. Brands må derfor nu vende skuden 180 grader og vise det positive frem for det negative. Forbrug må ikke være et tabu. Bæredygtighed skal ikke forbindes med skam, men i stedet være en integreret del af det gode liv, som vi kender det.
#6: Vi vil gerne betale ekstra for at leve mere bæredygtigt
41% af danskerne vil gerne betale ekstra for hjælp til at leve bæredygtigt. Vi vil altså gerne være mere bæredygtige, men ofte bliver vi udfordret af førnævnte barrierer omkring skam og tabu. Af denne grund er vi villige til at betale os til hjælpen, fordi vi ikke selv kan overskue det. Heri ligger der et stort potentiale for brands, som flere fragtselskaber har spottet. PostNord har el-cargo cykler, mens Bring tilbyder klimavenlig fragt.
I bund og grund handler det om at forbinde det gode liv med det bæredygtige liv. Forbrugernes barrierer skal nedbrydes gennem konkrete og nære initiativer fra brands. Essensen er intet mindre end: Show it, don't tell it.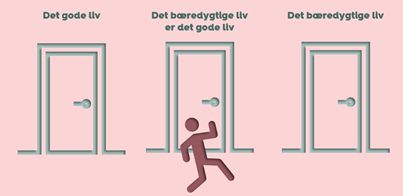 Om klummen
Klummen er en del af en trend-serie, hvor bureaugruppen Dentsu præsenterer otte forbrugertrends for 2021. De otte trends er udarbejdet på baggrund af tre måneders statistisk research, antropologisk observation, interviews med førende forskere, egen spørgeskemaundersøgelse med 1.500 danskere og digitalt aggregeret interessedata på baggrund af +4 mio. danskeres adfærd.
Du kan læse de andre trends her:
Generation Alpha er den mest isolerede generation til dato
Danskerne ønsker at være mere rene og sunde end nogensinde før
Om klummeskribenterne
Paw Bæk Hansen og Julie Daugaard arbejder som strategy directors i Dentsu i hhv. København og Aarhus. Til daglig rådgiver de virksomheder omkring hvem der er de mest værdifulde forbrugere for brandet, hvordan brandet får bedst kontakt til disse forbrugere, og hvordan de eventuelt ændrer forbrugernes adfærd i brandets favør. Deres rådgivning er altid baseret på målgruppeindsigter, markedsanalyser og forbrugertrends.
Klummer på Bureaubiz er et udtryk for skribentens egen holdning.