DDB slog tirsdag den 3. juni dørene op for 13 unge kreative fordelt på otte hold.
Det er femte gang, at Young Creatives har afholdt 'Ansigt til Ansigt med bureauerne', og denne gang stod DDB's Thomas Fabricius, Tim Fremmich, Kasper Dohlmann, Clara Prior-Knock, Jeppe Ritz, Louis Pilmark og Rasmus Gottliebsen for kåringen af månedens Youngstar.
Hun hedder Cathrine Understrup, er 27 år gammel og uddannet i kreativ kommunikation fra DJMX i 2015.
Talentfuld og rar – med personlighed
Cathrine Understrup har mere bureauerfaring end sine konkurrenter, men det var hendes personlige stil, der overbeviste dommerpanelet fra DDB.
"Cathrine har en meget personlig stil, der går igen i alt, hvad hun laver – uden at det betyder, at hendes ting kommer til at ligne hinanden. Hun har en gennemført portofolio, et højt idéniveau og derudover virker hun temmelig uimponeret og ydmyg, hvilket er en sjælden, men spændende cocktail," siger DDB's kreative direktør Thomas Fabricius.
Ifølge Thomas Fabricius skilte Cathrine Understrup sig ud i et stærkt felt af unge talenter.
"Vi har aldrig lagt skjul på, at de kreative, som vi går efter, er dem, der både er 'talented and nice'. Det er ikke nok at være et stort talent, hvis man samtidig er et stort usympatisk røvhul, som ingen kan arbejde sammen med. Omvendt er det heller ikke nok bare at være nice – der skal også være et drive og et talent, som man ikke kan komme uden om."
Elsker at klippe og klistre
For juni måneds Youngstar synes personlighed da også at være retningsgivende.
Hun sagde sit bureaujob op efter jul for at hellige sig en freelancetilværelse og nyder i dag at arbejde med kombinationen af bureaustof og egne projekter – gerne med saks og lim ved hånden.
"Kriteriet for, at noget ryger i min portfolio, er, at jeg er stolt af det. Jeg kan godt lide, at bliver sådan crafty og klippe-klistret. For nylig lavede jeg for det svenske bureau Snask en by i pap, der så blev skudt, så man kan bevæge sig rundt i den som med Google Maps," fortæller Cathrine Understrup med slet skjult begejstring.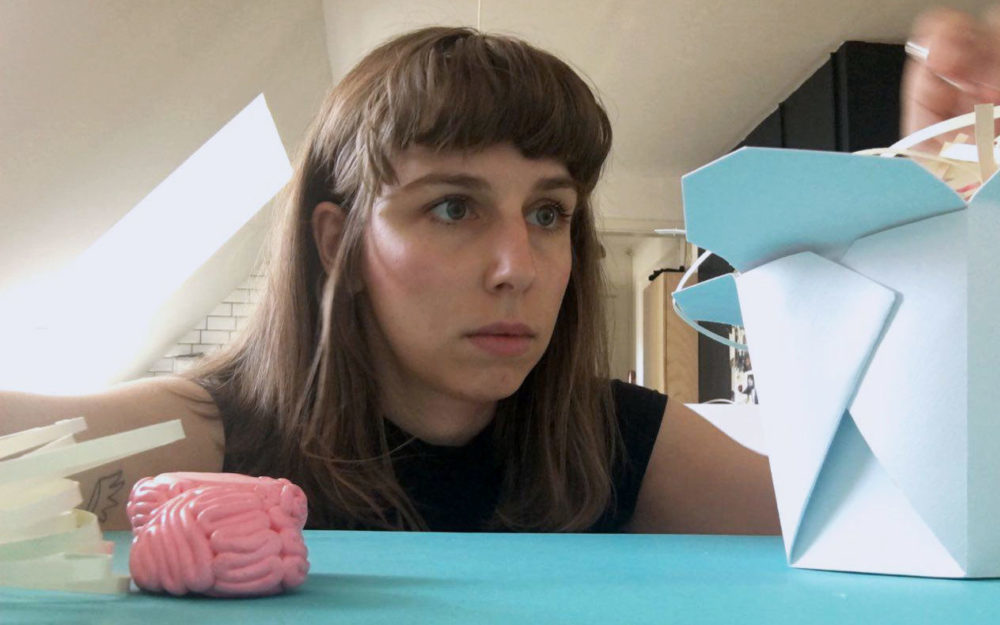 Følger sine værdier
Det unge talent kom lidt tilfældigt ind i reklamebranchen og er ikke i tvivl om, hvorfor hun blev hængende:
"Det er simpelthen et vildt privilegium at kunne lave noget, man synes er sjovt. Tænk at man kan få lov til at lave den slags og sælge det til kunder! Der sker hele tiden noget nyt, og det passer mig ret godt," fortæller Cathrine Understrup.
Adspurgt om, hvor hun ser sig selv om ti år, peger hun da heller ikke på en bestemt stilling eller arbejdsplads:
"Jeg vil helt vildt gerne bare være glad og lave noget sammen med nogle dygtige mennesker. Jeg håber ikke, at jeg om ti år er gået på kompromis, men at jeg er blevet ved med at sige ja til ting og har fulgt mine værdier."
Bureauerne bør tænke bredt
Ligesom tidligere Youngstars ser Cathrine Understrup en tendens til, at grænserne mellem reklamebranchens forskellige stillingsbetegnelser langsomt bliver visket ud og man i stedet går efter de lidt mere bredtfavnende profiler.
"Det er sindssygt positivt, at folk har forskellige profiler, og især de kreative er ved at blive lidt mere hybrider. Jeg tror også, at der sker nogle ændringer med det her 9-17; hvis bureauerne skal holde på folk, skal man se bredere på både profilerne og på måden, vi arbejder på."
Cathrine Understrup var for sin tidligere arbejdsgiver involveret i Yousee-kampagnen 'Lukas Graham & Friends', der vandt guld og to sølv ved dette års Creative Circle.
Young Creatives præsenterede 'Ansigt til ansigt'-konceptet i februar. Næste og sjette arrangement bliver den 15. august, og tilmelding sker via Young Creatives' Facebook-side.