Konge om natten, konge om dagen. Jeg reciterer mantraet. I går skrålede jeg med på Let's Talk About Sex, Whatta Man og Push It ved Salt'n'Pepa-koncerten på Google Beach efterfulgt af dans med Mark Ronson som DJ. Konge om natten, konge om dagen. Op og afsted.
Forskellige typer af ansvarlig marketing
Da jeg kigger rundt i den mørke teatersal til dagens første oplæg, er jeg ikke den eneste, der har svært ved at holde mig vågen i de bløde biografstole. Der går dog ikke mange sekunder af oplægget, før alle har rettet sig op og tårer glider ned ad kinderne. Vi starter med en hård film om kræft, og at hver anden af os bliver ramt af det. Det er Edelman, IPG, Omnicom, Publicis og WPP, der udsteder en konkurrence, hvor alle kan deltage med en kreativ kampagne om livet med kræft, og hvordan det er at gå på arbejde med kræft. De vil støtte de vindende kampagner med 100 millioner US dollars i mediespend til annoncering ved World Cancer Day i november 2024.
De er ikke de eneste bureaugrupper og medier, der i denne uge har lanceret good-growth initiativer og talt om ansvarlig marketing. Blandt andet har Pinterest annonceret, at de går mod rabitholes og videoer, der giver dårlig mental trivsel og frygten for at gå glip af noget (TikTok får ondt i rumpen med den dosis stikpiller).
Pinterest vil tage ansvar for folks mentale helbred; de vil sørge for, at brugerne ikke automatisk bliver ført fra den ene video til den anden, men i stedet skal brugerne selv tage valg. Pinterest vil gå fra engagement til valg: "What comes next is choices," forklarer Bill Ready, der er CEO ved Pinterest. Han gentager flere gange, at medierne har et ansvar for, hvad vi eksponerer brugerne for, og virksomheder har et ansvar for at støtte de medier, som tager ansvar. "The people and companies that fund the internet, are the ones that can fundamentally change it," siger Ready med så overbevisende og fast tonefald, at det udløser et bifald. Pinterest har som det første medie også fjernet fake filters, de fjerner alt indhold omkring kropsudskamning samt voldsomme vægttab. Det er heller ikke længere muligt at annoncere for eksempelvis vægttabsprodukter på Pinterest.
Min egen bureaugruppe, dentsu, har i denne uge valgt at fokus skal være på at guide virksomheder i, hvordan de kan reducere co2-udledning fra kampagneproduktion og annoncering. Det har de gjort i workshops faciliteret i samarbejde med Ad Net Zero.
Vi skal have humoren tilbage i reklamer
Efter en uge med AI, ecommerce og datadrevne indsigter er det en hel lettelse af lytte til Andrew Robertson fra BBDO. Han taler om humor og hvorfor humor er så vigtigt. Selvom vi befinder os i en alvorlig tid med mange kriser, så har folk stadig brug for at grine, og brands må gerne lave sjove kampagner. I en blanding af forbrugerindsigter og sjove eksempler får Andrew Roberts overbevist salen om, at vi skal have humoren tilbage. Sidste år var der kun 1 ud af 10 Gold og Grand Prix vindere i Cannes, som brugte humor. Det skal vi lave om.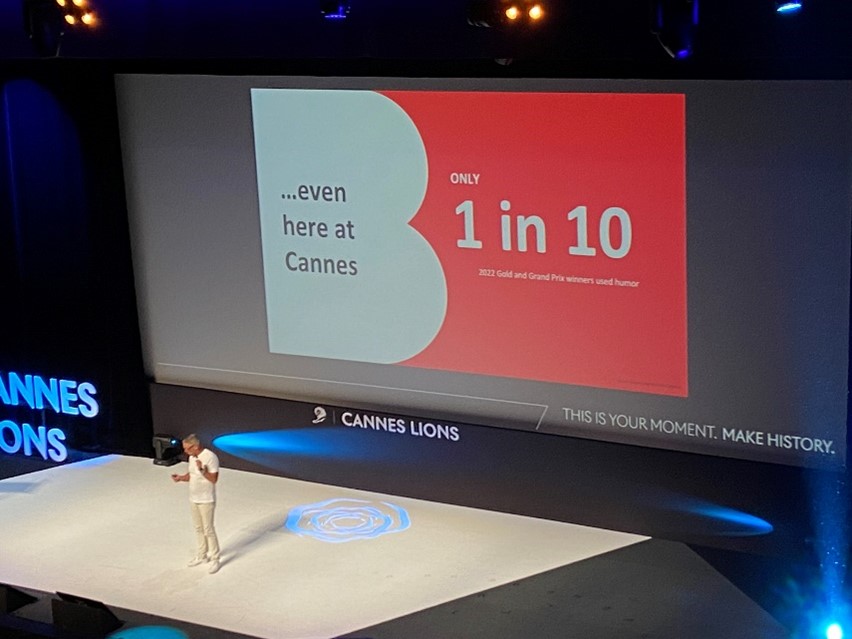 Tilbage til at løse samfundets udfordringer. Heineken sætter en indsats ind over for vores udfordringer med socialisering. Færre har nære venner og flere føler sig ensomme. Derfor er socialisering vigtigt, og vi skal tage det seriøst, at man skal have det sjovt. Men der er fjender såsom covid og worklife balance, som udfordrer vores tid brugt på socialisering, og det gør Heineken noget ved gennem deres kampagner:
"We fight with sarcasm, not with preach," siger James Thomson fra Heineken. Han er på scenen sammen med Bruno Bertelli, der er CEO for deres kreative bureau LePub. Heineken, LePub og deres mediebureau dentsu arbejder tæt sammen i en data-dreven tilgang til aktualitet. De har udviklet en monitor, der opfanger, når der er en trend på sociale medier og i nyhedsmedier, der er ved at opstå. De bruger den trend til at generere content, der er aktuelt i det enkelte land. På den måde arbejder Heineken med globale kampagner og lokale/niche kampagner. Det virker godt for dem og deres revenue ligger på +23% ift. sidste år.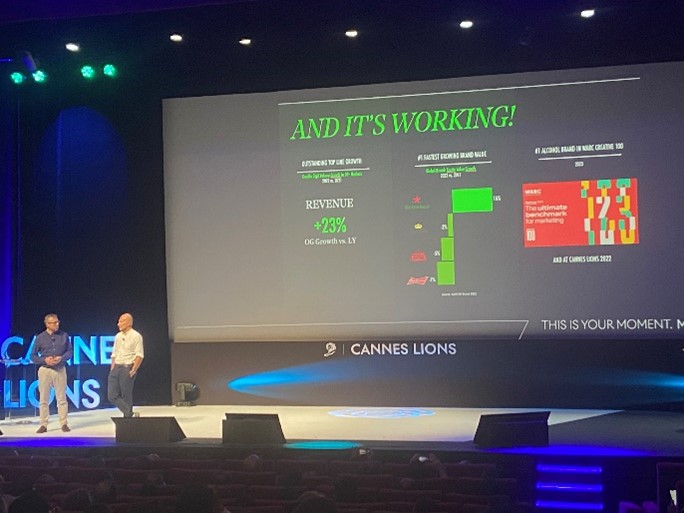 Jeg går ned i kongrescenterets kælder, hvor alle awardindstillingerne hænger. Det er ro som på et bibliotek. En annonce for kattemad fanger mit blik: 1 ud af 4 katteejere har pelsallergi og alligevel kan de ikke modstå katte. Det er for mig billedet på, hvad god tekstforfatning er og kan.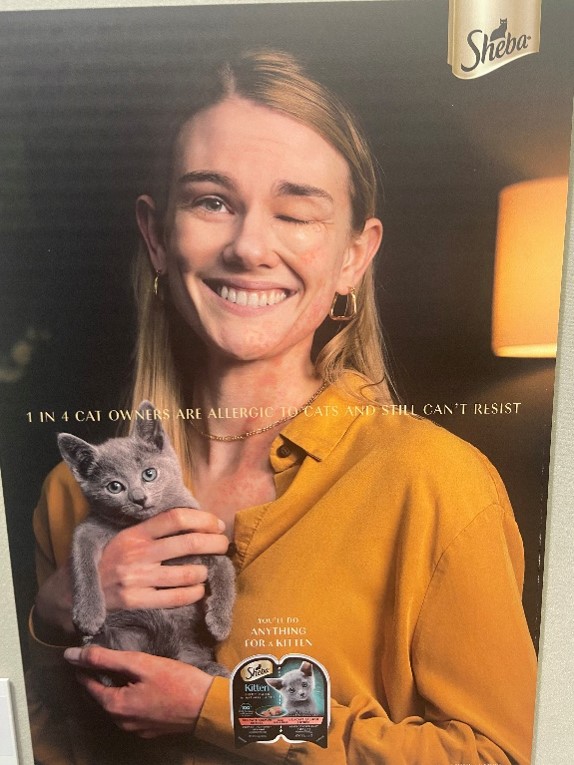 Apple: Media is art
Der er næsten en time til, at Apple går på med deres oplæg Unboxing. Der er ingen beskrivelse af oplæggets indhold. Sammen med to konkollegaer stiller jeg mig i kø i god tid. Det er et af de oplæg, som tiltrækker mange. Forventningerne er tårnhøje. Afslører Apple et nyt produkt, som de unboxer på scenen? Vil Steve Jobs være med i et hologram? Alt kan ske, når Apple skal på scenen.
Men. Gigantisk skuffelse. Endnu en hvid, midaldrende mand går på scenen med sit forpulede powerpoint. Er de skarpeste kreative i verden virkelig ikke mere kreativ i sin formidling end powerpointformatet? Eller har de bare for travlt til at tænke i andet end powerpoints? Udover dentsus musical performance i går, så har det præsentationstekniske denne uge ikke været nytænkende. Snarere tværtimod.
Tor Myhren fra Apple fortæller om Apples produkter, om B2B-casen The Underdogs og hvordan de ser deres bureaupartnere som dem, der skal udfordre dem: "We pay you to challenge us". Han afslutter sit oplæg med en udnævnelse af medier som kunst. Medieplaceringer er afgørende. Reklamen skal gøre det skønnere, ikke forurenende. Herefter viser han forskellige OOH-stickers, samt fortæller om Apples samarbejde med Selena Gomez, der har skudt sin seneste musikvideo på en iPhone. Apple har købt pre-roll til videoen, hvor de forklarer, hvordan musikvideoen blev skudt. Jeg har ikke rystet skuffelsen af mig endnu og tænker: Hvorfor optager Apple ikke en musikvideo live på scenen? Eller lader folk prøve deres briller? Så mange muligheder, så lidt innovation på scenen.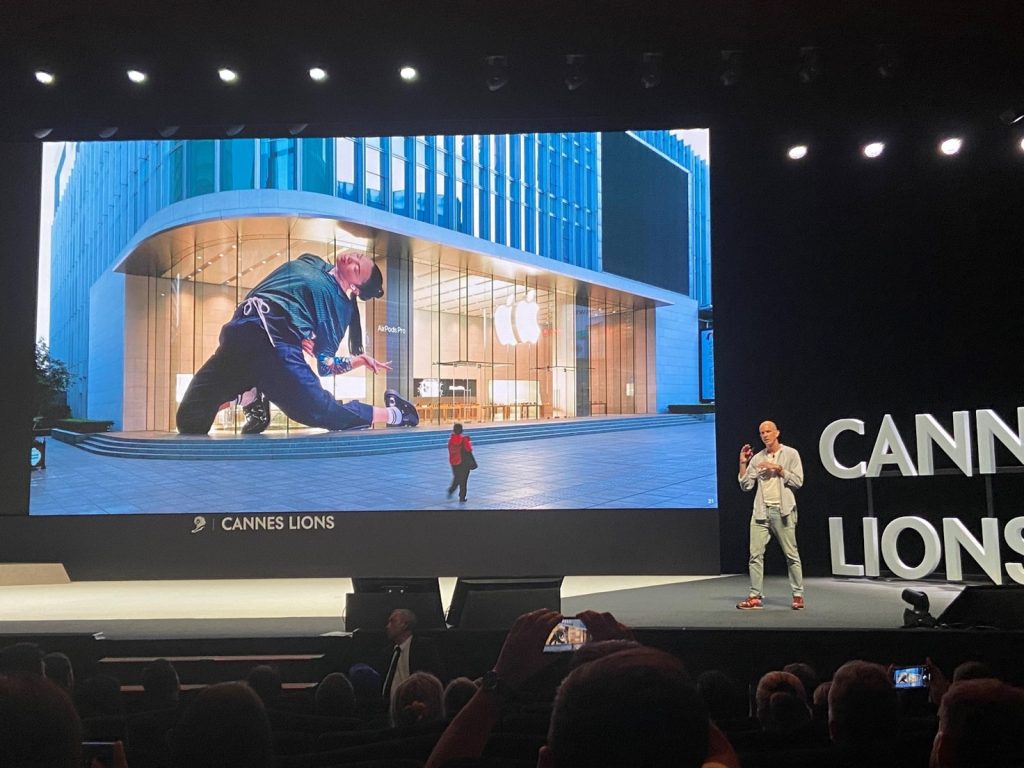 Ugen er ved at være slut for mit vedkommende. Jeg overvejer at tage et sidste oplæg om forbrugerne anno 2025, men vælger at gå i Dentsu Beach House i stedet for at mødes med nogle af mine globale kollegaer. Det summer i mine ører og hjerne efter fire dage i kongrescenterets støj, og jeg er klart blegere end da jeg ankom, så jeg overbeviser mig selv om, at det er velfortjent med et hvil ved strandbaren.