Hvis jeg fortalte dig, at en abe ved navn Pager nu er i stand til at spille videospillet Pong, og styre joysticket med hjernen, ville du så tro mig?
Eller at en mand i 60'erne med lammelser, kan skrive 18 ord i minuttet ved hjælp af et computersystem, der forvandler tænkt håndskrift til ord? Begge eksempler er nye resultater af gennembrud inden for området Brain Computer Interfaces.
Den 23. december lavede Philip O'Keefe sit første tweet kun ved tankens hjælp. Det var også verdens første af slagsen og blev muliggjort via et BCI-implantat fra virksomheden Synchron.
Hvis du synes, det lyder som noget, der er taget direkte ud af en science fiction-film, så har du helt ret. At kunne forbinde hjerner og computere har været et gennemgående tema i mange film. Tænk bare på The Matrix. Eller Starwars, X-men og Total Recall.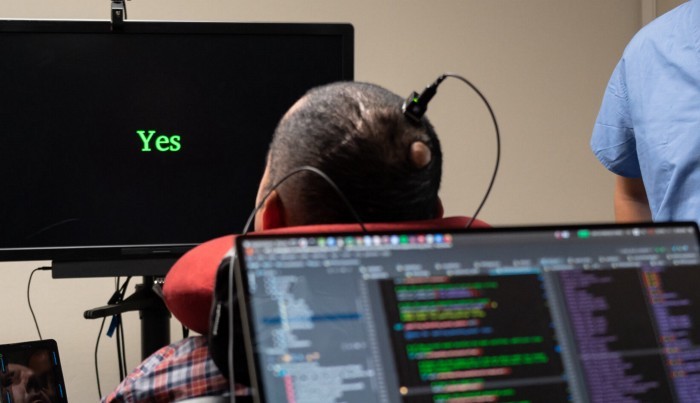 At skrive med sin hjerne er ved at blive en realitet
I 2022 er vi meget tæt på at se kommercialiseringen af de første simple FDA-godkendte BCI-systemer.
Tilbage i 2020 havde jeg en meget inspirerende samtale med Sune Alstrup i min Charlie Tango Talk Podcast. Sune Alstrup er en tidlig investor i NextMind, og vi talte netop om mulighederne i at kune forbinde hjerner og computere.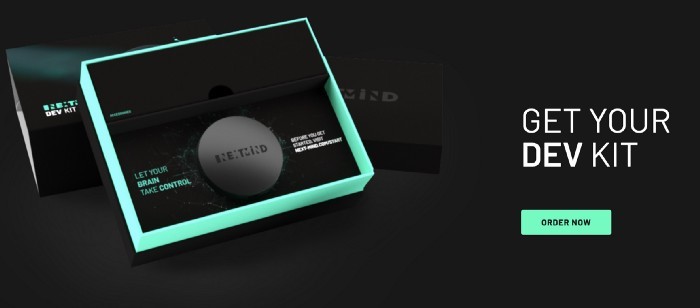 NextMind kit
Det franske firma NextMind er blandt verdens førende inden for ikke-invasive realtids Brain Computer Interfaces (BCI). Siden interviewet har firmaet lanceret sit første produkt til udviklere, der gør det muligt at skabe fungerende prototyper.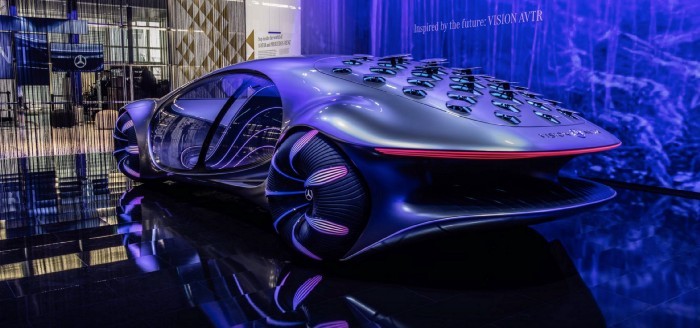 The Mercedes Vision AVTR – den første bil, der styres af din hjerne
Mercedes er et af de firmaer, der har brugt NextMind-teknologien til at skabe verdens første konceptbil med en tankebaseret grænseflade. Ideen om at være i stand til at styre din bil med din hjerne er dog e godt stykke fra at kunne kommercialiseres, men Mercedes VISION AVTR er en fungerende demo, der kan prøves på bilmesser rundt om i verden.
Hvordan fungerer det?
Brain Machine Interfaces (BMI) og Brain Computer Interfaces (BCI) er enheder, der muliggør direkte kommunikation mellem hjernen og en ekstern enhed. For eksempel styring af en protese, styring af din mobiltelefon eller lys og dørlås i dit hus.
Siden 70'erne er ideen om at implementere elektroder, der omsætter hjernecelleaktivitet til data, blevet undersøgt, testet og afprøvet for at overvinde lammelser, sygdomme som Parkinsons og høretab. Det er dog stadig ret eksperimenterende, da det kræver at man skal operere en computer ind i hovedet på patienterne.

BCI prototype
En ny generation af løsninger er dog mindre indgribende, idet de er i stand til at læse hjernebølgerne udefra. Ligesom NextMind-løsningen, de nye BCI-aktiverede hovedtelefoner fra Neurable eller Brain Measurement-systemet fra Kernel.
Fra envejs-kontrol til Brain Augmentation
Indtil videre har teknologien fungeret som en envejs kommunikation: Tanker fra hjernen styrer digitale grænseflader. Men hvad nu, hvis vi kunne gå den anden vej og absorbere ny viden i vores hjerne?
Så er vi tilbage ved den computerspillende abe. Det projekt står Elon Musk og hans firma Neuralink bag. Neuralink mener, at fremtiden ligger i hjernestimulering og augmentation. Elon Musk argumenterer for, at denne form for empowerment allerede sker med vores mobiltjenester: Google Maps, Wikipedia, Google Translate osv. Nu mangler vi blot at forbinde hjernen med computeren for at forbedre vores muligheder og øge kommunikationsbåndbredden.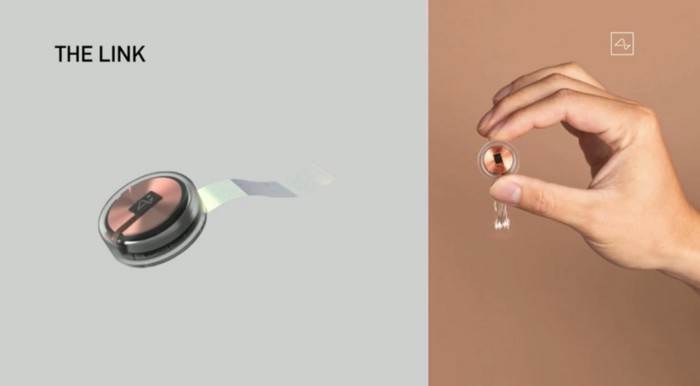 Neuralink implantat kommer ind i mennesker i 2022
Musk argumenterer endda for, at det vil være vores eneste chance for at overleve, når AI overhaler den menneskelige intelligens.
Neuralink har til formål at hjælpe dig med at kontrollere dit humør, hukommelse, sult og tørst og måske endda dine tale-, matematiske og sproglige færdigheder.
Men det kræver et implantat – og kommer pludselig skræmmende tæt på et Matrix-scenarie med en implanteret chip, der kommunikerer med din mobil via Bluetooth, og gør mennesker til en slags cyborgs, som lige nu skræmmer livet af folk, så der er naturligt nok en del skepsis omkring Neuralink projektet. Ikke desto mindre planlægger Neuralink at begynde implementering af hjernechips i mennesker i 2022, startende med mennesker der har alvorlige rygmarvsskader.
BCI kræver fokus
Alt dette fører til en række relevante bekymringer omkring etik. Har vi brug for rettigheder til vores mentale privatliv i fremtiden? Er dette porten til næste niveaus overvågning og tankelæsning? Og hvad med langsigtede helbredsproblemer, når man begynder at pille ved hjernen?
Mens vi venter på muligheden for en hjerneopgradering og et direkte link fra hjernen til Nettet, er det måske på tide, at virksomheder og UX-afdelinger begynder at fokusere på denne next-level interaktionsform.
Jeg forudser, at dette område vil få stor opmærksomhed i 2022,da udviklingen går meget stærkt. NextMind DevKit kan være din bedste, billigste og nemmeste måde at komme i gang med at udforske Brain Computer Interfaces.
Se de første seks trends her:
Trend nr. 6: Vi er alle Cyborgs
Trend nr. 5: Den store madrevolution
Trend nr. 4: Sig hej til dine nye virtuelle ansatte
Trend nr. 3: Holoportation giver nyt liv til oplevelsesøkonomi
Trend nr. 2: Metaverse – velkommen til den nye digitale verden
Trend nr. 1: Generation Alpha: Den mest socialt isolerede generation til dato